Villa Maia
Xirosterni, Nr Almyrida and Georgioupolis areas
Sleeps: 4 + 1
Bedrooms: 2
Bathrooms: 2
£975 - £1875per week
Details
General Description
Nestled along a track with no through access, in the village of Xirosterni, Villa Maia is an extremely spacious, contemporary, single storey villa. The villa is situated on a plot of more than an acre with a beautiful, large, sparkling pool. Approached via a driveway with a turning circle, there is room to park several cars within the gates of the property. The villa has 2 bedrooms and 2 bath/shower rooms. The open plan lounge/diner and both bedrooms benefit from patio or bifold doors opening up to the pool terrace.
For convenience, all of the shutters at the front of the villa are centrally operated.
Living Areas
Inside the villa you are immediately met with a sense of a cool, calm environment. The long hallway gives access to all the rooms. To the left are the sizeable, air conditioned, open plan lounge, dining and kitchen areas, all with very high ceilings which enhances the spacious feel. The double bi-fold doors in the lounge/diner open out to an external, covered dining area overlooking the pool and to allow the summer breezes to filter into the villa. Whilst the villa can sleep up to 5 with the use of the sofa bed in the lounge, both internal and external dining areas can accommodate up to 6 people. Two sofas (including the sofa bed) are arranged in an L shape for easy viewing of the large wifi enabled TV with content from sites such as Netflix and You Tube. The impressive, well equipped (see amenities list), U shaped kitchen is connected to the internal dining area through an archway. In the kitchen you will find a massive amount of preparation worktops so any keen cooks staying here can enjoy working in this space and trying out the excellent local ingredients. Above the kitchen sink there is a wide window overlooking the pool terrace so you need not feel cut off from the outside activities.
Bedrooms and bath/shower rooms
The 2 bedrooms and bath/shower rooms are situated to the right of the entrance door with the master double and adjacent bathroom being at the far end of the hallway. It is possible, by means of a partition door, to make the master bedroom and bathroom into an en-suite arrangement if that is preferred. The other bedroom is a twin bedded room with its own shower room opposite. Both air-conditioned bedrooms are very light and airy with extensive wardrobe hanging and drawer storage space. Patio doors open up from each room to the pool terrace. A hairdryer is supplied in each bedroom.
Utility Room
An extremely well equipped, separate, utility room leads off the hallway between the 2 x bath/shower rooms. The washing machine, tumble dryer, iron, ironing board and first aid kit are all housed in this room. There is also a sink and drainer.
External Areas
The plot extends to over an acre and is totally private and secluded. Surrounded by cypress, oak and olive trees with a mediterranean garden becoming established close to the villa, you can be sure of peace and quiet with only the noise from the cicadas and sheep or goat bells to interrupt that. The large, saline pool is beautifully tiled in mosaics and accessed via roman style steps finished with non slip tiles. Stay cool, non slip, wood effect tiles have been used throughout the spacious terracing around the pool. The solar heated pool shower will deliver warm water in sunny conditions.
Roof Terrace
The furnished roof terrace is accessed via an external staircase and screened with safety glass so as not to block out the fantastic views of mountain, natural habitat and sea which can be enjoyed from the comfort of one of the rattan chairs or sofas. This is a great spot to relax after a busy day and for early or late season sun bathing. Please note that due to the gusty winds which can get up without notice and which could cause damage to parasols left in the open position on this terrace that no parasols are supplied on or for the roof terrace and therefore no shade is available.
Internet Access
Wifi internet access is provided via satellite with no restrictions on upload or download limits.
More Information
Use the different tabs to view the villa's features and amenities, actual location and distances to the nearest beach, shop and taverna. The prices tab contains details of the weekly rate together with discount information and additional charges where applicable. You can check "LIVE" up to date, availability using the availability tab which will also confirm the price for your selected dates ***. If you want to book you can then follow the online prompts. Also see https://www.crete-escapes.com/booking.
*** In some cases relating to the low occupancy discount, the price may need adjusting by us. Please see the note on this page for more details https://www.crete-escapes.com/about-our-discounts.
Holiday Rental Licence
Villa Maia is licensed for holiday rentals with the Greek Tourist Authorities . Licence number AMA00000134624

Amenities
General
138m2 (single storey apart from roof terrace)
Yes (in bedrooms and bathrooms)
Yes (x 2 - 1 in each bedroom)
Yes (unlimited access via satellite)
Phone for emergency use and incoming calls
Yes (request at time of booking - FOC)
Yes (request at time of booking - FOC)
Yes (request at time of booking - see prices tab)
Maid service and linen/towel change
Yes (see prices tab for more details)
Bedrooms & Bath/Shower Rooms
Yes (x 1 with possible en-suite bath/shower room)
Yes (x 1 - bath/shower room for double bedroom, if required)
Yes (x 2 - possible en-suite bath/shower room and family shower room)
Living Areas & Kitchen Equipment
Yes (with free Netflix and full surround system)
No (Villa has Apple to Airplay 2 input to media system)
External
Yes (50m2 - 10m x 5m depth - 1.0m - 1.4m. Solar heated pool shower. Accessed via roman steps)
Outdoor preparation area with sink
Yes (portable charcoal type)
Other
Centrally controlled electric shutters
Map
Local Info
Chania airport­ - 50 mins drive. Heraklion airport - 1 hr 45 mins drive.
Nearest Beaches­ - Almyrida - 12 mins drive, Kalives - 20 min drive or Georgioupolis - 22 min drive.
Nearest Taverna­s and Shops - Xirosterni - 8 mins walk / 3 min drive, Vamos - 12 min walk / 3 min drive, Kefalas - 7 mins drive or Gavalochori - 9 mins drive.
NB; all times are approximate and based on average driving and walking speeds. Some walking and/or driving may be on unlit and unmade track roads. Please refer to the map tab to view satellite images of the area.
Prices
Deposit
10% of total rent
Pricing Notes
Prices quoted are in gbp sterling, per week, for up to 4 people occupying the villa and are not per person. The villa can sleep up to 5 with 1 person using the sofa bed available; the sofa bed is charged at the rate of £10 per night.
Alternative length of stays of more than 7 nights are accepted and are charged pro rata.
Prices include air- conditioning, welcome pack, all linen and towels, including beach/pool towels and maid service with linen/towel change.
Maid service with linen/towel change** - every 4 or 5 days.
**except beach/pool towels which are only changed at the end of let however they can be washed using the laundry facilities in the villa during your stay.
There are NO hidden extras.
Low Occupancy Discounts
A low occupancy discount for a single couple (use of 1 bedroom), of 10%, is available at this villa except for July and August dates.
Not allowed on late availability or special offer prices.
Loyalty Discounts
If you are a returning client and this is your 3rd (or more) consecutive booking with Crete Escapes or your 2nd separate booking in one season, you will qualify for our loyalty discount. Please quote voucher code LOYALTY2.5 when asked to do so during the online booking process or let us know when you contact us. Your reduction of 2.5% will then be deducted from the total price.
Short Breaks
Short breaks are normally only available for a minimum of 5 nights and will be charged at the 7 nightly rate unless otherwise advertised. However, if the number of available days between existing bookings is less than 7 nights we may be able to accept bookings at a reduced rate subject to the owners agreement.
Short breaks are allowed within 3 days of arrival.
Availability
Booking Information
Change-over days are totally flexible but are subject to existing bookings taken either side, except July and August, which is Saturday arrival/departure only. If a booking means that the owner would be left with too many "void" days we might not be able to accept it. If this is the case we will contact you without delay to discuss alternatives.
Payment can be made by bank transfer to our sterling account or by debit or credit card (Mastercard or Visa) only.
Our travel information provides details of how to get to Crete including flights to both Chania and Heraklion airports.
If you want to book, please use the availability chart above to check your dates, you can then either book on-line, email or call us on 0330 111 0061.
Please note: although the calendars show live availability and you can book on-line, please note that your booking is not confirmed until we have issued a confirmation of booking. You may prefer not to book your flights until we have confirmed the booking.
Low occupancy discounts - unfortunately the online booking system automatically calculates the single couple or small party discount based on the number of people entered onto the booking form and the start day of your rental. There are 2 problems with this:-
a) If you are 2 people but not a single couple, or 3 or 4 people but not 2 + 1 or 2 + 2, the system will have automatically calculated a discount when it is not due. Please make use of the "additional notes" box on the booking form to tell us and we will adjust the price accordingly before we confirm your booking.
b) If your rental overlaps from a discounted period to a non-discounted one (or vice versa), the discount calculated will be wrong. In these cases we have to make the adjustment manually. You can still book on-line but we will need to change the price on receipt of your booking request. If the price increases we will contact you to confirm the new price before we confirm your booking and take your deposit.
Please don't let either of these issues put you off making a booking. The discounts are genuine and our villa owners welcome couples and smaller parties out of high season. We just can't fine tune the booking system to account for these 2 circumstances - sorry.
Floor Plans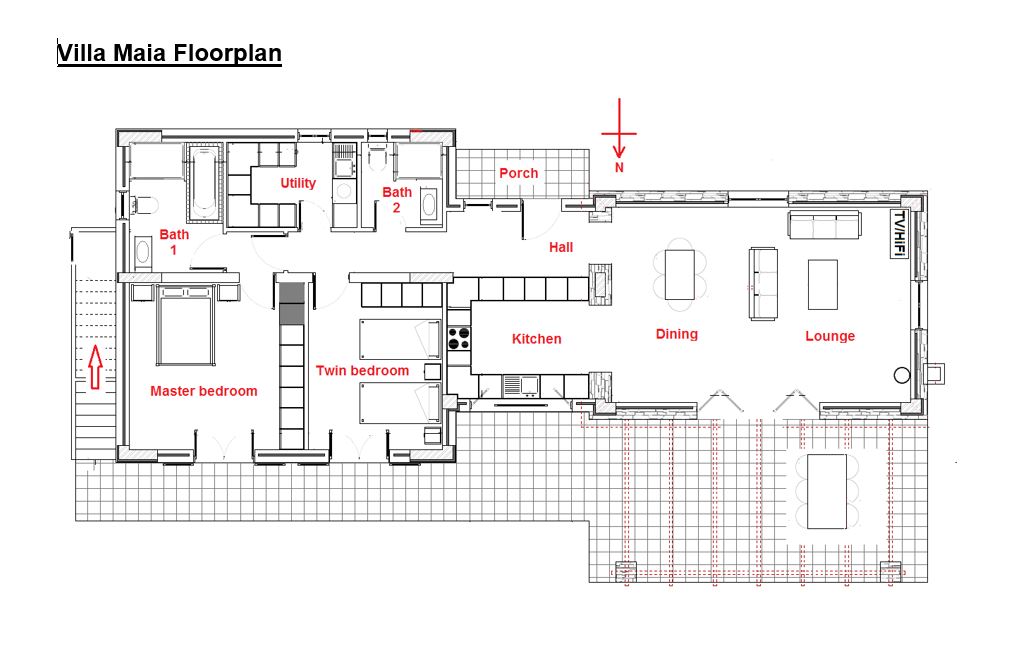 Reviews
Jan. Just a very quick note of thanks for sorting out our stay at Villa Maia over the past 2 weeks. It is a truly amazing villa, it was clean and spacious and had everything we needed for a truly great getaway. The fact that we were able to book it within a 48 hour period was great and a testament to you guys. I hope that now you will be able to get a well-earned break. I was unable to log into the guest login to write a full review. But feel free to use this email if you wish. Thanks again. Martin - August 2020
Villa Maia is a new addition to Crete Escapes for the 2020 season . The reviews detailed below have been taken from the guest book at the villa.
Beautiful villa with a beautiful pool and beautiful surroundings. Had a wonderful time here - August 2019.
Have had such a lovely time here at Villa Maia. Everything is catered for. We have loved the peaceful location and surroundings. Would love to return. Thank you so much - August 2019.
Thank you for letting us stay in your beautiful villa. The gardens are fantastic and the pool with views are superb! We really enjoyed the caves at Melidoni and the botanical gardens of Crete are a must see. We look forward to returning to visit all the places and restaurants we didn't have time for on this trip. Hope to be back next year - May 2019.
A big thanks to all, we've enjoyed our stay at Villa Maia. Good location with easy access to Chania, Georgioupolis which is a must see with fantastic tavernas and beach. The villa has been very comfortable with everything you could wish for, for a wonderful stay. We hope everybody else enjoys their stay as much as we have done - August 2018.
As the first guests at Villa Maia, we all wish to say a big "thank you". It's been an amazing holiday and such an adventure visiting Crete for the first time and staying in this beautiful villa. All aspects have been carefully thought through, it has to be said, everything has been catered for. We enjoyed the peace and quiet of the location and we enjoyed the superb pool. We are not sure whether we have ever stayed at a better place before? We enjoyed visits to Rethymnon and Chania both with their old towns and harbour areas. The road to the south coast at Hora Sfakion is recommended but watch out for the hairpin bends. We can't wait to see more of the island when we come back. We will most certainly return ! - August 2018.