Florianna's Villa
Plaka, Nr Almyrida
Sleeps: 4 + 1
Bedrooms: 2
Bathrooms: 2
£995 - £1845per week
Details
General Description
This very popular, well equipped villa offers a traditionally styled property which has been completely re-furbished over the closed season 2018/19. It retains its Cretan heart but visitors will now find a light, more comfortable and modern interior. There are furnished balconies and terraces with sea views, perfect for relaxing, around the villa. The villa has a private pool, garden and BBQ and sleeps up to 4 adults in bedrooms. A new sofa bed in the lounge area can accommodate a 5th person. Whilst we recommend car hire for all of our villas to enable you to explore and get the most out of your holiday to this lovely area of Crete, car hire is not essential at this villa as it is located close to the centre of the village of Plaka, within an easy stroll of the village's tavernas, bars and mini market and only 15 minutes walk to the beach at Almyrida.
Ground Floor
An open plan kitchen/diner and lounge area is located on the ground floor. The kitchen/diner is fully equipped with plenty of cupboard and worktop space (and see the features tab for a list of the kitchen amenities at the villa) . There is a table and seating for 4 people. The beautifully furnished lounge area includes a sofa bed which will accommodate one person as well as occasional furniture, a feature stone fireplace and a smart TV. There is also a fully tiled shower room/ wet room on this floor with shower, wc and wash basin (and washing machine).
First Floor
Both of the lovely air-conditioned bedrooms, one double and one twin, are on the first floor where the main shower room, with a modern walk in shower with hydro massage system, is also situated. Both bedrooms have ceiling fans for those who prefer to keep cool without air conditioning and both have doors fitted with mosquito nets which open up to an extensive balcony. This balcony has glass panel inserts so that you can enjoy views of the sea whilst you lie in bed. For that further bit of indulgent luxury, both rooms have a smart TV installed.
External Areas
There are balconies and terraces with sea views around the villa. A large, private landscaped garden with swimming pool, BBQ and a large dining table accompanied by comfy rattan dining chairs completes the amenities on offer.
The property is centrally heated making it a good choice for early or late season stays when the evenings may turn chilly and heating may be required.
Internet Access
The wifi internet access is provided by satellite with unlimited upload and download limits.
More Information
Use the different tabs to view the villa's features and amenities, actual location and distances to the nearest beach, shop and taverna. The prices tab contains details of the weekly rate together with discount information and additional charges where applicable. You can check "LIVE" up to date, availability using the availability tab which will also confirm the price for your selected dates. If you want to book you can then follow the online prompts. Also see https://www.crete-escapes.com/booking
Holiday Rental Licence
Florianna's Villa is for holiday rentals by the Greek Tourist Authorities (EOT). Licence number is 10 42 K 10 00 00483 0 0.

Amenities
General
Yes (bedroom balcony doors only)
Phone for emergency use and incoming calls
Yes (request at time of booking - FOC)
Yes (request at time of booking - FOC)
Yes (request at time of booking - see prices tab)
Maid service and linen/towel change
Yes (see prices tab for more details)
Bedrooms & Bath/Shower Rooms
Yes (x 2 - 1 x shower/wet room on ground floor and 1 x shower room with hydro massage system on first floor)
Living Areas & Kitchen Equipment
Yes (SMART TV and 2 x 32 inch LED/SMART in both bedrooms)
External
Yes (21m2 - 6m x 3.5m. Depth - 1.7m. Pool shower. Access via aluminium steps)
Outdoor preparation area with sink
Yes (stone built charcoal type)
Map
Local Info
Chania airport - 45 mins drive. Heraklion airport - 1 hr 50 mins drive.
Nearest Beaches -­ Almyrida­ - 25 mins walk / 6 min drive or Kalives - 15 min drive.
Nearest Tavernas and Shops ­- Plaka - 8 mins walk / 3 min drive, Almyrida - 25 mins walk / 6 min drive or Kalives - 15 min drive.
NB; all times are approximate and based on average driving and walking speeds. Some walking and/or driving may be on unlit and unmade track roads. Please refer to the map tab to view satellite images of the area.
Prices
Deposit
10% of total rent
Pricing Notes
Prices quoted are in gbp sterling, per week, for up to 4 people occupying the villa and are not per person. The villa can sleep up to 5 with a 5th person using the sofa bed which is charged at the rate of £15 per night.
Alternative length of stays of more than 7 nights are accepted and are charged pro rata.
Prices include air- conditioning, a welcome pack, all linen/towels including beach/pool towels, and maid service with linen/towel change.
Maid service with linen/towel change** - 1 week stays - end of let clean and 2 week stays - at the end of week 1 + end of let clean. For stays that do not fall into a 7 or 14 night pattern eg; 10 nights this service will be provided mid-stay ie; approx after 5 nights.
**except beach/pool towels which are only changed at the end of let however they can be washed using the laundry facilities in the villa during your stay.
There are NO hidden extras.
Options & Extras
Sofa bed: £15.00 per night
Cot: £0.00 per booking
High Chair: £0.00 per booking
Low Occupancy Discounts
A low occupancy discount for a single couple (use of 1 bedroom), of 10%, is available at this villa except for July and August dates.
Not allowed on late availability or special offer prices.
Loyalty Discounts
If you are a returning client and this is your 3rd (or more) consecutive booking with Crete Escapes or your 2nd separate booking in one season, you will qualify for our loyalty discount. Please quote voucher code LOYALTY2.5 when asked to do so during the online booking process or let us know when you contact us. Your reduction of 2.5% will then be deducted from the total price.
Short Breaks
Short breaks are normally only available for a minimum of 5 nights and will be charged at the 7 nightly rate unless otherwise advertised. However, if the number of available days between existing bookings is less than 7 nights we may be able to accept bookings at a reduced rate subject to the owners agreement.
Short breaks are allowed within 3 days of arrival.
Availability
Booking Information
Change-over days are totally flexible but are subject to existing bookings taken either side. If a booking means that the owner would be left with too many "void" days we might not be able to accept it. If this is the case we will contact you without delay to discuss alternatives.
Payment can be made by bank transfer to our sterling account or by debit or credit card (Mastercard or Visa) only.
Our travel information provides details of how to get to Crete including flights to both Chania and Heraklion airports.
If you want to book, please use the availability chart above to check your dates, you can then either book on-line, email or call us on 0330 111 0061.
Please note: although the calendars show live availability and you can book on-line, please note that your booking is not confirmed until we have issued a confirmation of booking. You may prefer not to book your flights until we have confirmed the booking.
Floor Plans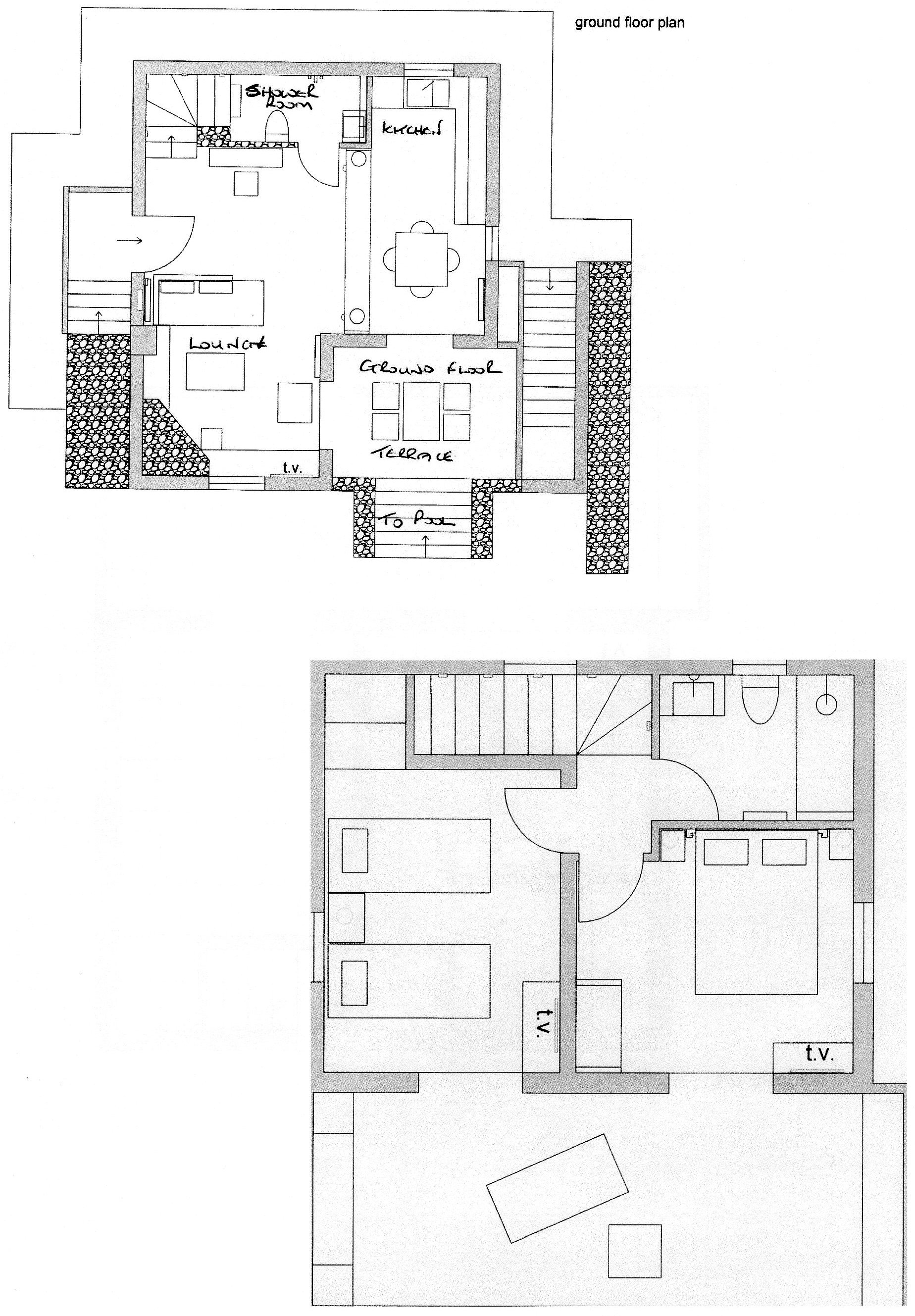 Reviews
Wow, fantastic villa, everything you could want and need, stunning. Location great too. Plaka great and good walk to Almyrida with fantastic bars and restaurants. Will definitely be back - June 2023.
What can we say about this place, see you next year - October 2022.
We don't want to leave this wonderful villa in beautiful Crete. We can't fault the villa, it's perfect! Looking forward to our next trip - July 2022.
The villa is wonderful. Every detail has been considered to make our stay relaxing and comfortable. The location is perfect mix of being away from the crowds but with easy access to great tavernas - Elpis was our favourite - July 2022.
This was our second visit here with a 13 year gap in between! We remembered many of the features of the villa but there have been several improvements since last time - notably the new window, walk-in shower, wi-fi and air conditioning. The welcome pack was very much appreciated as we arrived late at night. Thank you also to Maria for the lovely pies, cake and fruit you left us, they were delicious. Thank you for a lovely villa, all we could wish for - June 2022.
We echo the sentiments of previous visitors - May 2022.
Thanks for the third booking we've had with you...all great! Please pass on to the villa owners (and Maria - for her wonderful and delicious food gifts) that we had a brilliant stay at the villa, it was all perfect (very comfortable double bed) and we may very well book again in the future. Thanks - August 2021.
We had a wonderful holiday at Florianna's Villa which was just perfect. A superb house with really nice touches in terms of comfort and appearance. Great gardens and pool area, well fitted out internally and importantly with comfortable beds. Thanks to Crete Escapes for their help with the booking, the same to Niki and her husband for really helpful site management (they are so efficient) and finally to Marie for the pastries, cake, fruit and wine which were delicious. This was our 9th year holidaying in the area and we have already booked the villa for next year. Roll on next September! - September 2020
Hi, just to let you know that we have just returned from a fantastic holiday. The villa was amazing and we loved being so close to the restaurants in Plaka. Also, just in case any other guests are worried about the health side of things, we found that everyone wore face coverings in restaurants and shops, but more specifically we did have to use the emergency doctor listed in the villa. It was for a non-covid emergency where I needed to get urgent antibiotics on a Saturday night. The doctor listed arrived at the villa within an hour and luckily had one of the right antibiotic tablets in his bag, and gave me a prescription for the rest of the course, and details of how to access the out of hours pharmacies in the area on Sunday morning. It cost 90 euros but he gave me a receipt in case I could claim it back - more than fair for such a great service. We would highly recommend everything about the villa and the area. Thanks again - August 2020.
Just to let you know that we have just returned from a fantastic holiday. The villa was amazing and we loved being so close to the restaurants in Plaka.
Also, just in case any other guests are worried about the health side of things, we found that everyone wore face coverings in restaurants and shops, but more specifically we did have to use the emergency doctor listed in the villa. It was for a non-covid emergency where I needed to get urgent antibiotics on a Saturday night. The doctor listed arrived at the villa within an hour and luckily had one of the right antibiotic tablets in his bag, and gave me a prescription for the rest of the course, and details of how to access the out of hours pharmacies in the area on Sunday morning.
(It cost 90 euros but he gave me a receipt in case I could claim it back - more than fair for such a great service)
We would highly recommend everything about the villa and the area.
Thanks again
We've just returned from our stay at Florianna's Villa, Plaka, Crete and it's been as fabulous as ever so once again, many, many thanks. We've had a superb break and stay at the villa. We've been many times and we just can't fault it - we love it ! - September 2019.
We would like to send you a big thank you. Florianna's villa is just excellent and very comfortable; it has been updated with care with almost every detail of everyday living taken into consideration. We had an excellent time. We found tavernas from 5 years ago still going strong and new ones besides in other places apart from Plaka. Maria's goodies were welcome and wonderfully tasty which made us feel good to be there. Please pass on our good wishes - September 2019
This was our first private villa holiday and we couldn't have wished for a nicer place to stay. We will definitely come back in a couple of years. We ventured to Georgioupolis and Chania which are to be recommended for a good day out. We had lots of good meals at the tavernas in Plaka Square. Harokoupos was our favourite with Elpis coming a close second. Thanks to Maria for the delicious pastries - August 2019
Really enjoyed our stay in this villa. Everything we needed was her and the welcome pack was great. We also enkoyed the lovely cakes midweek. The pool was lovely and clean. The local tavernas were all good and welcoming. We will be back - June 2019
The villa is pretty much perfect; lovely rooms and bathroom is spot on. Coming back to the villa from 22 - 30 degree heat all week to a cool pool and shady lounging area was the best possible combination. We focussed on the beaches all good with different and excellent characteristics - Almyrida (of course), Kalives, Georgioupolis which was a lovely drive over the mountains and rethymnon. A visit to Chania harbour and the old town was wonderful - a must ! We will be back - June 2019.
We had a lovely stay at Villa Florianna. Having stayed before we were both delighted to see the very recent refurbishments - the walk in shower being one of the highlights. The combination of the peace here and the bustle of the tavernas along the bay in the evenings is just perfect. We will certainly be back. Sadly we missed out on the mid week hamper of Maria's cakes and Greek pie but nevertheless we had a fabulous time - May 2019
This villa has been perfect for us. Comfortable, light and airy with a contemporary feel, refurbished to a high standard. We have loved the outside space and well tended gardens full of flowers. Its position with lovely views and easy access both to the restaurants and the countryside walks has been great for us. A drive through the mountains to the south coast is a must! The midweek goodies basket was a lovely surprise. Using this villa in Crete has been a thoroughly enjoyable escape from urban living in England. Thank you very much - May 2019
We've been to Florianna's Villa on many occasions and have always had a fantastic stay. It's beautiful, serene and full of character. Maria's hospitality is second to none and she has always made us more than welcome with her gifts of cakes. The local area with its views, villages and restaurants is fantastic. We last stayed in October 2018 and knew there were going to be changes to the villa over the winter. We couldn't wait to get back to see what had been done. I can only say everything is superb and has only enhanced this gorgeous villa. All the changes are top class. Thank you and see you again in October - May 2019.
We had a fantastic time in Crete and the villa was excellent - August 2018.
We just wanted to email you to thank you for such a fantastic holiday. Everything was exactly as stated on the website and you have been incredibly helpful and responsive during the booking process. We would have no hesitation in booking with you again or recommending you to friends and family - August 2018.
We've had a lovely 2 weeks in this charming villa. Weather has been very hot and sunny. We've loved Maria's pastries and fruit when she has visited to water the garden. Spent most nights eating at The Elpis Taverna. They are wonderful hosts and Nikos is a wonderful chef. We've been visiting Plaka every year since 2001 and Florianna's Villa is one of the best we've stayed in. We will return - July 2018
We're a couple of "oldies". We've loved the peace and calm of this place. We've had some very untypical weather whilst here with some cloud and rain. Maria has provided us with her "pastries" and honey whenever she has visited to water the garden. We have used all 3 tavernas in the centre of the village and they are all pretty good. It's also worth visiting the "Sunset" taverna for stunning views of the bay and the coastline as well as the sunsets. Our favourite was "Una Facca Una Razza" for excellent Italian dishes and a really friendly owner. The best beach was the one in Almyrida near the Tsunami snack bar, sandy and gently shelving into the water. The best bit of all though was this beautifully appointed house with its lovely pool and garden. We've really enjotyed it - June 2018.
A wonderful villa with a delightful outlook and a splendid pool. We spent our evenings in Almyrida as the choice of tavernas there was better for us. If you like pizza and pasta try the new Italian in Almyrida. the weather has been outstanding as has our first trip to Crete. We will certainly return. Thanks for the cake and pastries, they were a real treat. Best wishes - see you again - June 2018.
Lovely 2 weeks here; weather has been beautiful most of the time. Visited most of the local tavernas; all great but in all of them the portion sizes are massive! This is a great area of Crete to visit - April 2018
Our 3rd stay at Florianna's Villa and still as beautiful as ever, serene, peaceful and full of character. It's our favourite place in Crete and always will be. We finally got to meet Maria on this trip, after 3 years! We sampled some of her delicious home baked cake. We got married on this visit at The Bicorna Hotel and Cafe in Plaka. Several friends visited us at the villa and they all loved it. We will be back to Florianna's Villa again next year, we like it so much. Many thanks - October 2017.
A brief note to thank you very much for booking us to stay in Florianna's villa for the week 19-26 September. We very much enjoyed staying in this delightful villa in Plaka. It was perfect for us and so clean, well cared for and beautifully and traditionally furnished. All went smoothly, the weather was excellent, the car hire with Pan Car was straightforward and everyone was so welcoming and friendly. This has been our first visit to Crete, and unlikely to be the last! Thank you also for the wealth of extremely helpful information you either sent or placed on your website - September 2017.
This is our 2nd visit to Florianna's Villa and it was just as lovely as our 1st visit 2 years ago. A very beautiful and relaxing place to stay and yet still close enough to stroll into Plaka for an evening meal. The local supermarkets had all the supplies we needed and we found the small butchers in Almyrida. We enjoy all the local restaurants in Plaka Square but the best (and best value by far) is Harokopos. The villa is very clean and the management team very helpful. We have had several visits from the owner, Marie, with some very tasty treats for us which were much appreciated. We would highly recommend this villa and hope to return in the future - August 2017.
Our first visit to Crete which we could not have enjoyed more. Perfect weather including a mini heatwave. Villa is excellent. We loved the garden with all the beautiful plants and sitting enjoying the stunning views with a glass of wine and the smell of jasmine in the air. We hired a car and have explored this wonderful island including beaches at Kalives, Marathi, Georgioupolis, Falassarna and Elafonissi with the latter involving an early start and a stunning drive through the mountains. We visited Chania in the evening where we had a wonderful meal and really enjoyed the atmosphere. Nearer to home, Plaka is perfect with lovely friendly tavernas. Maria (the villa owner) visited us bearing gifts, so kind and lovely. This has been a perfect holiday in every way. Thank you. Crete, we love you - July 2017.
Delightful and comfortable villa. Beach at Almyrida lovely with shallow sea, Good tavernas with reasonable prices. Fab sunsets. All in all, another great holiday in Greece - July 2017.
It was a excellent holiday thanks, all worked very well. Lovely villa, great location - July 2017.
We had a wonderful trip! Please send a thank you to the owner for her wonderful treats in the form of cake and biscuits Cretan style! The locals were delightful and we thought the villa was perfect! We will be back, what a stunning island - June 2017
Our first visit to Crete and we're glad we've chosen to spend it in this lovely villa. The weather's been perfect and we've spent lazy days reading by the pool, driving to Chania and Rethymnon and taking long walks along the cliffs towards Almyrida. Enjoyed Takis taverna in Plaka for friendly service, generous portions and free desserts and drinks! There's a well stocked shop in the village and a couple of good souvenir shops in Almyrida as well as some friendly bars and beach side cafes. We've had a lovely time - May 2017.
Our 2nd stay at Florianna's and nothing has changed - absolutey perfect - facilities, location and the area are all perfect! We can't fault it and will be back next year. The weather has been perfect and the welcome and generosity of the Cretan people are superb. All the tavernas offer excellent quality and generous portions with free dessert and raki! - October 2016
We have really enjoyed our stay here at Florianna's Villa, what a beautiful place and so quiet................ We enjoyed meals out in Plaka and Almyrida. We explored the area and the beaches, we liked Kalives where we got free sunbeds and brollies (buy a drink or food from the cafe). Everybody we met, bar one cafe owner, was very friendly, kind and helpful. All in all we've had an excellent holiday. Many thanks - September 2016.
Another great stay at Florianna's (our 3rd). We recommend Harokopos taverna in Plaka for very good food and friendly staff. We visited Vamos and via the tourist information centre we booked a country walk with George who was an excellent guide, also the Cretan cookery course which was fantastic - August 2016.
We had a lovely relaxing time here with temperatures around 30 degrees for 2 weeks. We've tried all the restaurnats in the village and recommend Takis and the Italian. Emerald is good but booking is advised. We loved the Bicorna cafe just along the road for breakfast, drinks and their wifi. We visited Chania using the local bus service from Almyrida, tickets cost just over 3 euro. - August 2016.
We all had a lovely time here at Florianna's. The villa is in a great location and easy to walk to Plaka and Almyrida for evening meals. The villa was really well equipped; we made good use of the BBQ and had fresh orange juice every morning thanks to the juicer - delicious! The pool & garden were a real sanctuary, it was lovely to be able to pick fresh tomatoes and peppers :) We had some great days out and would recommend Dream Boat Adventures in Almyrida, Chania at sunset, cooking lessons in Vamos, boating at Lake Kournas and the botanical gardens at Fournes with an excellent on site restaurant. We loved swimming at Almyrida but our favourite beach was just outsuide Kalives near the GK hotel and cafe - July 2016.
We had an absolutely lovely stay in the villa and enjoyed exploring Plaka and Almyrida and managed a day trip to Georgioupolis which is definitely recommended if you have a car. We had a very lovely time and hope to be back in Crete soon - June 2016.
Great to be back, this time for 2 weeks. Had a very restful and peaceful time and the food at the tavernas was as good as ever - May 2016.
We've spent the most fantastic fortnight at Villa Florianna. It has been quiet, relaxing and thoroughly enjoyable. We've been to Crete and Plaka on many occasions and without doubt this has been our most comfortable stay. The villa's facilities are superb and we've never been short of anything during our stay. The outside table area, pool, BBQ and garden are gorgeous and we have felt most at home. We haven't had the chance to meet Marie but were delighted to find a little package of treats left for us outside one morning. Thank you, that was a lovely touch. Definitely returning next year (we've already booked) - many, many thanks - October 2015.
The villa and Plaka is a very nice and relaxing place which made an excellent week. Elpis taverna in Plaka was the one we thought the best in the village and just down the hill we liked the restaurant at The Emerald suites - September 2015
All four of us have thoroughly enjoyed our week here. It is a lovely villa with a beautiful pool and outdoor area. The village is very friendly and all the tavernas were excellent. Our favourites were the Italian (una facca una razza) and The Emerald. We enjoyed exploring the area - Almyrida is lovely and we would recommend The Dream Adventures boat trip which is amazing! A brilliant holiday all round - September 2015.
We have really enjoyed our stay at this beautiful villa. It is very well stocked and very clean with lovely views across the sea. We have loved spending time relaxing around the pool and exploring the local area. This is our 2nd visit to Plaka and we would love to return again soon. A special thank you to the owner, Marie, for the food parcel gifts which were much appreciated and delicious - August 2015.
We arrived to find an immaculately presented and very clean villa and a welcome hamper which was much appreciated. Don't think you can fault the villa one little bit; it's perfectly located, has a great pool, well tended and beautiful garden and all the comforts we needed. Maria brought lots of 'goodies', pastries, cakes, fruits etc which was very kind and generous of her. We loved Plaka and the fact that you could just walk out from the villa. Overall we have had a GREAT holiday. We most certainly will revisit and would definitely stay at Villa Florianna which gets a 5/5 from us! - July 2015.
We had a lovely week at Florianna's and we very much liked Plaka and its wonderful eating places! The villa was spotlessly clean on arrival, very well equipped and the welcome pack most helpful on arrival. The agents were most helpful and the pool was cleaned twice during the week. The villa very much met our expectations and we hope that we may return. Marie turned up with a very generous range of goodies and replaced the kettle. Thanks for your assistance, we look forward to returning! - May 2015.
We had a lovely time and thought Florianna's Villa a beautiful place to stay. Arrangements went perfectly & the light but efficient touch very much appreciated - September 2014.
Thanks Crete Escapes, we've had a really good holiday - it was so relaxing to stay at Villa Florianna. Maria gave us tasty gifts which were much appreciated and the weather was near perfect. We enjoyed eating out at a restaurant next to the butcher in Chania market, one next to the war memorial at Gavalochori and another at the 'T' junction in Kokkino Horio. Thanks again - August 2014.
Villa Florianna is a great choice with a fabulous pool and well equipped (a toaster would be our only addition). The villa is in a perfect location - you can stroll into Plaka for a meal - we tried Elpis and Takis - preferred the latter - not just because of the huge portions (beware) but also the quality of the food. The man at the village mini-market is very helpful and polite. Visited Lake Kournas, Chania harbour and Aptera. The beaches at Almyida and Kalives are good with lots of tavernas to choose from. Our favourite restaurant was Elia in Almyida but they only take cash. Maria visited with the much mentioned cakes, grapes and another bottle of wine. She's a charming lady, thank you Maria - July 2014.
Our visit to Crete. Villa Florianna has been a great place to stay and Plaka a great location. Much time spent relaxing in the villa and swimming in the pool but we've had some good days out too. Recommend a visit to the ancient ruins at Aptera, a walk to the summit of Gingilos and also a visit to Chania old town/ harbour. Thanks Maria for the gifts of food and wine plus the welcome pack - July 2014.
We've had a really relaxing time at this lovely villa. This is our 3rd visit to Crete and its been the most enjoyable due to the location. Plaka is a great place for your basic needs, especially with so many restaurants if you don't want to cook - which we didn't! Takis was our favourite, as the owner and his daughter were so friendly and inviting. Maria brought a lovely basket of goodies and then some tasty pastries. Thank you for letting us stay at your lovely villa. We will definitely be back - July 2014.
What a wonderful retreat! It's sad it is time to say goodbye but all good things come to an end. The villa is peaceful and sun drenched and Maria is a very lovely lady always arriving with home-made treats! Efcharisto Poli! - June 2014.
This is our 3rd holiday in Crete through Crete-Escapes and we've thoroughly enjoyed continuing to explore the island from this comfortable, clean villa. The highlight this year was discovering the Botanical Park and Gardens near Omalos, Chania. Beautiful, interesting place, very special and the food in the restaurant was the best we've had in Crete. A magical place; children would love it. Marie - thank you for the basket of treats that you left for us. We enjoyed it all - May 2014.
Lovely villa and wonderful hospitality. We would like to thank Maria for her lovely gifts of delicious cakes and breads. We enjoyed sitting by the pool in the sunshine and had lovely walks in the coves overlooking the sea - April 2014.
Our 1st visit to Crete and we picked a perfect week. The weather was beautiful all week, warm with clear blue skies. Delighted with the villa, a beautiful garden and lovely pool. Thanks to Maria for the wonderful pastries she gave us midweek. Ate in all the tavernas in Plaka and found them all to be very reasonably priced and the food was good but watch out for the huge portions! A favourite spot for lunch was Thalami fish taverna in Almyrida. The highlight of our week was hiking down the Samaria Gorge, hard work but worth it especially for the swim in the Libyan sea at the end. Would love to return - thanks for a great holiday - October 2013.
We have greatly enjoyed our stay here. We have been impressed by the good value at all the restaurants in Plaka; Elpis was our favourite but we felt that the quality of the food was better at the many sea front restaurants in Almyrida. Florianna's villa is nicely decorated with a particularly well maintained garden. The only criticism is that the kitchen could do with a sieve/colander for washing salad etc and a better kitchen knife - Many thanks - September 2013.
Perfect Honeymoon here. Everything was great ­ the pool, the weather, the food, and the locals, Elpis in Plaka was our favourite place to eat ­ try the mojitos too. We don't advise walking to Kalyves in the midday like we did. Thank you to Marie who was wonderful and very generous. A truly amazing honeymoon - August 2013.
We have thoroughly enjoyed our two weeks at Villa Florianna. The villa is great; we've all enjoyed the pool and the BBQ and the views are stunning. Thank you so much for the gifts, the cheese pastries were delicious. We enjoyed the local beach at Almyrida as well as others further afield and the water park at Limnoupolis. We recommend Elpis taverna in Plaka for kids (it has a play area) and adults alike. All in all a fabulous holiday - we've fallen in love with Crete and we are sure to be back soon - June 2013.
We had a lovely stay in Villa Florianna. Beautiful weather. Takis in Plaka was a good place to eat. Thank you Marie for your wonderful gifts - June 2013.
We have had a wonderful time and the villa is amazing and very peaceful. We will definitely be returning, hopefully next year, as my aunt has a villa just 200 metres away - September 2012.
We have spent the most wonderful 3 weeks here in Villa Florianna. We have spent many lazy days around the pool having a fantastic family time together. The villa and its surroundings are very peaceful and private. Thank you so much for the lovely produce; especially the wine! This is our 5th visit to Plaka and assure you that it won't be our last. Sincerely hope to be back again soon. Yammas - August 2012.
We spent a wonderful week here swimming, playing, exploring the surroundings and just having a marvellous time. We have been to Western Crete before but this was the first time to Apokoronas - what a wonderful area! Thank you for your hospitality, our boys loved the cookies!! We hope to come back again - July 2012.
We've had a lovely week in a lovely villa. We've enjoyed our meals outside where you can smell the beautiful garden. The pool was great and the rubber ring a hit with the children. The BBQ works well and the kitchen is well equipped. Almyrida beach has been lovely. Clear, clean, warm sea, suitable for children. Our children snorkled there. We had nice food brought to us on the beach by Atlantis cafe. We used the English butcher in Vamos but there is a good local butcher just off the main square in Vamos if you want local meat/sausages for a BBQ. A beautiful week in a comfortable villa in a beautiful and quiet part of Crete - June 2012.
Well, we're not long back from Heaven ­ sorry, Florianna's Villa! This has without doubt been the best holiday either my fiancée or I have ever had. Everything, but everything, was perfect! The villa itself, the location, the proximity of local amenities, exactly as described by yourselves. The whole experience lived well up to expectation and beyond! Marie, the owner, and Go West, property managers, made sure we were very well looked after. All in all, then, a truly memorable holiday, and for all the right reasons! Many thanks. (We will be back!) - May 2012.
The most wonderful 2 weeks! The villa has fulfilled all expectations and more besides. The whole place gets 10 out of 10, plus several gold stars!! Marie's gifts have been very well received - it was a real pleasure to make her acquaintance. Many thanks to her, her staff and all at Crete Escapes - this has been our first time to Crete and it won't be our last!! - May 2012.
We have had such a lovely holiday in Villa Florianna. The location is great - far enough away from hustle and bustle so it is quiet and peaceful but close enough to Plaka to walk there for dinner in the evening. The people have been incredibly friendly and helpful. We arrived late at night to find the fridge stocked with all that we needed. We made full use of the vegetable garden and we had lots of fun in the pool. All in all a wonderful relaxing trip - October 2011.
We had a lovely time at Florianna's Villa. The location was perfect for us & Plaka is a delight, especially Elpis taverna which we couldn't get enough of! Western Crete is beautiful for sure - we will pass on recommendations! - September 2011.
We have had a wonderful stay in Crete. The villa is excellent and well placed for visiting all around the Chania region as well as the Rethymon area. We recommend Falassarna and Elafonissi for their beautiful beaches, Balos which is a marvel especially if you go by boat from Kissamos and stop off at Gramvoussa - August 2011.
We have had a lovely stay in Crete - our first visit to the island. We have managed to visit west as far as Falassarna and Kissamos and east to Georgioupolis. The beaches just outside GP are wonderful - flat and sandy for miles! We walked the Imbros gorge (easier than Samaria). Plaka is a good place to eat in the evening and a nice stroll back after a few beers. We enjoyed all the tavernas there. The villa and pool have been perfect - clean and well equipped - Thank you - July 2011.
This is our first visit to Crete and we enjoyed every minute of it, it is such a beautiful island and Plaka is wonderful, very peaceful and relaxing. The villa is outstanding; great location, clean and well equipped with everything we needed. The pool is great and we used it every day. It looks very pretty when it's lit up at night. The books at the villa were really useful and the provisions on arrival were very welcome. We would also like to thank you for the gifts of homemade cake and Cretan produce. The village of Plaka is lovely with a good selection of tavernas in the square and a little supermarket for provisions - the man who owns it is very helpful!! Almyrida is lovely too with a bigger selection of tavernas, a great bakery and a lovely beach. We would love to visit again - June 2011.
We have had our 2nd wonderful holiday at Villa Florianna and our 3rd in Plaka. We have used the lovely pool every day and of course the beach at Almyrida. It was lovely to see Fotini again at the taverna Harokoupos in Plaka, the food is lovely and very reasonably priced. Thank you for your very generous gifts of wine, fruit, olive oil and honey and thank you for such a lovely stay - June 2011.
Arrived in the dark - what a wonderful surprise in the morning!! We have had a wonderful, relaxing holiday in Villa Florianna. We particularly enjoyed the friendly Cretan people and the fabulous food - May 2011.
Jan - I would just like to let you know that we had a terrific holiday in Crete and thoroughly enjoyed ourselves at Florianna's Villa. The villa was excellent and exactly what we were looking for. Our two boys had a great time. The owner visited us, what a lovely lady, she brought us many gifts including her homemade wine and homegrown figs..lovely. Many thanks to you for the organisation and we look forward to booking with you again one day - August 2010.
Villa Florianna's has all you need for a great holiday. Just off the beaten track but close enough to bars and tavernas in Plaka. Almyrida has good beaches and tavernas. Great 2 hour trip with George on the Crete Dream rib around the coast to the Octopus bar and back - snorkelling included. Fabulous holiday. Many thanks - June 2010.
We have both enjoyed an amazing stay. We had all the peace and tranquility we needed to escape hectic city lives. Although we're not ordinarily the type of folk to return to the same place, this has won us over and it's on the cards! It's been a week of happiness. We'll be back - May 2010.
Thanks for a really lovely week. The villa was unbelievably good, well equipped and well maintained. Thank you Maria for the gifts you brought and for looking after the gardens - May 2010.
We have enjoyed our stay - the villa is well appointed and we loved the view. Thankyou for the welcome pack. We hope to return - September 2009.
Excellent holiday. Comfortable villa with everything we needed. Gifts from Maria were a nice gesture and much appreciated. Lovely to have the beach within walking distance. Recommend two tavernas with excellent sea views in Almyrida - Psaros and Erotokritos. Thanks for an excellent villa. We thoroughly enjoyed our stay and hope to come back one day - July 2009.
One of the best villas we have stayed in. Comfortable, clean and good facilities. Amazing amount of gifts from Marie Thank you! I can highly recommend her home made wine. Weather was hot and sunny all week. Thanks for everything Marie and Crete Escapes - June 2009.
We had a lovely week relaxing and messing about by the pool. Not much sightseeing but trips to the beaches and Chania, Good meal at Gavalochori (10 minutes drive) Fantastic house with all necessities. Thanks Marie for the presents. The garden is wonderful - June 2009.

What a lovely setting for a perfect week away. The house is well equipped. The view here and the pool are absolutely lovely. Particularly enjoyed the Brandy Alexandra's at the Bicorna Bar. The short walk to Almyrida is wonderful and the tavernas are very good. We enjoyed the night sounds of Crete and will be back for more! Enjoyed Knossos which we recommend all visitors to see - May 2009.
Really enjoyed our first trip to Crete. The villa, pool, garden and view are fantastic. The quiet position and close proximity to Plaka and Almirida are ideal. Thank you Marie for the gifts of local produce. Hope to come back again soon ­ June 2008.
This is our 4th visit to Crete and the best yet. The villa feels like a home from home especially with the lovely garden. The gifts you brought were very much appreciated and made us feel very welcome - May 2008.
We have had a wonderful time in this lovely villa. Great weather and really marvellous setting. We hope to be back soon ­ August 2007.
Beautiful, clean and comfortable villa ­ we loved it! Felt very at home and enjoyed the surroundings. The local people were so friendly and welcoming. Marie's little gifts were a delight and much appreciated ­ what a kind lady. Thank you Janet at Crete Escapes for your knowledge and assistance ­ July 2007.
Villa Florianna was lovely, just as we expected. We found the villa very easily and we had a wonderful holiday. Thanks for everything, we will certainly be recommending you to any-one looking for a good quality and personal service ­ May 2006.