Villa Kournedes
Gavalochori, Nr Almyrida
Sleeps: 6 + 1
Bedrooms: 3
Bathrooms: 3
Cloakrooms: 1
£1595 - £3345per week
Details
General Description
Villa Kournedes makes for a perfect holiday, a superb villa with fantastic sea and mountain views, away from the crowds yet with easy access to all the amenities that make Crete such a special place for a relaxing holiday.
This beautiful villa stands in its own, large, private plot with fantastic sea views across Souda Bay to the north, mountain and valley views to the west and forest views to the east and south. The plot is very privately situated, where you can be sure of not being overlooked, set inside a designated area of natural beauty with lush cypress and pine trees. The villa is double gated for privacy; one secure gate with coded access to the plot and the second for access to the garden and villa itself. Unusually, despite its privacy, it has private access through to the road which leads to local villages only a short distance away. Turning left from the villa is the Byzantine village of Gavalochori (10 minutes' walk away) where there is a good selection of grocery shops, tavernas and kafenion as well as a museum. To the right (also about 10 mins walk) is Xirosterni, a Cretan small hamlet with a well-equipped mini market and a Kafenion that serves traditional fresh BBQ all night as well as salads and drinks in relaxed Cretan style. A walk back at night is recommended because the stars in the sky are simply breath taking with no light pollution to distract.
The owners have improved the villa each year adding extra facilities. For the 2024 season all the bedrooms will be re-configured benefitting from comfortable pocket sprung mattresses and the kitchen will have a new full cooker/oven/grill and induction hob. The villa owner has introduced eco-friendly additions too such as 'intelligent' air-conditioning throughout which lessens the impact on the planet and local infrastructure - a bonus for those keen on protecting the environment. Additionally, for early or late season when the evenings may turn chilly, there is a smart thermostatic heating system allowing direct control of each room's temperature and a super-efficient wood burner making the villa comfortable for an evening "at home" enjoying views of the twinkling lights across the Akrotiri peninsular.
The villa is comfortably furnished and with no neighbours to worry about (see the map and local info' tab) you can be totally relaxed in the villa or in the well established garden and around the large private pool confident that you will only be disturbed by the sound of distant goat bells. The owners have taken steps to protect your stay against disruption from any local building works by also owning the land immediately adjacent to the villa (see the map ). This is an area where local fauna has flourished and occasionally you may see sheep grazing there. Together with the designated status of the surrounding areas you can be assured of beautiful and unrestricted views.
Ground Floor
The open plan ground floor is fitted with an immaculate luxury kitchen (see amenities list) at one end with large glass doors opening up to the BBQ terrace and fabulous views of the mountains. Large double size glass doors at the far end of the lounge /diner open up to the pool terrace with sea views. The kitchen is linked to the lounge/diner by an entrance hall with the stairs to the first floor leading off. There is a ground floor cloakroom equipped with a wc, wash basin and washing machine. The lounge/diner is very spacious with a wood burning stove and a good sized marble topped dining table and 6 chairs. The villa benefits from an integrated TV with Bluetooth connectivity. This provides free to air satellite channels (not SKY sports) as well as many Greek channels often broadcasting films in English. The media system can also play music directly from Bluetooth enabled smartphones and tablets without the need for a wired connection. In addition to a large range of pre provided DVD's, you may wish to take advantage of the ability to play your own selection of videos which you can download and bring with you on your own smartphone or tablet. The TV has built in wifi and can connect to tablets wirelessly to mirror the screen and sound which you can then experience on the large screen. The owners have encouraged guests to share / swop books from the small library which caters for young and old alike.
The sofa converts to make a sofa bed suitable for one person at the rate of £10 gbp per person, per night. There is also the option of a child using a Z bed which is available on request only, also charged at the rate of £10 gbp per person, per night.
First Floor
All of the 3, en-suite bedrooms are on the first floor and each has superb views of the mountains or the sea. The two bedrooms at the front of the villa have views right across Souda Bay; views that can even be enjoyed without getting out of bed. Both of these rooms have sliding glass doors on to a spacious, furnished balcony that enjoys the same views as the bedrooms. There is one twin bedded room with single beds that can be locked together to form one super king size bed or separated as required - please let us know your preference on booking. All rooms have wardrobe and drawer storage space and 100% cotton bed linen. Plump micro-fibre, anti-allergy pillows and pocket sprung mattresses are supplied on all the beds for your comfort.
Roof Terrace and External Areas
The roof top terrace is a favourite spot which the owners enjoy using when at the villa. A secluded place for private and personal sun bathing with fantastic 360 degree views and, with the added height, a wonderful perspective of freedom and "getting away from it all". A lovely vantage point to watch the stars and the twinkling lights of the Akrotiri peninsula across the bay. Guests particularly like this area for their yoga practice and night time drinks soaking in the atmosphere and sparkling distant lights.
There is plenty of space for everybody to spread out in comfort, be that on one of the numerous terraces or balconies around the villa which extend to some 100m2, or around the pool. There are 2 outdoor tables with 12 dining chairs for dining al fresco, 12 sun loungers and 6 comfortable chairs for reading or lounging. The BBQ area with table and dining chairs is conveniently situated on the terrace leading directly off the kitchen. 2 covered pergolas are situated at the front of the villa near the pool area and to the side of the villa providing plenty of shade on those hot, sunny days.
The large mature garden (10 year plus) extends around the house on three sides, with a large gravelled car parking area on the fourth. The owners are happy for guests to use fresh herbs from the kitchen garden for their cooking.
The villa has been completed and furnished in a very modern relaxed style making it very easy to unwind and leave your stresses behind.
Internet Access
The villa has free unlimited internet at a download speed up to 2Mbps provided over secure wifi which can be accessed from most laptops, PDAs and other wifi enabled devices. Details on how to use the system are contained in the owner's manual at the villa. A fair use policy applies to safeguard against inappropriate content and its distribution as well as unusually high data volumes.
The owners have their own website and a video of the villa and surroundings that you may like to view – www.kournedes.com and https://photos.app.goo.gl/yLEifUJxN3CyLrau9
More Information
Use the different tabs to view the villa's features and amenities, actual location and distances to the nearest beach, shop and taverna. The prices tab contains details of the weekly rate together with discount information and additional charges where applicable. You can check "LIVE" up to date, availability using the availability tab which will also confirm the price for your selected dates ***. If you want to book you can then follow the online prompts. Also see https://www.crete-escapes.com/booking
*** In some cases relating to the low occupancy discount, the price may need adjusting by us. Please see the note on this page for more details https://www.crete-escapes.com/about-our-discounts
Holiday Rental Licence
Villa Kournedes is licensed for holiday rentals with the Greek Tourist Authorities (EOT). Licence number 1042K91002955101.

Amenities
General
Yes (coded automatic entrance)
Yes (living area and bedrooms)
Yes (digital, large enough for a laptop)
Phone for emergency use and incoming calls
Yes (request at time of booking - FOC)
Yes (request at time of booking - FOC)
Yes (request at time of booking - see prices tab)
Yes (request at time of booking - see prices tab
Yes (request at time of booking - price TBA)
Maid service and linen/towel change
Yes (see prices tab for more details)
Bedrooms & Bath/Shower Rooms
Yes (x 1 - en-suite on first floor. NB; beds sized 90 x 200 cm each can be converted to super king size 180 x 200cm if requested)
Yes (x 2 sized 150 x 200cm and 160 x 200cm - ensuite on first floor)
Yes (x 3 - all on first floor)
Yes (x 3 - ensuites all on the first floor. 1 x twin and 1 x double have shower rooms and the other 1 x twin has a bathroom with shower over.
Yes (x 1 - with wc and wash basin - ground floor)
Living Areas & Kitchen Equipment
Yes (x 2 - espresso eco friendly type using ground coffee not capsules and filter type)
Yes (with satellite reception (not SKY)
Yes (with DVD's and plays CD's too)
External
Yes (40m2 - 8m x 5m. Depth - 1.1m to 1.7m. Pool shower. Access via aluminium steps)
Outdoor preparation area with sink
Other
Concierge/groceries service
Yes (request at time of booking)
Map
Local Info
Chania airport­ - 45 mins drive. Heraklion airport - 1 hr 44 mins drive.
Nearest Beaches -­ Almyrida - 7 mins drive, Kalives - 17 min drive or Georgioupolis - 23 min drive.
Nearest Tavernas and Shops - Xirosterni - 15 min walk / 3 min drive or Gavalochori - 20 mins walk / 4 min drive.
NB; all times are approximate and based on average driving and walking speeds. Some walking and/or driving may be on unlit and unmade track roads. Please refer to the map tab to view satellite images of the area.
Prices
Deposit
10% of total rent
Pricing Notes
Prices quoted are in gbp sterling, per week, for up to 6 people occupying the villa and are not per person. The villa can sleep up to 7 with 1 person using the sofa bed available at the rate of £10 per night. There is also the option of a Z bed, suitable for a child. This is available on request only and is not bookable online. This is also charged at the rate of £10 per night.
Alternative length of stays of more than 7 nights are accepted and are charged pro rata.
Prices include air- conditioning, a welcome pack, all linen/towels including beach/pool towels and adult bathrobes, and maid service with linen/towel change.
Maid service with linen/towel change** - twice weekly.
**except beach/pool towels and adult bathrobes which are only changed at the end of let however they can be washed using the laundry facilities in the villa during your stay.
There are NO hidden extras.
Options & Extras
Sofa Bed: £10.00 per person per night
Cot: £0.00 per booking
High Chair: £0.00 per booking
Low Occupancy Discounts
A low occupancy discount or a single couple (use of 1 bedroom), of 10%, is available at this villa except for July and August dates.
Not allowed on late availability or special offer prices.
Loyalty Discounts
If you are a returning client and this is your 3rd (or more) consecutive booking with Crete Escapes or your 2nd separate booking in one season, you will qualify for our loyalty discount. Please quote voucher code LOYALTY2.5 when asked to do so during the online booking process or let us know when you contact us. Your reduction of 2.5% will then be deducted from the total price.
Short Breaks
Short breaks are normally only available for a minimum of 5 nights and will be charged at the 7 nightly rate unless otherwise advertised. However, if the number of available days between existing bookings is less than 7 nights we may be able to accept bookings at a reduced rate subject to the owners agreement.
Short breaks are allowed within 3 days of arrival.
Availability
Booking Information
Change-over days are totally flexible but are subject to existing bookings taken either side. If a booking means that the owner would be left with too many "void" days we might not be able to accept it. If this is the case we will contact you without delay to discuss alternatives.
Payment can be made by bank transfer to our sterling account or by debit or credit card (Mastercard or Visa) only.
Our travel information provides details of how to get to Crete including flights to both Chania and Heraklion airports.
If you want to book, please use the availability chart above to check your dates, you can then either book on-line, email or call us on 0330 111 0061.
Please note: although the calendars show live availability and you can book on-line, please note that your booking is not confirmed until we have issued a confirmation of booking. You may prefer not to book your flights until we have confirmed the booking.
Low Occupancy Discounts - unfortunately the online booking system automatically calculates the single couple or small party discount based on the number of people entered onto the booking form and the start day of your rental. There are 2 problems with this:-
a) If you are 2 people but not a single couple, or 3 or 4 people but not 2 + 1 or 2 + 2, the system will have automatically calculated a discount when it is not due. Please make use of the "additional notes" box on the booking form to tell us and we will adjust the price accordingly before we confirm your booking.
b) If your rental overlaps from a discounted period to a non-discounted one (or vice versa), the discount calculated will be wrong. In these cases we have to make the adjustment manually. You can still book on-line but we will need to change the price on receipt of your booking request. If the price increases we will contact you to confirm the new price before we confirm your booking and take your deposit.
Please don't let either of these issues put you off making a booking. The discounts are genuine and our villa owners welcome couples and smaller parties out of high season. We just can't fine tune the booking system to account for these 2 circumstances - sorry.
Floor Plans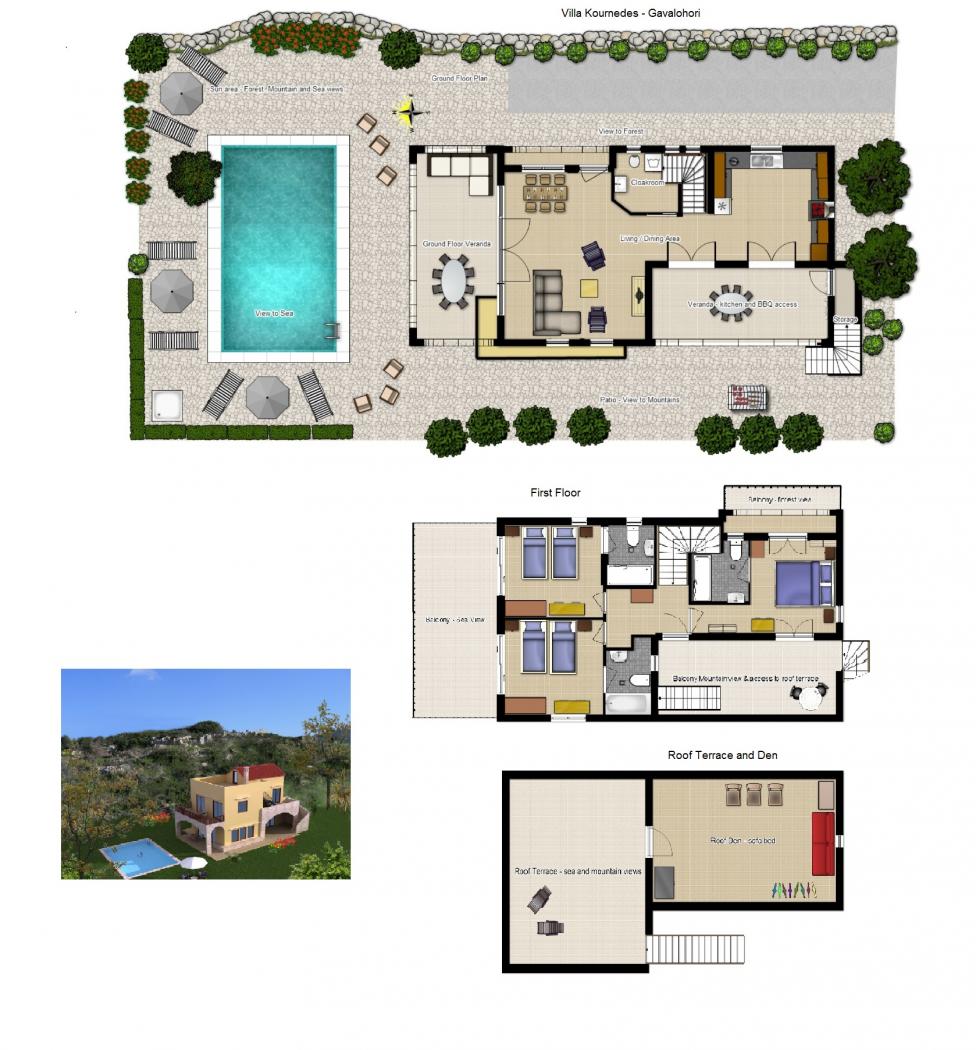 Reviews
Fabulous villa, pool and gardens. Our first visit but probably not our last. Weather good mostly apart from a couple of dull, wet days. Visited lots of the local areas including the House of Stone Creations which is quite near and amazing - September 2023.
What a beautiful peaceful villa! First few days a little cloudy but we were able to pretend to enjoy the sunshine!! Love Gavalochori, Monica's taverna - September 2023.
What a fantastic villa, location, views, pool, just everything! Not too far from whatever you need and the perfect place to relax - August 2023.
We have had an amazing time at this villa. Particularly enjoyed the outdoor sofa and the amazing selection of DVD's. We enjoyed swimming in the wonderful pool and cooking in the amazing kitchen. Everything we could have wanted, thank you - August 2023.
We have really enjoyed our week at this fantastic villa - one of the best we have ever stayed at. We foolishly attempted the walk to Gavalochori but 'cardiac hill' was more challenging than we were expecting in 35c heat. Can highly recommend Monica's taverna and the local museum. A great week in beautiful Crete - July 2023.
We have all had a lovely and very comfortable week. Needed to be longer!! We have stayed in many villas both here and Spain and this is top notch! Thanks for the villa - July 2023.
Another fantastic stay. The villa is beautifully maintained and the gardens are wonderful. We'll be back - June 2023.
A beautiful villa and a lovely break. Thank you so much for allowing us to holiday in your peaceful home - June 2023.
Our third visit and as lovely and relaxing as the first. We enjoyed plenty of pool time and lazy days on the patio. We recommend the pizzeria in Litsarda and Mia ice creams in Almyrida - May 2023.
Amazing villa and views. The pool very clean. Lovely location - September 2022.
We had a brilliant time at Villa Kournedes. Thank you for the tips and suggestions. See you again - July 2022.
We have had a wonderful time staying at this beautiful villa. The gardens, pool, roof terrace and wonderful views have been fantastic and we have had such a relaxing time - July 2022.
Loved this villa, very well set up, beautiful pool area and views. Nearby towns, villages and beaches are lovely too - July 2022.
We had a wonderful stay - what a view from the pool! Beautiful beaches around, especially Octopus Bay and Koutalas. Beautiful gardens at the villa too. Loved staying here, thank you - June 2022.
We have just returned from one of the best holidays we have ever had at the Villa Kournedes. Such a beautiful and peaceful villa with a fab pool, superb gardens and only 10 minutes drive from the local sand beach. Perfectly situated for some super sightseeing- unspoilt Cretan villages, winery, olive oil mills and deliciously authentic Greek food at the local kafenions. We can't wait to return - June 2022.
Another fabulous stay in the villa. The scenery is breathtaking, we adore the mountain and sea views. The gardens are stunning and love the hunt for the herbs. We had several BBQ's - recommend the butchers in Armeni and the bakery in Gavalochori for pastries/bread. We look forward to returning to this slice of heaven soon - June 2022.
Well its time to go home unfortunately. We have had a brilliant time, the villa and surroundings absolutely perfect. Many thanks for all your assistance with the holiday, we will be back again - September 2021.
Had a lovely 2 weeks here despite covid-19. Villa is very well equipped and the pool was excellent. We enjoyed beaches at Almyrida and Kalives. Chania should be visited and well worth a visit to Rethymnon and the Venetian fort - July 2020.
Thank you for sharing your fantastic villa with us. It is really well set up and we enjoyed the pool every day. We found previous guests advice really useful - August 2019.
Fantastic time in a wonderful villa. Chania and Frangekasello beautiful. Children enjoyed themselves enormously. Housekeeping team were great - August 2019.
We've had a a wonderful week - a mix of excursions or just relaxing by the pool. The villa and garden are perfect - thank you! Loved having the herbs to use from the garden. Bakeries in the village and Almyrida are very good. Lake Kournas worth a visit. Botanical Gardens worth the drive. Day trip to south coast fab! (Hora Sfakion and Loutro). Perfect place to stay, thank you - July 2019.
What a great villa! We had a relaxing and peaceful week in this lovely villa. Perfect weather with a cooling breeze. We enjoyed an afternoon at Lake Kournas and a good meal at Psaros restaurant in Almyrida. Thanks so much for a great holiday - July 2019.
We have had a wonderful week here. Best day trips were Chania and Lake Kournas. Best meal was Mythos in Georgioupolis. Villa was everything we could wish for, thank you - July 2019.
We have just spent 12 days in your beautiful villa. We could not have wished for a more perfect place to stay - we will be back - June 2019.
A very nice villa and a lovely break. Very interesting area, nice restaurants and friendly people. Recommend Piperakis Bakery - excellent pastries. I'm sure we'll be back - May 2019.
Just to let you know that we have now left the villa. We had a great time here and I will be recommending it to my friends - September 2018.
We have all absolutely loved staying here for the last week, it was a very calming refuge after the testing Cretan roads. Highlights include the view of the sunrise/sunset and mountains, the very well equipped kitchen and pool - September 2018.
We had a great holiday thanks. A wonderful villa and we would love to return one day - September 2018.
We had a wonderful week in this beautiful villa. The weather was perfect, not too hot due to the lovely breeze. It is a lovely villa in a lovely ocation and we'd happily return again - August 2018.
We had an amazing time, thank you. The villa was fantastic, so peaceful but near enough to get to the tavernas for dinner. We spent a lot of time lazing round the pool and dipping in and out of the water to cool down. All in all a perfect holiday that we all enjoyed. Thank you for your organisation, all went very smoothly and please pass on my thanks to the owners for the loan of their fantastic villa. I wish we could have stayed longer - August 2018.
A wonderful week in an extremely comfortable villa with all mod cons. The garden is beautiful despite a week of constant high temperatures - July 2018
I just wanted to let you know what a wonderful time we had at Villa Kournedes. The villa was gorgeous with everything we could ever have thought we needed. The kids adored the pool, which was spotless, and I couldn't get enough of those views. Please pass our compliments on to the owner, and our thanks to Nikki from the management team for all her help. We wouldn't hesitate to return, or to recommend, both the villa and Crete Escapes - July 2018.
Villa is stunning and the garden is looking on point - the gardener has done a sterling job. Had a lazy few days enjoying all the villa has to offer. Cedric offered a warm welcome to us in the pool. Made good use of the excellent BBQ and many chess and scrabble tournaments took place. Dont want to leave will be back soon - June 2018.
An absolute delight. We will really miss the villa, pool and views. Was really difficult to drag ourselves out but enjoyed the area when we did - Almyrida, Kalives, Chania, Georgioupolis, Vrysses and Litsarda - June 2018.
Beautiful villa and very well equipped. Standards much higher than when we were last in Crete 15 years ago! View is great from the elevated position which also gives a nice breeze. Lasies in our party all impressed with the garden. An excellent pool and the outside lighting is particularly good. What a wonderful week we have had - May 2018.
We had a lovely 10 days staying in this well equipped villa. We had great fun with Cedric in the pool. Very impressed with all the facilities, it was a 'home from home'. Thankyou, highly recommended - May 2018.
Two wonderful weeks, beautiful villa and gardens. Hope to be back soon - September 2017.
We seem to have struck gold with the weather this past fortnight and the amazing peace at this lovely villa. We really couldn't have asked for more. We've enjoyed the beautiful view and garden immensely. Dragged ourselves away twice to Chania and Georgioupolis - both good and well worth visiting. All in all a brilliant holiday, thank you - September 2017.
Sadly, despite previous comments the crocodile is not himself. He is half deflated and several minutes of 'mouth to valve' rescusitation failed to rouse him! Otherwise the villa was in tip-top shape and living up to our expectations completely. We have had a splendid week of 'not doing very much'. The tavernas in Gavalochori are all great; live music on Thursday particularly good. Thank you and we hope to return one day - August 2017.
Yes, yes, yes to all the previous wonderful comments about the villa. We loved it. The villa garden scenery beautiful. Thank you for the lovely ice cream cake. Almond biscuits from Almyrida bakery to be recommended as is Arismari taverna food and coffee stories in Gavalochori. The crocodile is well and lives to see another day in Crete. We hope to get to see it all again. Thank you to Debbie and Martin for help on buses. Stelios came and lovingly viewed his garden! - August 2017.
A stunning villa! We have absolutely loved our time here. Such a treat waking up to the view from our balcony. Have really enjoyed exploring the local beaches and sampling the local seafood. Boys have loved the pool - especially the crocodile! Thank you so much, we'd love to come back - August 2017.
Had a lovely time at Villa Kournedes - fantastic villa and the weather was beautiful! Everything we needed for a relaxing holiday - thank you! - July 2017.
We've had a wonderful 2 week holiday. The villa is gorgeous, stunning location, we loved the pool. Very well equipped kitchen. The garden is lovely - brilliant all round - July 2017.
This is our 2nd time on Crete and the location of Villa Kournedes is fantastic. We loved the private setting and the beautiful garden. We particularly loved the views from the top terrace which was a great place for yoga practice. We went to Costa's in Xirosterni which was a good walk with lovely local food. The stars on the walk home were incredible. Great facilities at the villa and the herb garden was fab! Thank you - June 2017
We were delighted with the villa, loved the location and layout and had a fantastic holiday. The area is really great and was easy to find and the weather was perfect. The complimentary welcome pack was a lovely touch and appreciated, as we didn't get there until about 1am and hadn't stopped for tea! We will certainly want to stay again - June 2017.
We've had the most wonderful week in this stunning place. The villa is beautiful and everything we hoped for and more. The weather has been very kind to us - we've had unbroken sunshine for a week. So many lovely places to visit - we'd thoroughly recommend a trip to Ombrigialos for snorkelling and Lake Kournas for swimming and pedalo-ing. Had 2 lovely meals at Monica's which we recommend highly. We will most definitely return ASAP. Thanks so much - May 2017.
I had been intending to write to you after returning from a fortnight in Crete to say how much my friends and I enjoyed our stay at the Villa Kournedes. In all my years of travelling to Crete this was undoubtedly the most beautifully kept and welcoming of properties, a tribute to your good taste and the hard work of Debbie and Martin. We were delighted with the magnificent location, the landscaped gardens, the high quality of the furnishings, the immaculate cleanliness and the generous provision of kitchen items. I will certainly book with Crete Escapes again next October - October 2016.
Set between the mountains and the sea, surrounded by fragrant trees and shrubs, the villa is paradise. A thousand thanks to the owners for having provided such a beautifully appointed and furnished house with its lovingly tended plants, spacious communal areas, and of course, the excellent pool. As mountaineers we wake up before sunrise every day to watch the Lefka Ori catch the first rays. The god willing we shall return. Heartfelt thanks to Debbie and Martin for keeping the villa immaculately clean - October 2016.
Villa Kournedes is one of the most comfortable and well equipped villas we have stayed in over 20 years of coming to Greece. On top of that ir's situation is second to none. Its seclusion appealed and yet it is within 10 to 15 mins drive of anywhere local you want to go to. It's always nice having a sea view to be had at all levels expanding as one ventures upwards. Walking too we've done to keep the waistline in trim - even to Almirida, Gavalochori, Xirosterni and then back - September 2016.
This is our second visit and the villa is just as peaceful as we remembered. Many delicious BBQ's have been eaten. The garden really is lovely and has been improved a lot since 2014. Debbie and Martin have looked after us well. We hope to return sometime to visit 'Cedric' the (inflatable) crocodile who has been left to sun himself by the pool - September 2016.
10 out of 10 for Villa Kournedes. Thank you to the owner, Mike, and the property managers, Debbie and Martin. As a family we usually stay at hotels, however, this villa has converted us, we will definitely return. Wonderful week here such a well equipped villa for the 6 of us. Thank you very much for the welcome pack, very helpful for our first few nights - August 2016.
We thoroughly enjoyed the secluded position and peace and quiet that Villa Kournedes provided, a real 'get away'. Spent most of our time lazing by the pool and eating at Lagos in Almyrida. We didn't use the 1st floor veranda due to the lack of table and chairs but the roof terraace was a brilliant spot to star gaze. Our family voted 8 out of 10! - August 2016.
What a lovely place! We've had a fantastic time - hardly left the poolside! What a wonderful, relaxing holiday - everybody happy - including 2 teenage boys - August 2016.
Stayed at Villa Kournedes for 7 nights August 2016. Only issue was having to leave!! Lovely clean villa with a good size pool. Complete privacy and fabulous views. We all felt so comfortable from the first night we stayed. Welcome pack was greatly appreciated as we arrived at night. After weeks of trying to find a villa that is not overlooked but close enough to shops, restaurants and beach we found the perfect villa for us. Also have always had to clean around a bit before I settle but Villa kournedes was very clean when we visited. Cannot come up with any negatives. Thank you Crete Escapes and Debbie and Martin - August 2016.
We have had a really wonderful week. The villa is spectacular, peaceful, secluded, fantastic views, everything that we could have asked for. We have had some lovely relaxing days byt the pool and trips to Knossos, Kaina and the Samaria Gorge. The garden here is delightful and we made good use of the herbs, particularly the lemon sage in a prawn risotto - sublime - July 2016.
We had a lovely week at this very comfortable villa. First few days peace and quiet on our own then joined by our 3 'children' who used the excuse to get together - a rarity these days. Thoroughly enjoyed the views, the pool and the weather. In all do not want to go home - July 2016.
We've had another lovely week here. The first three days were very windy (although hot) and we really appreciated the door stops that have been fitted. The internet and TV upgrade are also welcome - June 2016.
A really wonderful villa and stay here in Crete. The peace and quiet of this location is wonderful as are the outstanding views. Our 5 and 6 year olds played very happily around the pool and are sad to be leaving. We'd definitely stay here again. Thanks to the owners and the property managers, Debbie & Martin, for a lovely stay - June 2016.
We had a great week at the villa and don't want to leave. The weather was fantastic and we had a lot of fun. The garden is looking amazing and I look forward to coming back one day. Bye for now Crete - May 2016.
We loved the peaceful setting of this house with its magnificent views of mountains, sea and hill. Also the poolside views and the pretty planting. All a delight for the senses. The house was comfortable and so well equipped and it was a pleasure to stay. Our thanks to Debbie and Martin who keep the pool and house spotless and running smoothly. All in all thanks for a restful break - September 2015.
We had a lovely week's holiday in this beautifully maintained and well equipped villa. Thank you to the property managers. Villa Kournedes is private but close enough to good restaurants and an easy drive to Chania which we all enjoyed. The views are sensational and the garden setting a bonus. Gavalochori is delightful. The little museum costs 2 eur and is very interesting. A must though is morning coffee and/or a beer at Arosmari. The charming waitress also makes some of the jewellery in the shop. We would certainly return to this part of Crete - it's gorgeous. PS - the rope door stops worked well - we didn't get locked out once! - September 2015
We had a lovely time at Villa Kournedes, great location, a well equipped villa and the best pool we have ever had in a private villa rental. I would like to thank you for all your help; you were always supportive and helpful when we needed you and when we go back to Crete we will certainly book with you again - September 2015
Beautiful villa and very well equipped. We've had a relaxing time. We liked the beach at the far end of Kalives, near the GK hotel/apartments; a nice place for a drink on the beach. We went to Chania which was very busy but the old town is well worth a visit and isn't as busy as the harbour area. All the tavernas we tried were good and great value for money. All in all, a great holiday - August 2015
We had a fantastic time and the villa was brilliant. Thanks for all your help and you've never have known that they were going through a financial crisis in Greece while we were there! - July 2015
An amazing villa, beautiful, quiet location and wonderful views. All very clean and well equipped. Lots to do locally and the tavernas kept us well fed! Only one issue is that the villa is advertised with bigger than usual wifi but this ran out after a week which with 2 teenagers was an issue especially when our usage was pretty low and we have never had an issue in other locations. The owner did top it up for us but this ran out quickly too and we feel it's a bit misleading to advertise the villa as such. However, overall it has been a great holiday, a wonderful place to stay - July 2015. Owner's response - wifi has been an issue due to multiple devices trying to connect - sometimes as many as 10 per group. We're looking at a new system to provide unlimited bandwidth (currently it's 5GB per week). In the meantime we're honouring the spirit of free wifi providing usage is reasonable. Greek infrastrusture doesn't provide the speed or bandwidth we enjoy in the UK, especially out of a village.
Fantastic villa with beautiful views, peace and quiet and all mod cons. Debbie & Martin (property managers) were very helpful. The local area is full of things to do and the weather has been superb! Thanks for a great holiday and we hope to be back soon - July 2015
Beautiful villa - we really enjoyed our stay. Turtle lake was lovely - highly recommended. Elia restaurant by the bay was our favourite place to eat and we also loved Captain Jack's. Debbie and Martin (property managers) have been fantastic and always on hand to help. Overall a fantastic place to stay with perfect views. Feedback for the owners - a few more basics could be provided - June 2015. Owner's response - please check the drawers in the bathrooms and under the kitchen sink for spares. If there are any issues please contact the property managers who will do what they can to help you.
A beautiful villa which is so well appointed, we will definitely come again. The garden is gorgeous and the two views of mountain and sea are perfect - May 2015
A lovely comfortable villa and we had a real rest which is what we wanted. The only problem we had was getting shut out of the villa on our first evening as the door nearest the pool closed leaving our door key, car keys and mobile 'phone inside which caused a bit of a panic - April 2015. Owner's response - after several years of looking for a practical solution to this problem we've now fitted door stops to prevent this from happening in future. It's a rustic design by an English rope maker - the rope falls into the door when it's open and stays in place until you either push the door or move the rope out of the way.
Gorgeous villa - last minute holiday and couldn't have been more perfect. Views from every side of the villa are stunning. Pool is fantastic and we swam every day. Here for a week and packed in loads - particular highlights are Chania, gorgeous and worth a visit. Lake Kournas - stunning and you can hire a pedalo and swim in the lake. Lunch in Plaka, lovely meal at Kalives and lots of restaurants with great breakfasts at Café Framboise in Almyrida. Finally must have dinner in Gavalachori, Nicos Bar and Grill in beautiful courtyard setting - loved it! - August 2014.
One of the best located villas we have stayed in - so peaceful with just the 'tonk tonk' of the sheep bells and chirping of crickets and cicadas. Local amenities and attractions only a few minutes drive in any direction. We have done both the Samaria and Imbros Gorges - both are do-able without training for them provided you have stout footwear. We felt the Imbros Gorge has the edge - it can be walked in 2 1/2 hours, is just as spectacular but without the hoards and without 2 days recovery. If there are early risers in the group - croissants fresh out of the oven in Almyrida at 7.30m - delicious! - June 2014.
Lovely holiday, villa is fantastic, very clean and well equipped - May 2014.
A superb two weeks, this holiday is the most relaxing time we have spent on Crete. The facilities have exceeded my expectations with the kitchen and dining areas. We hope to return next year for the same peaceful and lovely retreat - September 2013.
Fantastic location. Far enough away for seclusion, near enough for amenities. Good local tavernas and cafes catering for all members of the family. Fully equipped villa, fully rested and fully satisfied. Would recommend 100% to friends and family for a great holiday. Invaluable information books for reference and opinions of places of interest. A must is Chania and bustling harbour, wife and kids enjoyed the shopping too! - August 2013.
One of our best holidays! There can't be another villa that is so private, so quiet, with such fantastic views and superbly equipped for a family of six (three teenage sons and a 6yr old son!) - we had a great time. None of us wanted to go home - thanks to Crete Escapes for good recommendation, friendly service on site and the owners for lending us their house. There are many local sites and things to see several recommendations for local restaurants have been left in the comments book. ps. 6yr old son - " I REALLY LIKED THE BEDS AND THE SWIMMING POOL :-) - July 2013.
Brilliant 10 days, beautiful villa, gardens views. Pool is just the best facility, Roof Terrace lovely - more tables and chairs up there would be great! We all had a very relaxing time, well away from the pressures of work etc! And we will always remember watching Andy Murray win Wimbledon 2013 - we picked up the final on Abu-Dhabi TV with Arabic commentary - all truly memorable!! - July 2013.
Wonderful week- 5 Star villa, everything works, beds are the best in Greece. Garden magnificent and will only get better. Great excitement chasing after the outside furniture in high winds. All the restaurants/ tavernas round about particularly good. Tried to keep away from the Raki and failed - July 2013.
What a fabulous place. We were delighted with the villa and felt we had one of the best situations in the whole area. We had a great time - thank you - June 2013.
Villa Kournedes provided us with the most comfortable and enjoyable stay whilst holidaying in Crete. It met all our needs and even when we had a minor set back with the loss of electricity one evening it was efficiently dealt with. The pool is wonderful and always clean! - August 2012.
Fabulous Holiday, great food, great villa. Plenty of local places recommended including tavernas in Gavalohori, Kournas Lake and Chania - August 2012.
We've had a fantastic holiday in this superb villa. We all loved the location - so quiet, with wonderful views of the mountains and the sea - July 2012.
Another wonderful stay here - we love this place, it's one of our all time favourites. We will be back. Many thanks - July 2012.
A lovely villa in a beautiful location. We have had a peaceful and relaxing week. Recommend the local taverana in the square in Gavalohori and the Pear Tree shop in Almerida for fresh fruit and veg which is really worth a visit. A wonderful holiday - thank you! - June 2012.
We had a very relaxing 2 weeks at this beautiful villa. We especially loved the pool as the sun was on it until the early evening. The kitchen is equipped with everything you could need and we also enjoyed the excellent local restaurants - September 2011.
A greatly enjoyable 2 week holiday. We are all very relaxed and chilled out after an incredibly peaceful and enjoyable holiday. The villa exceeded our expectations and was well equipped. The views are outstanding and the local area perfect for young families. We would not hesitate in recommending this villa to anyone - August 2011.
Wonderful week - weather, villa, surroundings - all so totally relaxing - August 2011.
Really had a super holiday - thanks for letting us use your beautiful villa - July 2011.
We returned again for the 3rd time! The weather has been stunning. We've spent more time in the villa on this trip. It continues to be a comfortable and clean base for a relaxing holiday - July 2011.
Just a short email to let you know that we had a wonderful wonderful time in Crete. The weather was a bit grey for the first three days but we managed to do all the sightseeing then…and absolutely adored Chania. Then the weather improved and we sat by the pool and gaze at the views which were simply out of this world. The villa itself was lovely (in our top 5) with definitely the best ever view…had everything we needed. We fully intend to return. So thank you so much for all your help in arranging our holiday and I will be in touch (probably after the 2012 Games) to arrange our next trip - May 2011.
Heavenly spot - thank you for letting us stay with you. Full on holiday. Best of all was the Samaria Gorge - 18 kms downhill (you need good hiking shoes and strong legs!) - October 2010.

Fantastic - thank you so much. Everything was great and sunny for the whole stay. Villa was really well set up for the family and the setting was amazing. Recommend Aereki restaurant in Almerida and INKA (Kalyves) for shopping plus Pear Tree as above. See you again soon - September 2010.
The best villa we have ever stayed in! Excellent standard and really well equipped. Good standard of cleaning, gardening and maintenance etc. Almyrida has almost everything you need - Pear Tree shop is excellent for fresh stuff. Dimitris is a lovely restaurant with friendly staff. Had a much needed relaxing break - thank you - August 2010.
Fantastic villa and location, so quiet - all you can hear are the cicadas and after they go to sleep - absolutely nothing. Wonderful views, lovely pool, comfy beds.... Don't want to leave! Would recommend Dreams boat trip with Giorgos in Almyrida. Thank you we had a lovely week - August 2010.
We had a lovely week, very relaxing. The views from the villa are fantastic, the pool is great and we loved the quiet atmosphere. It is one of the best equipped villas we have stayed in. It was perfect - July 2010.
Fantastic villa in perfect location. Enjoyed some lovely meals especially long lazy lunches in Plaka and evening meals in Vamos. We'll be back - July 2010.
Superb villa - plenty of space for 3 couples - The men enjoyed building the barbeque whilst the ladies wanted to take the kitchen home with them. Giant Jenga - 45 rows! - June 2010.
Lovely villa in a superb location for us. Wonderful peace and quiet - just what we needed. We were sad to go- will return in the future - Many thanks - June 2010.
Beautiful villa, peace and quiet - just what we required - October 2009.
Just a quick message on our return from Villa Kournedes. We had a superb time in a wonderful villa. It was everything we wanted, remote location yet within walking distance of tavernas, wonderful views, nice eating area with excellent patios and pool. All in all we couldn't have chosen a better villa for our needs - September 2009.

Superb villa, pool and gardens in an excellent location. We enjoyed every minute - August 2009.
A very enjoyable week, lovely villa in gorgeous surroundings. A great place to get away from it all with all the comforts of home. Amazing weather and glorious position - July 2009Perfect villa in a fantastic location! Wonderful week of glorious sunshine, BBQ's, lazing by the pool and record breaking Giant Jenga - June 2009.

A lovely villa in a fantastic spot - very private and well equipped. Loved the BBQ and the herbs growing near to it. We've had a great week. Very sad to leave - May 2009.
We had a wonderful and relaxing holiday. The villa was simply beautiful. The views were amazing from all the balconies and verandas and completely private. We have already told our friends and family about it! - April 2009.
Hi ­ just got back from Crete and a stay at Villa Kournedes. We loved the villa which is really well equipped and in a beautiful setting. We would certainly recommend it to family and friends ­ September 2008.
We enjoyed our stay Villa Kournedes very much. We thought the villa was very well fitted out with high quality construction and furnishings. The views were excellent of the coast and mountains, and there were so many places to enjoy them from - balconies, roof terrace, etc. A very nice touch was the white robes in every bedroom/bathroom. The welcome pack was just that. The loungers and tables and chairs on the terraces were high quality and it was good to have two tables outside to choose from. Overall it was a very impressive villa - October 2008.