Villa Kournedes
Gavalochori, Nr Almyrida
Sleeps: 6 + 1
Bedrooms: 3
Bathrooms: 3
Cloakrooms: 1
£1245 - £2675per week
Details
General Description
Villa Kournedes makes for a perfect holiday, a superb villa with fantastic sea and mountain views, away from the crowds yet with easy access to all the amenities that make Crete such a special place for a relaxing holiday.
This truly luxurious villa stands in its own, large, private plot with fantastic sea views across Souda Bay to the north, mountain and valley views to the west and forest views to the east and south. The plot is very privately situated, where you can be sure of not being overlooked, set inside a designated area of natural beauty with lush cypress and pine trees. The villa is double gated for privacy; one secure gate for access to the plot and the second for access to the garden and villa itself. Unusually, despite its privacy, it has private access through to the road which leads to local villages only a short distance away. Turning left from the villa is the Byzantine village of Gavalochori (10 minutes' walk away) where there is a good selection of grocery shops, tavernas and kafenion as well as a museum. To the right (also about 10 mins walk) is Xirosterni, a Cretan small hamlet with a well-equipped mini market and a Kafenion that serves traditional fresh BBQ all night as well as salads and drinks in relaxed Cretan style. A walk back at night is recommended because the stars in the sky are simply breath taking with no light pollution to distract.
The owners have improved the villa each year adding extra facilities. For the 2019 season, the swimming pool patio area and pool stone edging has been replaced, pool shower moved closer to the villa and all bathrooms have had new diffused LED lighting and larger mirrors fitted. The villa is air conditioned throughout and the heating system has been upgraded with the latest smart thermostatic system allowing direct control of each room's temperature. Additionally, for early or late season when the evenings may turn chilly, there is a super-efficient wood burner making the villa comfortable for an evening "at home" enjoying views of the twinkling lights across the Akrotiri peninsular.
The villa is comfortably furnished and with no neighbours to worry about (see the map and local info' tab) you can be totally relaxed in the villa or in the garden and around the large private pool confident that you will only be disturbed by the sound of distant goat bells. The owners have taken steps to protect your stay against disruption from any local building works by also owning the land immediately adjacent to the villa (see the map ). This is an area where local fauna has flourished and occasionally you may see sheep grazing there. Together with the designated status of the surrounding areas you can be assured of beautiful and unrestricted views.
Ground Floor
The open plan ground floor is fitted with an immaculate luxury kitchen (see amenities list) at one end with large glass doors opening up to the BBQ terrace and fabulous views of the mountains. Large double size glass doors at the far end of the lounge /diner open up to the pool terrace with sea views. The kitchen is linked to the lounge/diner by an entrance hall with the stairs to the first floor leading off. There is a ground floor cloakroom equipped with a wc, wash basin and washing machine. The lounge/diner is very spacious with a wood burning stove and a good sized marble topped dining table and 6 chairs. The villa benefits from an integrated TV with Blu ray surround sound media system. This provides free to air satellite channels (not SKY sports) as well as many Greek channels often broadcasting films in English. The media system can also play music directly from Bluetooth enabled smartphones and tablets without the need for a wired connection. In addition to a large range of pre provided DVD's, you may wish to take advantage of the ability to play your own selection of videos which you can download and bring with you on your own smartphone or tablet. The TV has built in wifi and can connect to tablets wirelessly to mirror the screen and sound which you can then experience on the large screen. The owners have encouraged guests to share / swop books from the small library which caters for young and old alike. The sofa converts to make a sofa bed suitable for one person at the rate of £7 gbp per person, per night. There is also the option of a child using a Z bed which is available on request only, also charged at the rate of £7 gbp per person, per night.
First Floor
All of the 3, en-suite bedrooms are on the first floor and each has superb views of the mountains or the sea. The two bedrooms at the front of the villa have views right across Souda Bay; views that can even be enjoyed without getting out of bed. Both of these rooms have sliding glass doors on to a spacious, furnished balcony that enjoys the same views as the bedrooms. There are two twin bedded rooms, each having Danish style single beds that can be locked together to form one king size bed or separated as required - please let us know your preference on booking. All rooms have wardrobe and drawer storage space and 100% cotton bed linen. Plump micro-fibre, anti-allergy, pillows are supplied on all the beds for your comfort.
Roof Terrace and External Areas
The roof top terrace is a favourite spot which the owners enjoy using when at the villa. A secluded place for private and personal sun bathing with fantastic 360 degree views and, with the added height, a wonderful perspective of freedom and "getting away from it all". A lovely vantage point to watch the stars and the twinkling lights of the Akrotiri peninsula across the bay. Guests particularly like this area for their yoga practice and night time drinks soaking in the atmosphere and sparkling distant lights.
There is plenty of space for everybody to spread out in comfort, be that on one of the numerous terraces or balconies around the villa which extend to some 100m2, or around the pool. There are 2 outdoor tables with 12 dining chairs for dining al fresco, 12 sun loungers and 6 comfortable chairs for reading or lounging. The BBQ area with table and dining chairs is conveniently situated on the terrace leading directly off the kitchen. 2 covered pergolas are situated at the front of the villa near the pool area and to the side of the villa providing plenty of shade on those hot, sunny days.
The large mature garden extends around the house on three sides, with a large gravelled car parking area on the fourth. The owners are happy for guests to use fresh herbs from the kitchen garden for their cooking.
The villa has been completed and furnished in a very modern relaxed style making it very easy to unwind and leave your stresses behind.
Internet Access
The villa has free unlimited internet at a download speed up to 2Mbps provided over secure wifi which can be accessed from most laptops, PDAs and other wifi enabled devices. Details on how to use the system are contained in the owner's manual at the villa. A fair use policy applies to safeguard against inappropriate content and its distribution as well as unusually high data volumes.
The owners have their own website and a video of the villa and surroundings that you may like to view – www.kournedes.com and https://photos.app.goo.gl/yLEifUJxN3CyLrau9
More Information
Use the different tabs to view the villa's features and amenities, actual location and distances to the nearest beach, shop and taverna. The prices tab contains details of the weekly rate together with discount information and additional charges where applicable. You can check "LIVE" up to date, availability using the availability tab which will also confirm the price for your selected dates ***. If you want to book you can then follow the online prompts. Also see https://www.crete-escapes.com/booking
*** In some cases relating to the low occupancy discount, the price may need adjusting by us. Please see the note on this page for more details https://www.crete-escapes.com/about-our-discounts
Holiday Rental Licence
Villa Kournedes is licensed for holiday rentals with the Greek Tourist Authorities (EOT). Licence number 1042K91002955101.

Amenities
General
Yes (living area and bedrooms)
Yes (digital, large enough for a laptop)
Phone for emergency use and incoming calls
Yes (request at time of booking - FOC)
Yes (request at time of booking - FOC)
Yes (request at time of booking - see prices tab)
Yes on a request basis only - see prices tab
Maid service and linen/towel change
Yes (see prices tab for more details)
Bedrooms & Bath/Shower Rooms
Yes (x 2 - en-suite on first floor NB; can be converted to king size doubles if requested)
Yes (x 1 - ensuite on first floor)
Yes (x 3 - all on first floor)
Yes (x 3 - ensuites all on the first floor)
Yes (x 1 - with wc and wash basin - ground floor)
Living Areas & Kitchen Equipment
Yes (with satellite reception (not SKY)
Yes (Blu ray surround sound)
External
Yes (40m2 - 8m x 5m. Depth - 1.1m to 1.7m.Pool shower. Access via aluminium steps)
Outdoor preparation area with sink
Other
Concierge/groceries service
Yes (request at time of booking)
Map
Local Info
Chania airport­ - 45 mins drive. Heraklion airport - 1 hr 44 mins drive.
Nearest Beaches -­ Almyrida - 7 mins drive, Kalives - 17 min drive or Georgioupolis - 23 min drive.
Nearest Tavernas and Shops - Xirosterni - 15 min walk / 3 min drive or Gavalochori - 20 mins walk / 4 min drive.
NB; all times are approximate and based on average driving and walking speeds. Some walking and/or driving may be on unlit and unmade track roads. Please refer to the map tab to view satellite images of the area.
Prices
Deposit
10% of total rent
Pricing Notes
Prices quoted are in gbp sterling, per week, for up to 6 people occupying the villa and are not per person. The villa can sleep up to 7 with 1 person using the sofa bed available at the rate of £7 per night. There is also the option of a Z bed, suitable for a child. This is available on request only and is not bookable online. This is also charged at the rate of £7 per night.
Alternative length of stays of more than 7 nights are accepted and are charged pro rata.
Prices include air- conditioning, a welcome pack, all linen/towels including beach/pool towels and adult bathrobes, and maid service with linen/towel change.
Maid service with linen/towel change** - twice weekly.
**except beach/pool towels and adult bathrobes which are only changed at the end of let however they can be washed using the laundry facilities in the villa during your stay.
There are NO hidden extras.
Options & Extras
Sofa Bed: £7.00 per person per night
Cot: £0.00 per booking
High Chair: £0.00 per booking
Low Occupancy Discounts
A low occupancy discount or a single couple (use of 1 bedroom), of 15%, is available at this villa except for July and August dates.
Not allowed on late availability or special offer prices.
Loyalty Discounts
If you are a returning client and this is your 3rd (or more) consecutive booking with Crete Escapes or your 2nd separate booking in one season, you will qualify for our loyalty discount. Please quote voucher code LOYALTY2.5 when asked to do so during the online booking process or let us know when you contact us. Your reduction of 2.5% will then be deducted from the total price.
Short Breaks
Short breaks are normally only available for a minimum of 5 nights and will be charged at the 7 nightly rate unless otherwise advertised. However, if the number of available days between existing bookings is less than 7 nights we may be able to accept bookings at a reduced rate subject to the owners agreement.
Short breaks are allowed within 3 days of arrival.
Availability
Booking Information
Change-over days are totally flexible but are subject to existing bookings taken either side. If a booking means that the owner would be left with too many "void" days we might not be able to accept it. If this is the case we will contact you without delay to discuss alternatives.
Payment can be made by bank transfer to our sterling account or by debit or credit card (Mastercard or Visa) only.
Our travel information provides details of how to get to Crete including flights to both Chania and Heraklion airports.
If you want to book, please use the availability chart above to check your dates, you can then either book on-line, email or call us on 0330 111 0061.
Please note: although the calendars show live availability and you can book on-line, please note that your booking is not confirmed until we have issued a confirmation of booking. You may prefer not to book your flights until we have confirmed the booking.
Low Occupancy Discounts - unfortunately the online booking system automatically calculates the single couple or small party discount based on the number of people entered onto the booking form and the start day of your rental. There are 2 problems with this:-
a) If you are 2 people but not a single couple, or 3 or 4 people but not 2 + 1 or 2 + 2, the system will have automatically calculated a discount when it is not due. Please make use of the "additional notes" box on the booking form to tell us and we will adjust the price accordingly before we confirm your booking.
b) If your rental overlaps from a discounted period to a non-discounted one (or vice versa), the discount calculated will be wrong. In these cases we have to make the adjustment manually. You can still book on-line but we will need to change the price on receipt of your booking request. If the price increases we will contact you to confirm the new price before we confirm your booking and take your deposit.
Please don't let either of these issues put you off making a booking. The discounts are genuine and our villa owners welcome couples and smaller parties out of high season. We just can't fine tune the booking system to account for these 2 circumstances - sorry.
Floor Plans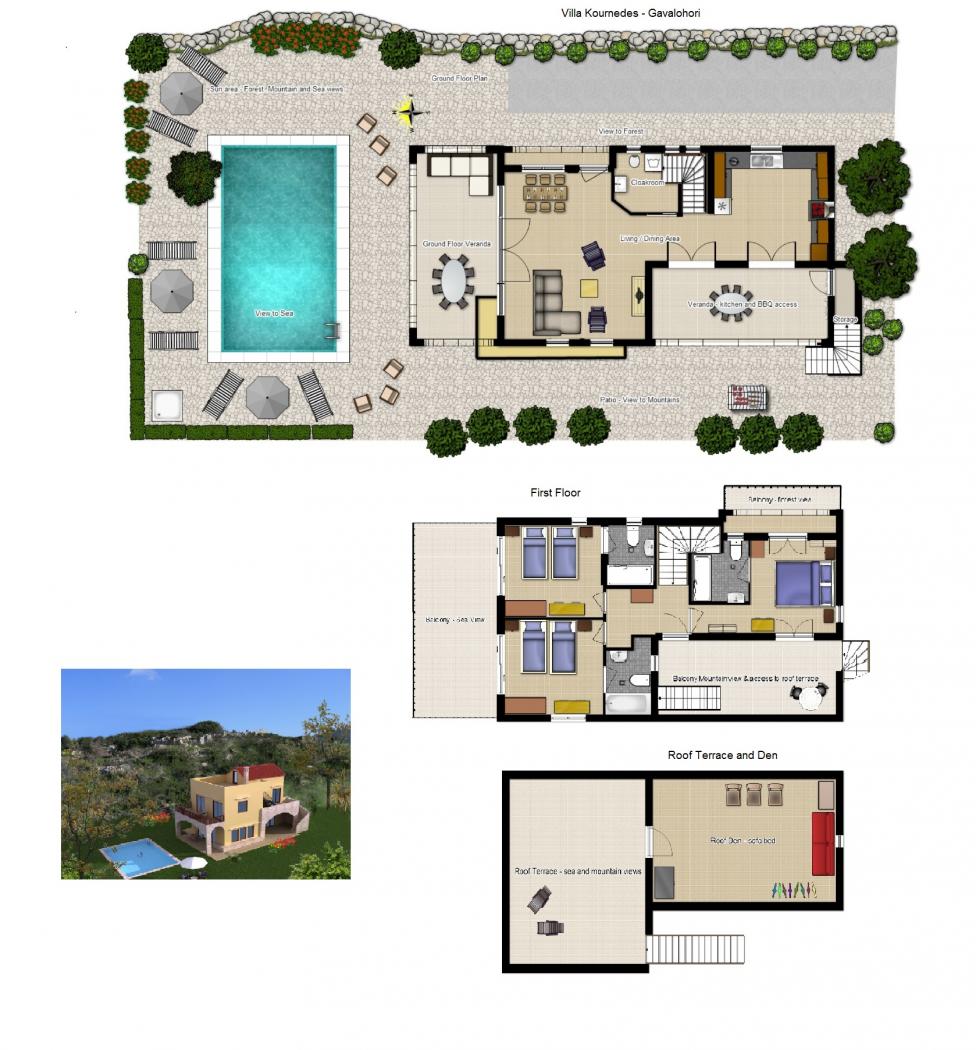 Reviews
Well its time to go home unfortunately. We have had a brilliant time, the villa and surroundings ab