Villa Kali Vista
Kokkino Horio, Nr Almyrida
Sleeps: 4 + 2
Bedrooms: 2
Bathrooms: 2
£925 - £1725per week
Details
General Description
New to Crete Escapes for the 2023 season. Images updated 29th April 2023.
Villa Kali Vista is a pretty 2 bed villa located on the outskirts of the charming Greek village of Kokkino Horio and boasts glorious views towards Souda Bay and The White Mountains. The village of Plaka and the sandy beach resort of Almyrida are only a short drive away and offer a good level of amenities. The villa is ideal for couples or a family of up to 6 due to its spacious layout.
This fully air conditioned villa is very comfortably and tastefully furnished providing all you need for a self catering holiday.
To maximise the spectacular views, the villa has been built with the bedrooms on the ground floor and the living accommodation on the first floor; advantageous during the hot summer months by keeping the bedrooms naturally cooler.
Ground Floor
Both bedrooms and the family bathroom are located on this floor off the spacious hallway.
There is a double bedroom and a large twin bedroom; the latter is dual aspect and also includes a sofa bed to sleep a child up the age 12 (additional charge applies - see prices tab). Both rooms are comprehensively furnished with plenty of wardrobe space, drawers, dressing tables and mirrors. Patio doors lead from each bedroom to the pool terrace; convenient for those who fancy an early morning dip in the sparkling swimming pool. Pretty voile curtains dress the bedroom windows and doors providing added privacy when needed.
The family bathroom comprises a full sized bath with shower over, hand basin and wc.
First Floor
The internal staircase (with handrail) leads to the light and airy living/dining area with the L-shaped kitchen conveniently positioned off to one side and an oblong, marble topped dining table with 6 chairs. The modern 3 seater sofa and chair looks out on to those sea views and also faces the TV and corner fireplace - a beautiful focal point to the room. When an additional bed is required the sofa converts to a single bed for 1 child/adult (additional charge applies - see prices tab).
Large patio doors lead out on to a spacious and very private covered terrace running the full length of the villa; the perfect place to soak up those beautiful sea views. In an evening there is no better place to enjoy the magnificent sunsets whilst dining with a chilled glass of wine.
The shower room with a hand basin and wc is also located on this floor and cleverly positioned to the right of the staircase giving the occupants of each bedroom their own private washing facilities.
External Areas
The fabulous swimming pool benefits from a shallow section for children and takes centre stage in the large tiled terrace with ample sunbathing space for guests. There are 6 sun loungers and 2 parasols available at this villa. The owners provide a BBQ and plenty of outdoor seating for those preferring to dine in and enjoy those magical views this area is renowned for.
The surrounding garden has an abundance of plants and shrubs producing a wonderful array of colour against the crystal blue mediterranean waters.
Internet Access
The internet is unlimited with a speed of 24 mbps via satellite. Full instructions on connecting are inside the villa.
More Information
Use the different tabs to view the villa's features and amenities, actual location and distances to the nearest beach, shop and taverna. The prices tab contains details of the weekly rate together with discount information and additional charges where applicable. You can check "LIVE" up to date, availability using the availability tab which will also confirm the price for your selected dates ***. If you want to book you can then follow the online prompts. Also see https://www.crete-escapes.com/booking
*** In some cases relating to the low occupancy discount, the price may need adjusting by us. Please see the note on this page for more details https://www.crete-escapes.com/about-our-discounts
Holiday Rental Licence
Villa Kali Vista is licensed for holiday rentals with the Greek Tourist Authorities (EOT). Licence number - 1281173.

Amenities
General
Phone for emergency use and incoming calls
Yes (request at time of booking - FOC)
Yes (request at time of booking - FOC)
Yes (request at time of booking - see prices tab)
All bed/bath linen/towels
Maid service and linen/towel change
Yes (see prices tab for more details)
Bedrooms & Bath/Shower Rooms
Yes (x 2 - 1 x family bathroom on first floor and 1 x shower room on ground floor)
Living Areas & Kitchen Equipment
External
Yes (36m2 - 8m x 4m. Depth - 1m to 1.7m with a shallow end for young children. Access via roman steps)
Outdoor preparation area with sink
Yes (portable weber type)
Other
Map
Local Info
Chania airport - 50 mins drive. Heraklion airport - 2 hrs drive.
Nearest Beaches ­- Almyrida - 12 mins drive or Kalives - 20 mins drive.
Nearest Tavernas and Shops -­ Kokkino Chorio - 26 mins walk / 5 min drive or Plaka - 9 mins drive.
NB; all times are approximate and based on average driving and walking speeds. Some walking and/or driving may be on unlit and unmade track roads. Please refer to the map tab to view satellite images of the area.
Prices
Deposit
10% of total rent
Pricing Notes
Prices quoted are in gbp sterling, per week, for up to 4 people occupying the villa and are not per person. The villa can sleep up to 6 with 1 child (maximum age 12) using a sofa bed in the twin bedroom and 1 child or adult using the sofa bed inthe living area; the sofa beds are charged at the rate of £10 per person per night.
Alternative length of stays of more than 7 nights are accepted and are charged pro rata.
Prices include air- conditioning, a welcome pack and all linen including beach/pool towels and maid service with linen/towel change.
Maid service with linen/towel change** - 1 week stays - end of let clean and 2 week stays - at the end of week 1 + end of let clean. For stays that do not fall into a 7 or 14 night pattern eg; 10 nights this service will be provided mid-stay ie; approx after 5 nights.
**except beach/pool towels which are only changed at the end of let however they can be washed using the laundry facilities in the villa during your stay.
There are NO hidden extras.
Options & Extras
Cot: £0.00 per booking
High Chair: £0.00 per booking
Sofa bed: £10.00 per person per night
Low Occupancy Discounts
A low occupancy discount for a single couple (use of 1 bedroom), of 10%, is available at this villa except for July and August dates.
Not allowed on late availability or special offer prices.
Loyalty Discounts
If you are a returning client and this is your 3rd (or more) consecutive booking with Crete Escapes or your 2nd separate booking in one season, you will qualify for our loyalty discount. Please quote voucher code LOYALTY2.5 when asked to do so during the online booking process or let us know when you contact us. Your reduction of 2.5% will then be deducted from the total price.
Short Breaks
Short breaks are normally only available for a minimum of 5 nights and will be charged at the 7 nightly rate unless otherwise advertised. However, if the number of available days between existing bookings is less than 7 nights we may be able to accept bookings at a reduced rate subject to the owners agreement.
Short breaks are allowed within 3 days of arrival.
Availability
Booking Information
Change-over days are totally flexible but are subject to existing bookings taken either side. If a booking means that the owner would be left with too many "void" days we might not be able to accept it. If this is the case we will contact you without delay to discuss alternatives.
Payment can be made by bank transfer to our sterling account or by debit or credit card (Mastercard or Visa) only.
Our travel information provides details of how to get to Crete including flights to both Chania and Heraklion airports.
If you want to book, please use the availability chart above to check your dates, you can then either book on-line, email or call us on 0330 111 0061.
Please note: although the calendars show live availability and you can book on-line, please note that your booking is not confirmed until we have issued a confirmation of booking. You may prefer not to book your flights until we have confirmed the booking.
Low occupancy discounts - unfortunately the online booking system automatically calculates the single couple or small party discount based on the number of people entered onto the booking form and the start day of your rental. There are 2 problems with this:-
a) If you are 2 people but not a single couple, or 3 or 4 people but not 2 + 1 or 2 + 2, the system will have automatically calculated a discount when it is not due. Please make use of the "additional notes" box on the booking form to tell us and we will adjust the price accordingly before we confirm your booking.
b) If your rental overlaps from a discounted period to a non-discounted one (or vice versa), the discount calculated will be wrong. In these cases we have to make the adjustment manually. You can still book on-line but we will need to change the price on receipt of your booking request. If the price increases we will contact you to confirm the new price before we confirm your booking and take your deposit.
Please don't let either of these issues put you off making a booking. The discounts are genuine and our villa owners welcome couples and smaller parties out of high season. We just can't fine tune the booking system to account for these 2 circumstances - sorry.
Floor Plans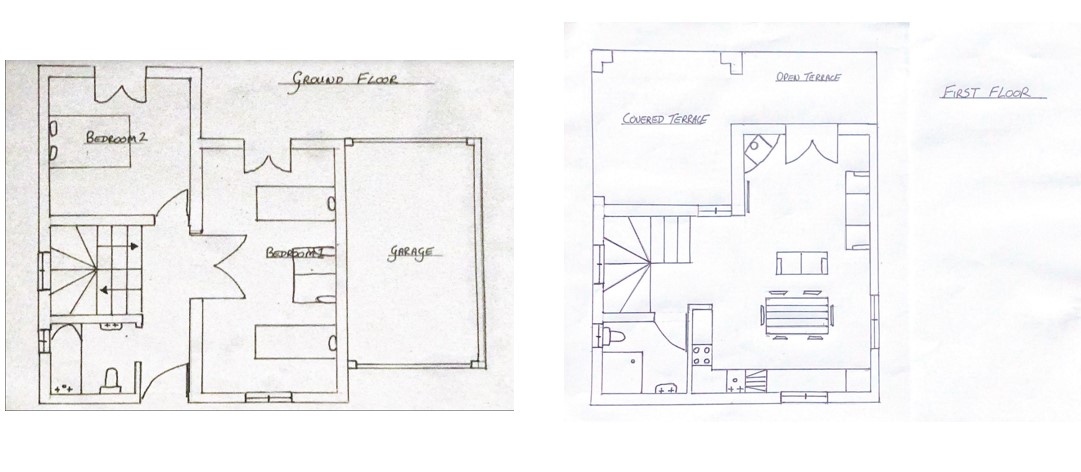 Reviews
Just wanted to say how much we enjoyed our stay at villa Kali Vista. It's got some serious views going for it and was very well equipped for a lovely holiday - September 2023.
Beautiful secluded location with views to dream about. A car needed but totally worth it in what makes for a lovely, quiet and relaxing location. The villa has everything you need including a lovely pool with a shallow end which our children enjoyed. It's a great base to explore from with two beautiful beaches 5 mins drive away and a secret cove if you're more of an adventurer. A great ten days was had enjoying local Greek cuisine and soaking up the mountain sunsets - April 2023.
Villa Kali Vista is new to Crete Escapes for the 2023 season. Guest reviews will be added here as received.