Villa Andromahi
Plaka, Nr Almirida
Sleeps: 6
Bedrooms: 3
Bathrooms: 2
Cloakrooms: 1
£1045 - £1795per week
Details
General Information
We are pleased to offer Villa Andromahi to our clients who are looking for a villa with privacy and sea views. It is perfectly situated in the popular village of Plaka, just a few minutes walk to the village's tavernas, bars and shops and only 15 minutes walk to the beach at Almyrida. Car hire is not essential at this villa but there is private parking for one vehicle.
The villa is laid out in the "upside down arrangement" to maximise the sea views at all levels and provide naturally cooler bedrooms (air-conditioning is nevertheless installed in all bedrooms). This arrangement also works well with the bedrooms being handily placed on the ground floor for changing for the pool which is heated during April, May and October. In the evening, sundowners and/or eating al fresco can be enjoyed on the upper terrace whilst admiring beautiful sunsets over Almyrida Bay. There are terraces with sea views leading off from both the ground and the 1st floors.
Ground Floor
All three bedrooms, on the ground floor, have wardrobes and drawer storage space; the two double rooms also have dressing tables. The master bedroom benefits from an en-suite shower room. Additionally, there is a family bathroom on the ground floor and, on the 1st floor there is a wc and wash basin.
First Floor
On the first floor you will find an air-conditioned lounge with dining area, and, unusually for a villa in this part of Crete, a separate kitchen which can be closed off from the lounge/diner by a door. The kitchen is comprehensively equipped with storage cupboards and lots of worktop. There are two large leather sofas and occasional furniture in the lounge. For entertainment the owners have provided a TV with satellite reception (Not Sky), a DVD player and a CD player, various board games and a variety of books for both adults and children.
External Areas
Outside, the outlook from the villa is superb with stunning views across Almirida Bay and to the White Mountains. The pool terrace provides space for sunbathing and there is a covered area for times when shade is needed. The plot is enclosed and for added security and privacy, the entrance is via a lockable gate with a safety handrail on the steps. There is a small garden with fruit trees as well as the paved terraces.
Internet Access
Unlimited download speed of 24 mbps via fixed telephone line. This service allows for web surfing, email, BBC iPlayer for radio 1, 2, 3, 4, 5Live etc and view UK TV BBC 1, 2 and ITV via a service called 'film on TV'.
More Information
Use the different tabs to view the villa's features and amenities, actual location (a live link to google's most recent satellite map of the area) and distances to the nearest beach, shop and taverna. The prices tab contains details of the weekly rate together with discount information and additional charges where applicable. You can check "LIVE" up to date, availability using the availability tab which will also confirm the price for your selected dates ***. If you want to book you can then follow the online prompts. Also see https://www.crete-escapes.com/booking
*** In some cases relating to the low occupancy discount, the price may need adjusting by us. Please see the note on this page for more details https://www.crete-escapes.com/about-our-discounts
Holiday Rental Licence
Villa Andromahi is licensed for holiday rentals with the Greek Tourist Authorities (EOT). Licence number 1042K123K0364500.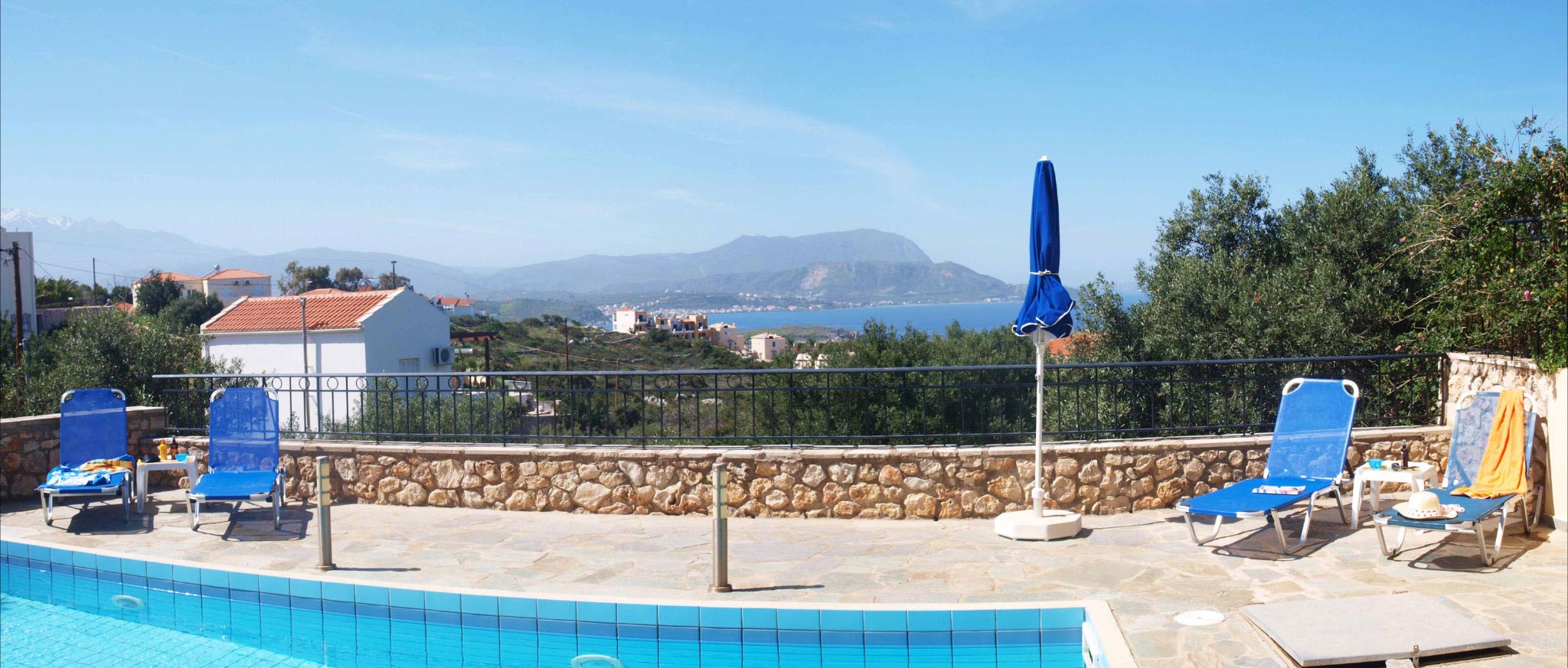 Amenities
General
Yes (1 small-medium vehicle)
Phone for emergency use and incoming calls
Yes (request at time of booking - FOC)
Yes (request at time of booking - FOC)
All bed/bath linen/towels
Maid service and linen/towel change
Bedrooms & Bath/Shower Rooms
Yes (x 2 - one en-suite and both on ground floor)
Yes (x 2 - en-suite shower room and a family bathroom on ground floor)
Living Areas & Kitchen Equipment
Yes (with satellite reception - not sky)
Yes (connection for ipod/ipad)
External
Yes (32m2 - 8m x 4m. Depth - 0.9m - 1.4m. Heated during Apr, May and Oct only. Access via stainless steel steps)
Yes (and shady terrace next to the pool)
Outdoor preparation area with sink
Map
Local Info
Chania airport - 40 mins drive. Heraklion airport - 1 hr 50 mins drive.
Nearest Beaches -­ Almyrida­ - 22 mins walk / 5 min drive or Kalives - 13 min drive.
Nearest Tavernas and Shops ­- Plaka - 4 mins walk, Almyrida - 22 mins walk / 5 min drive or Kalives - 13 min drive.
NB; all times are approximate and based on average driving and walking speeds. Some walking and/or driving may be on unlit and unmade track roads. Please refer to the map tab to view satellite images of the area.
Prices
Deposit
10% of total rent
Pricing Notes
Prices quoted are in gbp sterling, per week, for up to 6 people occupying the villa and are not per person.
Alternative length of stays of more than 7 nights are accepted and are charged pro rata.
Prices include air- conditioning, a welcome pack, all linen/towels including beach/pool towels, maid service with linen change and pool heating (April, May and October only).
Maid service with linen/towel change** - 1 week stays - mid week towel change and end of let clean and 2 week stays - mid stay linen/towel change and end of let clean. For stays that do not fall into a 7 or 14 night pattern eg; 10 nights this service is likely to be provided mid-stay ie; approx after 5 nights.
**except beach/pool towels which are only changed at the end of let however they can be washed using the laundry facilities in the villa during your stay.
There are NO hidden extras.
Options & Extras
Cot: £0.00 per booking
High Chair: £0.00 per booking
Pool Heating: £0.00 per booking (included for Apr, May and Oct only)
Low Occupancy Discounts
A low occupancy discount for single couples (use of 1 bedroom), of 15%, is available at this villa except for July and August dates.
Not allowed on late availability or special offer prices.
Loyalty Discounts
If you are a returning client and this is your 3rd (or more) consecutive booking with Crete Escapes or your 2nd separate booking in one season, you will qualify for our loyalty discount. Please quote voucher code LOYALTY2.5 when asked to do so during the online booking process or let us know when you contact us. Your reduction of 2.5% will then be deducted from the total price.
Short Breaks
Short breaks are normally only available for a minimum of 5 nights and will be charged at the 7 nightly rate unless otherwise advertised. However, if the number of available days between existing bookings is less than 7 nights we may be able to accept bookings at a reduced rate subject to the owners agreement.
Short breaks are allowed within 3 days of arrival.
Availability
Booking Information
Change-over days are totally flexible but are subject to existing bookings taken either side. If a booking means that the owner would be left with too many "void" days we might not be able to accept it. If this is the case we will contact you without delay to discuss alternatives.
Payment can be made by bank transfer to our sterling account or by debit or credit card (Mastercard or Visa) only.
Our travel information provides details of how to get to Crete including flights to both Chania and Heraklion airports.
If you want to book, please use the availability chart above to check your dates, you can then either book on-line, email or call us on 0330 111 0061.
Please note: although the calendars show live availability and you can book on-line, please note that your booking is not confirmed until we have issued a confirmation of booking. You may prefer not to book your flights until we have confirmed the booking.
Low Occupancy Discounts - unfortunately the online booking system automatically calculates the single couple or small party discount based on the number of people entered onto the booking form and the start day of your rental. There are 2 problems with this:-
a) If you are 2 people but not a single couple, or 3 or 4 people but not 2 + 1 or 2 + 2, the system will have automatically calculated a discount when it is not due. Please make use of the "additional notes" box on the booking form to tell us and we will adjust the price accordingly before we confirm your booking.
b) If your rental overlaps from a discounted period to a non-discounted one (or vice versa), the discount calculated will be wrong. In these cases we have to make the adjustment manually. You can still book on-line but we will need to change the price on receipt of your booking request. If the price increases we will contact you to confirm the new price before we confirm your booking and take your deposit.
Please don't let either of these issues put you off making a booking. The discounts are genuine and our villa owners welcome couples and smaller parties out of high season. We just can't fine tune the booking system to account for these 2 circumstances - sorry.
Floor Plans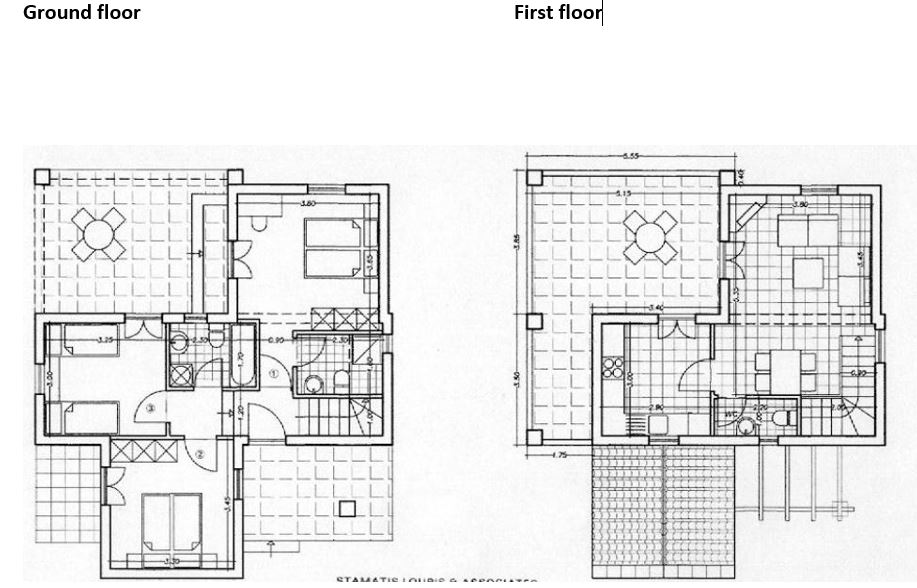 Reviews
Just wanted to say that I had another wonderful holiday in Crete and to thank you for all your help. An added bonus was that the housekeepers (Villa Andromahi) left me a welcome back bunch of flowers! So lovely. May have to take a break next year due to commitments but will be back as soon as I can. Thank you again - September 2023.
Second time back for me for a fabulous week with the girls. I love the villa for everything it provides and amazing pool and views. It is great to have such fabulous restaurants and supermarkets nearby too. Will definitely be back again - June 2023.
Third time in this lovely villa, fantastic views, great location and close to tavernas. Pool is lovely to chill and have a swim. Can't wait to come back - June 2023.
Second time back in this fabulous villa. The location is absolutely superb being so close to the tavernas in Plaka and only a 20 min walk to Almyrida. Recommend food at Elpis and Haropokos. In Almyrida, Elia & Thyme, lovely sitting watching the sea. Just love staying here, chilling out and swimming in the larger than normal sized pool - June 2023.
Such a great villa - spacious and everything you could need! Lovely views and all amenities very close by. A great place for family and friends alike. A lovely week - June 2023.
Lovely villa and views. Very well equipped and comfortable. Air-con is quick and quiet. We had a lovely stay - June 2023.
Fantastic place for a family holiday. Most beautiful sunset views and very well stocked welcome pack. Highly recommend Harokopos in Plaka and Dimitris in Almyrida - everyone so friendly - June 2023.
Just wanted to say, we had a lovely time at Villa Andromahi. We met and talked to Ketty who was very obliging and let us stay for late check out on the Friday which was a great help. The villa was really well equipped and felt very relaxed. Plaka is lovely too, in fact I am glad our villa was up at Plaka because of the small place vibe from it. Many thanks - August 2022.
We have had another wonderful Crete Escapes holiday. Villa Andromahi in Plaka was perfect for our family, 3 generations shared the accommodation very comfortably. The swimming pool was ideal for our grandchildren who were both able to stand in the shallow end, and the well placed umbrella gave a lovely patch of shade to enjoy a cool spot in the heat of the afternoon. The villa is very well placed for the tavernas in Plaka and we discovered the bonus of picking up a takeaway tea from Harokopos to enjoy whilst we relaxed on the balcony after the children went to bed. We did that a few nights! Thank you - July 2022.
This villa, located no more than 5 minutes walk from 4 excellent local tavernas, is a real treat. It is quiet yet not disconnected, private but not excluded and has the most wonderful views across Souda bay to the Akrotiri peninsular. The pool and surrounding area are so peaceful and have such a lovely outlook that it is easy to drift off in total relaxation in the garden. A fully equipped kitchen makes life that much easier for those romantic nights in especially if you want to witness the stunning sunsets from the terrace. With 3 lovely bedrooms, two doubles (one with en-suite shower) a twin and separate bathroom/shower room, there was plenty of room and loads of storage space. The villa is 'upside down' with the kitchen, lounge area and terrace all upstairs to take advantage of those views. I can't recommend staying here highly enough, it was a real treat - May 2022.
We would like to thank you and the villa owner for helping us have a very pleasant holiday. The villa is well situated and surprisingly private considering its location. We really liked the layout with access to the pool deck from all the bedrooms. Perfect if we brought other family members. The villa was very clean and well equipped and we are hard pushed to find fault. We will definitely consider another property on your site in the future if this is an example of the villas you feature. Thankyou - October 2021.
Well, we have arrived at last after last year's covid cancellation. A pain free flight and transfer from the airport (we know the sun is coming)!! I just wanted to say how impressed we are with the villa. We knew it was lovely because we've stayed before but as it should be of course, it is absolutely spotless. Obviously a lot of work goes into the cleaning and it is very much appreciated. Thank you - September 2021.
We are sorry but due to the Covid-19 crisis reviews for the 2020 season are unavailable.
Can only reiterate all previous good comments. Thanks for late check-out. Hope to be back - September 2019.
Must visit The Emerald restaurant in walking distance, down hill. Beautiful sunset and food. There are two mini-markets in Plaka, both good and well stocked. Trip to Chania well worth a visit. Almyrida is lovely - beach and restaurants fabulous. Walking to and from no problem - September 2019.
We are just back from a lovely holiday at Villa Andromahi. The villa was absolutely lovely, probably one of the best we have stayed in. We particularly loved the pool area and stunning views. It felt so private and peaceful yet not isolated at all from Plaka village - August 2019.
Just finished a fantastic 12 day stay in Plaka. Villa is lovely and plenty of space for 4 adult and 2 children. Had great fun in the pool and lovely sunsets on the balcony terrace. Ate at Elpis in Plaka 4 times as food was amazing. Elpis had the extra service and portions were generous and childrens menu extensive again with good sized portions. Greek night was good fun on a Thursday. Gets very busy so book in advance. Local supermarket well stocked and fresh bread daily. Beaches beautiful, we particularly liked Kalives - August 2019.
Fabulous villa with everything we needed! We particularly enjoyed the pool area and the wonderful views. We ate in all the village restaurants which were great. 15 min walk down to Almyrida. We will miss this lovely villa and would definitely return in visiting Plaka again - August 2019.
Fifth stay here! Says it all! Lovely to see Plaka in the summer as usually visit in May so more pool and beach time rather than walking. Fabulous week here enjoying the lovely setting, fab sunsets and chillout time. Thank you so much - July 2019.
We enjoyed the villa. If you're vegetarians you might like to try Monica's in Gavalochori where half the menu is veggie - June 2019.
Lovely villa with everything we could have needed. The views are stunning - so relaxing - May 2019.
Many thanks for organising our break at Villa Andromahi. The accommodation was perfect, if a little large, for the two of us but we were never too sure if family may have tried to tag along! - September 2018.
We had a fantastic stay at Villa Andromahi in Plaka. There was everything we needed. The positives are numerous, the villa location was fab, pool was great, the sunsets were amazing. We would definitely return to this villa and the area of Plaka. The village which is a 5 minute walk is a great setting. the restaurants were all very good and different, service was personal, we had lots of laughs with the staff. Almyrida area is great more expensive than Plaka you can walk down 15 mins and taxi back so worth a visit. We travelled around to see different places although enjoyed returning to the villa. Many thanks - June 2018.
Everything was wonderful, thank you. Mum and Dad had a wonderful time, as did I, my husband and daughters, we couldn't have picked a better week, it was very hot and perfect for relaxing around the pool. Thanks once again for all your help with booking this villa, they loved it, the villa itself was lovely and in a perfect position for Plaka. Time to start looking for next year I think...Best wishes and many thanks, you've been wonderful throughout - September 2017.
We've had another great fortnight in Villa Andromahi which is a perfect base. Our favourite spot is Ombrogialos where the water is so clear and on a calm day it is the best spot to swim or snorkel off the rocks. Stop off at Leonidas' taverna in Drapanos on the way back. Lots of gresat beaches to visit, one little gem is the jetty beach at Kalami where kids jump off into the sea for hours, there's a great snack bar here serving good frappe. Thanks to the owners for a well equipped villa. We never tired of the spectacular view which is really very special - August 2017
Had a wonderful week staying in Villa Andromahi in Plaka. Everything was just perfect! Beautiful pool, excellent air con (essential in the extreme heat) and a great location - just a few mins from local restaurants and bars and a short ( but steep) walk to the sea. Couldn't have been better. Thank you so much x - July 2017.
We had a wonderful stay at Villa Andromahi - thanks so much. Lots of good restaurants as mentioned by others but our favourite spot was back at Villa Andromahi, on the terrace, watching the sun go down. A very special place. We will be back. Thanks and yammas - June 2017
Fabulous villa with everything we needed and more! Enjoyed the local restaurants. Best in Almyrida was Elia and Thyme, a high class service and exceptional food and wine. Also thought Cost Anita and Psaros were good. We hired a car for the week and explored Elafonissi beach which is amazing and a must see and Spinalonga island. A great week and a lovely holiday - June 2017
Thanks for all your help with the booking and the really detailed info. We had a wonderful time and the weather was lovely. The villa and the views all lived up to our expectations, Crete is one of our favourite places to be and Plaka is definitely a family favourite now. I've liked the page on Facebook too - October 2016.
2 1/2 weeks of bliss. Will never tire of the view across the bay. Hired a car and did lots of trips including walking The Imbros Gorge. The villa is well equipped. Village restaurants are all good - September 2016
We had a wonderful time in Villa Andromahi. Lovely villa, superb views and a pool just with the right depth for two eight year-olds. I would be grateful if you could pass on our thanks to the owners for letting us store away some magic memories. And thank you to yourselves for arranging it all - August 2016.
Fab holiday! View from balcony fantastic! Local restaurants and bars all very good, friendly locals and good food. Would definitely come back to Crete again and recommend it to family and friends - July 2016
A superb holiday in a lovely villa. Thanks - June 2016
Great location and view. Restaurants in Plaka all seemed good but the best food was at The Emerald Hotel where you can also enjoy wonderful views. K Travel who have a stand on the street in Almyrida are a good choice for Samaria Gorge as they pick up and drop off in Almyrida making the trip 08.00 to 20.00 instead of 05.30 to 21.30 offered by others. Chania was lovely and calm despite being busy. Also visited Rethymnon but preferred Chania. We visited Knossos and also the archaeological museum in Heraklion afterwards which is amazing. Aptera just a few kms away is worth a visit for the mainly Roman remains on a Minoan site. Relatively under developed and only 2 euro entrance fee . Great views. Good service from the property managers, Anne and Richard and the pool was cleaned regularly. Thanks for a great time - June 2016
We had a really super holiday, lovely villa, and Crete was gorgeous. We will definitely think about going back for a holiday another year - August 2015.
We had a really relaxing break at the very private and well equipped... Villa Andromahi in Plaka. The views and sunsets were amazing and we would recommend this villa for those who want a peaceful holiday in an unspoilt village with great walks all around - June 2015.
Everything was excellent. The villa was great, the views were stunning and the villa was incredibly well equipped. The pool is a great size and watching the sunset over Souda Bay from the balcony with a glass of red was special - June 2015.
Loved the villa - perhaps the best equipped of any we have stayed in. Loved Plaka which was very quiet apart from one noisy day from another villa nearby. Tried most of the tavernas in the village and as previous guests have said, they are all good. The walking leaflets were brilliant. Just 2 suggestions for the villa - an Ipod dock (new CD player/radio with USB port now added so Ipods and Ipads can connect) and an outside light for returning to the villa in the dark (also added) - September 2014.
This is a lovely villa, well equipped and kept. We appreciated the views, the pool, the wifi and the welcome pack. We couldn't get the TV to work but made up for that with our laptop & the wifi. The tavernas in the village are all perfectly OK but The Bicorna just down the road and Mezzo, the Italian are the best despite the "leisurely" service at Bicorna. Almyrida is only a short walk away and is full of decent eateries. Aptera which you can see from the terrace is atmospheric and unusual. We also appreciated the mid stay visit from the cleaners to change our bedding and spruce up. We enjoyed our stay, we hope you enjoy yours - September 2014.
A fantastic villa in a fantastic location. Beautiful weather. Plaka tavernas are all very nice with friendly staff. We were glad of our hire car as the walk back from Almyrida with young children in tow could have been difficult. We would definitely recommend Plaka and Villa Andromahi to anyone. Thank you. Ps - we also appreciated the welcome pack - August 2014.
We've had a lovely 10 days here. We have been to Plaka before and it was as good as we remembered. Overall a super villa with views second to none and amazing sunsets. The wifi was very useful for the teenage members of the family. To make the villa even better it would be great to include a "proper" BBQ and maybe utilise some of the spacious kitchen to include a dishwasher but these are just suggestions. We had a super holiday - thank you - August 2014.
Enjoyed a relaxing week here at Villa Andromahi with its wonderful sea and mountain views. Located in a convenient spot within walking distance of Plaka with a number of tavernas and warm hospitality. We liked Bicorna for cool drinks and a different type of food to that offered in the square. The villa had all the essentials and we thought the wifi was a good thing to have - July 2014.
7th visit to Crete and 2nd to Plaka (when we first visited the island the beds and the wardrobes were made of concrete - things have improved)! This is a lovely villa, carefully designed and maintained and obviously treasured by the owners. We all enjoyed our time here at this villa and in Plaka and hope to come again. The villa has so many attractions and thoughtful enhancements that it would be churlish to find fault. However, we would like to have a handrail on the stairs because two of us are in our 80's. (Now added) - June 2014.
What a wonderful place to stay, enjoyed breakfasts on the balcony, relaxing by the pool and watching the sunsets. Plaka is a great village, we really enjoyed eating at Elpis and the Italian. We had a fantastic stay - thank you - May 2014.
Lovely week in this beautiful villa. We have lots of happy memories of our time here and hope to return to Crete soon - September 2013.
Fantastic villa. Couldn't believe our luck with this one! Spacious, comfortable, superb pool which we will really miss, well equipped. The kitchen was the best we've had on a holiday and had all we needed (even the kitchen scales)! The oven was fab and overall it was perfect. The location was good too enabling us to visit many places. We don't want to leave ! - August 2013.
I love your villa so much! The view was one of the most stunning I have ever seen. The sunsets were amazing. I really don't want to leave. The children loved the pool and would happily have never left the villa to visit anywhere else. The welcome pack was a nice touch and the kitchen is very well equipped. Thanks for a great week - August 2013.