The Aegean Blue Villa
Kera, Nr Almyrida
Sleeps: 6
Bedrooms: 3
Bathrooms: 2
£1095 - £1975per week
Details
General Description
The Aegean Blue Villa is on a prestigious, Bentley award winning development, in an elevated position right opposite the little beach at Kera which boasts breathtaking panoramic sea, mountain and countryside views. Perfectly situated, approximately a 15 minute walk from Almyrida and its sandy beaches, tavernas and amenities.
This fully air-conditioned, modern villa is beautifully presented and has 3 bedrooms sleeping up to 6 guests. The private infinity swimming pool has some solar heating which is capable of increasing the water temperature a few degrees. It should be noted however that this is weather dependent and the water may still feel cool if there is no or little sun to heat the water.
The villa is very well equipped and furnished in a modern style throughout, in keeping with its exterior design. Patio doors from the comfortable and spacious lounge open up directly on to the sunbathing terrace and the stunning sea views across Souda Bay. There are TV, DVD and CD players for your entertainment.
Ground Floor
You enter the villa into the light and airy open plan lounge and kitchen/dining area which is comprehensively equipped for all your self-catering needs (see amenities list below). A dining table and chairs together with comfortable sofas provide ample seating for 6 people.
To the rear of the ground floor is one of the spacious double bedrooms providing plenty of storage space and opening up onto to its own private terrace to enjoy the fantastic views.
Completing the accommodation on this floor is one of the modern wet rooms with quality fittings.
First Floor
The remaining two double bedrooms are located on this floor together with the other good sized wet room.
Both bedrooms are beautifully furnished, comfortable and, once again, there is plenty of storage. Doors lead out from both rooms onto a large balcony which overlooks the sea and maximises the wonderful views this area is renowned for.
External Areas
The outside spaces at this villa are outstanding. There is a large paved sitting/sunbathing area with space for sun loungers and umbrellas immediately in front of the lounge area. A few steps down leads to the swimming pool with surrounding sunbathing terraces and the well tended, landscaped garden which adds vibrant colour for everyone to enjoy.
The purpose built BBQ and bar is situated to the side of the villa and has its own sink, fridge, kettle, cupboards and preparation areas as well as a table and chairs to seat 6. This is perfect for al fresco dining whilst sipping on your favourite tipple and enjoying the glorious sunsets that extend beyond the sparkling blue infinity swimming pool.
This villa is in a very convenient location and is an excellent choice for those clients who do not wish to hire a car for the duration of their holiday however you may find it more convenient to do so. If you tire of the pool, the little sand and pebble beach at Kera is just across the road (and down a track) and Almirida's sandy beach and facilities are a mere 15 minutes walk from the Aegean Blue Villa.
The infinity pool is solar heated.***NB - the solar panel should increase the water temperature by approximately 4 degrees but is weather dependent.
Internet Access
Wifi internet access is provided via satellite. There are no upload or download limits.
More Information
Use the different tabs to view the villa's features and amenities, actual location and distances to the nearest beach, shop and taverna. The prices tab contains details of the weekly rate together with discount information and additional charges where applicable. You can check "LIVE" up to date, availability using the availability tab which will also confirm the price for your selected dates ***. If you want to book you can then follow the online prompts. Also see https://www.crete-escapes.com/booking
*** In some cases relating to the low occupancy discount, the price may need adjusting by us. Please see the note on this page for more details https://www.crete-escapes.com/about-our-discounts
Holiday Rental Licence
The Aegean Blue Villa is licensed for holiday rentals with the Greek Tourist Authorities (EOT). Licence number - 1197932.


Amenities
General
Phone for emergency use and incoming calls
Yes (request at time of booking - FOC)
Yes (request at time of booking - FOC)
All bed/bath linen/towels
Maid service and linen/towel change
Bedrooms & Bath/Shower Rooms
Yes (x 3 - 1 on the ground floor and 2 on the first floor)
Yes (x 2 - 1 shower/wet room on each floor)
Living Areas & Kitchen Equipment
Yes (with satellite reception - not Sky)
External
Yes (30m2 - 6m x 5m. Depth - 1.0m - 1.2m. Solar heated on request. Access via aluminium steps)
Outdoor preparation area with sink
Yes (stone built charcoal type)
Other
Map
Local Info
Chania airport - 35 mins drive. Heraklion airport - 1 hr and 50 mins drive.
Nearest Beaches -­ Kera - across the road. Almyrida - 15 min walk / 4 min drive or Kalives - 40 min walk / 8 min drive.
Nearest Tavernas and Shops -­ Almyrida - 15 min walk / 4 min drive. Kalives - 40 min walk / 8 min drive.
NB; all times are approximate and based on average driving and walking speeds. Some walking and/or driving may be on unlit and unmade track roads. Please refer to the map tab to view satellite images of the area.
Prices
Deposit
10% of total rent
Pricing Notes
Prices quoted are in gbp sterling, per week, for up to 6 people occupying the villa and are not per person. The villa can also sleep an infant using a cot free of charge.
Prices include air- conditioning, a welcome pack, all linen/towels including beach/pool towels and maid service with linen change.
Maid service with linen/towel change** - 1 week stays - end of let clean and 2 week stays - at the end of week 1 + end of let clean. For stays that do not fall into a 7 or 14 night pattern eg; 10 nights this service will be provided mid-stay ie; approx after 5 nights.
**except beach/pool towels which are only changed at the end of let however they can be washed using the laundry facilities in the villa during your stay.
There are NO hidden extras.
Options & Extras
Cot: £0.00 per booking
High Chair: £0.00 per booking
Low Occupancy Discounts
A low occupancy discount for a single couple (use of 1 bedroom), of 15%, is available at this villa except for July and August dates.
Not allowed on late availability or special offer prices.
Loyalty Discounts
If you are a returning client and this is your 3rd (or more) consecutive booking with Crete Escapes or your 2nd separate booking in one season, you will qualify for our loyalty discount. Please quote voucher code LOYALTY2.5 when asked to do so during the online booking process or let us know when you contact us. Your reduction of 2.5% will then be deducted from the total price.
Short Breaks
Alternative length of stays of more than 7 nights are accepted and are charged pro rata.
Availability
Booking Information
Change-over days are totally flexible but are subject to existing bookings taken either side. If a booking means that the owner would be left with too many "void" days we might not be able to accept it. If this is the case we will contact you without delay to discuss alternatives.
Payment can be made by bank transfer to our sterling account or by debit or credit card (Mastercard or Visa) only.
Our travel information provides details of how to get to Crete including flights to both Chania and Heraklion airports.
If you want to book, please use the availability chart above to check your dates, you can then either book on-line, email enquiries@crete-escapes.com or call us on 0330 111 0061.
Please note: although the calendars show live availability and you can book on-line, please note that your booking is not confirmed until we have issued a confirmation of booking. You may prefer not to book your flights until we have confirmed the booking.
Low occupancy discounts - unfortunately the online booking system automatically calculates the single couple or small party discount based on the number of people entered onto the booking form and the start day of your rental. There are 2 problems with this:-
a) If you are 2 people but not a single couple, or 3 or 4 people but not 2 + 1 or 2 + 2, the system will have automatically calculated a discount when it is not due. Please make use of the "additional notes" box on the booking form to tell us and we will adjust the price accordingly before we confirm your booking.
b) If your rental overlaps from a discounted period to a non-discounted one (or vice versa), the discount calculated will be wrong. In these cases we have to make the adjustment manually. You can still book on-line but we will need to change the price on receipt of your booking request. If the price increases we will contact you to confirm the new price before we confirm your booking and take your deposit.
Please don't let either of these issues put you off making a booking. The discounts are genuine and our villa owners welcome couples and smaller parties out of high season. We just can't fine tune the booking system to account for these 2 circumstances - sorry.
Floor Plans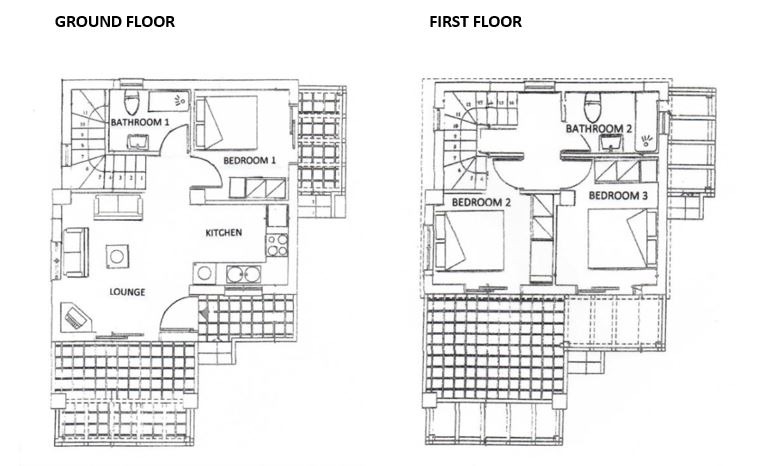 Reviews
We are sorry but due to the Covid-19 crisis reviews for the 2020 season are unavailable.
We had a wonderful time in Crete. The views were fantastic, the villa was great and the quality of the pool deserves a special mention. The administration and arrangements for the booking were excellent and your personal touch is an added bonus. Many thanks for all your help - September 2018.
We have spent a lovely family holiday at Aegean Blue Villa. The villa is very comfortable, well positioned and close to beaches at Almyrida and Kalives, both within walking distance along costal paths. The high position of the villa affords spectacular views across Souda Bay and mountains, perfect to watch the sunset over the bay. The villa pool and grounds are spacious and well maintained and we spent many hours taking in the views from the infinity pool. The outdoor bbq area provides perfect al fresco dining and shelter from the prevailing wind, when required. The beaches of Almyrida and Kalives are well served by bars and restaurants, but highlights for us were the beautiful crystal clear waters and gently shelving beaches that made snorkelling a real treat. I would highly recommend taking a boat trip out to try out snorkelling or diving around the many caves nearby. Dining out in the nearby villages of Aptera and Vamos and experiencing local cuisine, history and meeting the exceptionally friendly and welcoming local Cretans is not to be missed - July 2018.
Thank you, we had a lovely holiday. The villa was lovely with super outside spaces and the booking process through Crete Escapes was very smooth, thank you - May 2018.
We had a lovely time at Aegean Blue villa. We thought the gardens and views were absolutely beautiful - May 2018.
I treated my family to a holiday to celebrate my 60th birthday (6 of us age ranges 23 - 62) and looked for a villa with a pool, near to a village and beach. We chose The Aegean Blue Villa after much searching and were impressed with the reviews. We arrived in darkness and woke the next morning to a fantastic view over the Bay of Souda. The reviews and website really don't do justice to actually being there. The villa is as beautiful as described on the website and more. It is very comfortable and stylish, inside and out. You will find everything you need to have a fantastic holiday. The outside kitchen, BBQ and inside kitchen are all very well equipped should you want to completely self cater. There's a lot of useful information about Crete in folders in the villa. We didn't have a car so walked into Almyrida once or twice a day, either down the main road or using the scenic but sometimes steep track aong the headland. Almyrida is a lovely village with plenty of choice of restaurants, shops and a lovely safe sandy beach. We spent a lot of time here or by the pool at the villa as temperatures were unusually high during our stay. The pool is a good size with stunning views. We had such a relaxing holiday we would not hesitate to return - June 2017
It was a great villa in a brilliant location, only gripe perhaps a little short on plates & cooking pots, however overall no complaints & your local reps answered any questions we had. I would certainly be happy to recommend it to anyone. Many thanks for your good service - June 2017.
I would like to say how much we enjoyed our holiday in this beautiful villa in Crete. The location is spectacular with amazing views. We were blessed with fantastic weather for our stay and this enabled us to make full use of the fantastic facilities and outside space of the villa. So much space to sit, eat and relax. The pool was divine and after a day exploring the local beaches of Kalyves, it was always a pleasure to come back to our own little slice of heaven. I would greatly recommend the villa and we will certainly be returning. It was probably the best and most relaxing holiday ever. Location is perfect, the tavernas and local shops have everything you could want and a visit to Chania Town was a very enjoyable experience. One again thank you so much for a delightful holiday - October 2016.
We are a family of four with a teenage daughter and son, aged 13 and 14 and we have enjoyed a truly spectacular week at the Aegean Blue villa. The villa itself is immaculately clean, beautifully decorated and well equipped, making it feel like home. We particularly enjoyed the stunning, warm pool and outdoor areas, with their captivating views across the White Mountains and Ocean. The villa itself is perfectly placed to be able to easily access on foot the local beaches, tavernas and amenities. As well as thoroughly enjoying the beaches at Kera, Almyrida and Kalyves, we also drove west to spend a day at Elafonisi, where the beach was as beautiful as any we experienced in the Seychelles, with crystal clear, azure waters and pink sand. The quality of food and hospitality in the local tavernas was outstanding. There is so much to do in the local area for all ages and fitness levels, although, with such stunning views, it is tempting to stay at the villa and relax. We have enjoyed a perfect week and would highly recommend staying here - September 2016.
Lovely villa, with all (and more) the facilities etc