Villa K
Neo Chorio, Nr Kalives
Sleeps: 6 + 1
Bedrooms: 3
Bathrooms: 2
£825 - £1695per week
Details
General Description
Villa K is a 3 bed / 2 bath villa peacefully located in a pretty garden plot amidst the beautiful Cretan countryside in the traditional village of Neo Chorio which boasts a couple of tavernas and a shop. The large pool situated to the side/rear of the property and the lush planting ensures you are not overlooked. The larger village of Armeni with more amenities is nearby (2 kms) and the bustling village and seaside resort of Kalives where you will find sandy beaches and a number of good tavernas is an easy 5kms drive.
Ground Floor
You enter into the open plan living area with a brand new kitchen from the 2021season. A hallway at the rear of the living area leads you to the stairs, the reburbished modern family shower room and one of the double bedrooms.
The spacious living area is comfortably furnished with 2 sofas (one of which converts to become a sofa bed), a large central coffee table, side tables and a wall mounted TV screen. For your further entertainment, some books and games are provided. With a set of patio doors opening up to a raised terraced outside dining area and a covered sitting to provide shade, this open plan layout is full of light.
The L shaped modern fitted kitchen with breakfast bar looks out onto the garden. Well equipped (see amenities list) with plenty of storage and worktop space, you will undoubtedly want to prepare home made snacks and meals to enjoy in the numerous, attractive dining areas outside.
One of the 2 double bedrooms is on this floor, privately positioned at the end of the hallway behind the lounge. Patio doors open to a small furnished terrace.
The family shower room is adjacent to this bedroom.
NB: to the left of the stairs there is a 4th bedroom/storage area (locked) for owners use only.
First Floor
The other bedrooms, one double and one twin and another recently reburbished shower room are on this floor. The double room has patio doors leading to a small private balcony. The wow factor on this floor is the massive terrace, accessed at the top of the stairs separately from both bedrooms, which looks out through a glass balustrade across the valley stretched out below and to the sea in the distance. Furnished with sturdy but comfortable furniture underneath a pergola to provide shade, this is a magnificent spot for relaxation and early evening drinks before dinner. In addition to this covered section there is also an extensive open area for soaking up the sun. A handy external staircase leads from this balcony to the raised outside dining area below which also gives an alternative access to the kitchen and living area.
External Areas
Without doubt, the outside areas and pool are the most impressive features at this villa. The garden extends to two sides of the villa and the lush planting provides a very high degree of privacy. The south westerly positioned pool and its surrounding terraces, with a pergola sheltered dining area where you will find the Weber charcoal BBQ, are also very privately situated at the rear of the villa. The pool area is gated for added safety. There is another large raised dining terrace off the living area. Chairs and tables are dotted around the various terraces giving you the option to enjoy a tranquil garden setting for al fresco dining or your morning coffee. The large tables on the raised ground floor dining terrace and by the pool will easily seat up to 8.
The sparkling pool is surrounded by sun bathing terraces; loungers and parasols are provided and more shade, if required, is available under the pergola covered dining patio at one end overlooking the pool.
Notes
At the edge of the raised dining area there is a steepish drop and for this reason the owners do not accept bookings from families with children aged under 7.
Internet Access
The internet connection is provided via satellite.
More Information
Use the different tabs to view the villa's features and amenities, actual location (a live link to google's most recent satellite map of the area) and distances to the nearest beach, shop and taverna. The prices tab contains details of the weekly rate together with discount information and additional charges where applicable. You can check "LIVE" up to date, availability using the availability tab which will also confirm the price for your selected dates ***. If you want to book you can then follow the online prompts. Also see https://www.crete-escapes.com/booking
*** In some cases relating to the low occupancy discount, the price may need adjusting by us. Please see the note on this page for more details https://www.crete-escapes.com/about-our-discounts
Holiday Rental Licence
Villa K is licensed for holiday rentals with the Greek Tourist Authorities (EOT). Licence number 00000558494.

Amenities
General
Yes (bedrooms and living area)
Phone for emergency use and incoming calls
Yes (request at time of booking - FOC)
Yes (request at time of booking - FOC)
Yes (x 1 - request at time of booking - see prices tab)
Yes (see prices tab for more details)
Maid service and linen/towel change
Yes (see prices tab for more details)
Bedrooms & Bath/Shower Rooms
Yes (x 2 - one on each floor)
Yes (x 2 - 1 x shower room on ground floor and 1 x shower room on first floor)
Living Areas & Kitchen Equipment
Yes (2 x bluetooth speakers)
External
Yes (40m2 - 8m x 5m. Depth - 0.6m to 1.6m. Access via roman and aluminium steps. Gated)
Outdoor preparation area with sink
Yes (charcoal weber type)
Other
Books/Games/DVD's Yes
Map
Local Info
Chania airport ­- 35 mins drive. Heraklion airport - 1 hr 45 mins drive.
Nearest Beaches ­- Kalives - 8 mins drive or Almyrida - 15 mins drive.
Nearest Tavernas and Shops -­ Neo Chorio - 12 min walk / 2 min drive or Armeni - 20 min walk / 5 mins drive.
NB; all times are approximate and based on average driving and walking speeds. Some walking and/or driving may be on unlit and unmade track roads. Please refer to the map tab to view satellite images of the area.
Prices
Deposit
10% of total rent
Pricing Notes
Prices quoted are in gbp sterling, per week, for up to 6 people occupying the villa and are not per person. The villa can sleep up to 7 with 1 child (aged 7 - 12 ) using the sofa bed in the living area charged at the rate of £10 per night.
Alternative length of stays of more than 7 nights accepted and are charged pro rata.
Prices include air- conditioning, a welcome pack, all linen/towels including beach/pool towels and maid service with linen/towel change.
Maid service with linen/towel change** - 1 week stays - end of let clean and 2 week stays - at the end of week 1 + end of let clean. For stays that do not fall into a 7 or 14 night pattern eg; 10 nights this service will be provided mid-stay ie; approx after 5 nights.
**except beach/pool towels which are only changed at the end of let however they can be washed using the laundry facilities in the villa during your stay.
Options & Extras
Sofa bed: £10.00 per night
Low Occupancy Discounts
A low occupancy discount for single couples (use of 1 bedroom), of 15%, is available at this villa except for July and August dates.
Not allowed on late availability or special offer prices.
Loyalty Discounts
If you are a returning client and this is your 3rd (or more) consecutive booking with Crete Escapes or your 2nd separate booking in one season, you will qualify for our loyalty discount. Please quote voucher code LOYALTY2.5 when asked to do so during the online booking process or let us know when you contact us. Your reduction of 2.5% will then be deducted from the total price.
Short Breaks
Short breaks are normally only available for a minimum of 5 nights and will be charged at the 7 nightly rate unless otherwise advertised. However, if the number of available days between existing bookings is less than 7 nights we may be able to accept bookings at a reduced rate subject to the owners agreement.
Short breaks are allowed within 3 days of arrival.
Availability
Booking Information
Change-over days are totally flexible but are subject to existing bookings taken either side. If a booking means that the owner would be left with too many "void" days we might not be able to accept it. If this is the case we will contact you without delay to discuss alternatives.
Payment can be made by bank transfer to our sterling account or by debit or credit card (Mastercard or Visa) only.
Our travel information provides details of how to get to Crete including flights to both Chania and Heraklion airports.
If you want to book, please use the availability chart above to check your dates, you can then either book on-line, email or call us on 0330 111 0061.
Please note: although the calendars show live availability and you can book on-line, please note that your booking is not confirmed until we have issued a confirmation of booking. You may prefer not to book your flights until we have confirmed the booking.
Low occupancy discounts - unfortunately the online booking system automatically calculates the single couple or small party discount based on the number of people entered onto the booking form and the start day of your rental. There are 2 problems with this:-
a) If you are 2 people but not a single couple, or 3 or 4 people but not 2 + 1 or 2 + 2, the system will have automatically calculated a discount when it is not due. Please make use of the "additional notes" box on the booking form to tell us and we will adjust the price accordingly before we confirm your booking.
b) If your rental overlaps from a discounted period to a non-discounted one (or vice versa), the discount calculated will be wrong. In these cases we have to make the adjustment manually. You can still book on-line but we will need to change the price on receipt of your booking request. If the price increases we will contact you to confirm the new price before we confirm your booking and take your deposit.
Please don't let either of these issues put you off making a booking. The discounts are genuine and our villa owners welcome couples and smaller parties out of high season. We just can't fine tune the booking system to account for these 2 circumstances - sorry.
Floor Plans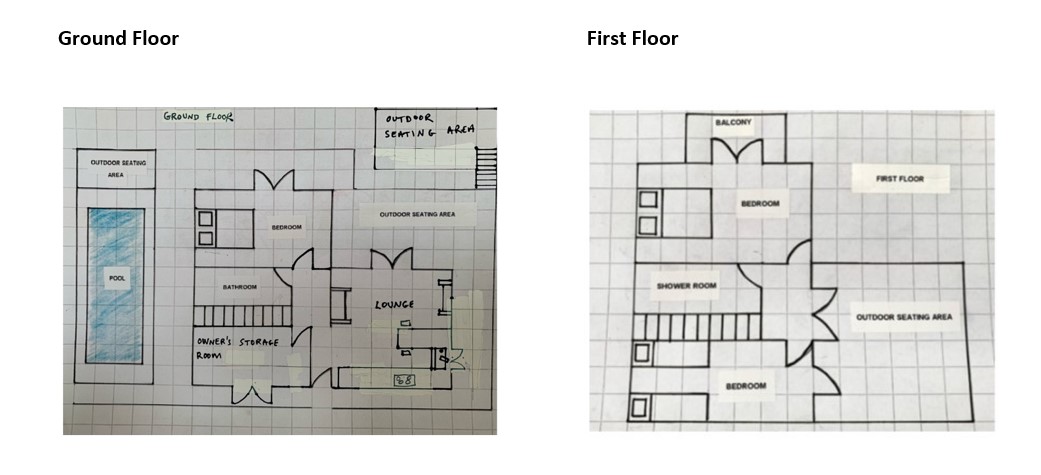 Reviews
Lovely week at Villa K. Highly recommend breakfast and coffee at the kiosk in Armeni which we did most days! Also, an excellent butchers there too. Also loved the Imbros Gorge walk and the souvlaki taverna in Neo Chorio. Thanks for everything - September 2022.
The villa was an amazing, home from home for us and had everything we needed for a relaxing break away from it all. The pool especially was a firm favourite – lots of morning dips to start the day - and evening swims following days exploring of lazing on the beach. The overall standard of the villa and gardens are really impressive. We've all fallen for Crete, and will no doubt be looking to visit again. Nio Chorio was Greece at it's finest, we're all going to miss the daily possession of bell ringing sheep/goats passing the villa – and the simple (yet tasty and cheap) menu at Granny's car park. We all love Chania and Rethymnon – and even managed a trip to see the sunsetting at the Baby Falassarna beach. Thanks again to you both - August 2022.
We've had a lovely holiday returning to Crete for the umpteenth time but first time at Neo Chorio. Villa K is a lovely, lovely base and so well appointed. We went to all our favourite places. Ta Aptera, the 'new' place at Stilos, the souvlaki taverna in Neo Chorio and a spectacular new eatery at Fres - worth a visit. We enjoyed swimming at Kalyves and using the free sunbeds at Gyalos - you have to buy a drink, they do great cocktails. Thank you for everything - August 2022.
Thank you for a very comfortable stay. Hardly used the pool as we loved the sea. We loved resting in all the comfy seating areas. Peaceful and beautiful views - August 2022.
Another amazing holiday in Villa K. We loved a restaurant called Culombo where we had mushroom risotto, home made pizza with smoked pork, slow cooked lamb and moussaka - July 2022.
Another fabulous holiday here at Villa K. Couldn't believe the extensive renovations inside and out. Very difficult to choose somewhere to relax as you are spoiled for choice. The view from tthe top terrace is amazing. Spent many days on Kalyves beach and enjoyed the fish offered at Elena restaurant and Arena Y Mar for great lunches. Cactus was great for dinner - at the other end of Kalyves. Chania is a must with lots of restaurants and shops. We had a trip with Kalyves cruises, great day out with lunch and snorkelling. Plenty of watersports at Georgioupolis. Thank you Villa K for fabulous accommodation in an amazing location - June 2022.
Hi there, have now returned and wish we were still there. Fabulous villa, good sized pool. Lots of spaces to spread out so as a family we weren't on top of each other. The terrace on the first floor with the new glazed balcony frontage was stunning. Facilities were great. Shutters gave great blackout at night and air con worked really well. Location is great 15 mins walk, or few minutes drive, to the nearest shop. Next village along is very traditional with good restaurants. 10 minutes drive to Kalyves with good beach and restaurants. You need a car but Crete Escapes recommended a company that was simple to arrange and easy to use. The property managers were very helpful and responded straight away to any questions we had. We are going to rebook for next year and have already recommended the villa to friends - August 2021.
Just arrived. Lovely, really pleased - gorgeous villa beautifully presented. The owners have made so much effort. Thanks again x - August 2021.
Villa K is new to Crete Escapes for the 2021 season. We will post more reviews once received in due course but in the meantime, any previous reviews shown below have been provided courtesy of the villa owners.
All I can say is that this villa is superb. Layout, equipment and cleanliness are all fantastic. The pool is great and the roof terrace quite spectacular both in the day and in the evening. We hired a car as like to explore when on holiday. Loads of lovely beaches and restaurants just a short drive away and some a little further if you don't mind the extra time in the car. Supermarket just a short drive too. Loads to see and do in this area of Crete so you will be guaranteed to have a great, varied holiday. Probably the best villa we have stayed in over the years so thank you. Would definitely stay in this villa again - July 2019
Just got back from a fab holiday in Crete. Have got to say that Villa K is one of the best holiday homes we have stayed in. The bedrooms are all a good size with air-con and good storage with an amazing amount of coat hangers, there were also mozzie plugs for each bedroom. The kitchen is well stocked with everything you could possibly need and the lounge was a good size with two comfy sofas. The thing which really makes Villa K special is the outdoor space, there are 4 different seating areas to choose from. We especially liked the large upstairs terrace which was lit beautifully at night with solar powered lights. The pool was also fantastic, the water was a lovely temperature at the end of July and the pool area at that time of the year is in full sun from sunrise until about 7pm (there is also a shaded terrace at the end of the pool area if you need to escape the sun for a while). We were also very impressed that half way through our stay our beds and towels were changed (the pool was also cleaned on the day that we arrived and then halfway through our stay). Neo Chorio itself was a lovely little village as was Armeni just up the road. We also enjoyed the beach at Kalives (which had some great restaurants on the sea front), beautiful clear water - make sure you take a snorkel and mask. All in all, we had a fab stay thanks in a large part to our great base for the week - July 2019