Villa Poppy
Plaka, Almyrida
Sleeps: 6
Bedrooms: 3
Bathrooms: 2
£875 - £1695per week
Details
General Information
Perfect for those who want a peaceful setting with lovely sea views whilst being close to tavernas, shops and a sandy beach. Villa Poppy is a modern villa located on a hillside just above the charming village of Plaka with stunning views of Souda Bay, Akrotiri Peninsula, the White Mountains and surrounding countryside. Despite its rural location, this villa is ideal for families and couples who prefer to be in walking distance of local amenities.
The colourful and brightly furnished Villa Poppy stands in a large plot, next to its sister villa. Each villa is completely independent with its own private pool, sunbathing terraces, BBQ etc.
Car hire is not essential but is recommended to make the most of the surrounding area.
Ground Floor
The front door leads into the large, air-conditioned, open plan living area which is comfortably furnished with cream leather sofas, a central coffee table and a TV/stereo unit.
To the left is the modern and well equipped dining/kitchen area with everything you need for a self-catering holiday (please see the "features" tab for a full list of amenities). The dining table and chairs will seat 6. Externally there is a covered terrace overlooking the pool which is accessed by a door from the kitchen - a perfect spot for breakfast, a leisurely lunch in the shade or in the evening if you choose to dine al fresco whilst soaking up those glorious sunsets over Souda Bay for which this area is renowned.
One of the brightly furnished bedrooms is downstairs adjacent to a shower room with shower, wash basin and wc. The bedroom has twin beds, a large wardrobe, dressing table, mirror and bedside cabinets. Double doors open up to a small covered terrace at the rear of the property.
First Floor
The second colourful twin bedroom and a double bedroom are located on this floor. Both bedrooms are well furnished with plenty of storage space. Each room has a large wardrobe with internal drawers and shelves, dressing tables with mirrors and bedside tables. Both bedrooms have doors opening out on to a generously sized balcony where a table and chairs allow you to sit and enjoy those glorious sea and mountain views. The double room also benefits from a small covered balcony at the back of the villa.
The spacious family bathroom has a bath with shower over, washbasin and wc. In accordance with the usual practice in Greece, the washing machine is located in this bathroom.
External Areas
The villa is set in a gated plot for added security with plenty of parking space. It boasts a well maintained, mature garden with many trees, colourful flowering shrubs and rockeries which surround the large, tiled pool (accessed via roman steps). The extensive sunbathing terraces take advantage of the fantastic views at this villa. Plenty of shade is available under one of the covered terraces or by using one of the sun umbrellas provided. There is a generous supply of garden furniture, including a double swing chair.
The large stone built BBQ is to the rear of the garden so the cook can enjoy preparing delicious food whilst looking out over the pool and garden area to the sea and beyond. At night the pool and garden is well lit to create ambience to enjoy a chilled glass of wine or beer.
The sister villa is located to the rear of Villa Poppy but due to the size of the plot and the position of the pool there is still plenty of privacy.
Internet Access
The internet is provided by means of a satellite system providing unlimited wi-fi. Full instructions on connecting etc are in the Villa Information Book in the villa.
More Information
Use the different tabs to view the villa's features and amenities, actual location (a live link to google's most recent satellite map of the area) and distances to the nearest beach, shop and taverna. The prices tab contains details of the weekly rate together with discount information and additional charges where applicable. You can check "LIVE" up to date, availability using the availability tab which will also confirm the price for your selected dates ***. If you want to book you can then follow the online prompts. Also see https://www.crete-escapes.com/booking
*** In some cases relating to the low occupancy discount, the price may need adjusting by us. Please see the note on this page for more details https://www.crete-escapes.com/about-our-discounts
Holiday Rental Licence
Villa Poppy is licensed for holiday rentals with the Greek Tourist Authorities (EOT). Licence number 1042K91003045301.

Amenities
General
Yes (at least 2 vehicles)
Yes (x 1 - ground floor shower room)
Phone for emergency use and incoming calls
Yes (request at time of booking - FOC)
Yes (request at time of booking - FOC)
All bed/bath linen/towels
Yes (reverse use of air-con units)
Maid service and linen/towel change
Bedrooms & Bath/Shower Rooms
Yes (x 2 - one on each floor)
Yes (x 1 - double on first floor)
Yes (x 2 - a shower room on ground floor and a bathroom on first floor)
Living Areas & Kitchen Equipment
Yes (with satellite reception - not sky)
External
Yes (40m2 - 8m x 5m. Depth - 0.6m - 1.7m)
Outdoor preparation area with sink
Yes (stone built charcoal type)
Map
Local Info
Chania airport - 45 mins drive. Heraklion airport - 1 hr 55 mins drive.
Nearest Beaches -­ Almyrida - 35 mins walk / 7 min drive or Kalives - 15 min drive.
Nearest Tavernas and Shops ­- Plaka - 17 mins walk / 3 min drive, Kokkino Horio - 25 min walk / 5 min drive or Almyrida - 35 min walk / 7 min drive.
NB; all times are approximate and based on average driving and walking speeds. Some walking and/or driving may be on unlit and unmade track roads. Please refer to the map tab to view satellite images of the area.
Prices
Deposit
10% of total rent
Pricing Notes
Prices quoted are in gbp sterling, per week, for up to 6 people occupying the villa and are not per person.
Alternative length of stays of more than 7 nights are accepted and are charged pro rata.
Prices include air- conditioning, a welcome pack, all linen/towels including beach/pool towels and maid service with linen/towel change.
Maid service and linen/towel change** - 1 week stays - mid week towel change + end of let clean. 2 week stays - 1 towel change and 1 linen and towel change + end of let clean. For stays that do not fall into a 7 or 14 night pattern eg; 10 nights towels and linen will be changed mid stay ie; approx after 5 nights.
**except beach/pool towels which are only changed at the end of let however they can be washed using the laundry facilities in the villa during your stay.
There are NO hidden extras.
Options & Extras
Cot: £0.00 per booking
High Chair: £0.00 per booking
Low Occupancy Discounts
A low occupancy discount for single couples (use of 1 bedroom), of 15%, is available at this villa except for July and August dates.
Not allowed on late availability or special offer prices.
Loyalty Discounts
If you are a returning client and this is your 3rd (or more) consecutive booking with Crete Escapes or your 2nd separate booking in one season, you will qualify for our loyalty discount. Please quote voucher code LOYALTY2.5 when asked to do so during the online booking process or let us know when you contact us. Your reduction of 2.5% will then be deducted from the total price.
Short Breaks
Short breaks are normally only available for a minimum of 5 nights and will be charged at the 7 nightly rate unless otherwise advertised. However, if the number of available days between existing bookings is less than 7 nights we may be able to accept bookings at a reduced rate subject to the owners agreement.
Short breaks are allowed within 3 days of arrival.
Availability
Booking Information
Change-over days are totally flexible but are subject to existing bookings taken either side. If a booking means that the owner would be left with too many "void" days we might not be able to accept it. If this is the case we will contact you without delay to discuss alternatives.
Payment can be made by bank transfer to our sterling account or by debit or credit card (Mastercard or Visa) only.
Our travel information provides details of how to get to Crete including flights to both Chania and Heraklion airports.
If you want to book, please use the availability chart above to check your dates, you can then either book on-line, email enquiries@crete-escapes.com or call us on 0330 111 0061.
Please note: although the calendars show live availability and you can book on-line, please note that your booking is not confirmed until we have issued a confirmation of booking. You may prefer not to book your flights until we have confirmed the booking.
Low occupancy discounts - unfortunately the online booking system automatically calculates the single couple or small party discount based on the number of people entered onto the booking form and the start day of your rental. There are 2 problems with this:-
a) If you are 2 people but not a single couple, or 3 or 4 people but not 2 + 1 or 2 + 2, the system will have automatically calculated a discount when it is not due. Please make use of the "additional notes" box on the booking form to tell us and we will adjust the price accordingly before we confirm your booking.
b) If your rental overlaps from a discounted period to a non-discounted one (or vice versa), the discount calculated will be wrong. In these cases we have to make the adjustment manually. You can still book on-line but we will need to change the price on receipt of your booking request. If the price increases we will contact you to confirm the new price before we confirm your booking and take your deposit.
Please don't let either of these issues put you off making a booking. The discounts are genuine and our villa owners welcome couples and smaller parties out of high season. We just can't fine tune the booking system to account for these 2 circumstances - sorry.
Floor Plans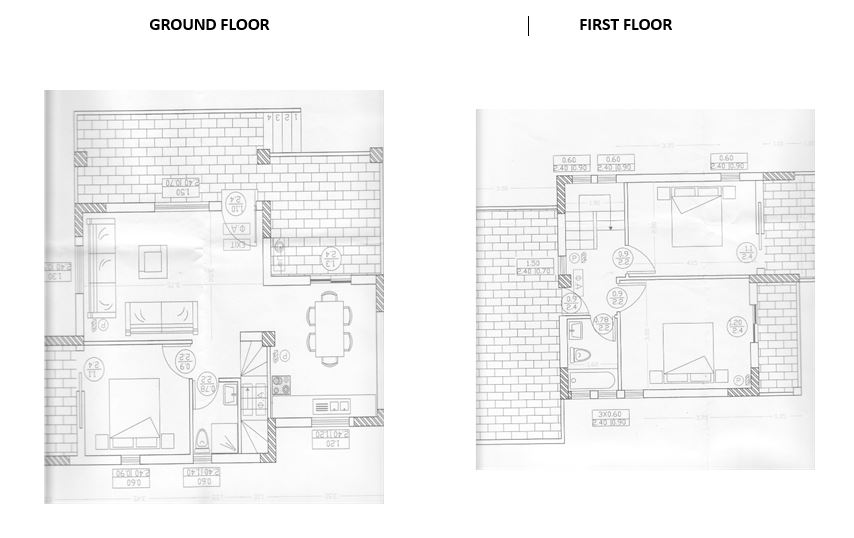 Reviews
Great location and well equipped villa. Welcome hamper was an advantage to save an immediate shopping trip. Dined multiple times at Harokopos (Fotini & Pantellis) - great greek and locally produced food. Artemis very friendly and welcoming. We will be back - September 2023.
We have had a wonderful stay at Villa Poppy and enjoyed the pool and lovely views of the bay. Artemis was very helpful and we appreciated the welcome basket of supplies. A great base to explore magical Crete, thank you - August 2023.
Our first time in Crete and it won't be our last! We've had a lovely time exploring local places, eating out, the pool and glorious views from the balcony. Highly recommend swimming in the sea at Kalives (near the boat end) if you aren't too confident in water. Our favourite restaurant was Dimitris in Almyrida but we can;t fault the Greek hospitality - everyone made us so welcome. Thank you to Artemis; the villa was spotless and she was very helpful, thank you - August 2023.
Our stay here was just breathtaking in every way. Weather was perfect. Pool was a joy and Takis restaurant is a must. People here are so friendly, hospitality above and beyond. This villa is equipped with everything needed. A big thank you for making this a lovely memory - July 2023.
This has been a holiday to remember, a real escape from reality. The villa is just perfect and you can see from the views that the sunset us not to be missed. We engaged coffee every morning from the balcony. We had some great trips out, including a trip to Chania old town. The botantical gardens of Crete - amazing and breath taking but walking shoes are a must. Lovely beaches nearby - Almyrida and Kalives. Rethymnon is certainly worth a visit too - July 2023.
We came here to have a girls' holiday leaving the men at home. We pottered about in our hire car for a couple of days but spent most of our time by the pool just relaxing with our books and enjoying the glorious view. Takis taverna in Plaka was our regular haunt for dinner/lunch/takeaway. The service was friendly and welcoming. We have thoroughly enjoyed the peace and quiet, listening to the birds, cicadas and the occasional gurgle of the pool. It has been wonderful - June 2022.
We had a wonderful time at Villa Poppy - October 2021.
We are sorry but due to the Covid-19 crisis reviews for the 2020 season are unavailable.
We had a wonderful 2 1/2 week stay at Villa Poppy. The villa is very well presented with fantastic views and a lovely pool. We particularly enjoyed the Botantical Park and Gardens of Crete approx 50 min drive from the villa. The gardens take approx 2 hrs to walk around and have some wonderful flowers and plants there. The restaurant there is wonderful with delicious food straight from the gardens. Elpis is a great restaurant in Plaka square. Lovely home cooked food with free drinks and desserts. Huge portions. We enjoyed the Cretan dance evening there one night. Great fun. Hope to return one day - September 2019.
A great villa with fantastic views and everything you could possibly need!! We spent a great 10 days here which went all too fast. There is well stocked shop at the bottom of the hill as well as a bakey and butchers in Almyrida. We ate out at Takis in Plaka where we always had a warm welcome. The food is home cooked and the portions are generous! The free drink on the house is also good. Elia and Thyme in Almyrida is nice and the service and food are well presented. For something a little different there is a fish restaurant by some waterfalls in the hills at Argiroupoli - well worth a visit. We have enjoyed our stay and hope to come back again. PS - Artemis is lovely and nothing too much trouble - August 2019.
A fantastic two weeks of relaxation at this well appointed spacious villa that enjoyed stunning views over the bay of Souda and some of the best sunsets I have seen. Conveniently located just a 15 minute walk down into the village of Plaka with its bustling tavernas. Crete Escapes dealt with the whole booking very efficiently with great communication and the car hire was so simple and worth getting the transfer to the villa. For the owner. We were very happy with villa that was cleaned regularly and offered just the space we were looking for. The only negative comment was whilst there was the availability of WiFi via a Vodaphone mobile device, you had to buy credits and I think it should be included - August 2019
We had a fantastic holiday in Crete and found Crete Escapes to be an incredibly efficient company to use. The whole process was seamless and the villa was excellent, exactly as described. The welcome pack was great and we have never received that at any other villa we have stayed at. We will definitely be recommending your company to friends / family and would certainly book via yourselves again. Many thanks - July 2019.
Our 10 day stay has been so chilled and enjoyable at Villa Poppy. It has been great being so near to the sea and the lovely villages. The views are incredible - something we will really miss. We've loved chilling by the pool all day followed by a BBQ watching the sun go down. Definitely a holiday to remember and would love to come again one day! - June 2019.
We had a lovely stay at Villa Poppy. The Villa is very clean and well looked after. We enjoy this area of Crete as we visited last year. Takis from the taverna in the village remembered us, which meant additional food and wine every night! Thank you for the directions, they were spot on. We look forward to booking with you again in the future - October 2018.
Villa Poppy was fantastic; a really well presented villa in a great area - August 2018.
We had a lovely time at Villa Poppy and we trust that we left everything in order. Beautiful villa and location too. Clean and well maintained. Thank you. Would definitely book this villa again...just lovely. Looking forward to booking again with your great company for next year. Love the way that you work, no unnecessary emails etc and love the low occupancy discount - June 2018.
We stayed in Villa Poppy for the second time and we never tire of the beautiful views and splendid sunsets from our balcony. The villa is well equipped, airy and light. Artemis met us when she came to clean and was both welcoming and friendly, as always. We would wholeheartedly recommend Villa Poppy and hope to come again - August 2017.
There are not enough words to describe how nice it was our stay in this lovely villa. All is perfect and l confirm all the positive comments of other guests. Thank you very much Artemis and Dina - August 2017.
Where can l start? Everything there was in place for a relaxing holiday and atmosphere.The villa itself is stunning, comfortable beds, clean with lots of space and the view from the balcony is indeed panoramic! We also enjoyed just relaxing by the pool. In Almyrida there are shops, supermarkets, a bus station, pharmacy, butcher with local meats and all amenities for tourists - July 2017.
Thank you for sharing your amazing villa with us, this is the first holiday we have had for 21 years and it's been great! Also parasailing was fantastic, well worth the trip! Thank you once more for all your help and tips! See you next year - July 2017.
We had the most lovely week staying in Artemis's comfortable villa. One stand out feature of the villa is the amazing views, as you can see by yourself! The villa was clean, spacious and well furnished. Artemis and Dina were welcoming and helpful hosts. The lovely village of Plaka is 15 minutes walk down the hill, with some good restaurants. Many thanks again for everything - July 2017.
We loved the quiet place, the astonishing view over the sea, the garden full of lovely plants and flowers, the pool…. We had an excellent stay at Villa Poppy. The small village of Plaka had everything we needed for a relaxing stay, two supermarkets and a handful of taverns - June 2017.
Excellent Villa Poppy!! We loved it! Superb location! Thank you Artemis for the great welcoming. See you again in September - June 2017.
We loved everything about our stay in this fantastic villa and the wonderful place that is Plaka. The views are just spectacular and the location is quiet. The villa was spotless and very comfortable with everything we needed. Our hosts were very lovely indeed ! We'll most definitely be back - June 2017.
A very pleasant place to stay, close to Plaka village with wonderful views across Souda bay. The property was ideal for our family of four! Artemis treated us like friends and we felt very welcomed - May 2017.