Villa Antheia
Kefalas, Nr Almyrida and Georgioupolis areas
Sleeps: 4 + 1
Bedrooms: 2
Bathrooms: 2
£975 - £1745per week
Details
General Description
Facing east towards Rethymnon, Villa Antheia enjoys uninterrupted sea views from the pool and all of the terraces and balconies at the villa.The peaceful atmosphere is due to the villa's location, in an unspoilt rural spot just outside the traditional village of Kefalas where a few new villas have been built in the last few years. The charming family friendly village, which is just 15 minutes walk or 2 minutes drive, has shops for your daily requirements and tavernas serving traditional Greek dishes.
The villa itself is built in light honey coloured stone and all the doors and windows are fitted with wooden shutters. The traditional wooden ceilings on the ground floor have electric fans to keep you cool and upstairs, the bedrooms are air-conditioned.
Ground Floor
There is a cool comfortable lounge area, with two sofas, a coffee table and other occasional furniture. There is a TV and CD/DVD player provided for your enjoyment as well as a small library of books. A selection of DVD's and CD's are supplied and of course you can bring your favourites with you. A stone archway leads off into the spacious kitchen which is fully and comprehensively equipped (see amenities list). Here you will also find the dining area with table, chairs and a wooden dresser.
One of the two bath/shower rooms is on the ground floor.
First Floor
The second bath/shower room is on the first floor where you will find the washing machine. The two air conditioned bedrooms are both on the first floor. The first is a double room with wardrobe, bedside tables and a chest of drawers. The second bedroom is a twin and has the same storage facilities. Both bedrooms open up onto the top terrace where you can see the evening lights come on across the bay in Rethymnon. This is a lovely private place to sit and relax with a cool drink, gazing out over the sea and surrounding hills and looking out for buzzards which can often be seen in this part of Crete.
External Areas
The ground floor covered terrace provides shade from the sun. It is well furnished with chairs and a sofa, perfect for chilling out with views across the large private pool to the sea beyond. The spacious poolside terraces are equipped with sunloungers and umbrellas. Another perfect place to relax, as there is little to disturb you apart from the occasional sound of goats bells.
Next to the pool is a large pergola with an outdoor table and chairs for dining al fresco. The BBQ is nearby inviting you to cook the wonderful fresh food that is widely available. During the day the bamboo cover over the pergola will shield you from the sun as you gaze out over the sea while the extensive sun bathing areas are never far away. At night, the sky is awash with stars that seem to be within touching distance.
The external areas of this villa are delightful due in no small way to the owner's love of gardening and plants. No expense has been spared in landscaping the plot to a high standard and work on the garden is a continuing project.
From this location the National Road is never far away making exploration to other parts of this lovely island within easy reach. The sandy beaches of Almyrida and Georgioupolis are lovely for children and are a mere 15 minute drive away.
Internet Access
The internet is provided by a mobile device with unlimited data - 4G LTE with 300 mbps at 2.4 GHz and 433 mbps at 5 GHz.
More Information
Use the different tabs to view the villa's features and amenities, actual location and distances to the nearest beach, shop and taverna. The prices tab contains details of the weekly rate together with discount information and additional charges where applicable. You can check "LIVE" up to date, availability using the availability tab which will also confirm the price for your selected dates ***. If you want to book you can then follow the online prompts. Also see https://www.crete-escapes.com/booking
*** In some cases relating to the low occupancy discount, the price may need adjusting by us. Please see the note on this page for more details https://www.crete-escapes.com/about-our-discounts
Holiday Rental Licence
Villa Antheia is licensed for holiday rentals with the Greek Tourist Authorities (EOT). Licence number AMA 00001046760.

Amenities
General
Yes (access via satellite)
Phone for emergency use and incoming calls
Yes (request at time of booking - FOC)
Yes (request at time of booking - FOC)
Yes (request at time of booking - see prices tab)
All bed/bath linen/towels
Maid service and linen/towel change
Yes (see prices tab for more details)
Bedrooms & Bath/Shower Rooms
Yes (x 2 - one on each floor)
Living Areas & Kitchen Equipment
Yes (satellite reception - not Sky)
External
Yes (40m2 - 10m x 4m. Depth - 1.2m. Access via aluminium steps)
Yes (including 2 rocking chairs)
Outdoor preparation area with sink
Other
Selection of games and books
Map
Local Info
Chania airport­ - 55 mins drive. Heraklion airport - 1 hr and 45 mins drive.
Nearest Beach ­- Almyrida - 17 mins drive, Georgioupolis - 20 mins drive or Kalives - 25 mins drive.
Nearest Tavernas and Shops ­- Kefalas - 15 mins walk / 4 min drive.
NB; all times are approximate and based on average driving and walking speeds. Some walking and/or driving may be on unlit and unmade track roads. Please refer to the map tab to view satellite images of the area.
Prices
Deposit
10% of total rent
Pricing Notes
Prices quoted are in gbp sterling per week for up to 4 people occupying the villa and are not per person. The villa can sleep up to 5 with 1 person using the sofa bed available; the sofa bed is charged at the rate of £10 per night.
Alternative length of stays of more than 7 nights are accepted and are charged pro rata.
Prices include air- conditioning, a welcome pack and all linen/towels including beach/pool towels***, maid service with linen change.
Maid service with linen/towel change** - 1 week stays - none. 2 week stays - every 4 or 5 days.
**except beach/pool towels which are only changed at the end of let however they can be washed using the laundry facilities in the villa during your stay.
There are NO hidden extras.
Options & Extras
Sofa Bed: £10.00 per night
Cot: £0.00 per booking
High Chair: £0.00 per booking
Low Occupancy Discounts
A low occupancy discount for a single couple (use of 1 bedroom), of 10%, is available at this villa except for July and August dates.
Not allowed on late availability or special offer prices.
Loyalty Discounts
If you are a returning client and this is your 3rd (or more) consecutive booking with Crete Escapes or your 2nd separate booking in one season, you will qualify for our loyalty discount. Please quote voucher code LOYALTY2.5 when asked to do so during the online booking process or let us know when you contact us. Your reduction of 2.5% will then be deducted from the total price.
Short Breaks
Short breaks are normally only available for a minimum of 5 nights and will be charged at the 7 nightly rate unless otherwise advertised. However, if the number of available days between existing bookings is less than 7 nights we may be able to accept bookings at a reduced rate subject to the owners agreement.
Short breaks are allowed within 3 days of arrival.
Availability
Booking Information
Change-over days are totally flexible but are subject to existing bookings taken either side. If a booking means that the owner would be left with too many "void" days we might not be able to accept it. If this is the case we will contact you without delay to discuss alternatives.
Payment can be made by bank transfer to our sterling account or by debit or credit card (Mastercard or Visa) only.
Our travel information provides details of how to get to Crete including flights to both Chania and Heraklion airports.
If you want to book, please use the availability chart above to check your dates, you can then either book on-line, email or call us on 0330 111 0061.
Please note: although the calendars show live availability and you can book on-line, please note that your booking is not confirmed until we have issued a confirmation of booking. You may prefer not to book your flights until we have confirmed the booking.
Low Occupancy Discounts - unfortunately the online booking system automatically calculates the single couple or small party discount based on the number of people entered onto the booking form and the start day of your rental. There are 2 problems with this:-
a) If you are 2 people but not a single couple, the system will have automatically calculated a discount when it is not due. Please make use of the "additional notes" box on the booking form to tell us and we will adjust the price accordingly before we confirm your booking.
b) If your rental overlaps from a discounted period to a non-discounted one (or vice versa), the discount calculated will be wrong. In these cases we have to make the adjustment manually. You can still book on-line but we will need to change the price on receipt of your booking request. If the price increases we will contact you to confirm the new price before we confirm your booking and take your deposit.
Please don't let either of these issues put you off making a booking. The discounts are genuine and our villa owners welcome couples and smaller parties out of high season. We just can't fine tune the booking system to account for these 2 circumstances - sorry.
Floor Plans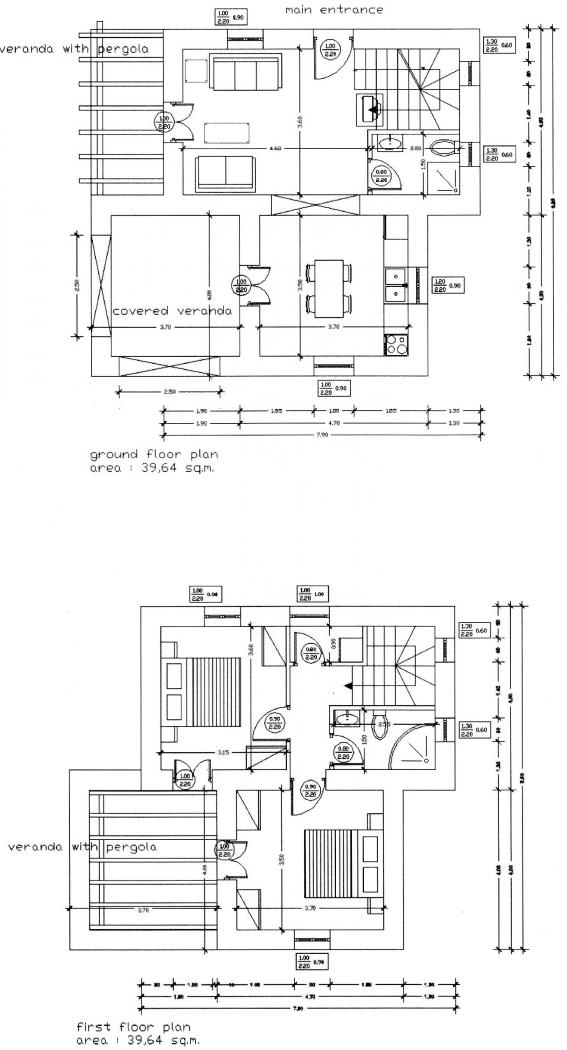 Reviews
We just got back this weekend after our third stay at the gorgeous Villa Antheia in Kefalas. It was wonderful to be back after two years of the pandemic - our last visit was Sept 2019 and our first was Sept 2018 (our belated honeymoon). We would have booked for 2020 and 2021, but of course Covid got in the way. We did, however, note that in the interim the villa had been given a bit of a facelift, and included some welcome improvements, such as a large fridge freezer. Everything was clean and beautifully presented, just perfect! We love the place so much, we decided to book again for next year immediately on our return, but for two weeks instead of one, as one week just isn't long enough! I went to do this today, but was so disappointed to see Villa Antheia was already booked for this time next year! Because of my husband's work, the first two weeks of September is the only time he can easily get away, so options to go earlier or later are not possible for us. In any case, I just wanted to thank Crete Escapes for a wonderful stay at Villa Antheia this year - September 2022.
Having arrived in the small hours of the morning, opening the shutters to the amazing view was an experience I won't forget. What a beautiful place to stay, so well thought out and catering for all our needs. We have had a wonderful and relaxing week. We have enjoyed our morning walks to the village for fresh bread and a coffee & baclava at the cafe. It's our first visit to Crete and not our last. The people have been so welcoming and helpful. A fantastic time had by all - August 2022.
Having booked different villas through Crete Escapes for many years and always being delighted with the service, this year we choose Villa Antheia in Kefalas for July 2021. Wow this villa is so beautiful situated in beautiful gardens with so many areas to sit and enjoy the wonderful views and morning sunrises . It's clear to see this villa has been tastefully decorated with care and attention to detail. We instantly felt at home and fell in love with this villa. We had the pleasure of meeting the owner who looked after us so well. The welcome pack was exceptional with not only the basics but extra special touches of olive oil, olives, honey and wine. The pool was kept immaculate by a friendly pool man. Lovely location, perfect for a relaxing peaceful holiday and loved it so much we are in process of booking for next year. Thank you so much for helping us make happy memories whilst staying in Villa Antheia - July 2022.
The location of the villa is beautiful, we loved looking out and seeing nothing between us and the sea. It was so peaceful. We really appreciated the generous welcome pack, thank you - October 2021.
We are sorry but due to the Covid-19 crisis reviews for the 2020 season are unavailable.