Villa Amaltheia
Xirosterni, Nr Almyrida and Georgioupolis areas
Sleeps: 6 + 1
Bedrooms: 3
Bathrooms: 3
£1375 - £2595per week
Details
General Description
Villa Amaltheia has been extensively re-furbished over the past few years and is now a lovely modern villa standing in an impressive, large plot of over an acre. Nestling amongst the cypress trees in an enviable spot on the edge of the traditional village of Xirosterni, it is totally private and secluded. For early or late season bookings you have the option of pool heating. The villa has glorious panoramic sea and mountain views which can be enjoyed from its terraces and balconies. Villa Amaltheia has been very thoughtfully planned, equipped and furnished to provide the discerning holidaymaker with truly wonderful accommodation and for the 2021 season has a indoor games room (see external areas below and the amenities tab for more details).
The living areas and kitchen are located to one side of the villa which is single storey and the bedrooms are in the other, split level side of the villa, part of which is two storey.
The pool can be heated on request (additional charge) and the villa is centrally heated so is a good choice for early or late season holidays when the evenings may turn chilly.
Ground Floor
The fully fitted kitchen is comprehensively equipped with a full range of appliances making it extremely easy to cater for yourself (please see the features list). The dining area with a marble topped table and six chairs, links the kitchen to the lounge. The lounge was one of the first areas to be re-furbished in a comfortable, contemporary and airy style with two cream leather sofas, stylish modern artwork of Greek and Cretan scenes and a mirror to reflect light and space. Full entertainment facilities are provided including a 42" smart TV. A wide selection of DVDs and CDs are also provided for guests' use.
Bedrooms
One of the twin rooms is on the ground floor and the other twin room is on the 1st floor, immediately above it. The master bedroom, at the halfway landing between the ground and first floors, was extended over the early spring of 2017 and is now a large, well furnished room with a dressing area and king size bed. There is space for a z bed to sleep a small child if required. A neat balcony leads off through the french doors to overlook the pool and pool terraces . All the bedrooms have en-suite facilities (showers in the twins and a bath and shower in the master with two of the three en-suites being newly re-fitted this year), they also have plenty of drawer storage and hanging space. They are all air-conditioned as well as benefitting from ceiling fans and fly screens to the doors and windows and they all enjoy sea views across Souda Bay from their terraces or balconies.
External Areas
Outside the landscaped gardens contain many different trees and shrubs with a colourful bougainvillaea climbing up the main pergola and fragrant jasmine near the master bedroom. The private tiled pool is surrounded by extensive terracing and furnished with quality teak and cane/wicker furniture. You will also find a couple of strategically placed seats under a tree for relaxing in the shade.
Al fresco dining is sure to be a pleasure at the large outdoor rattan dining table next to the pool. A BBQ is, of course, supplied.
For the more energetic guests, there is a full sized table tennis table and a newly built games room comprising of air hockey and football tables with a handy fridge to keep drinks cool.
The villa is very peacefully located, the only sound being of distant sheep bells or the cicadas. Sip a glass of wine at dusk and watch the sun go down over Souda Bay with The White Mountains to one side and the sparkling lights of the Akrotiri peninsula on the other, an experience never to be forgotten.
The owners have their own website and Instagram pages that you may like to view too - www.villaamaltheia.co.uk and https://www.instagram.com/villa_amaltheia.
Internet Access
The internet is provided by a satellite system which allows unlimited downloads at a speed of up to 50Mbps, and an upload speed of 3Mbps. Boosters have been added so that the signal is strong in each bedroom and all around the pool and sunbathing terrace.
More Information
Use the different tabs to view the villa's features and amenities, actual location and distances to the nearest beach, shop and taverna. The prices tab contains details of the weekly rate together with discount information and additional charges where applicable. You can check "LIVE" up to date, availability using the availability tab which will also confirm the price for your selected dates ***. If you want to book you can then follow the online prompts. Also see https://www.crete-escapes.com/booking
*** In some cases relating to the low occupancy discount, the price may need adjusting by us. Please see the note on this page for more details https://www.crete-escapes.com/about-our-discounts
Holiday Rental Licence
Villa Amaltheia is licensed for holiday rentals with the Greek Tourist Authorities (EOT). Licence number 1042K92003040501.

Amenities
General
Yes (unlimited downloads)
Phone for emergency use and incoming calls
Yes (request at time of booking - FOC)
Yes (request at time of booking - FOC)
Yes (request at time of booking - FOC)
Bed/bath linen/towels
Beach/pool towels
Maid service and linen/towel change
Yes (see prices tab for more details)
Bedrooms & Bath/Shower Rooms
Yes (x 2. 1 x en-suite room on ground floor and 1 x en-suite on first floor)
Yes (x 1 en-suite double room with king sized bed mid floor between ground and first floor levels)
Yes (x 3. 2 x en-suite shower rooms in twin bedrooms and 1 x en-suite bathroom in double/king bedroom)
Yes (x 3 - all en-suite as detailed above)
Living Areas & Kitchen Equipment
Yes (2 x portable bluetooth speakers)
External
Yes (48m2 - 10.5m x 4.5m. Depth - 1.0m - 1.7m. Pool heating. Access via roman and aluminium steps)
Yes (including a cocoon chair)
Outdoor preparation area with sink
Yes (portable/charcoal type)
Other
Pool heating
Yoga mats
Table tennis
Games room
Yes (April, May and Oct only. Request at time of booking - see prices tab)
Yes
Yes (full sized table, outdoor)
Yes (air hockey and table football, larder fridge)
Map
Local Info
Chania airport­ - 50 mins drive. Heraklion airport - 1 hr 45 mins drive.
Nearest Beaches­ - Almyrida - 13 mins drive, Kalives - 22 min drive or Georgioupolis - 25 min drive.
Nearest Taverna­s and Shops - Xirosterni - 12mins walk / 4 min drive, Vamos - 16 min walk / 4 min drive, Kefalas - 8 mins drive or Gavalochori - 10 mins drive.
NB; all times are approximate and based on average driving and walking speeds. Some walking and/or driving may be on unlit and unmade track roads. Please refer to the map tab to view satellite images of the area.
Prices
Deposit
10% of total rent
Pricing Notes
Prices quoted are in gbp sterling, per week, for up to 6 people occupying the villa and are not per person. The villa can sleep up to 7 with 1 young child using a z-bed in the master bedroom.
Alternative length of stays of more than 7 nights are accepted and are charged pro rata.
Prices include air- conditioning, a superior welcome pack, all linen/towels including beach/pool towels, maid service with linen/towel change.
Maid service and linen/towel change** - every 4/5 days.
**except beach/pool towels which are only changed at the end of let however they can be washed using the laundry facilities in the villa during your stay.
There are NO hidden extras.
Options & Extras
Z bed: £0.00 per night
Cot: £0.00 per booking
High Chair: £0.00 per booking
Pool Heating: £15 per night NB; not available in June, July, August and September.
Low Occupancy Discounts
A low occupancy discount for single couples (use of 1 bedroom), of 15%, is available at this villa except for July and August dates.
Not allowed on late availability or special offer prices.
Loyalty Discounts
If you are a returning client and this is your 3rd (or more) consecutive booking with Crete Escapes or your 2nd separate booking in one season, you will qualify for our loyalty discount. Please quote voucher code LOYALTY2.5 when asked to do so during the online booking process or let us know when you contact us. Your reduction of 2.5% will then be deducted from the total price.
Short Breaks
Short breaks are normally only available for a minimum of 5 nights and will be charged at the 7 nightly rate unless otherwise advertised. However, if the number of available days between existing bookings is less than 7 nights we may be able to accept bookings at a reduced rate subject to the owners agreement.
Short breaks are allowed within 3 days of arrival.
Availability
Booking Information
Change-over days are totally flexible but are subject to existing bookings taken either side. If a booking means that the owner would be left with too many "void" days we might not be able to accept it. If this is the case we will contact you without delay to discuss alternatives.
Payment can be made by bank transfer to our sterling account or by debit or credit card (Mastercard or Visa) only.
Our travel information provides details of how to get to Crete including flights to both Chania and Heraklion airports.
If you want to book, please use the availability chart above to check your dates, you can then either book on-line, email or call us on 0330 111 0061.
Please note: although the calendars show live availability and you can book on-line, please note that your booking is not confirmed until we have issued a confirmation of booking. You may prefer not to book your flights until we have confirmed the booking.
Low occupancy discounts - unfortunately the online booking system automatically calculates the single couple or small party discount based on the number of people entered onto the booking form and the start day of your rental. There are 2 problems with this:-
a) If you are 2 people but not a single couple, or 3 or 4 people but not 2 + 1 or 2 + 2, the system will have automatically calculated a discount when it is not due. Please make use of the "additional notes" box on the booking form to tell us and we will adjust the price accordingly before we confirm your booking.
b) If your rental overlaps from a discounted period to a non-discounted one (or vice versa), the discount calculated will be wrong. In these cases we have to make the adjustment manually. You can still book on-line but we will need to change the price on receipt of your booking request. If the price increases we will contact you to confirm the new price before we confirm your booking and take your deposit.
Please don't let either of these issues put you off making a booking. The discounts are genuine and our villa owners welcome couples and smaller parties out of high season. We just can't fine tune the booking system to account for these 2 circumstances - sorry.
Media
Floor Plans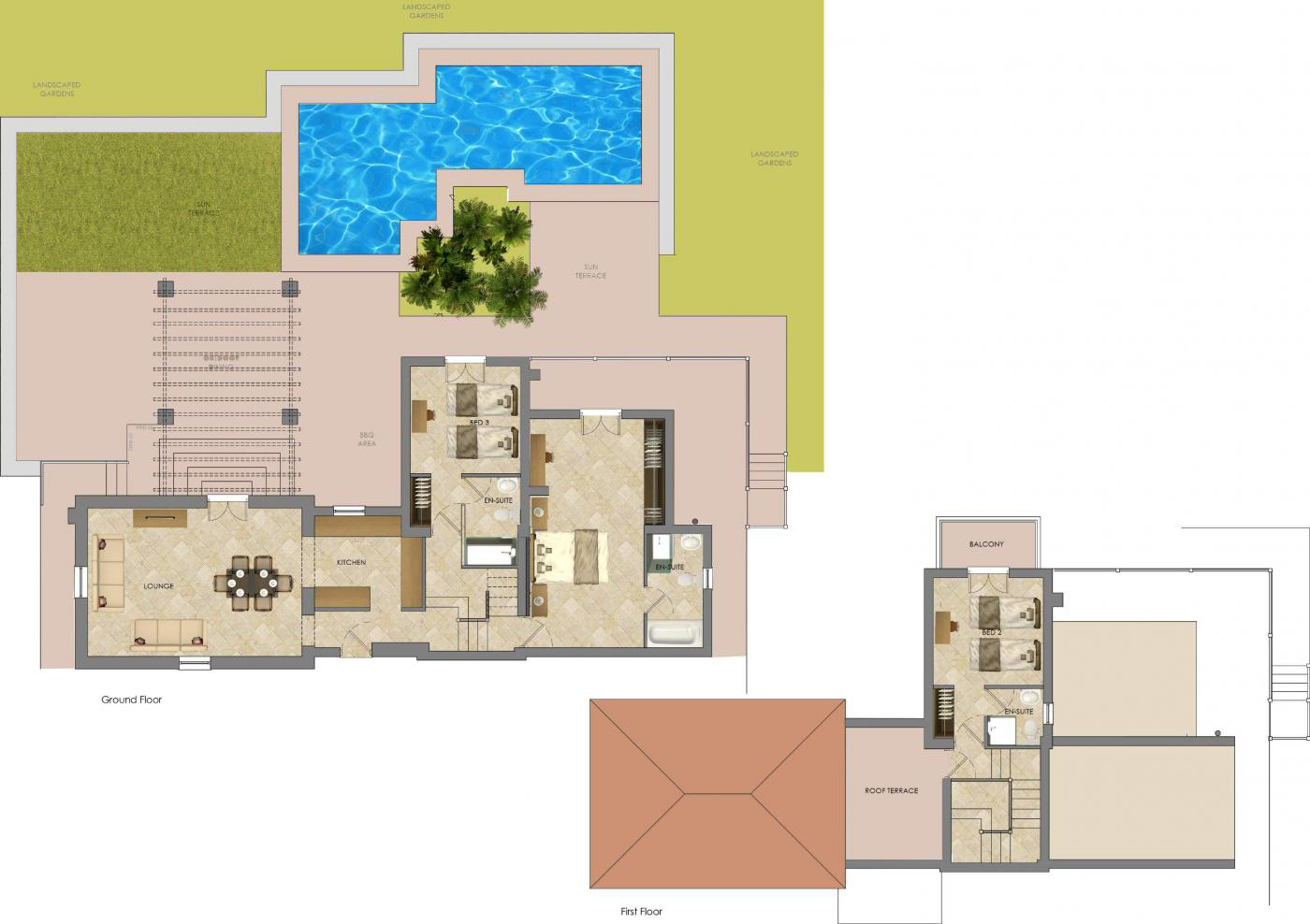 Reviews
Wow - what a beautiful villa! We have loved every minute of our stay here. Stathis was extremely friendly and helpful and the cleaning ladies did an amazing job - thank you. Some of the highlights of our trip - Botanical Gardens, Lake Kournas, Rethymno, Georgioupolis, Almyrida, Kalives and Chania. Highly recommend the Parasia taverna in Vamos; the food was delicious. Thank you for an amazing holiday - July 2023.
Lovely quiet spot. A good area to explore and amazing vill, pool and garden. Everything you need - July 2023.
Spectacular villa with epic mountain framed by bougainvillea and olive trees - stunning. Thank you for the generous welcome pack, the beautiful garden, the well equipped lounge & kitchen and the abundance of wildlife. This is our 4th visit to Crete and probably the best villa yet - July 2022.
Once we'd mastered the 'roads' the villa was a lovely surprise and the welcome pack was much appreciated. A beautiful place to stay and we all enjoyed the peace and the views - May 2022.
We came back a week ago from 3 wonderful weeks at Villa Amaltheia. Everything was perfect from booking until checking-out. A break that was very much welcome and needed by the family in a truly fantastic house and location - July 2021.
We are sorry but due to the Covid-19 crisis reviews for the 2020 season are unavailable.
Our third holiday in this part of Crete. Fantasically appointed villa. We enjoyed snorkelling at Ombrosgialos, boat rental up the river at Georgioupolis (saw kingfisher), botanical gardens, alleyways in Chania, old parts of Vamos, evening snacks at Kafenion Ikali Kardia (opp bakery in Vamos) the beach at Almyrida, monastery at Agia Triada, Imbros Gorge and the fresh orange juice at the end - August 2019.
Lovely villa, really comfortable with everything you would need. Kept very clean by Isobel and Walter, thank you. We have thoroughly enjoyed our stay and would be happy to return - July 2019.
A return visit, this time with children plus 1's. Every bit as perfect as we remembered it. Thank you - June 2019.
Very enjoyable and relaxing. Perfect villa, would come again. Many thanks - June 2019.
I just thought I would drop you a line to say how much we enjoyed our stay at Villa Amaltheia. The owners are clearly proud of their villa, providing everything that a holiday maker needs. Their attention to detail was much appreciated. The location is indeed ideal for those wanting privacy and comfort with delightful gardens. The drive down the track is worth it ! We have been on a number of trips to Greece and islands but our stay here is now rated at the top of the list. Kindly pass on our feedback to the owners - June 2019.
Excellent holiday villa - peaceful, spacious, super-clean, fab views. Great outside space too and particularly liked the variety of seating areas. Shame the weather hasn't been brilliant, a lot of cloud and for 24 hrs solid heavy rain. Still we've been out and about. Impressed with Chania harbour and old town. Recommend a very scenic drive over the mountains to Chora Sfakion for lunch by the sea, a boat trip or walk down the gorge from Imbros. We were underwhelmed by Lake Kournas but did see a turtle in Chania harbour. Can endorse the taverna recommendations in these books eg; Parasia and Monicas. Finally thanks for the generous welcome pack - much appreciated for breakfast after a very late arrival - Oct 2018.
We have had a wonderful week at Villa Amaltheia. The few rainy days have not taken away from the brilliant time we have had. We've loved the pool (we braved the cold!) and all the surrounding villages. Beautiful view and scenery, we really don't want to leave. A very special place that we'll remember for a long time. The boys loved the spaghetti at The Sterna in Vamos and we recommend the rabbit and goat dishes. We had a great day at Georgioupolis - Oct 2018.
A pleasure to return again, villa just as wonderful as before. Surprise visit by our daughter and partner to help celebrate my 60th birthday despite me trying to escape it!! One great storm, luckily overnight with resultant power cut then wall to wall sunshine and blue skies, what better way to chill out. So good booked next year already. Biggest hardship deciding between barbeque or local taverna! - Sept 2018.
Beautiful setting, thoughtfully styled, planned and equipped. Views perfect. Thank you - Sept 2018.
Beautiful villa, quiet and relaxing, a wonderful place to spend a holiday. Had forgotten how lovely Crete is - a very long time since we've been here, so much to see and do. Chania is a beautiful place to visit both in the daytime and the evening - some lovely tavernas. Circular drive to the south coast taking in Frangocostello and Prevelli is lovely, taking in a swim at Plakia (if you go a few yards away from the sunbeds!) its gorgeous - Aug 2018.
It's been a lovely stay and the beaches are great. We went to a taverna called Hplouosifi which was really good. There is a good cafe/shop nearby and biscotti ice cream in Almyrida is delicious - Aug 2018.
A wonderful week in a fantastic villa with wall to wall sunshine. We loved Kalives and Almyrida beaches and enjoyed wandering around Chania harbour. Our favourite restaurant was Parasia just outside Vamos - amazing value, excellent quality and friendly and welcoming. Monicas in Gavalochori also a lovely find. Waterpark is quiet and small enough for a 1/2 day trip. A great combination of relaxation and exploring!! - July 2018.
We have absolutely loved the villa and Crete. Every little detail has been so well thought out. The 'blue Crete' book is worth a look for its beaches - we found a lovely one just near Chania. The taverna in town - Cafe Neo - is fantastic and only a 15 min walk if you want a very authentic and delicious experience - July 2018.
A wonderful week in a fantastic villa with wall to wall sunshine! We loved Kalives and Almyrida beaches and enjoyed wandering around Chania harbour. Our favourite restaurant was Parasia just outside Vamos, excellent quality, amazing value, friendly and welcoming. Monica's in Gavalochori was also a lovely find. The water park at Limnoupolis was quiet and small enough for a 1/2 day trip. A great combination of relaxing and exploring - July 2018.
A note to let you know that we had a brilliant holiday in Villa Amaltheia; excellent facilities for self-catering and lots of extras were provided for our two-year-old - all very much appreciated. The standard of accommodation was excellent and the space suited our group of 7 who were able to have meals together but also have private time in the different seating areas available. Another successful holiday with Crete Escapes! - July 2018
A great couple of weeks in this fabulous villa - easily one of the best we've stayed in, in many years, both in the UK and abroad. Virtually unbroken sunshine and the forecasted storms haven't materialised. We hope to return in 2019. The property managers (Walter & Isobel) were friendly and efficient - June 2018
Our fifth stay in this area and Villa Amaltheia is the loveliest and most comfortable by a margin. Love watching the ever changing hues of The Lefka Ori from the terraces - May 2018
Beautiful villa in a lovely peaceful setting. Lovely pool for the children. Great beaches and tavernas, especially The Retreat in Kokkino Chorio for home cooking and Monica's in Gavalochori. Enjoyed Lake Kournas and a visit to Chania but it was nice to return to the peace and quiet at the villa. Excellent facilities and nice touches including a sewing kit and adapter plugs - May 2018
Just spent a week at Villa Amaltheia in Xirosterni. What a fantastic location with wonderful views. The villa was amazing, well equipped, including a heated swimming pool and an outstanding welcome pack. Thank you to Crete Escapes for organising. We will certainly be returning to Crete and will book through Crete Escapes - October 2017
Thank you. Fantastic villa, beautiful pool, setting superb. Can't wait to come back (we have already booked for 2018) - October 2017.
Thank you for providing a superb villa for a 2 week recharge. We packed too much as you supplied everything we needed even down to superb cds! - September 2017
Brilliant villa! Pool fantastic! Facilities first class! Beautiful setting for an idyllic holiday where we all recharged our batteries by relaxing in the pool with cocktails. Lovely evenings all spent on the patio together. Also enjoyed the bars in Vamos (especially Annas) - September 2017
Fantastic week at Villa Amaltheia in Xirosterni which was perfect for us. Great villa, amazing views, very well equipped and welcome pack was perfect for a late night arrival Thanks Crete Escapes for your professional organisation - August 2017.
Fabulous, comfortable villa, lovely pool and lovely location, in tandem with excellent weather made for a great trip. Visited Chania, Knossos and walked the Samaria gorge - not for the faint hearted! Excellent snorkelling at nearby beaches - July 2017
A great holiday as ever. The improvements to the villa are spot on. As you know we've already booked for next year!!! regards and thanks again for your efficient service - July 2017.
Once again a wonderful holiday and enjoyed the new additions to the villa. The outside space is brilliant. Thanks to Walter & Isobel, property managers, for their help - June 2017.
Relaxing week in a fantastic villa in a beautiful setting. Everything we hoped for and more. Lovely lazy days by the pool and trips out to the surroundinfg areas. Highlights were Chania, Lake Kournas and Aptera. Have eaten lots of lovely food in the local tavernas. Always great to come back to the villa though and the views. Going home refreshed. Thank you - June 2017
We have had a lovely time here. The villa has such beautiful views and catered for our every need - here's to next time !! - May 2017.
We've just returned from a week in Crete staying at Villa Amaltheia. I just wanted to thank you for a fabulous holiday - villa was perfect and beyond expectations. Such a beautiful location but still close to amenities - once we mastered the road leading down to it. The whole experience of booking with you guys has been excellent. Great communication and all the information we could have needed - hence no need to contact you about anything! Would absolutely use you again and recommend to family and friends. A huge thank you too from the kids! The pool was awesome and lovely and warm. It really does make such a difference to their holiday and consequently ours! Thank you again from the Hives family - October 2016.
Wonderful villa - having the pool heating made our week! We enjoyed Parasia taverna near Vamos and thought Chania was fabulous day and night. We'll be back! - September 2016.
Amaltheia is beautiful, really quiet and peaceful, the only sound being the sheep bells. We've had a lovely relaxed week. Ate at Monica's in Gavalochori and Marouvas in Vamos - both were excellent. We also enjoyed using the BBQ at the villa - September 2016.
Amazing villa !! We had a wonderful holiday and enjoyed the villa which was perfect. Many thanks - August 2016.
Wonderful villa and garden - it had everything we needed and we really enjoyed our week swimming and exploring. Many thanks - August 2016.
Wonderful villa, very well equipped to an extremely high standard. Much appreciated the wifi, bluetooth speakers, library and dvds. The villa is just perfect, so peaceful and tranquil - an escape from a busy life at home. We loved Crete & Villa Amaltheia - July 2016
Another wonderful holiday (our 3rd at Amaltheia). Special thanks to the caretakers, Walter & Isobel. The tavernas round here are brilliant - good food, good prices and large portions! - June 2016.
Love the upgrades. As soon as we get home I am booking us up for 2017 - May 2016.
What a wonderful relaxing holiday. The views are to die for and the villa has all the facilities you could wish for. The heated pool is a major bonus - May 2016.
A stunning, well equipped villa in an amazing setting. We didn't meet Walter & Isobel but they certainly do a good job looking after the villa, pool and gardens. Enjoy your holiday in this lovely villa - September 2015.
What more could anyone want? Beautifully equipped villa, peaceful and secure location. Not far from beaches and many places of interest. The Cretan folk are lovely, so friendly, polite and helpful - August 2015.
We had an absolutely super time in Crete at Villa Amaltheia thank you. Only wished we could have stayed longer - October 2014.
Hello Julie and Jan.....just the Selby-Green family to say thank you we had a lovely time at villa Amaltheia in Crete. We found it very pretty and thoughtfully laid out on a tranquil location. Everything was well maintained. The weather was great too. Many thanks to all concerned - September 2014.
Dear Julie - I'm writing as we've just arrived back from a wonderful week in Crete, and I wanted to thank you so much for your help in booking and in putting my mind at rest (you may remember but I called you for confirmation and to pay by phone, after we'd had a disastrous experience last year with a Mallorcan villa booked through HomeAway). This was our first visit to Crete and we absolutely fell in love with the island (despite the obvious culture shock to start with), and Villa Amaltheia was perfect for our needs. It's kept in immaculate condition and is probably the best equipped villa we've ever stayed in, with plenty of cutlery, crockery, serving dishes, cookware, towels, furniture and space for our ever-growing family of five. We took advantage of the extensive book, DVD and CD collection, and were also very impressed at how efficiently and quickly the cleaning team came in and out, totally unobtrusively, halfway through our stay. They were very friendly and offered some nice advice about places to visit and eat, which was very nice too. Thanks again for making the booking process so simple and straightforward. I have already told a lot of friends about our experience with you, and we'll definitely be back! - August 2014.
We stayed here 2 years ago and it was complete and utter bliss! The villa was ultra secluded and it was the most relaxing holiday we have ever had... a car is a must though but relatively easy to get to! Amazing place... loved it! If you do decide to go pm me and i'll dig out my travel diary where I wrote down all the fantastic places we went too! We actually went to Tenerife this year... and although it was lovely... I preferred crete....- February 2014.
Superb. If you have just arrived and are reading this straight away you have picked the right villa! The location is fantastic, within easy reach of facilities but secluded enough to feel really peaceful. We arrived late at night and it was such a treat to wake up the next morning to the lovely views. The welcome pack is a great idea for late arrivals. The girls loved the pool and we also got out and about quite a bit so sadly did not get to meet Walter & Isobel. We enjoyed trips to Elafonissi, Lake Kournas and Chania and to Monica's taverna in Gavalochori for traditional Greek cuisine at very reasonable prices. Like other guests, we used the BBQ and Jon's butchers in Vamos. All in all a fabulous villa with lots of places to sit and relax. We had been thinking about buying a villa abroad and this place has really set the standard - August 2013.
An amazing villa! Everything you could possibly need on holiday was provided for here. Not only was there a substantial welcome pack, there were numerous books, DVD's and music to wind away exhausted evenings. Everything in this villa was the height of luxury and provided welcome surprises such as the fruit trees in the garden. Walter & Isobel (property managers) could not be faulted, they were extremely friendly, provided excellent recommendations for sight seeing and food and were extremely efficient in keeping the property in tip top condition. We recommend the Meterizi taverna in Kefalas, the food is great, the family are friendly, the service is great and the prices are even better! We loved the beaches at Kalyves, Almirida and Georgioupolis and the drive to Elafonissi. Our stay here has been absolutely amazing and nothing can be faulted. Make use of the Weber BBQ cook book on the shelf and check out Jon's butchers in Vamos. Thank you Walter & Isobel for making our stay such a special one. Hopefully we'll be back soon - July 2013.
Jan - you were right - Villa Amaltheia is perfect for us - May 2013.
We've had a wonderful holiday in this relaxing villa which has been a great base for trips to various parts of the island. The old town of Chania, around the harbour is delightful, as is the old part of Rethymnon. We did so much appreciate the villa and the peace and tranquility, we don't think the website does it justice. We loved the outside table, which was perfect for al fresco eating in the shade. We would like to thank the property managers, Walter & Isobel, who rescued us on a couple of occasions - nothing was too much trouble! Thank you Crete Escapes, you are way ahead of Simpson Travel and Greek Islands Club and we would certainly stay in one of your villas again, and recommend you - September 2012.
Location, location, location - what a fabulous situation for a villa - tremendous views. We've had lazy days and a few adventures. We cooked with Koula in Vamos (booked in the tourist office or with Crete Escapes before arrival) - we put raki in the pastry to make it crispy. We shopped at The Pear Tree in Almyrida for excellent local produce. Our thanks to Walter & Isobel for looking after it all so beautifully. - September 2012.
Wow, what a fantastic villa!! It's just idyllic. Everything was great, peace and quiet, lovely welcome pack, fabulous views and lovely weather! We visited Chania, Rethymnon, Almyrida, Kalives, Georgioupolis and Lake Kournas. Recommend tavernas in Vamos, Gavalochori and Litsarda and Vamos for general shopping and the bakery. We've had a fantastic holiday and are returning home well rested, relaxed and tanned. - August 2012.
We have had a wonderful week in a fantastic villa. The pool was great. We have been very lazy, doing very little, after a week on Ios with friends - it is quite different here! We went to Knossos and hired a guide who made it all come to life. We enjoyed the shops in Chania and the naval museum was very interesting but most of all we enjoyed the villa and all it had to offer - thank you, we would love to come back next year! - July 2012.
A wonderful holiday in Villa Amaltheia set in such a private and peaceful location. Spent many lazy afternoons around the pool watching the magpies dive bombing the beautiful red kites. Like other visitors we liked both Kalives and Almyrida beaches. Kefalas was good for food with all tavernas serving good choices. We enjoyed a fun morning watching the turtles at Lake Kournas. Our thanks to the property managers, Walter & Isobel for the way they looked after the villa - June 2012.
Just a quick note to say thank you for a most glorious and wonderful and glorious holiday! The Villa was absolutely perfect and fantastically situated! The privacy and seclusion was priceless and we have returned back to a windy rainy blighty refreshed and relaxed! Thanks again! - June 2012.
It's not often that somewhere turns out to be better than one expects - Villa Amaltheia turned out to be our little spot of paradise. What a stunning and secluded position with spectacular views. The villa had all we needed and the quality is excellent. We loved the local kafenion where the food is fab. Also the wedding in Kefalas was special and the taverna there serves great food. We shall be telling all our friends and family about this special place and thank Jan for helping us find a perfect holiday. We will be back - thank you! - September 2011.
Excellent holiday in a beautiful and well equipped villa - August 2011.
I just wanted to drop you a wee note to say a huge thank you for helping us with the booking of Villa Amaltheia. We all had a great holiday and enjoyed the villa, pool and indeed the countryside very much. We have been on quite a few villa holidays in the past, using companies like Villa Select and James Villas, and we all agreed that this villa was the best we had stayed in. I don't even mean the bricks and mortar ( although it was fabulous) but it was the attention to detail with such things as the excellent Welcome Pack, cool box with lead for the car (an absolute essential in the heat), a supply of dishwasher tablets instead of the usual one to be going on with, and the list goes on and on. We will definitely be back - July 2011.
Hi Jan - We returned from Villa Amaltheia last night, and I wanted to email you while it was all still fresh in my mind. We have had the most glorious holiday. The villa was beautiful ­ so well equipped, with everything new and in excellent order. We had a minor maintenance issue while we were there, but it was very quickly and smoothly sorted out by the maintenance company Thistle with no intrusion on our privacy. But what amazed us was the situation of the villa, on that perfect hillside, with more flowers and butterflies than I have ever seen. Every morning, the eagles would circle overhead, and we would watch them as we lay in the pool. We loved the dark blue of the sea in one direction, and the dramatic outline of the White Mountains behind us. In the evenings, the shepherds would come to move the flock back up the hillside and we would hear their different bells as they came past. Our car hire company upgraded us to a 4 wheel drive ­ and we were grateful for that, given the condition of a lot of the mountain roads. But we came to the conclusion that its worth driving slowly in Crete anyway, so as not to miss the views! Our favourite outing was the lake at Kournas, where we found a lovely quiet family-run taverna ­ the owner showed us a 'secret' spot to see the wild terrapins, so the children kept wanting to return. We had planned, next year to holiday in the USA, but now we are all undecided, as we cannot bear the thought of not returning to Crete again! So thanks again for your help in organising what has turned out to be a fantastic break - June 2011.
Beautiful villa in a wonderful situation. Very grateful for the fabulous welcome pack arriving as we did in the early hours of the morning. The villa had everything and we wanted for nothing. We've had a brilliant week, a really lovely treat - May 2011.

Our second visit to this fantastic villa. The garden is looking great.We loved every minute of our stay. Our thanks to Walter and Isobel for cleaning and maintenance of pool, etc. We loved Georgioupolis and Almerida at night. The beach at Kalives was our favourite. We will definitely be back - September 2010.
Return visit. Even more amazing 2nd time around. The villa has everything. Chania has the wow factor with superb restaurants in old town. Kefalas village festival - great fun. Georgioupolis - great for river trips, public pool, beach, putting and train to Lake Kournas - August 2010.
Villa Amaltheia was excellent. Fantastic views. Loads of things to do. Great time - August 2010.
4th trip to Crete but 1st time in Villa Amaltheia. Have stayed in villas before but this one was special! Superb welcome pack and beautifully equipped. The surroundings, grounds and views are spectacular. The weather was excellent. Many thanks to Walter & Isobel who maintained the villa, friendly, helpful and discreet. We were loathe to leave the villa to go sightseeing but eventually tore ourselves away to enjoy some lovely days out. The end of two weeks of bliss..........Will definitely be back!! - June 2010.
What an idyllic setting! We could scarcely tear ourselves away for a few days of sightseeing - beautiful views, lovely poolside, comfy beds, chairs, pillows....... we don't want to leave. Many thanks to Walter & Isobel for their efficiency and friendliness - May 2010.
Excellent villa, equipped with everything we needed. Great views. Very private which was just what we asked for, very well described. We will be booking again and bringing the family - thank you - April 2010.
A return visit to this lovely villa and it's looking prettier than the last time with the bougainvilleas and other garden plants getting established. The swing seat is a lovely touch! Thanks to Thistle for a clean villa on arrival and to Villa Amaltheia for a relaxed week - October 2009.
What a lovely spot! The view is fanastic. We have thoroughly enjoyed our week here. The beach at Almyrida is perfect for families with little ones. Chania was great and we wish we had more time to go back to the wine shop in Kalives. Food is good everywhere as is the wine! Our boys would stay forever for the sun, sea and sand. Thanks for such a lovely stay - October 2009.
Villa Amaltheia is a beautifully appointed property set in a visually stunning area. The garden's been planted with a lovely show of flowering shrubs and fruit trees. We found the generous welcome pack most useful. Walter and Isobel have been very attentive and are a mine of local information. The Cretans are very friendly and the local restaurants were excellent. We have had a wonderful holiday and look forward to returning - September 2009.
We've had a brilliant holiday. The villa has everything anyone could ever need. Excellent range of music and DVD's for when it's nice to cool down and stay out of the sun. Lovely pool with fantastic views of the sea and the mountains and so peaceful. Had a great choice of tavernas and bars in Vamos, Almirida, Kefalas and Kalives. You don't have to go far but we did stay in some evenings having a BBQ at the villa was magic. The local people are really friendly. Went to the village festival- great fun. Food, weather, wine and beer fantastic. Already booked for summer 2010 - August 2009.
We've been home from Crete for a few days and I thought I might drop you a line regarding our Crete vacation. IT WAS WONDERFUL!!!!!!!!!!! Villa Amaltheia was everything I had hoped for, and more. The kitchen was well stocked and there was a lovely welcome basket that was just perfect after a day of travel from Iraklion. Walter and Isobel were great. You had recommended that I contact Vamos SA for a cooking class. I did, and the 6 of us participated in a class with two others that was one of the highlights of our time on Crete. Do not hesitate to recommend this activity to others. It was a great way to spend an evening. Thank you so much. I hope in the future to visit Crete again and will definitely contact you. I've included a few pix taken during the cooking class - KA - Canada - June 2009.
Hi ­ just a quick note to say a big thank you to you and the owners of Villa Amaltheia for a fantastic 2 weeks holiday. The villa was a gem, car hire excellent and the weather superb! ­ September 2008
Had a lovely fortnight in this beautiful, well equipped villa in this quiet spot in a great part of Crete. Thanks for the welcome pack of food with good coffee and wine. Good tavernas in Vamos and Georgioupolis. Great water park for the kids at Limnoupolis. Overall very impressed - July 2008.
Best week ever! The villa was stunning with fabulous views - nothing could have improved it. Thanks for the welcome goodies - we will definitely book again - July 2008.
We had a very peaceful and restful time - the villa standard was very high and the pool was great. Thanks for a lovely holiday - July 2008.
We have had a brilliant holiday in this beautiful well equipped villa. The villa was so lovely that we never left it in the daytime. Thanks to Walter and Isobel (property managers) for their help and friendliness - June 2008.
Fantastic holiday. The villa has everything! Tranquil yet well positioned for amenities - May 2008.
A beautiful villa with stunning views. The beach at Kalyves is very good as is Mistral tavern. Vamos is great with really friendly locals especially at Giorgos and Maria's tavern. The weather has been lovely. We're going home relaxed and will be back! ­ October 2007.
What a wonderful villa! What more could anyone want? Views spectacular. Enjoyed our "Sun downers" watching the sun set over the magnificent mountains. Local restaurants terrific ­ especially in Vamos ­ September 2007.
Well, what can we say! Villa Amaltheia was great! On arrival the welcome pack surpassed all our expectations… we have never been graced with such a stock of food and we have stayed in some similarly well equipped and stunning villas. We actually didn't drink all the wine that was in the pack! The villa was spotless on arrival and it stayed that way ­ the cleaning and linen changes were always on time and done to perfection ­ all in all an excellent service. The villa was so good that we found it hard to go out but we did make the effort on maid service days. The villa is very well equipped with every item you could possibly need even down to 3 sets of towels, one for beach, one for pool and a separate set for the bath/shower rooms. The beaches were lovely and so were the local tavernas in Vamos. Fantastic villa, fantastic holiday and a big thank you to everybody involved in making our holiday so perfect. We will certainly be recommending your company to others ­ August 2007.
First class villa! From welcome pack, first aid kit, beach towels, exterior eating & seating areas ­ the guest has been considered totally ! DVD's, books and of course the music ­ a gift of surprises ­ catered for our daughter's tastes as well as our own. Amidst temps of 42 ++ we have had a brilliant relaxing holiday. The villa ­ spotless on arrival was maintained by Isobel and Walter who were very helpful, friendly and considerate of all our needs. We'd recommend Chania for sight-seeing, shopping and the buzz of a bigger city. Visit Falassarna (beyond Chania) for big breakers and surf. We leave well rested and relaxed ­ thank you. ­ June 2007.
We had a wonderful stay in this lovely villa where we got a warm welcome from Walter and Isobel (and a generous welcome pack !). The music system at the villa was great as was the ability to get Radio2 from the TV. Found the best taverna in Vamos with good food and friendly staff where we had a good last evening meal where the raki flowed…………. ­ May 2007.
Wonderful well equipped villa. Private and peaceful. Walter & Isobel helpful ­ nothing too much trouble ­ May 2007.
Our family had a wonderful time at the villa Amaltheia last summer, our children were 7 and 1 at the time and absolutely loved the pool! The villa and its surroundings are gorgeous and we enjoyed some really lazy afternoons and evenings by the pool. The beaches were lovely with a real family feel and there was a great selection of places to eat. All in all we had a great family holiday and my son, now 8, is always asking ' When can we go back to Crete?' ! ­ August 2006.