Villa Eremia
Aspro, Nr Almyrida
Sleeps: 6 + 2
Bedrooms: 3
Bathrooms: 2
£975 - £1745per week
Details
General Description
Villa Eremia is a fully air-conditioned, spacious stone villa with a private pool in a large plot high above Almirida, on the edge of the peaceful village of Aspro (White Village). With 3 bedrooms and 2 bath/shower rooms, the villa has been thoughtfully planned to provide comfortable accommodation for a family or couples alike.
The villa is situated on the hillside, approx 20 / 25 minutes walk from Almyrida and is built of the local white stone. It is air-conditioned throughout. A very pretty garden extends to all sides of the villa. The villa's own private pool is situated peacefully at the rear of the villa from where you can enjoy spectacular mountain views as well as catching a glimpse of the sea.
Villa Eremia has been built with the bedrooms on the ground floor and the living space at 1st floor level in order to maximise the gorgeous sea and mountain views on all sides of the villa.
Ground Floor
There are one double and two twin bedrooms at the villa, all with plenty of storage space. The ground floor accommodation also includes the main family bathroom. All of the bedrooms open up to a terrace leading to the gardens and pool.
First Floor
The fully equipped kitchen is large and airy with an extending dining table that will seat up to 8. An attractive archway leads into the lounge area which is comfortably furnished with 2 x 2 seater sofas, both of which convert into sofa beds if these are required. Please note that our recommendation is for a maximum occupancy of 6 people (the prices in the table are for 6). However, if the make up of the party means that extra sleeping space is required the sofa beds are available at a cost of £10 gbp per person, per night. A TV with satellite reception (not Sky), DVD and CD players are provided for your entertainment.
External Areas
There are two balconies off the lounge which are great for relaxing, enjoying the panoramic sea and mountain views or eating al fresco. This is particularly appealing in the evening when the lights in the neighbouring village of Gavalochori are twinkling below.
Outside you'll find a beautiful, newly constructed, courtyard, built around an old olive tree which makes a peaceful, shady relaxation space right next to the pool terrace. There's a stone built BBQ, sun loungers, a hammock, parasols and plenty of tables and chairs including a couple of lovely cocoon chairsfor whiling away your time.
Internet Access
The internet is supplied by means of a satellite system providing unlimited wi-fi. Full instructions on connecting etc are in the Villa Information Book in the villa.
More Information
Use the different tabs to view the villa's features and amenities, actual location and distances to the nearest beach, shop and taverna. The prices tab contains details of the weekly rate together with discount information and additional charges where applicable. You can check "LIVE" up to date, availability using the availability tab which will also confirm the price for your selected dates ***. If you want to book you can then follow the online prompts. Also see https://www.crete-escapes.com/booking
*** In some cases relating to the low occupancy discount, the price may need adjusting by us. Please see the note on this page for more details https://www.crete-escapes.com/about-our-discounts
Holiday Rental Licence
Villa Eremia is licensed for holiday rentals with the Greek Tourist Authorities (EOT). Licence number 1011255.

Amenities
General
Yes (unlimited via satellite)
Phone for emergency use and incoming calls
Yes (request at time of booking - FOC)
Yes (request at time of booking - FOC)
Yes (request at time of booking - see prices tab)
Maid service and linen/towel change
Yes (see prices tab for more details)
Bedrooms & Bath/Shower Rooms
Yes (x 2 - 1 x family bathroom on ground floor and 1 x shower room on first floor)
Living Areas & Kitchen Equipment
External
Yes (36m2 - 9m x 4m. Depth - 1.6m. Access via aluminium steps)
Yes (including 2 cocoon chairs)
Outdoor preparation area with sink
Map
Local Info
Chania airport ­- 40 mins drive. Heraklion airport - 1 hr and 55 mins drive.
Nearest Beaches ­- Almyrida­ - 30 mins walk / 5 min drive or Kalives - 13 mins drive.
Nearest Tavernas and Shops -­ Almyrida - 30 mins walk / 5 min drive.
NB; all times are approximate and based on average driving and walking speeds. Some walking and/or driving may be on unlit and unmade track roads. Please refer to the map tab to view satellite images of the area.
Prices
Deposit
10% of total rent
Pricing Notes
Prices quoted are in gbp sterling, per week, for up to 6 people occupying the villa and are not per person. The villa can sleep up to 8 with 2 children using the sofa beds available; each child using the sofa bed is charged at the rate of £10 per night.
Alternative length of stays of more than 7 nights accepted and are charged pro rata.
Prices include air- conditioning, a welcome pack, all linen/towels including beach/pool towels and maid service with linen/towel change.
Maid service with linen/towel change** - 1 week stays - end of let clean and 2 week stays - at the end of week 1 + end of let clean. For stays that do not fall into a 7 or 14 night pattern eg; 10 nights this service will be provided mid-stay ie; approx after 5 nights.
**except beach/pool towels which are only changed at the end of let however they can be washed using the laundry facilities in the villa during your stay.
There are NO hidden extras.
Options & Extras
Sofa bed: £7.00 per child per night
Cot: £0.00 per booking
High Chair: £0.00 per booking
Low Occupancy Discounts
A low occupancy discount for single couples (use of 1 bedroom), of 15%, is available at this villa except for July and August dates.
Not allowed on late availability or special offer prices.
Loyalty Discounts
If you are a returning client and this is your 3rd (or more) consecutive booking with Crete Escapes or your 2nd separate booking in one season, you will qualify for our loyalty discount. Please quote voucher code LOYALTY2.5 when asked to do so during the online booking process or let us know when you contact us. Your reduction of 2.5% will then be deducted from the total price.
Short Breaks
Short breaks are normally only available for a minimum of 5 nights and will be charged at the 7 nightly rate unless otherwise advertised. However, if the number of available days between existing bookings is less than 7 nights we may be able to accept bookings at a reduced rate subject to the owners agreement.
Short breaks are allowed within 3 days of arrival.
Availability
Booking Information
Change-over days are totally flexible but are subject to existing bookings taken either side. If a booking means that the owner would be left with too many "void" days we might not be able to accept it. If this is the case we will contact you without delay to discuss alternatives.
Payment can be made by bank transfer to our sterling account or by debit or credit card (Mastercard or Visa) only.
Our travel information provides details of how to get to Crete including flights to both Chania and Heraklion airports.
If you want to book, please use the availability chart above to check your dates, you can then either book on-line, email or call us on 0330 111 0061.
Please note: although the calendars show live availability and you can book on-line, please note that your booking is not confirmed until we have issued a confirmation of booking. You may prefer not to book your flights until we have confirmed the booking.
Low occupancy discounts - unfortunately the online booking system automatically calculates the single couple or small party discount based on the number of people entered onto the booking form and the start day of your rental. There are 2 problems with this:-
a) If you are 2 people but not a single couple, or 3 or 4 people but not 2 + 1 or 2 + 2, the system will have automatically calculated a discount when it is not due. Please make use of the "additional notes" box on the booking form to tell us and we will adjust the price accordingly before we confirm your booking.
b) If your rental overlaps from a discounted period to a non-discounted one (or vice versa), the discount calculated will be wrong. In these cases we have to make the adjustment manually. You can still book on-line but we will need to change the price on receipt of your booking request. If the price increases we will contact you to confirm the new price before we confirm your booking and take your deposit.
Please don't let either of these issues put you off making a booking. The discounts are genuine and our villa owners welcome couples and smaller parties out of high season. We just can't fine tune the booking system to account for these 2 circumstances - sorry.
Floor Plans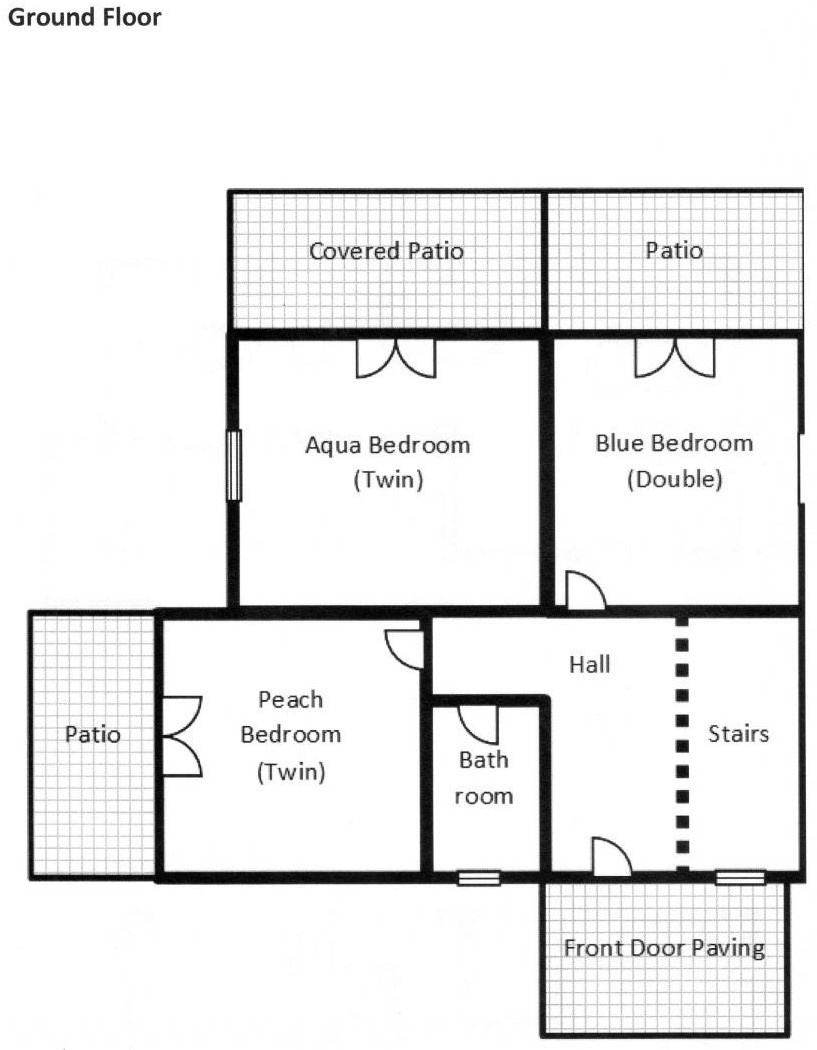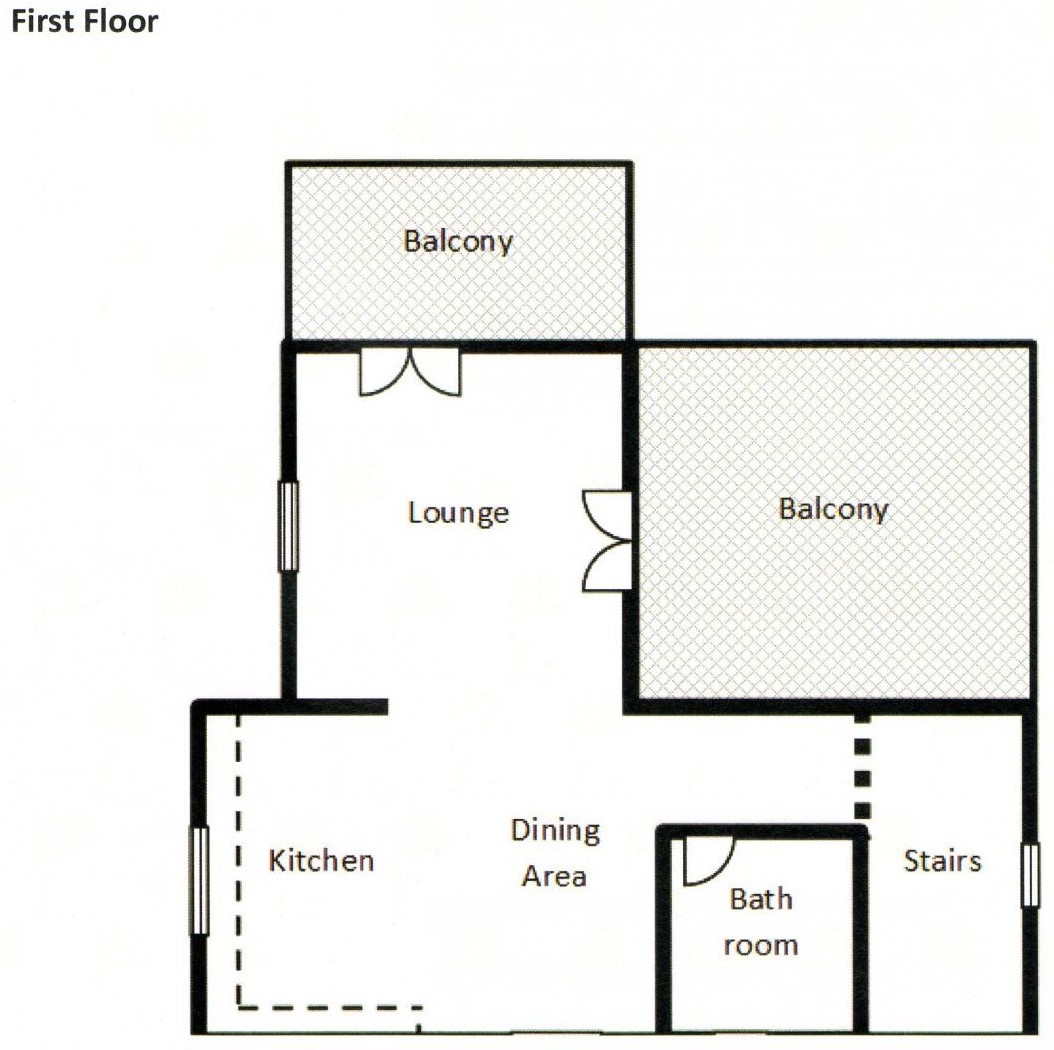 Reviews
What a beautiful place with stunning views! Well appointed with great access to the local beach and restaurants. A lovely, lovely villa and would happily stay here again. Thank you - September 2022.
We've had fantastic week! We have enjoyed the wonderful surroundings, peace and quiet and, of course, the pool. We had some amazing days out too, Elafonisi beach, Lake Kournas, snorkelling and spent a lovely evening in Chania. We'd love to come back! Thank you so much - August 2022.
We had a lovely holiday in the villa. Such wonderful surrounding villages and beaches. We hope to come back soon! Thank you - July 2022.
We had a lovely holiday. There were fantastic views all around and a great pool, we swam every day. A beautifully secluded villa. We would love to come back soon - June 2022.
A fabulous place, we love it here and want to come back soon. So peaceful and close to everything. Hope you enjoy it too - May 2022.
Great holiday. Lots of walks and generally lazing around. Thank you - May 2022.
Thanks for your email. We had a wonderful time in Crete. Villa Eremia was a traditional villa with a beautiful garden and lots of shady nooks to sit and relax. There were great views of the mountains and a distant view of the sea. There are lots of walks from the villa - our favourite being up to Gavalachori for a drink and a meal at the very atmospheric taverna. We walked down to Almyrida most mornings for a swim in the sea and we found Almyrida to be one of the prettiest little seaside villages in Crete. We would happily visit the villa again - September 2021.
A lovely, peaceful and spacious place to relax for a couple of weeks. Super walks and scenery all around and Almyrida appears to be one of the best seaside villages in the area - September 2021.
Enjoyed the villa a lot - first holiday after 18 months of lockdown/pandemic! Spacious enough for all five of us. We enjoyed quiet reading afternoons with the cicadas as well as a lot of exploring. Chania is great for shopping, Imbros Gorge is very manageable, a boat trip to Balos as a treat and we loved Knossos but preferred nearby Aptera - July 2021.
We are sorry but due to the Covid-19 crisis reviews for the 2020 season are unavailable.
Beautiful, peaceful location. Loved the views across to Gavalachori. We walked there a few mornings along the track for 'mountain tea' at a taverna. Another wonderful Cretan holiday. Thanks - August 2019.
Great villa - amazing views and peaceful. We love this part of Crete and would definitely come back - August 2019.
A fantastic villa. Very peaceful - July 2019.
A wonderful holiday. Loved the villa, it's facilities (especially the pool), it's location, welcome pack much appreciated. A peaceful, restful break, just what was needed - July 2019.
We had a lovely holiday at Villa Eremia. The villa was everything we hoped it would be; peaceful location, sea view, nice pool, clean and comfortable - June 2019.
We thoroughly enjoyed our stay in this fabulous villa. The views are breathtaking and the amenities in and around the villa are second to none - October 2018.
We did have a wonderful holiday thanks. Crete is a fantastic island, this was our first visit but it won't be our last. The villa was lovely, great setting, clean. Almyrida is a charming family orientated town. Thanks again for a really great holiday - August 2018.
We had a WONDERFUL holiday. Probably the best villa we have stayed in for some time. Excellent! - July 2018
Lovely villa, good condition, great location and well appointed - June 2018.
Beautiful villa, great location and our party of 8 was very comfortable. Teenagers grumbled because the wifi was patchy though ***. All in all a wonderful holiday. Many thanks - August 2017.
*** wifi was delivered via a mobile dongle but a landline has now been installed.
We have had a great week and the villa is excellent - we spent most of our time in the pool! Found everything we needed in Almyrida and good tavernas there too! - June 2017.
Lovely villa, very private and a good pool - May 2017.
Great villa, had everything we needed. Lovely pool with stunning views of The White Mountains. We had great fun scuba diving with Omega Divers in Almyrida and a fantastic boat trip with snorkelling, with Dream Adventures in Almyrida. Also walked The Imbros Gorge which was beautiful. We enjoyed Lagos taverna in Almirida for the friendly owners and shady patio and the baklava from the bakery in Almyrida was a big hit! - August 2016.
This is a great villa to stay in as its so peaceful being located at the end of the road. What we hadn't anticipated were the great views we had of the White Mountains. The villa was ideal as it gave us plenty of shade to relax in, bearing in mind the island was experiencing a heatwave - we've never experienced temperatures like that in September. We're looking forward to returning next year - September 2015.
Had a great fortnight at the villa and looking forward to going again sometime. Is the pool open still if we went at the end of October? - August 2015
Good villa, Almyrida good resort, good food, trip into Chania takes just 30 minutes and similar for Lake Kournas. Always enjoy Crete - August 2014.
Enjoyed our stay here, loved the pool especially as it was very hot weather. Nice villa, the only problem was the noisy cicadas! Great views from the balcony from where we saw shooting stars. Thank you for a lovely holiday - July 2014.
Thank you very much. We really enjoyed our stay at Villa Eremia, peace, quiet, privacy and lovely views. Our 2nd time to the Almyrida area and we intend to return again. Recommend the Aereki restaurant and Francoise bar in Almyrida - June 2014.
Only our 2nd visit to Crete. We stayed next door for a week last year and we really enjoyed the position of the villa with lovely views of both sea and the mountains. It is very peaceful and quiet here and the pool is very private. We have travelled to the south coast several times including Elafonissi; we found some good restaurants, our favourites were Kapillo in Chania, Elpis in Plaka and Yaros in Almyrida, however we never had a bad meal eating out anywhere so we know where to come for our next holiday! - September 2013.
Our 2nd visit here has not disappointed, fabulous weayther and lovely and peaceful. Great trip over the mountains . Chania atmospheric but expensive; the archaelogical museum was interesting.. Coffee at Dimitri's in Almyrida was a great way to unwind with the waves lapping at our feet, bliss! Back soon - August 2013.
Beautiful villa, extremely helpful information file and directions from airport were excellent. All brilliant - July 2013.
Really enjoyed our stay. Highlights: Knossos, Chania, Villa, sunshine, peace and quiet. Lowlights: None! - June 2013.
A wonderful stay. We`ve really enjoyed the peace and quiet, the wonderful views and the lovely pool. Had a very good pizza in Erotokritos and good food at the hare in Almyrida. Chania is such a lovely place, a long hot walk to the lighthouse but worth it. The harbour is lovely with a good restaurant called Karnayio and the archaeology museum is very good. We also enjoyed the old fashioned, very pretty village of Gavalochori - May 2013.
Lovely villa for a relaxing holiday. Almyrida was good for all essentials. Good range of restaurants-we would recommend 'Makis`, who also do take-away's, and 'Francoise` does a nice breakfast. Best bar for TV and wi-fi is 'Sirocco`. All day land train is well worth doing - May 2013.
Must be one of the best located villas in the area. Fabulous position - sea+mountains. Just the remote barking of dogs and the tinkle of goat bells. Pool gorgeous. Perfect sunshine…. Very relaxing. Loved Gavalochori + Vamos for cafes, shopping and tavernas - September 2012.
Been here two weeks and feels like a home from home. Tons of wreck diving, snorkelling, scooter island treks, hill running and pool frolicking. Much needed peaceful feast for the eyes break. Thank you! - September 2012.
Fabulous villa-brilliant views-lovely pool-amazing weather…..and we`d love to know the story of the African art! - August 2012.
Had a great time in Crete. Lovely villa-nice and secluded ideal for a quiet holiday - July 2012.
Had a lovely stay at Villa Eremia, wish we didn't have to go home! Spent many a lazy day soaking up the sun by the pool. Loved the tranquillity and privacy surrounded only by olive groves. The stone BBQ was a real bonus but gave us the difficult decision as to spend the evening at the villa with a few glasses of wine or enjoy the local seafood at the beach front…..Hope to be back soon! - June 2012.
Firstly to let you know that we had a great time at Villa Eremia although I must say the cicadas were on form!! Seriously though we loved it and were really happy with our holiday. The views from the villa balconies were out of this world and there were lots of touches that we hadn't had at a villa before including towels for the pool and beach which was really helpful and plenty of dishwasher tabs (who wants to buy a box on holiday!). We want to enquire about next year (2013) so please let us know prices for 7 and 10 days from August 17th - August 2012.
We stayed in Villa Eremia for 3 weeks in May 2012. If, like us, you value tranquillity and privacy without being in the least bit remote then Eremia is an excellent choice. It's 2 kilometres inland from the small resort of Almyrida on the highest point of a rise above the tiny traditional village of Aspro in the middle of an extensive olive grove, the loudest noise you'll hear is birdsong. The villa itself is spacious and well furnished and equipped. All villas are missing something essential, it this case it was a chopping board! It's an 'upside down' villa with the extensive semi open plan kitchen/dining/sitting area on the first floor with two balconies opening out at right angles to each other. This works well, in hot weather you get whatever breeze there is from the sea with fantastic views over the tops of the trees to Souda bay. The outside areas are very cleverly laid out, there are plenty of options to find sunshine or shade and with the exception of one balcony are not overlooked by the nearby Villa Allium. One possible issue is the pool, uniformly deep with entry by ladder, not good for young kids, but in our experience they are all like that in Crete, it appears they haven't yet discovered shallow ends and roman steps. In any case the sandy beach at Almyrida is very sheltered and shallow, ideal for families. In all, the best villa we have rented in Crete and up with the best anywhere - May 2012.