Villa Almyros
Kefalas, Nr Almyrida and Georgioupolis areas
Sleeps: 6 + 1
Bedrooms: 3
Bathrooms: 2
£825 - £1595per week
Details
General Description
Villa Almyros is a beautiful stone villa with uninterrupted panoramic views across Almyros Bay towards Rethymon and the mountains beyond. Located in an idyllic position 0.5km from the ancient village of Kefalas where you will find tavernas and local shops providing for your every day needs. There is a fully fenced and gated pool at this villa.
Once you enter through the private entrance and arched gate you will find the villa, gardens and pool, which is also gated for added safety. Almyros is traditionally styled with thick stone walls and timber beamed ceilings, and is superbly equipped with modern amenities. The owners have created a very comfortable villa for their guests to stay, relax and enjoy this peaceful corner of Crete.
The villa is air-conditioned throughout and has been thoughtfully designed and planned.
Ground Floor
The living areas on the ground floor are open plan with a fully equipped kitchen (see amenities list) / diner with table and six chairs and a very comfortably furnished lounge with 2 sofas. For your entertainment there is a TV with satellite reception, (not Sky), Google Chromecast, a DVD player, CD player/radio and an ipod docking station as well as a large selection of discs provided (including some for children) as well as a range of books. Wi-Fi Internet access is connected and available for guests' use.
Completing the ground floor accommodation is one of the twin bedrooms with direct access to a covered terrace and an adjacent shower room with toilet, wash basin and walk-in shower. The undercover terrace is furnished with a settee, chairs and a table with views to the colourful garden in one direction and the pool in another; this terrace is an ideal place to sit and relax out of the heat of the sun. From here you can see the large stone pergola which is where you will find a wood oven and bbq, another ideal place to dine and once again designed to take advantage of the beautiful views across the Bay of Almyros and the mountains. In the adjacent garden area you will find 2 swings and a see-saw for children to play on.
First Floor
The first floor has two bedrooms, one double and one twin together with a fully fitted bathroom. There is a large terrace accessible from both bedrooms and also from the landing. This is a great spot for coffee, to dine, sunbathe, or simply enjoy evening drinks. Relax around the table or on the large rattan sofa taking in the outstanding views.
External Areas
There are fantastic views of the sea from the pool, the sun bathing terraces and all elevations at this villa. At night the pool area can be lit making it an unforgettable experience to sit on one of the terraces gazing at the night sky and the lights of Rethymnon in the far distance.
The garden has been planted with many varieties of Mediterranean trees and shrubs and is already becoming established, adding to the privacy of the property. The boundary walls are covered in bougainvillea, honeysuckle and roses.
Almyros has already gained excellent reviews from guests, many of whom have returned for a second and third time.
Internet Access
Unlimited download via fixed telephone line.
More Information
Use the different tabs to view the villa's features and amenities, actual location and distances to the nearest beach, shop and taverna. The prices tab contains details of the weekly rate together with discount information and additional charges where applicable. You can check "LIVE" up to date, availability using the availability tab which will also confirm the price for your selected dates ***. If you want to book you can then follow the online prompts. Also see https://www.crete-escapes.com/booking
*** In some cases relating to the low occupancy discount, the price may need adjusting by us. Please see the note on this page for more details https://www.crete-escapes.com/about-our-discounts
Holiday Rental Licence
Villa Almyros is licensed for holiday rentals with the Greek Tourist Authorities (EOT). Licence number AMA 00000134817.
Amenities
General
Yes (broadband + skype capability)
Phone for emergency use and incoming calls
All bed/bath linen/towels
Maid service and linen/towel change
Bedrooms & Bath/Shower Rooms
Yes (x 2 - one on each floor)
Yes (x 2 - shower room on ground floor and bathroom on first floor)
Living Areas & Kitchen Equipment
Coffee maker - cafetiere type
Yes (filter (papers not required) and plunger cafetiere types)
Yes (HD with satellite reception - not Sky)
External
Yes (36m2. Depth - 1.2m. Fenced and gated. Access via aluminium steps)
Outdoor preparation area with sink
Yes (stone built charcoal type with wood oven)
Other
Children's double swing and seesaw
Map
Local Info
Chania airport - 45 minutes. Heraklion airport - 1 hour and 45 minutes.
Nearest Beach -­ Almyrida /Kalives & Georgioupolis­ -15 mins drive
Nearest Taverna -­ Kefalas - 15 mins walk
Nearest Shop - Kefalas - 15 mins walk
NB; all times are approximate and based on average driving and walking speeds.
Prices
Deposit
10% of total rent
Pricing Notes
Prices quoted are in gbp sterling, per week, for up to 6 people occupying the villa and are not per person. The villa can also sleep an infant using a cot free of charge.
Alternative length of stays of more than 7 nights are accepted and are charged pro rata.
Prices include air- conditioning, a welcome pack, all linen/towels including beach/pool towels and maid service with linen/towel change.
Maid service with linen/towel change** - 1 week stays - none. 2 week stays - every 4 or 5 days.
**except beach/pool towels which are only changed at the end of let however they can be washed using the laundry facilities in the villa during your stay.
There are NO hidden extras.
Options & Extras
Cot: £0.00 per booking
High Chair: £0.00 per booking
Low Occupancy Discounts
A low occupancy discount for single couples (use of 1 bedroom), of 15%, is available at this villa except for July and August dates.
Not allowed on late availability or special offer prices.
Loyalty Discounts
If you are a returning client and this is your 3rd (or more) consecutive booking with Crete Escapes or your 2nd separate booking in one season, you will qualify for our loyalty discount. Please quote voucher code LOYALTY05 when asked to do so during the online booking process or let us know when you contact us. Your reduction of 5% will then be deducted from the total price.
Short Breaks
Short breaks are normally only available for a minimum of 5 nights and will be charged at the 7 nightly rate unless otherwise advertised. However, if the number of available days between existing bookings is less than 7 nights we may be able to accept bookings at a reduced rate subject to the owners agreement.
Short breaks are allowed within 3 days of arrival.
Availability
Booking Information
Change-over days are totally flexible but are subject to existing bookings taken either side. If a booking means that the owner would be left with too many "void" days we might not be able to accept it. If this is the case we will contact you without delay to discuss alternatives.
Payment can be made by bank transfer (sterling or euro) or by debit or credit card.
Our travel information provides details of how to get to Crete including flights to both Chania and Heraklion airports.
If you want to book, please use the availability chart above to check your dates, you can then either book on-line, email or call us on 0330 111 0061.
Please note: although the calendars show live availability and you can book on-line, please note that your booking is not confirmed until we have issued a confirmation of booking. You may prefer not to book your flights until we have confirmed the booking.
Low Occupancy Discounts - unfortunately the online booking system automatically calculates the single couple discount based on the number of people entered onto the booking form and the start day of your rental. There are 2 problems with this:-
a) If you are 2 people but not a couple the system will have automatically calculated a discount when it is not due. Please make use of the "additional notes" box on the booking form to tell us and we will adjust the price accordingly before we confirm your booking.
b) If your rental overlaps from a discounted period to a non-discounted one (or vice versa), the discount calculated will be wrong. In these cases we have to make the adjustment manually. You can still book on-line but we will need to change the price on receipt of your booking request. If the price increases we will contact you to confirm the new price before we confirm your booking and take your deposit.
Please don't let either of these issues put you off making a booking. The discounts are genuine and our villa owners welcome couples and smaller parties out of high season. We just can't fine tune the booking system to account for these 2 circumstances - sorry.
Floor Plans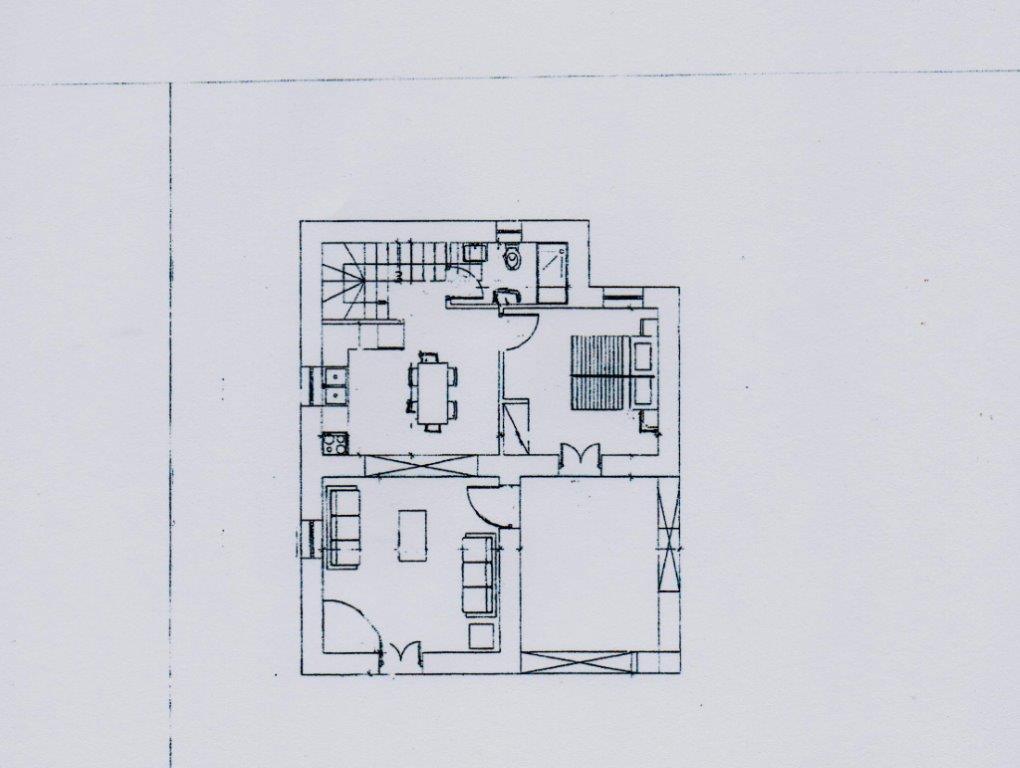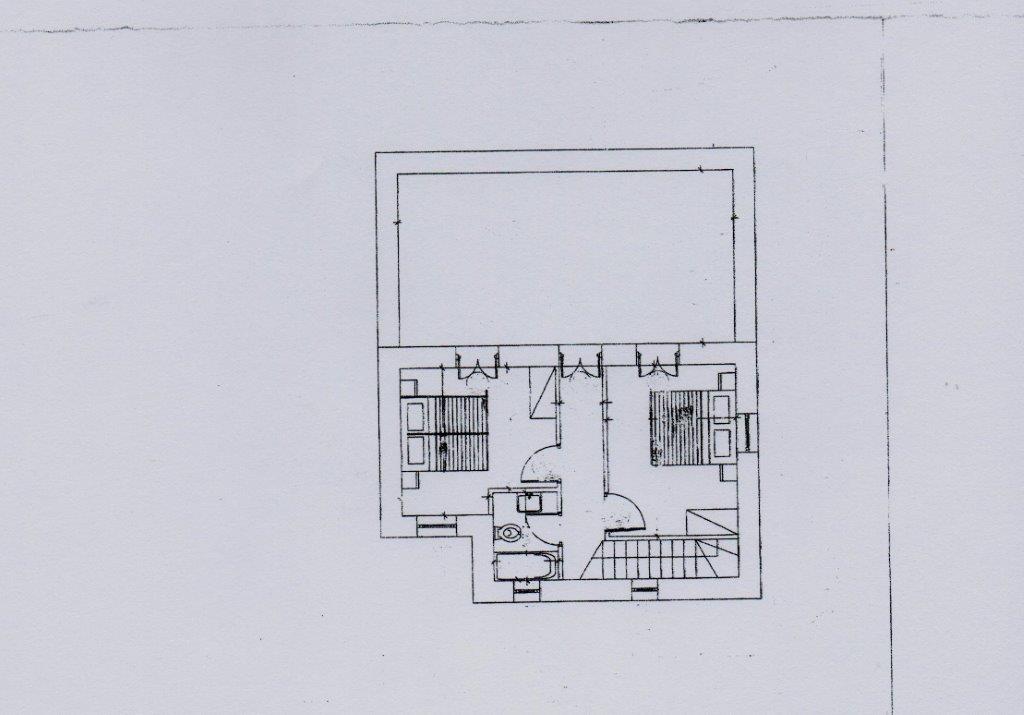 Reviews
We are sorry but due to the Covid-19 crisis reviews for the 2020 season are unavailable.
We had a fabulous time in Villa Almyros. I'm so glad that I discussed the options with you before booking as the location and the villa were perfect for us and after driving around and exploring the area we both decided that we liked Kefalas best in terms of size and location. It was the best property we've ever rented, beautifully clean, well furnished and equipped. We especially loved the first floor terrace and those amazing views. The garden was nice too with lots of lovely planting and landscaping. The owners had provided lots of extras that were really thoughtful, such as mozzie plugs, plastic glasses for the garden, DVD's, torches and all sorts of kitchen equipment. We really wished we had used one of your recommended car hire companies as we had problems with Europcar at the airport - a 1 hour and 45 minute wait for a car, pushy staff, very old, poor quality car when one did finally turn up. I would definitely recommend your villas/service/website. You were very helpful, the website is easy to use and well designed with lots of local info and all the booking arrangements were timely, clear and helpful. We are certain to return to Crete at some point as we enjoyed it very much and there is plenty left for us to see on another visit so we will be in touch again - September 2019.
I just want to say how much we enjoyed staying at Villa Almryos. The house was spotlessly clean and beautifully situated. It has a delightful outside area and garden and is probably the best villa we have stayed at in Crete. Thank you for arranging everything - September 2019.
Beautiful and well equipped villa, lots of un using the pool and its location was perfect. We recommend driving through the mountains over to Hora Sfakion. Great beach, stunning views - August 2019.
Lovely family holiday. Walked to the village most mornings for coffee with the locals, so friendly. Would recommend Souvakerie behind Kalives beach, best gyros and split roast chicken, fantastic value. Beautifuly villa, fantastic views. Thank you to Angela and Dennis - July 2019.
Had a fantastic week here. Beautiful villa and pool with stunning views. We appreciated the comforts of the villa. Thank you! - August 2018.
First return visit to Greece for nearly 25 years! Fantastic villa in great location. Eaten three times at Meterizi restaurant above the Inka. Manoli is a fantastic host large portions and free dessert. Visited various beaches all different loved Almyrida and Kalives Beaches. Took a trip to Spinalonga and Plaka on the East coast 2.5 hours drive but so worth it. Hope you all enjoy Crete as much as we have - August 2018.
May I say thank you for your assistance with our holiday this summer. Villa Almyros lived up to its specification, location and facilitated a lovely family holiday. All in all a great experience, thank you - July 2018.
We had a lovely week in Villa Almyros thank you - very relaxing. We didn't manage to do as much exploring as we would have liked although we did go to Chania and Rethymno for a little look around. We particularly liked Rethymno. We also loved the beach at Kalyves and another little cove we found for snorkelling. I think we need another visit to Crete when it's a bit cooler to do some more exploring and probably without a family in tow…Many thanks for arranging the villa. It was spotless and perfect for a lazy week for the 5 of us - July 2018.
What a lovely villa – great location. Immaculate and perfect for our needs. Would highly recommend and would return in an instant. A gem sad to leave – sign of a good holiday. Maddies – good basic food and atmospheric. Meterizi – A notch above. Snorkeling at Ombrogialos with fish afterwards a particular high - July 2018.
What a fantastic villa and location! Had a lovely family holiday one to remember. Would definitely recommend and hope to return one day. PS; would thoroughly recommend restaurant "Arkadi" stunning waterfront location - July 2018.
We had a really wonderful family holiday made perfect with the use of this beautiful villa. First time in Crete and we absolutely love it. Lots of exploring with this locality, you do not have to go too far to enjoy spectacular covers and devine food. Thank you Angela & Dennis the villa was spotless and we were delighted to have fresh linen and towels every 5 days or so. I am sure we will come back - June 2018.
Fantastic villa gardens and pool with great facilities. Love the extras like the pool towels and thoughtful welcome pack. Angela & Dennis were very helpful and respond quickly to any queries. As other comments re local restaurants. Our favourite beach resort was Kalyves – good shopping, lovely quiet beach and harbour. Good restaurants - we ate at El Forno – food better then looks in photo's on menu! Everything cheap especially local wines by the litre. Really loved the peace and quiet and beautiful views. Thank you - September 2017.
Lovely villa and pool with beautiful views. Enjoyed being able to walk up to the village to eat in the evening. Meterizi taverna very good but also Maddie's for simple Greek food and more choice if you are veggie. We have been to this part of Crete several times and always enjoy the beautiful scenery and re visiting places. This time we drove across the mountain to Chora Sfakion which was a first but interesting trip. Very relaxing stay, thanks - September 2017.
Wonderful holiday, great place to relax and recharge. Villa lovely and well equipped. Rethymno a great place to visit and also Chania great for old town, stalls and leather goods. Highly recommend Meterizi in the village for meals. Lake Kournas definitely worth a trip to see fish and turtles. Enjoy! - August 2017.
Super holiday – beautiful location, perfect for discovering local coves & beaches. Great views of sea and sky in the day as well as the evening. Lovely villa everything you could want and more for a family holiday. Thank You - August 2017.
What can I say, a beautiful villa clean and comfortable. A lovely village and we enjoyed swimming in the little cove in Ombros Gialos – it's a must - July 2017.
We have had a fantastic holiday in a lovely villa in a beautiful location. Angela & Dennis were very helpful and informative what more can you ask for! - June 2017.
Had another great stay, second time here, and we never go back to the same place!! Thanks - June 2017.
Hi, we have just got back from a week at the Villa Almyros. We had a lovely holiday, the villa is beautiful and really well furnished and kitted out. We hired a car for the week from one of the local firms (Kalives) you suggested and their service was really good and a great price. We loved the pool and garden and the setting of the villa is lovely. Thanks very much for a great holiday - September 2017.
We had a great time at Villa Almyros. Please thank the owners on our behalf for the villa and views which are really nice - August 2016.
We have enjoyed a very lovely ten days at Villa Almyros. The villa is very clean on arrival the pool is also very clean. Angela and Dennis are lovely and are happy to help with any problems. Recommend a visit to Meterizi we had three lovely meals and and feeling well fed. If you have never visited Greece, the food portions are very large and starters are not usually necessary, as most places give a free pudding as well. Overall a very good stay and very sad to leave - August 2016.
One of the very best villas we have stayed in. We were lucky enough to meet Alan and Lin (owners) who were welcoming and charming as you might imagine. Dennis and Angela are cut from the same cloth and have been very responsive when we have needed help. Dennis had some good advice for parking in Chania which saved much potential stress. We also visited Rethymno and enjoyed that more. Thanks for a great stay! - July 2016.
Stayed at Villa Almyros in the last 2 weeks of July. Absolutely fabu...lous villa and location! Would highly recommend it. Had a great adventure with our family - children 7yrs-16yrs. The wind was an issue to start with, the Meltemi winds were in, but this died off leaving strong breezes and some turbulent seas. We worked round this eventually, finding calm waters at Marathi beach and the lovely Kournas Lake. The 2nd week the weather did calm down more. Overall a lovely holiday. Great service from Crete Escapes Ltd and Kalives Travel Rent-a-Car! Thank you! - July 2016.
We have had a truly wonderful and relaxing stay. The villa is excellent; well equipped and so peaceful. We've explored the area and enjoyed the buzz of Rethymnon at night and the beautiful harbour at Chania. Many tavernas visited and agree that the local one is great value and very good food. Thank you - July 2016.
We had a lovely holiday in Crete and Villa Almyros was just perfect. Amazing sea views, lovely pool that was a good depth of 1.2m (not too deep) for our two bigger boys to swim with arm bands and to practice swimming, lovely peaceful surrounds, no other villas too close, beautifully decorated and very tidy and clean. Even shower and the toilets worked well, which is not always the case in Greece! The villa caretakers Angela and Dennis were also very nice and quick to help with everything - June 2016.
Great villa! Very well equipped and loved the space. We were lucky with the weather too. We really can't fault the villa, the area, the views or the locals. We ate 4 times at the taverna above the local Inka shop and loved every meal, so cheap too !! - May 2016.
We have had a wonderful stay, we felt relaxed as soon as we arrived. The views are amazing and the villa has everything you could wish for. Will definitely be returning to this amazing location - May 2016.
A fantastic week in a fantastic villa with all needs catered for, great food and exquisite views. Highly recommended and will definitely return one day. Thank you - September 2015.
We had an excellent stay at Villa Almyros. It was well appointed, spotlessly clean, comfortable and beautifully quiet. We really appreciated the swimming pool and all the various sitting areas. Highlights included Dream Adventures snorkelling trip from Almyrida, excellent tasty snacks at Elia & Thyme and meals at various tavernas, our favourite being Bloumosifi in Vamos. Thank you - September 2015
A beautiful well equipped villa that lived up to expectations. We have enjoyed all the seating areas. To our surprise we joined a quiz evening at Maddies and were entertained by Vangelis at the Folk museum and in the bar - September 2015.
Leon and I just wanted to let you know that we have just returned from Villa Almyros and we have had a wonderful family holiday. We loved the villa, the location and area and the bits of Crete we visited. It's unanimous that we shall return one day. We have been really impressed with 'Crete Escapes' too. All the info and particularly your brilliant (and much needed) directions were great. The villa and its lovely garden, pergola, pool and terrace are obviously much loved and were certainly appreciated by us, so please pass on our thanks to the owners - August 2015
We really have had a wonderful family holiday. The Villa is perfect and we will miss those azure views of sky & sea. We have done a lot of exploring and loved investigating the old village on foot. Eaten far too much as we have had some excellent meals at the many tavernas including the local one Meterizi. Thank you for a wonderful 2 weeks – it's not very often we are tempted with a 2nd visit somewhere but we think we have found the " Exception to the rule!" - August 2015
Fantastic Villa – relaxing and so very peaceful with a view to die for. Excellent food at Meterizi in the village but don't order too much as portions are huge. Took the bus from Vamos to Chania which we would recommend and certainly caused less stress than understanding Cretan driving. The Commonwealth War Cemetery at Souda is a moving experience. The above all featured in The Girl under the Olive Tree – Leah Fleming (easy holiday read!!) All in all a great holiday - June 2015.
Brilliant stay in a wonderful villa!! The views from the villa are fantastic. We travelled to a few places - Chania is a must!! - May 2015.
Beautiful weather, views excellent, villa lovely - everything you needed, will come again. Thank you for making our stay totally enjoyable - April 2015.
Comfortable and well equipped, helpful Agents allowed to stay on for late flight. Loved the sheep's bells, a unique sound! Would echo other comments for eating out but add Totem opposite filling station just outside Plaka. Lovely spot for lunch with sensible portions rather than usual table straining offerings! DVDs' handy given indifferent weather! Chania well worth visiting but good navigation and confident driver needed - October 2014.
Lovely villa, not just a house but a home! Very well equipped & tastefully decorated. Stunning views from swimming pool and gardens. Peace & tranquillity for a week! - September 2014.
A brilliant holiday was had by all. A lovely villa with great views. The Grandkids loved the pool. Friendly locals, plenty of sunshine, what more could you ask for - September 2014.
A very restful time, and thankful for the videos as the wind howled for 4 days very comfortable. We enjoyed the area, with our 2 ace drivers - September 2014.
A wonderful time had by us all! In Crete for the second time but at this villa for the first, and hopefully not the last! Everything has been thought of and not having to bring beach towels was really appreciated. Visited Almyrida, Kalives and Georgioupoli beaches, walked the Imbros Gorge ( fabulous). Took The Dream Adventures snorkelling trip from Almyrida and a cycling morning out as well! We have eaten like Kings and have been made to feel welcome everywhere. We shall miss this lovely part of the world and the glorious sunshine which is guaranteed every single day. Thank you to Joanne at Go West for sorting out any questions we had. Farewell and see you again in the not too distant future - August 2014.
Hi, We will leave the Almyros Villa tomorrow. We are delighted with our stay, the villa and the quality of related services because they corresponded exactly to what we were looking for and to the description provided. Crete Escapes will definitely be our first choice for villa rental when we stay in Crete. We have really enjoyed our holidays and we will tell our network of friends about Crete Escapes! - August 2014.
We've had a wonderful week in the villa ­ love the location and the spectacular views. Kefalas is a lovely village excellent food in the Meterizi, and cocktails in Brouske. Almyrida beach was our favourite. Lake Kournas is worth a quick trip to see the turtles ­ but it's very hot there! Samaria Gorge walk is stunning not too hard but would recommend sturdy shoes. Chania also lovely ­ the old town is very pretty. All in all a super week ­ we need to come back to discover even more - July 2014.
We got to the villa yesterday and we just love it. Stunning spot and lovely, lovely villa - July 2014.
We were sad to leave: Crete is so beautiful. Hopefully, we will be back next year! Once again, your directions to the villa were perfect. We enjoyed the welcome package, especially the eggs, coffee and tomatoes! It was very clean, and the bath towels were so big , fluffy and nice: very appreciated. The beach towels were also very nice: big and easy to clean: we loved them! The views of this villa are breathtaking, and it was so quiet :only sound at night where the bells of the sheeps, or the rooster! We loved the area outside: especially with the love seat and 2 chairs, and really like your bbq area. The kitchen was perfect for our needs: everything was clean, and there was no smell of mildew in the cupboards. Lots of pots and pans (since we did eat there in the evening over 50% of the time), and everything was available to do the cooking. Very easy to use your laundry machine, and loved the dryer outside - June 2014.
Thank You for a blissful 5 weeks! We couldn't have asked for more. Stunning Villa, swimming, hiking, art classes for the children at Papyrus Vamos. Endless fantastic food and remarkable hospitality of the Cretan people. The cheese and yogurt factory in Kefalas is extra special. We will be back!! - May 2014.
Absolutely lovely villa, well equipped, lovely gardens and beautiful views. Lots to explore nearby. Amazing ruins at Aptera, great taverna's in Chania and Stilos. Great Mountains, lovely sea and boats. Managed a couple of swims but water cold. We would absolutely like to return. PS The Spring flowers are just beautiful - April 2014.
2nd Year in Villa Almyros. Marvellous villa, nice garden!! We love the pergola. We will try to come back. Team from " Go West Management" is perfect! Helpful, friendly, nice. Thank you Alan & Linda, Thank you Joanne, Vince and team - September 2013.
The villa is beautiful! Chania & Rethymnon worth a visit as both are very pretty Venetian harbour towns. Almirida beach was our favourite and great for the kids, clear shallow water. Parasia Taverna near Vamos was great for traditional food. Turn left just after John The Butchers Shop in Vamos ­ 1 km. Kids loved Harry Potter DVD's Mum & Dad loved Mama Mia CD ­ for atmosphere not for singing. Definitely worth a BBQ and watching the sun set (magical). A great time was had by all. Thank you - August 2013.
Have had a wonderful 12 nights at Villa Almyros. Love the view from the pergola. Would highly recommend dinner at Meterizi taverna in the village. Kalyves also lovely for a meal out with a spectacular view. Beach at Almirida is perfect for children with shallow, clear sea ­ lovely and warm. Tilly age 9 and Hannah age 7 ­ We had a wonderful time in Crete. The towel animals were cute and spectacular. We also loved the pool and was lovely on hot days and the beds are really comfy - July 2013.
A lovely villa. Gorgeous setting, glorious views. Lots of thoughtful little touches would love to return - June 2013.
Just to let you know we had a lovely time at Villa Almyros. The villa worked really well for us. The furnishings, inside and out, were comfortable, the kitchen was well-equipped and the outdoor eating area functioned superbly. The views were just glorious. None of us wanted to leave! Thank you, as usual, for your invaluable help and I'll be in touch again when we next have an opportunity to return - June 2013.

This was our first visit to Crete and we were fortunate to have chosen Villa Almyros. It's a lovely villa in a lovely setting. Kefalas is a very nice village and we hope it stays that way - September 2012.
What a lovely peaceful villa so relaxing and a view that's superb. Stayed in places from East to West in Crete over the years but end up coming back to this area and hopefully this villa. We love it. The weather is perfect. We are now going to spend 1 week in Kokkino Horio but we don't really want to leave here - August 2012.
From Sweden to Kefalas. Superb villa with nice view. We will be back - July 2012.
Beautiful Villa in beautiful surroundings and very well equipped. We did not want for anything. Incredible weather, incredible island and even more, incredible people, We can't wait to come back to this lovely corner of Crete and this villa - June 2012.
Delightful villa in a lovely spot - very peaceful. Best beach for us was Frangokastello (south coast) spectacular drive there as well. Meterizi Taverna very good and extremely friendly (also walkable). Sterna tou Bloumosifi in Vamos really good - May 2012.
Third visit to this lovely villa. Had another lovely relaxing holiday here in Crete. Thank you - September 2011.
Lovely View and great pool, love the furniture and good choice of Harry Potter films - August 2011.
Beautiful Villa ­ well furnished & finished. I loved the stone. We all really enjoyed staying here ­ thank you. Would recommend Taverna Piperie on road out of Kalives. Right on the beach - August 2011.
A fine & well equipped villa on this lovely Island. All great. Two excellent local tavernas ­ Meterizi and Olive & Vine + Bloumofisi in Vamos. Thalami in Almerida was very good too. Imbros Gorge was lovely - an easy but rocky walk. Thanks - June 2011.
A lovely relaxing holiday in a beautiful, well equipped villa. We loved the rural area and the beautiful views. We will definitely be back again - October 2010.
Lovely villa, great holiday - September 2010.
Lovely holiday in a beautiful villa. Thank you so much for the welcome pack - very much appreciated on arrival after a late flight. There was so much to explore, Knossos, Samaria Gorge, Imbros Gorge, Elafonissi, Limnoupolis, Rethymnon, Chania, local tavernas etc, etc, etc - August 2010.
One of our best holidays ever - hope to come back soon - Many Thanks! - August 2010.
Great villa. Great holiday. Can't wait to come back!! - July 2010.
Beautiful villa in spectacular surroundings. Loved the welcome pack, such a good idea. Thoroughly enjoyed Crete and the local people who are so friendly. Had a lovely time and would definitely come here again - June 2010.
Had a really good time and appreciated being able to stay when delayed by the volcano! Loved the beaches at Almyrida and Falassarna - April 2010.
Fabulous holiday!! Enjoyed exploring and also relaxing by the pool. Almyrida beach was great - lovely warm sea! Thank you! - September 2009.
Thanks for a lovely stay - it's a lovely villa - September 2009.
We had an excellent holiday at Villa Almyros and we would definitely come back again ! - August 2009.
Wonderful holiday, didn't want to leave - June 2009.