Villa Iona
Plaka, Nr Almyrida
Sleeps: 8
Bedrooms: 4
Bathrooms: 4
£1895 - £3295per week
Details
General Description
Villa Iona is situated on a beautifully landscaped private plot only a 15 min walk from tavernas and shops in the pretty Cretan village of Plaka. The sandy beach resort of Almyrida is a short drive away. The villa has 4 beds and 4 baths, a very private pool and terrace area and wonderful views of the sea, white mountains and surrounding countryside.
This large, modern and well designed villa can sleep up to 8 with 6 guests in the main villa and 2 guests using the adjacent, separate, self-contained guest annexe making it an ideal choice for couples and families holidaying together who want plenty of space and privacy.
The design and layout of the villa and guest annexe provide the flexibiity for the villa to be rented as either a 3 bed or a 4 bed property.
Main Villa
Steps lead up to the front door and as you enter into the spacious hall there is a stone archway into the large open plan living/dining area. Two sumptuous sofas and a chair are arranged in a u shape around a coffee table facing the feature stone fireplace with log burner and for indoor entertainment, the TV. The dining area with a table and chairs to seat 8 links the lounge to the kitchen through another stone archway. The kitchen is comprehensively fitted (see separate amenities list); making it easy to self cater if you wish and perfect for those who want to make use of the local Cretan produce. There is a separate utility/pantry area neatly tucked away to the left of the kitchen.
Two sets of sliding doors open out on to an extensive covered terrace overlooking the inviting pool, sparkling blue sea and glorious surrounding countryside. Amply furnished, to one side with a table and chairs to seat 8 and to the other side with a rattan furniture set of sofa, 2 chairs and a footstool, arranged sociably around a coffee table; this is a great place for lunch or dinner or to sit and read whilst enjoying those fabulous views.
From here you can take the stone steps down to the pool terrace or access the roof terrace (unfurnished) via a spiral staircase where you can enjoy incredible 360 degree views.
Bedrooms/Bathrooms
The three spacious bedrooms are accessed off the hall through an archway. They all have their own balconies and are comfortably furnished with plenty of drawer and hanging space.
The two double bedrooms have their own en-suite facilities and the twin bedroom has use of the adjacent main bathroom which has been cleverly designed so that this can be made into an ensuite if desired.
The master bedroom en-suite comprises of a bath, separate shower, wc and washbasin. The other double bedroom en-suite and the twin room facilities are shower rooms.
Guest Annexe
This gorgeous little house is also very well designed and furnished. The open plan kitchen/dining/living area leads to the bedroom and ensuite shower room via a pretty stone archway. The property benefits from having its own private, covered terrace with sea view and a path through the garden to the pool and pool terraces. The fully fitted kitchen and dining area has everything you need should guests staying here wish to cater independently for themselves; ideal for multi generational family holidays.
NB: the annexe is not available to guests when a low occupancy discount is included on the booking.
External Areas
The plot is accessed via electric gates into a gravelled driveway and parking area.
Extensive, well maintained, gardens surround the villa and pool area with an abundance of established shrubs, olive and lemon trees providing a wonderful backdrop and seclusion.
The sparkling pool is surrounded by paved terraces on all sides which allows plenty of space for guests to spread out and relax on one of the sunbeds. A number of parasols are supplied should some shade be needed. The pool is accessed either via a ladder or via wide roman steps at one end.
A couple of small tables with chairs are an alternative option for lazing around the pool or maybe to sit at for morning or afternoon drinks and snacks.
Adjacent to the pool is a really convenient, converted shepherds hut which now houses a wc, washbasin, larder fridge for your supply of cool drinks during the day and inflatables for use in the pool.
In the evening lighting around the garden and pool area provides ambience and allows the entire area to be used well after dark.
Internet Access
Wifi internet connection is via satellite.
More Information
Use the different tabs to view the villa's features and amenities, actual location and distances to the nearest beach, shop and taverna. The prices tab contains details of the weekly rate together with discount information and additional charges where applicable. You can check "LIVE" up to date, availability using the availability tab which will also confirm the price for your selected dates ***. If you want to book you can then follow the online prompts. Also see https://www.crete-escapes.com/booking
*** In some cases relating to the low occupancy discount, the price may need adjusting by us. Please see the note on this page for more details https://www.crete-escapes.com/about-our-discounts
Holiday Rental Licence
Villa Iona is licensed for holiday rentals with the Greek Tourist Authorities (EOT). Licence number - 00000907379/80

Amenities
General
200m2 (160m2 single storey main villa and 40m2 single storey guest annexe)
Yes (electric. Plot fully walled, fenced and gated)
Phone for emergency use and incoming calls
Yes (request at time of booking - FOC)
Yes (request at time of booking - FOC)
All bed/bath linen/towels
Yes (underfloor - oil fired)
Maid service and linen/towel change
Yes (see prices tab for more details)
Bedrooms & Bath/Shower Rooms
Yes (x 3 - 2 x double in main villa and 1 x double in guest annexe)
Yes (x 4 - bed 1 - bath and separate shower room, bed 2, 3 and guests annexe - shower rooms)
Living Areas & Kitchen Equipment
Yes (x 2 - main villa and guest annexe)
Yes (x 2 - main villa and guest annexe)
Yes (x 2 - main villa and guest annexe)
Yes (utility room and guest annexe)
Yes (x 2 - main villa and guest annexe)
Yes (x 2 - main villa and guest annexe)
Yes (x 2 - main villa and guest annexe)
Yes (x 2 - main villa and guest annexe)
Yes (x 2 - main villa and guest annexe)
External
Yes (36m2 - 7.2m x 5m. Depth - 1.5m. Pool shower. Accessed via aluminium ladder and roman steps)
Outdoor preparation area with sink
Yes (Weber - charcoal type)
Other
Books, Games and DVD's
Pool room with wc, hand basin and drinks fridge
Inflatables
Map
Local Info
Chania airport - 40 minutes. Heraklion airport - 2 hours
Nearest Beach -­ Almyrida - 25 minutes walk or 5 min drive
Nearest Taverna ­- Plaka - 15 minutes walk or 2 min drive
Nearest Shop -­ Plaka - 15 minutes walk or 2 min drive
NB; all times are approximate and based on average driving and walking speeds.
Prices
Deposit
10% of total rent
Pricing Notes
Prices quoted are in gbp sterling, per week, for up to 8 people occupying the villa and are not per person.
Alternative length of stays of more than 7 nights are accepted and are charged pro rata.
Prices include air- conditioning, a welcome pack, all linen/towels including beach/pool towels and maid service with linen change.
Maid service with linen change** - 1 week stays - end of let clean and 2 week stays - at the end of week 1 + end of let clean. For stays that do not fall into a 7 or 14 night pattern eg; 10 nights this service will be provided mid-stay ie; approx after 5 nights.
**except beach/pool towels which are only changed at the end of let however they can be washed using the laundry facilities in the villa during your stay.
There are NO hidden extras.
Options & Extras
Cot: £0.00 per booking
High Chair: £0.00 per booking
Low Occupancy Discounts
A low occupancy discount for guests using 3 bedrooms (main villa) of 10% is available at this villa.
Not allowed on late availability or special offer prices.
Loyalty Discounts
If you are a returning client and this is your 3rd (or more) consecutive booking with Crete Escapes or your 2nd separate booking in one season, you will qualify for our loyalty discount. Please quote voucher code LOYALTY05 when asked to do so during the online booking process or let us know when you contact us. Your reduction of 5% will then be deducted from the total price.
Short Breaks
Short breaks are normally only available for a minimum of 5 nights and will be charged at the 7 nightly rate unless otherwise advertised. However, if the number of available days between existing bookings is less than 7 nights we may be able to accept bookings at a reduced rate subject to the owners agreement.
Short breaks are allowed within 3 days of arrival.
Availability
Booking Information
Change-over days are totally flexible but are subject to existing bookings taken either side. If a booking means that the owner would be left with too many "void" days we might not be able to accept it. If this is the case we will contact you without delay to discuss alternatives.
Payment can be made by bank transfer (sterling or euro) or by debit or credit card.
Our travel information provides details of how to get to Crete including flights to both Chania and Heraklion airports.
If you want to book, please use the availability chart to check your dates, you can then either book on-line, email or call us on 0330 111 0061.
Please note: although the calendars show live availability and you can book on-line, please note that your booking is not confirmed until we have issued a confirmation of booking. You may prefer not to book your flights until we have confirmed the booking.
Low occupancy discounts unfortunately the online booking system automatically calculates the single couple or small party discount based on the number of people entered onto the booking form and the start day of your rental. There are 2 problems with this:-
a) If you are 2 people but not a single couple, or 3 or 4 people but not 2 + 1 or 2 + 2, the system will have automatically calculated a discount when it is not due. Please make use of the "additional notes" box on the booking form to tell us and we will adjust the price accordingly before we confirm your booking.
b) If your rental overlaps from a discounted period to a non-discounted one (or vice versa), the discount calculated will be wrong. In these cases we have to make the adjustment manually. You can still book on-line but we will need to change the price on receipt of your booking request. If the price increases we will contact you to confirm the new price before we confirm your booking and take your deposit.
Please don't let either of these issues put you off making a booking. The discounts are genuine and our villa owners welcome couples and smaller parties out of high season. We just can't fine tune the booking system to account for these 2 circumstances - sorry.
Floor Plans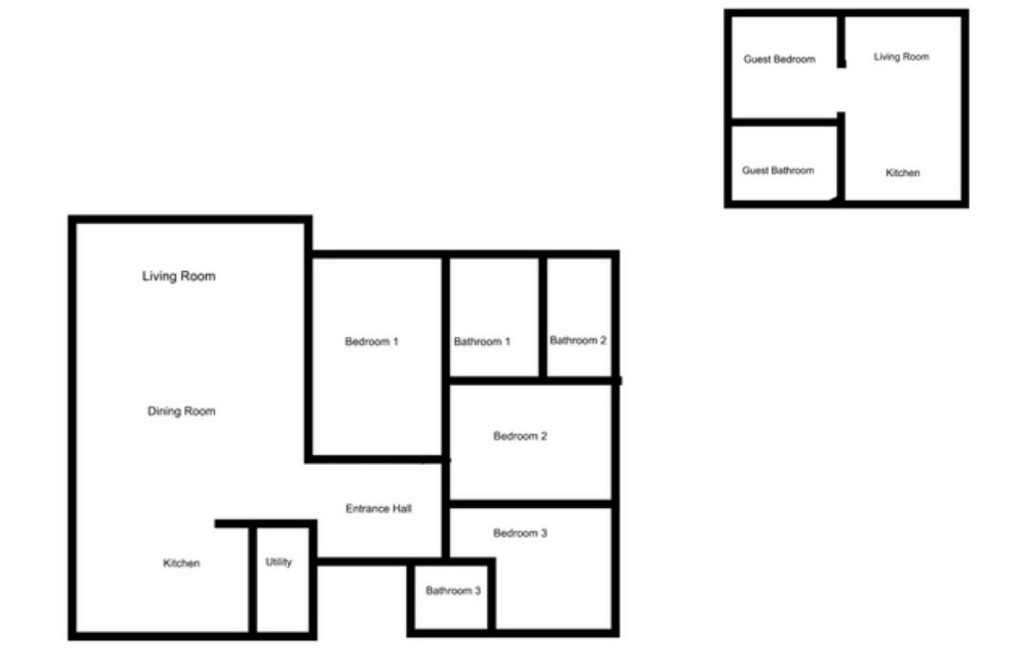 Reviews
Villa Iona is new to Crete Escapes for the 2021 season. Reviews will be posted in due course.