Villa Kallisto
Kokkino Chorio, Nr Almyrida
Sleeps: 8 + 1
Bedrooms: 4
Bathrooms: 4
Cloakrooms: 1
£1345 - £2695per week
Details
General Description
Featured in our premier category, Villa Kallisto is a large, contemporary villa occupying an elevated position just outside the traditional village of Kokkino Chorio. The villa enjoys magnificent panoramic views right across Souda Bay to the Akrotiri peninsula beyond and also to the majestic White Mountains. The villa has 4 large bedrooms all with spacious en-suite facilities. It is an ideal choice for those seeking something special in this popular area.
The en-suites are truly luxurious; two of them have full bathroom facilities including free standing baths which look out to the garden, his and hers sinks and large separate shower cubicles with rainfall showers.
The villa has a state-of-the-art eco-friendly under floor cooling (and heating) system. The cooling system is designed to be comfortable even during the hottest months of the year.
Locally two tavernas can be found and a well stocked mini market are all within walking distance.
The bustling village of Plaka, where you will find some very popular bars and tavernas serving traditional Cretan food, is a 5 minute drive from the villa . A quiet cove not far from the villa offers perfect conditions for snorkelling, during the week it is highly unlikely you will see another soul, ideal for those who seek a little solitude. The small coastal resort of Almyrida has an excellent blue flag sandy beach and a variety of beachside tavernas which are suitable for all the family and just an 8 minute drive from the villa.
Ground Floor
You enter the villa into an airy entrance hall with a tiled stairway (note this stairway has open stainless steel banisters/railings) leading up to the living area which is at first floor level.
All the bedrooms are on the ground floor which keeps them naturally cooler. There are 3 rooms with double beds and one with twin beds. As you would expect they all have wardrobes, bedside tables, drawers, mirrors and hairdryers.
First Floor
The open plan living accommodation is located on the first floor and this allows you to fully appreciate the spectacular views through the large picture windows and patio doors.
The stylish Italian kitchen is fully equipped with everything you might need for meal preparation either using the main oven or the BBQ.
For your entertainment you will find a wide screen 45" LCD TV with satellite receiver (not Sky) , a DVD player and free WiFi.
There are two verandas which are perfect for sunbathing, relaxing, soaking up the views or watching the sun set followed by the starlit sky and the Milky Way.
A handy cloakroom with wc and wash basin completes the first floor accommodation.
External Areas
The villa is set in a large plot with garden/grounds on all sides of the property. The newly installed, 40m2 private pool is accessed by roman steps and includes a 2m2 paddling area, all surrounded by a natural landscape of olive trees with mountain and sea views.
A large dining table and chairs is situated beneath a stylish, rustic pergola to provide shade for al fresco dining. A portable gas BBQ is supplied to enable you to savour the joys of cooking outside rather than being confined to the kitchen.
Internet Access
The internet is provided by means of a satellite system providing unlimited wi-fi. Full instructions on connecting etc are in the Villa Information Book in the villa.
More Information
Use the different tabs to view the villa's features and amenities, actual location and distances to the nearest beach, shop and taverna. The prices tab contains details of the weekly rate together with discount information and additional charges where applicable. You can check "LIVE" up to date, availability using the availability tab which will also confirm the price for your selected dates ***. If you want to book you can then follow the online prompts. Also see https://www.crete-escapes.com/booking
*** In some cases relating to the low occupancy discount, the price may need adjusting by us. Please see the note on this page for more details https://www.crete-escapes.com/about-our-discounts
Holiday Rental Licence
Villa Kallisto is licensed for holiday rentals with the Greek Tourist Authorities (EOT). Licence number 1042K91003252201.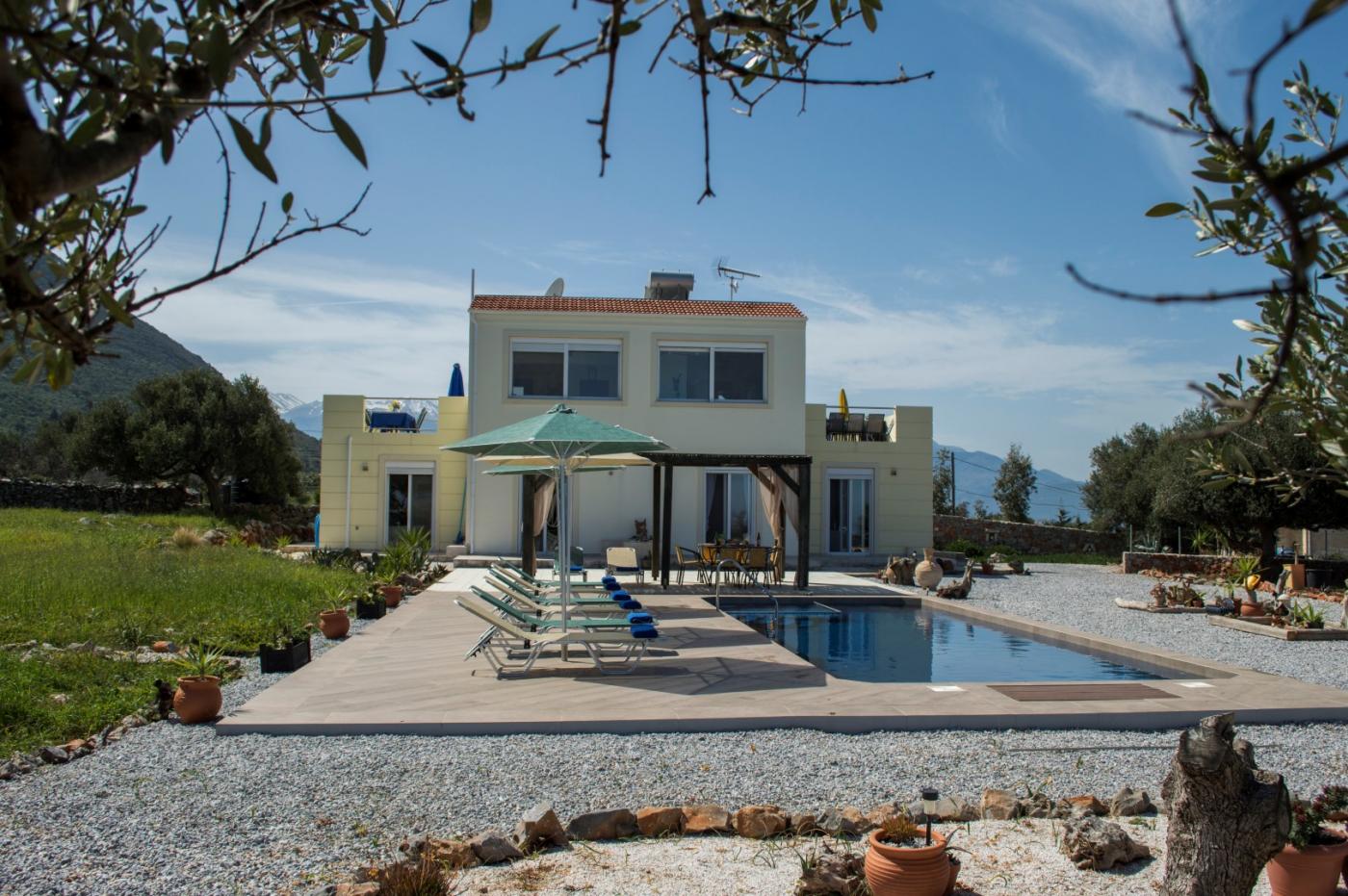 Amenities
General
Yes (Eco-friendly cooling and heating system throughout)
Yes (lounge and bedrooms)
Yes (unlimited access via satellite)
Phone for emergency use and incoming calls
Yes (request at time of booking - FOC)
Yes (request at time of booking - FOC)
Yes (request at time of booking - see prices tab)
All bed/bath linen/towels
Maid service and linen/towel change
Bedrooms & Bath/Shower Rooms
Yes (x 1 - ensuite on ground floor)
Yes (x 3 - ensuite on ground floor)
Yes (x 4 - 2 x shower rooms and 2 x full bathrooms)
Living Areas & Kitchen Equipment
Yes (Illy pod espresso machine, filter coffee machine and plunge filter machine)
Yes (45 inch with satellite reception - not SKY)
External
Yes (40m2 - 10m x 4m. Depth - 1.2m) including 2m2 paddling area. Access via roman steps. Pool shower.
Outdoor preparation area with sink
Map
Local Info
Chania airport ­- 45 minutes. Heraklion airport - 2 hours.
Nearest Beach -­ Almyrida - 10 mins drive
Nearest Taverna ­- Kokkino Horio - 1.5 km
Nearest Shop -­ Kokkino Horio - 1.5 km
NB; all times are approximate and based on average driving and walking speeds.
Prices
Deposit
10% of total rent
Pricing Notes
Prices quoted are in gbp sterling, per week, for up to 8 people occupying the villa and are not per person. The villa can sleep up to 9 with 1 person using a z bed which is charged at the rate of £7 per night.
Alternative length of stays of more than 7 nights are accepted and are charged pro rata.
Prices include air- conditioning, welcome pack, all linen/towels, including beach/pool towels and maid service with linen/towel change.
Maid service with linen/towel change** - 1 week stays - end of let clean and 2 week stays - at the end of week 1 + end of let clean. For stays that do not fall into a 7 or 14 night pattern eg; 10 nights this service will be provided mid-stay ie; approx after 5 nights.
**except beach/pool towels which are only changed at the end of let however they can be washed using the laundry facilities in the villa during your stay.
There are NO hidden extras.
Options & Extras
Low Occupancy Discounts
A low occupancy discount for a single couple (use of 1 bedroom) of 15%, and for a group of 3 or 4 (use of 2 bedrooms) of 10%, is available at this villa except for July and August dates.
Not allowed on late availability or special offer prices.
Loyalty Discounts
If you are a returning client and this is your 3rd (or more) consecutive booking with Crete Escapes or your 2nd separate booking in one season, you will qualify for our loyalty discount. Please quote voucher code LOYALTY05 when asked to do so during the online booking process or let us know when you contact us. Your reduction of 5% will then be deducted from the total price.
Short Breaks
Short breaks are normally only available for a minimum of 5 nights and will be charged at the 7 nightly rate unless otherwise advertised. However, if the number of available days between existing bookings is less than 7 nights we may be able to accept bookings at a reduced rate subject to the owners agreement.
Short breaks are allowed within 3 days of arrival.
Availability
Booking Information
Change-over days are totally flexible but are subject to existing bookings taken either side. If a booking means that the owner would be left with too many "void" days we might not be able to accept it. If this is the case we will contact you without delay to discuss alternatives.
Payment can be made by bank transfer (sterling or euro) or by debit or credit card.
Our travel information provides details of how to get to Crete including flights to both Chania and Heraklion airports.
If you want to book, please use the availability chart above to check your dates, you can then either book on-line, email enquiries@crete-escapes.com or call us on 0330 111 0061.
Please note: although the calendars show live availability and you can book on-line, please note that your booking is not confirmed until we have issued a confirmation of booking. You may prefer not to book your flights until we have confirmed the booking.
Low occupancy discounts - unfortunately the online booking system automatically calculates the single couple or small party discount based on the number of people entered onto the booking form and the start day of your rental. There are 2 problems with this:-
a) If you are 2 people but not a single couple, or 3 or 4 people but not 2 + 1 or 2 + 2, the system will have automatically calculated a discount when it is not due. Please make use of the "additional notes" box on the booking form to tell us and we will adjust the price accordingly before we confirm your booking.
b) If your rental overlaps from a discounted period to a non-discounted one (or vice versa), the discount calculated will be wrong. In these cases we have to make the adjustment manually. You can still book on-line but we will need to change the price on receipt of your booking request. If the price increases we will contact you to confirm the new price before we confirm your booking and take your deposit.
Please don't let either of these issues put you off making a booking. The discounts are genuine and our villa owners welcome couples and smaller parties out of high season. We just can't fine tune the booking system to account for these 2 circumstances - sorry.
Floor Plans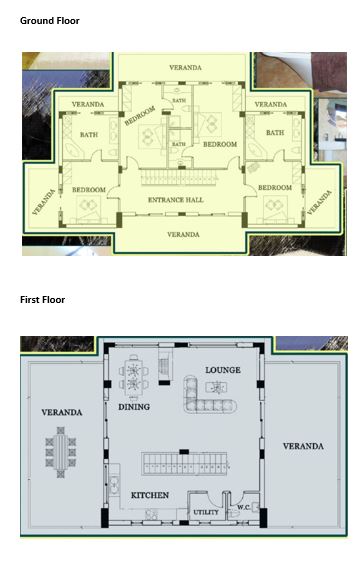 Reviews
We had a fantastic stay at Villa Kallisto. The pool was nice and cool and Almyrida is a nice place to eat. Overall an amazing stay. Thank you Andy and Helen - August 2018.
Perfect villa in a wonderful location. Beautiful views. Nicely decorated throughout. Fab holiday. Villa Kallisto is just wonderful - a gem in the hillside - we loved our stay. The villa is absolutely stunning and in a fabulous location. Helen and Andy are just brilliant. Very attentive and answered any queries very quickly. Plaka which is 10 mins away has got some lovely restaurants. Almyrida is great. The beach is perfect for children. The sea is clear and warm and there are numerous places to eat. Makis was a favourite for lunch. This part of Crete is an absolute gem. We loved every minute of it and will definitely be returning - August 2018.
We had a fun packed two weeks at Villa Kallisto with our young family and friends spent mostly by the fantastic pool. The villa provided everything we needed and more - spot on! Thank you Andy and Helen for sharing your villa with us - June 2018.
Just come back from Crete, our seventh visit. Stayed at Villa Kallisto on this holiday. Fantastic villa and location - May 2018.
Lovely villa with amazing views across the bay - August 2017.
Villa Kallisto provided us with a relaxing week. We enjoyed the pool and views around the villa. The kitchen was well equipped and the bathrooms were sumptuous. We loved Almirida and spend many an evening drinking cocktails and dipping our toes in the warm sea. A beautiful resort with glorious sunsets. Plaka was a great place to enjoy a morning coffee. We all had an enjoyable time - we had an 80's film fest using the DVD's and educated our children. Andy was very welcoming and helpful. Thank you for an enjoyable stay - August 2017.
A fabulous villa for a week in the sun. My wife, 3 daughters and I had a wonderful time here. The view from the pool, the kitchen and the front balcony is amazing. Our favourite tavernas were Elpis in Plaka and Sunset, on the way down the hill out of Plaka, more for its brillian view over the bay than for its food. Overall we had an absolutely brialliant time, thanks to Andy and Helen - July 2017.
We've had a wonderful time here! The villa and views are sublime. Thank you so much - July 2017.
We were the first visitors to this villa. Brilliant value for a very classy place, cleverly designed with the kitchen upstairs to make the most of the views. Very well kitted out too with lots of bathrooms. Fab pool. We especially enjoyed Elpis restaurant in Plaka. The owner, Andy, was very helpful with tips about supermarkets, restaurants etc. We had a wonderful week - July 2017.