A Guide to our Villas Available for Rent in Crete
Posted on Friday 2nd September 2022 by
No matter where you choose to holiday in Crete, there is no doubt that you'll have beautiful views in the perfect location to relax and experience this beautiful island.
With so many luxury holiday villas to choose from, here's our guide to help you decide which of our villas will be the right one for you.
2 Bedroom Villas
Our smaller villas that we have available are ideal for couples and small groups. Villas include a private pool and most offer a Low Occupancy Discount.
In this category our most luxurious villa is Villa Stella Donna; you'll love the private sunny poolside space and shaded outdoor dining areas.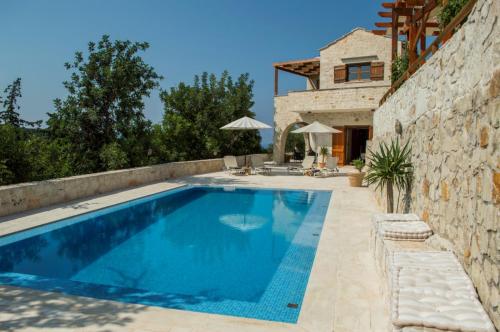 3 Bedroom Villas
This category contains our family sized Crete villas to rent which sleep 5 or 6 people in 3 bedrooms. All the villas have been chosen by us to ensure they provide plenty of space for everyone to find their own area to relax.
One of our premier 3-bed villas is Villa Levendakia; this truly unique villa is situated in a large, secluded plot of almost 2 acres, close to the hilltop village of Drapanos.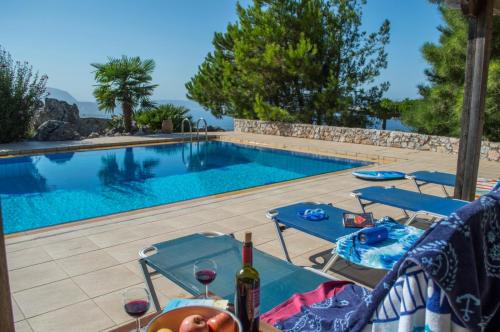 4 Bedroom Villas
Villas we recommend if you need a larger Crete property to accommodate a family gathering or a group of friends up to 8 people with a private pool.
One of our 4 bedroom villas is Villa Xanthe; which is conveniently located close to Plaka's village, tavernas and mini markets. Villa Xanthe is in a quiet spot less than 10 minutes walk away from the charming village centre.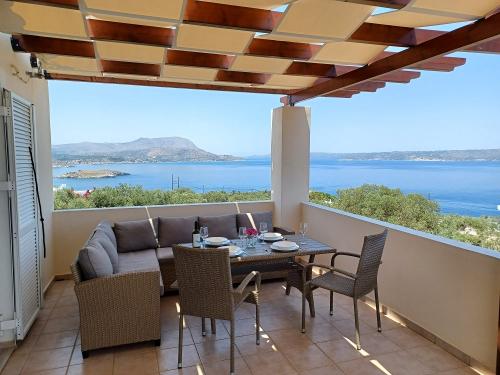 Villas for Couples
If you are looking for a smaller villa for you and your significant other, then this category will have the villa to rent for you! Most of these villas offer a Low Occupancy Discount.
Experience a romantic getaway like no other with your partner at Villa Kali Vista in Kokkino Horio, Crete, offering privacy, seclusion, stunning views, and luxurious amenities.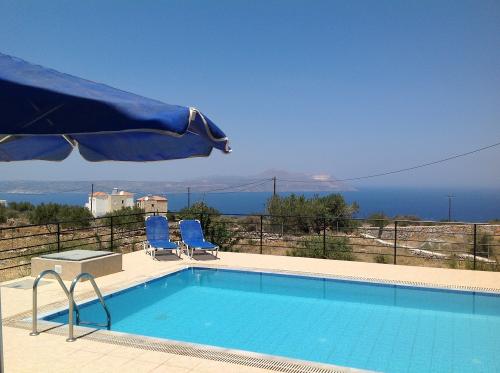 Villas for Families
At Crete Escapes we offer a selection of family sized Crete villas to rent, which sleep at least 4 people in a minimum of 2 bedrooms.
If you are a family of 4 to 6 people then Villa Hibiscus is an ideal property for your holiday. The villa can be found towards the end of a quiet lane and track on the edge of the village of Kokkino Chorio, which is just a relaxing 25-minute walk away.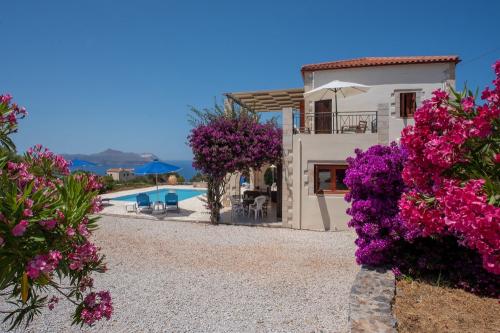 Privately Situated Villas
Maybe your escape to Crete is to get away from busy social places and strangers, if this is the case then check out our privately situated villas.
The beautiful building of Villa Thio Koritsia is a superb luxury villa with stunning sea views towards Almyrida and across Souda Bay to the Akrotiri peninsula. This property has stunning outdoor spaces with generous terraces surrounding the infinity pool.
Premier Villas
Our luxurious villas in Crete promise to enhance your holiday. These high class villas are of course privately situated or secluded, standing in spacious plots with excellent amenities all to the best standards.
One of these Premier villas is Villa Amaltheia; having been extensively re-furbished over the past few years, it's now a lovely modern villa standing in an impressively large plot of over an acre. It has been very thoughtfully planned, equipped, and furnished to provide the discerning holidaymaker with truly wonderful accommodation.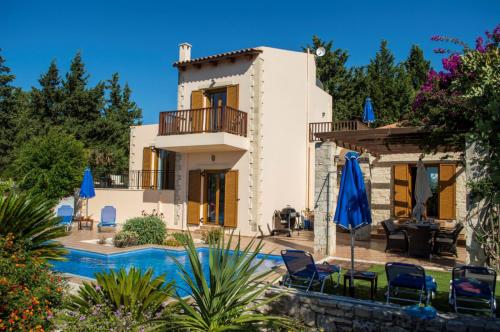 Villas with Pools
Whether you are a couple, a family, or a group, having a private pool to relax in, swim laps, and play games can completely change the dynamic of your holiday!
Villa Annie is a newly built, contemporary 3 bed and 3 bath luxury stone villa in a secluded and gated plot with ample parking for several cars. Included in this is also a spacious private pool to relax and enjoy the beautiful Crete weather.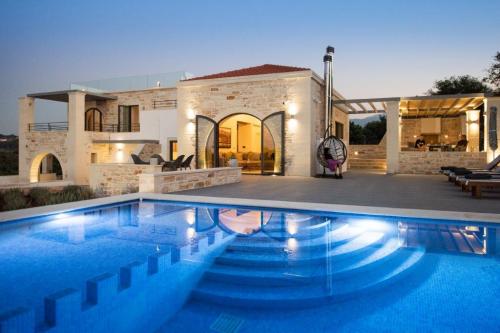 Villas with a Sea View
Most of our properties have magnificent sea views, whether they are close to the beach or slightly further inland. We have many wonderful villas in Crete within this selection, from a smaller 2 bed villa to a much larger 4 bed villa.
Villa Skye is at the end of a track leading from the village of Kokkino Horio. This bright, single-story 2 bed villa sits in an elevated position on the hillside with fabulous views of Souda Bay, the White Mountains, and the surrounding countryside.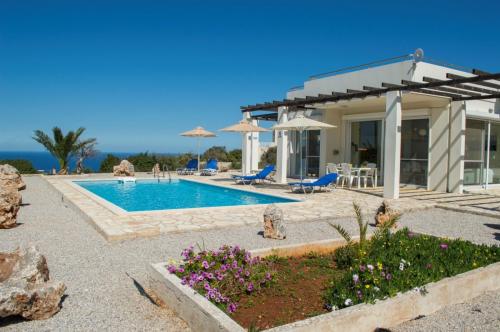 Villas Within Walking Distance of the Beach
Whilst most of our villas are selected for their privacy and tend to require car hire to get to the beach, we know that some people prefer villas on the beach, or at least within walking distance. We have a few villas which will be perfect if you're a fan of the sea.
The Aegean Blue Villa is on a prestigious, Bentley award-winning development, in an elevated position opposite the little beach at Kera, which boasts breathtaking panoramic sea, mountain, and countryside views. The villa is perfectly situated, approximately a 15-minute walk from Almyrida and its sandy beaches, tavernas, and amenities. The Aegean Blue Villa is fitted with full air conditioning and has 3 double bedrooms sleeping up to 6 guests.
Traditional Houses
If you're looking for something more traditionally Cretan that still has modern amenities, then look no further than our handpicked selection of traditional houses. These include 2 bed villas each with 2 bath and shower rooms as well as a private pool, and a lovely 3 bed villa with a private pool, all close to a village with at least 1 taverna and a shop.
Florianna's Villa is an extremely popular and well-equipped property which offers a traditional feel despite being completely re-furbished in 2019. It can comfortably sleep 4 adults in its 2 bedrooms and has a private pool and BBQ for when you are not dining out at one of the local tavernas.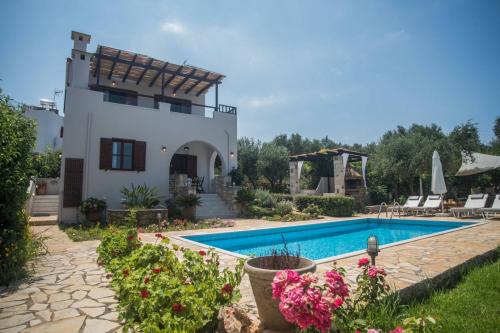 Between all these categories there will be one to make your search for the perfect villa easier!
Click here to view all our available villas.