Villa Levendakia
Drapanos, Nr Almyrida
Sleeps: 6 + 2
Bedrooms: 3
Bathrooms: 3
Cloakrooms: 1
£1495 - £2995per week
Details
General Description
Image gallery updated 20th July 2023.
Villa Levendakia is a truly unique villa situated in a very large, secluded 2 acre plot, close to the hilltop village of Drapanos where there are 2 tavernas and a shop. From its elevated position there are glorious 360 degree views with mesmerising vistas across Souda Bay and the White Mountains providing memorable sunsets in the evening; truly worthy of its place in our premier category. The villa offers perfect accommodation for a mixed generation family holiday or a group of friends as there are 3 en-suite bedrooms - 2 in the main villa and the 3rd in a self- contained apartment (only let as part of the main villa) linked by a small courtyard.
The long sweeping driveway leads to electric gates and a large parking area with space for several vehicles, all surrounded by trees and colourful shrubs which are a prominent feature at this villa. There are steps leading to the front door which opens on to a hallway and in turn into the open plan living areas, 2 of the en-suite bedrooms (down a couple of steps) and a cloakroom with a wash basin and wc.
The villa benefits from underfloor heating and an open fireplace making it a good choice for early or late holidays when some heating may be required.
Living Areas
With high ceilings throughout the villa, everywhere feels spacious, airy and light. The lounge is well furnished with comfortable seating arranged sociably around a coffee table, all positioned to enjoy the views through the expanse of patio doors immediately in front. The patio doors slide back and open out to a wrap around, covered terrace with a table and chairs to seat 8. This is an ideal spot for dining al fresco whilst also taking in the magnificent views.
The indoor dining area with a large dining table and chairs for up to 8 is centrally positioned between the kitchen and the lounge area. The keen cook will be pleased to find a well equipped, U shaped kitchen with granite worktops. A practical utility room leads off the kitchen and this is where you will find a large American style fridge/freezer, dishwasher and microwave. A door from the utility room opens on to a small covered terrace with a table and chairs. This entrance also provides easy access to the self-contained apartment.
To one side of the lounge is a raised, partially separate space which can be used as a study or office; ideal for those who need to work or for teenagers to study or keep in touch with friends whilst away.
There is also a delightful sheltered courtyard which can be found through a door at the rear of the lounge. This is a relaxing spot with dappled shade, perfect for lounging on the comfy rattan furniture.
Bedrooms (main building)
There are 2 x en-suite bedrooms in the main villa, both accessed via a couple of steps down from the entrance hallway. There is a very large master bedroom with a double bed, wardrobes, drawers, bedside tables and a luxury en-suite which not only has a bath with a shower attachment but a separate, walk in, shower too.
The other room is well equipped with twin beds, honey coloured pine furniture and an en-suite shower room.
Both of these bedrooms have patio doors giving direct access to the extensive pool terrace via a few steps.
Self-contained apartment (sleeps 2 adults + 2 children or 3 adults)
The self-contained apartment has its own entrance and, although separate from the main building, it is very close to it and easily accessible from several of the main villa exits.
A perfect solution for larger family gatherings or groups where some members of the group want to have their own space. This totally self contained unit has its own small living area which contains a futon suitable for 2 children or 1 adult to sleep on, a small kitchen with an oven, hob, fridge/freezer and a sink. There is a double bedroom with a vast amount of storage space in cupboards and drawers and an en-suite shower room. The private terrace outside is furnished with a dining table and chairs and is a haven of peace and tranquillity in which to enjoy the garden.
Currently there are ceiling fans in both the living area and the bedroom but no air-conditioning however the covered terrace immediately outside is effective at keeping this building cool.
Please note - This apartment can only be rented as part of the whole villa and not separately. Although you cannot access the apartment internally from the main building it is only a few steps away from the main villa across a small courtyard. A single couple renting the villa and receiving a low occupancy discount will not have any access to the apartment - see prices tab for more detail about low occupancy discounts.
External Areas
Surrounded by extensive terracing for sunbathing, the large tiled pool is accessed using the wide roman steps or aluminium ladder. Adjacent shade is available under the large, partially covered pergola which faces out to sea.
The completely secluded, rural setting is ideal for those who want to be totally private and 'away from it all' but within easy reach of a village shop and a couple of tavernas. The stunning views of the sea, mountains and surrounding countryside can be enjoyed from so many different spots in the delightful, mature gardens or whilst lazing by the pool.
Basement
The owner allows use of the full-sized table tennis table and washing machine which are located in here. NB - other facilities in the basement will be locked for the sole use of the owners.
Internet Access
Unlimited download throughout the villa via a satellite system.
More Information
Use the different tabs to view the villa's features and amenities, actual location and distances to the nearest beach, shop and taverna. The prices tab contains details of the weekly rate together with discount information and additional charges where applicable. You can check "LIVE" up to date, availability using the availability tab which will also confirm the price for your selected dates ***. If you want to book you can then follow the online prompts. Also see https://www.crete-escapes.com/booking
*** In some cases relating to the low occupancy discount, the price may need adjusting by us. Please see the note on this page for more details https://www.crete-escapes.com/about-our-discounts
Holiday Rental Licence
Villa Levendakia is licensed for holiday rentals with the Greek Tourist Authorities (EOT). Licence number AMA 00000135402.

Amenities
General
140m2 (main building - bungalow style) and a 40m2 (self-contained apartment)
Yes (2 bedrooms in main building only)
Yes (all 3 bedrooms and living area in apartment)
Phone for emergency use and incoming calls
Yes (request at time of booking - FOC)
Yes (request at time of booking - FOC)
Yes (futon - request at time of booking - see prices tab)
All bed/bath linen/towels
Yes (underfloor heating throughout)
Maid service and linen/towel change
Yes (see prices tab for more details)
Bedrooms & Bath/Shower Rooms
Yes (x 2 - ground floor - one in main building and one in self contained apartment)
Yes (x 3 - all en-suite bath/shower rooms)
Yes (x 1 - ground floor of main building)
Living Areas & Kitchen Equipment
Yes (x 2 - gas in main building and electric in self contained apartment)
Yes (utility room main building)
Yes (utility room main building)
Yes (x 2 - American style in utility room of main building and under counter type in separate apartment)
Yes (utility room main building)
External
Yes (51.5m2 - 10.3m x 5m. Depth - 1.2m - 2.3m. Access via roman steps and aluminium steps)
No (large covered pergola next to the pool)
Outdoor preparation area with sink
Other
Full sized table tennis table
Small selection of books and games
Open fireplace
Map
Local Info
Chania airport - ­ 50 mins drive. Heraklion airport - 1 hr 55 mins drive.
Nearest Beaches - ­ Almyrida - 15 mins drive or Kalives - 23 mins drive.
Nearest Tavernas and Shops -­ Drapanos - 3 min drive / 12 mins walk or Almyrida - 15 mins drive.
NB; all times are approximate and based on average driving and walking speeds. Some walking and/or driving may be on unlit and unmade track roads. Please refer to the map tab to view satellite images of the area.
Prices
Deposit
10% of total rent
Availability
Booking Information
Change-over days are totally flexible but are subject to existing bookings taken either side. If a booking means that the owner would be left with too many "void" days we might not be able to accept it. If this is the case we will contact you without delay to discuss alternatives.
Payment can be made by bank transfer to our sterling account or by debit or credit card (Mastercard or Visa) only.
Our travel information provides details of how to get to Crete including flights to both Chania and Heraklion airports.
If you want to book, please use the availability chart above to check your dates, you can then either book on-line, email enquiries@crete-escapes.com or call us on 0330 111 0061.
Please note: although the calendars show live availability and you can book on-line, please note that your booking is not confirmed until we have issued a confirmation of booking. You may prefer not to book your flights until we have confirmed the booking.
Low Occupancy Discounts - unfortunately the online booking system automatically calculates the single couple or small party discount based on the number of people entered onto the booking form and the start day of your rental. There are 2 problems with this:-
a) If you are 2 people but not a single couple, or 3 or 4 people but not 2 + 1 or 2 + 2, the system will have automatically calculated a discount when it is not due. Please make use of the "additional notes" box on the booking form to tell us and we will adjust the price accordingly before we confirm your booking.
b) If your rental overlaps from a discounted period to a non-discounted one (or vice versa), the discount calculated will be wrong. In these cases we have to make the adjustment manually. You can still book on-line but we will need to change the price on receipt of your booking request. If the price increases we will contact you to confirm the new price before we confirm your booking and take your deposit.
Please don't let either of these issues put you off making a booking. The discounts are genuine and our villa owners welcome couples and smaller parties out of high season. We just can't fine tune the booking system to account for these 2 circumstances - sorry.
Floor Plans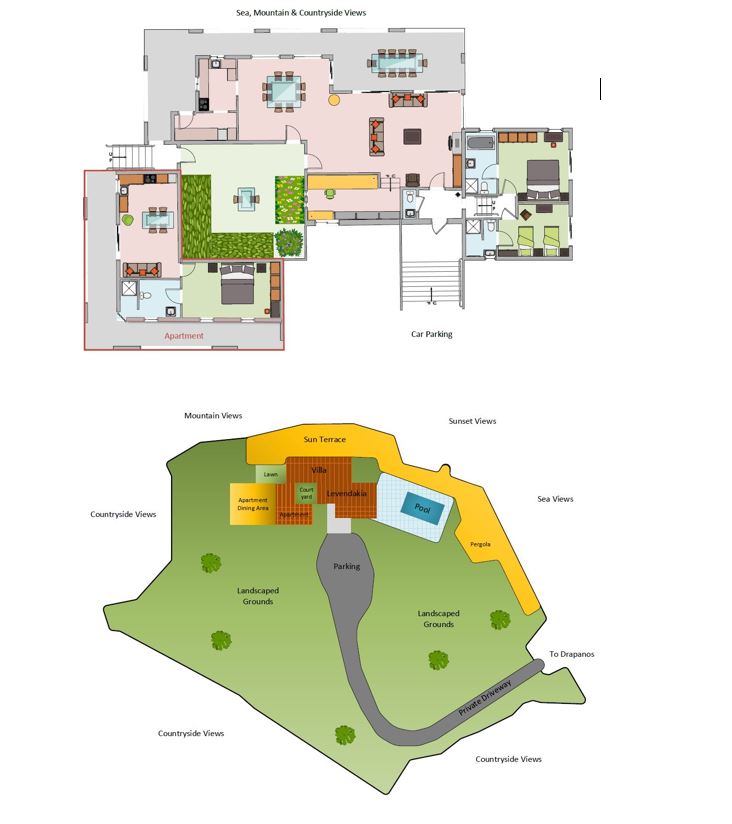 Reviews
As a family of 4 with 2 teenage daughters, we were a little reticent whether the location of the villa may have been a little too remote but we needn't have worried as our holiday has been wonderful. So much to do in and around the area. We have been on numerous villa holidays over the past 20 years and have to say this is one of our favourites - the villa is absolutely beautiful and the photos / description on the website just don't do it justice! The amazing views , sunsets, pool, cleanliness (exceptional) and just how well equipped the villa is (the owners really have thought of everything) all made our stay really special. It's great there are tavernas and a shop in walking distance (we loved Eleanoras best) but just a short 15 min drive is the much livlier resort and beach at Almyrida. We enjoyed coffee and pastries at La Canelle, ice cream at Mia's Geleteria, sushi at Umami (for a change) as well as the more traditional tavernas. We also had happy hour cocktails on the roof terrace at Almyrida Resort Hotel (5-7pm every day). Gavalochori is a beautiful little village only 15 mins drive away and we particularly liked Monica's taverna. All in all it's been a fantastic 11 days and I'm sure we'll be back - August 2023.
The most beautiful place we have ever stayed in. Stylish, comfortable and unbelievable views - the sun rising and falling over the mountains was stunning. We have relaxed, laughed and played endless competitive games both in and out of the pool! Georgia, Stathis and their team have been fantastic - warm, attentive and very efficient. When we are back in Crete it will certainly be to Villa Levendakia, Thank you - August 2023.
What a beautiful spot to build a perfect villa. The pool is superb, the garden, paths and hidden seats are magical and of course, the views which are constantly changing. We have had such a lovely week. Thanks for everything - July 2023.
What an amazing villa you have. We have had a fantastic week, weather really good too. Everything was perfect. The views - WOW! We really appreciated the thought that has been given to the seating areas. Chania was the best for us and we also visited Rethymnon. We have had meals in the surrounding areas. Lovely food, lovely people. A pure relaxing break, thank you. PS: your management company were first hand at sorting out a minor problem, thank you - June 2023.
It is 4 years and a global pandemic since we last visited this wonderful villa. The memory of the panorama that unfolds on arriving did not fail to disappoint - indeed we have observed many more - moods and colours!! This week we have experienced cloud, fog, wind and rain as well as lots of sunshine and sunsets - but it's glorious all the same. As last time we arrived after ferrying hopping in locations between Paleochora and Chora Sfakion - all great fun but we were disappointed not to make it to Gavdos due to the weather! As such, we settled here resting and taking in the view. We have enjoyed meals out at the local taverna and Parasia near Vamos (honey raki and briam just the best!) - May 2023.
Fabulous! We have had the best 2 weeks after waiting 3 years for it after covid. The views, the pool everything amazing and even the few days of thunder and rain we didn't mind as the villa was so nice. Thank you Roger and Linda and the cleaning/management team for everything - August 2022.
When we arrived the villa and everything it had to offer surpassed all our expectations. The standard and appointment both within and outside exceeded those of previous villas in which we have stayed in the past. Despite a couple of minor issues, Georgia & Stathis promptly and attentively dealt with them without question. Whilst our family (6) have spent much time out and about, we were always glad to get back to the villa and chill out before setting off (by foot) to the local tavernas (recommended) for our evening meals in Drapanos which were indeed such good value and of excellent quality. We would love to return to your villa again sometime in the future as we've not seen alternative offerings with such an aspect for comfort, peace, quietness and solitude. Thank you for everything - we'll be back - August 2022.
What an amazing villa you have! We have enjoyed our quality time relaxing, bird watching, gazing at the wonderful view and of course, swimming. I love the garden with its choice of planting and rocky out-crops and quiet shady spaces. The villa is very well equipped and in a great location away from the world yet within easy reach of interesting places to visit. You're so lucky to have such a wonderful place to escape to. - August 2022.
Wonderful relaxing two weeks in the most beautiful surroundings and the best villa we've stayed in. Loved the gardens and the choice of places to sit in sun or shade with different views all round. Thank you - July 2022.
We couldn't have asked for a more perfect villa in which to spend our honeymoon! We loved the amazing views, perfect sunsets and beautiful garden with so many flowers and butterflies. We have stayed in many villas over the years and this truly is the best - so well appointed and well equipped, with great local tavernas close by. We spent many hours relaxing by the pool and love the setting by the trees. So peaceful we hope to be back next year to celebrate our wedding anniversary! Many thanks and best wishes - June 2022.
We are sorry but due to the Covid-19 crisis reviews for the 2020/21 seasons are unavailable.
We had a wonderfully peaceful holiday in an absolutely beautiful quiet location. Our grateful thanks to your both - September 2019.
We had an amazing holiday at the villa, thank you so much for making all the arrangements, it was all we could have wished for. The location is just magical and the big pool and gardens fabulous. We had such a great time that we would like to return for 10/14 days next year. We were sad to come home but happy memories were made. Thanks once again for your help - July 2019.
We had a wonderful time and we think the villa is the best one we've stayed in. As you know, the views are superb, as is the pool which you can actually swim lengths in! All in all a fab stay - June 2019.
A lovely, relaxing 2 weeks. The villa is absolutely beautiful - we spent many days simply enjoying the pool and the amazing views especially the sunsets and the stars. We visited Chania and thought the old harbour there was stunning - the maritime museum is worth a visit. Rethymnon and its fortress were also lovely. We were put off the Samaria gorge walk so did Imbros instead. This was a 2 1/2 hour beautiful walk with a 20 euro taxi fare at the end to take us back to the start. We had 2 visits to the taverna in Drapanos - amazing value and delicious food served with a smile. - September 2018.
The villa has been amazing, comfy beds, air-conditioning in every room along with an en-suite to every room. We liked the "annexe" which was private and allowed us to come and go without disturbing the rest of our party in the "main" villa. The pool was sublime, perfect for a dip on a hot day and for swimming lengths. Thanks for such a lovely stay - July 2018.
We've just returned from a wonderful 2 weeks at Villa Levendakia, a unique and truly beautiful villa, high on the hillside overlooking Souda Bay. We can't recommend this place highly enough. We thought it was perfect in every way. Enormous thanks to the owners for letting us be there - July 2018.
We have just returned from a week staying at Villa Levendakia, you asked me for some feedback. We have been holidaying in the Greek Islands for nearly 30 years now and Levendakia is the most beautiful villa we have ever stayed in. It really is magnificent. Roger and Linda have created a holiday paradise. The back drop of the White Mountains and the view over the bay are stunning. The gardens are a delight and so well thought out, incorporating many different areas from which to enjoy the quiet. The courtyard was perfect for 1 day when the wind was quite strong and for the rest of our stay we spent much of our time by the pool or relaxing with a glass of rosé enjoying the tranquil surroundings. The interior has been finished to a very high standard and every item you could wish for was been provided from hair dryers to poultry shears! Thanks to you both for your advice on the locations of local supermarkets and tavernas. "Leo's" Taverna was perfect for us and Leonidas was charming and very welcoming. Please pass on our thanks to Roger and Linda for a wonderful week , and we wish them all the best for the future - June 2018.
Wow! What a location! It was with a little trepidation as we wound our way up and down the tracks to the villa but what a reward! We particularly loved the fact that the garden had different 'rooms' to enjoy, all with fantastic views and it is definitely the best BBQ location we have experienced so far. Apart from soaking up the sun at the villa and the wonderful pool, our highlights have been walking down the Imbros Gorge, a visit to the palace of Phaistos and a particualrly good meal at Alvi in Rethymnon. Thank you for sharing your house - we are very tempted to return - May 2018.