Villa De Tara
Kefalas, Nr Almyrida and Georgioupolis areas
Sleeps: 6
Bedrooms: 3
Bathrooms: 3
£795 - £1495per week
Details
General Description
Villa De Tara is a modern, well-furnished villa boasting panoramic views across Almyros Bay due to its elevated position above the rural village of Kefalas where you will find a popular taverna, kafenion and a couple of small, well-stocked local shops within a 15 min walk. The villa is tastefully decorated giving a light and airy feel and also benefits from air-conditioning and ceiling fans throughout.
The grounds are gated for added safety and has ample off-road parking space for a couple of cars.
An ideal choice for families and couples alike with the villa incorporating 3 bath/shower rooms and each bedroom having access to its own private terrace with fabulous pool and sea views. The villa is presented to a high standard by the owners so their guests can relax and enjoy this idyllic part of Crete.
Ground Floor
The open plan living space is on the ground floor and comprises of a fully equipped kitchen and dining table to seat 6. The very comfortably furnished lounge has 2 x two-seater leather sofas, an oblong coffee table and an open fireplace providing a focal point. For your entertainment there is a TV with satellite reception, (not Sky), a DVD player and CD player/radio as well as a small selection of CD's, books and games. Wi-Fi Internet access is provided via a fixed telephone line.
Doors from the lounge open out onto a covered terrace furnished with tables and chairs; a shady place to sit and read or have a spot of lunch whilst overlooking the infinity pool, garden and the sea beyond.
To the rear of the living area is one of the double bedrooms with plenty of storage and its own terrace leading out to the pool. Completing the ground floor accommodation is an adjacent shower room with toilet, wash basin and walk-in shower. The washing machine is also located here.
First Floor
The first floor has one double bedroom which has an en-suite shower room and one twin bedroom with the use of the fully fitted bathroom. Both bedrooms are furnished with wardrobes, drawers and bedside cabinets providing ample storage space. Both bedrooms have their own private terrace overlooking the infinity pool and the gorgeous sea views beyond; a great spot for to enjoy a drink in the evening.
External Areas
The garden surrounding the villa is mainly gravelled with a few colourful flower beds. The lower garden (no access) has a few trees but mainly left to its natural state.
A large outdoor kitchen and stone bbq is situated in the corner of the plot adjacent to the pool, so the cook can still enjoy the beautiful views with a chilled beer or a glass of wine whilst preparing dinner.
There are fantastic views from all elevations at this villa. Perfect for those who also want peace and quiet together with easy access to local amenities.
Internet Access
Unlimited download via fixed telephone line.
More Information
Use the different tabs to view the villa's features and amenities, actual location and distances to the nearest beach, shop and taverna. The prices tab contains details of the weekly rate together with discount information and additional charges where applicable. You can check "LIVE" up to date, availability using the availability tab which will also confirm the price for your selected dates ***. If you want to book you can then follow the online prompts. Also see https://www.crete-escapes.com/booking
*** In some cases relating to the low occupancy discount, the price may need adjusting by us. Please see the note on this page for more details https://www.crete-escapes.com/about-our-discounts
Holiday Rental Licence
Villa De Tara is licensed for holiday rentals with the Greek Tourist Authorities (EOT). Licence number 1053234.

Amenities
General
Yes (throughout - remote controlled)
Phone for emergency use and incoming calls
Yes (request at time of booking - FOC)
Yes (request at time of booking - FOC)
Maid service and linen change
Yes (see prices tab for more details)
Bedrooms & Bath/Shower Rooms
Yes (x 2 - 1 x en-suite double room on first floor and 1 x double room on ground floor)
Yes (x 3 - 1 x en-suite shower room on first floor, 1 x bathroom with shower over on first floor and 1 x shower room on ground floor)
Living Areas & Kitchen Equipment
Yes (ground floor shower room)
Yes (with satellite reception - not Sky)
External
Yes (32m2 - 8m x 4m. Depth - 1.4m - 1.7m. Infinity style. Access via aluminium steps)
Outdoor preparation area with sink
Yes (stone built charcoal type)
Other
Map
Local Info
Chania airport - 45 minutes. Heraklion airport - 1 hour and 45 minutes.
Nearest Beach -­ Almyrida & Georgioupolis -15 mins drive
Nearest Taverna -­ Kefalas - 15 mins walk
Nearest Shop - Kefalas - 5 mins walk
NB; all times are approximate and based on average driving and walking speeds.
Prices
Deposit
10% of total rent
Pricing Notes
Prices quoted are in gbp sterling, per week, for up to 6 people occupying the villa and are not per person.
Alternative length of stays of more than 7 nights are accepted and are charged pro rata.
Prices include air- conditioning, a welcome pack, all linen/towels including beach/pool towels and maid service with linen change.
Maid service with linen/towel change** - 1 week stays - end of let clean and 2 week stays - at the end of week 1 + end of let clean. For stays that do not fall into a 7 or 14 night pattern eg; 10 nights this service will be provided mid-stay ie; approx after 5 nights.
**except beach/pool towels which are only changed at the end of let however they can be washed using the laundry facilities in the villa during your stay.
There are NO hidden extras.
Options & Extras
Cot: £0.00 per booking
High Chair: £0.00 per booking
Low Occupancy Discounts
A low occupancy discount for single couples (use of 1 bedroom), of 15%, is available at this villa except for July and August dates.
Not allowed on late availability or special offer prices.
Loyalty Discounts
If you are a returning client and this is your 3rd (or more) consecutive booking with Crete Escapes or your 2nd separate booking in one season, you will qualify for our loyalty discount. Please quote voucher code LOYALTY05 when asked to do so during the online booking process or let us know when you contact us. Your reduction of 5% will then be deducted from the total price.
Short Breaks
Short breaks are normally only available for a minimum of 5 nights and will be charged at the 7 nightly rate unless otherwise advertised. However, if the number of available days between existing bookings is less than 7 nights we may be able to accept bookings at a reduced rate subject to the owners agreement.
Short breaks are allowed within 3 days of arrival.
Availability
Booking Information
Change-over days are totally flexible but are subject to existing bookings taken either side. If a booking means that the owner would be left with too many "void" days we might not be able to accept it. If this is the case we will contact you without delay to discuss alternatives.
Payment can be made by bank transfer (sterling or euro) or by debit or credit card.
Our travel information provides details of how to get to Crete including flights to both Chania and Heraklion airports.
If you want to book, please use the availability chart above to check your dates, you can then either book on-line, email enquiries@crete-escapes.com or call us on 0330 111 0061.
Please note: although the calendars show live availability and you can book on-line, please note that your booking is not confirmed until we have issued a confirmation of booking. You may prefer not to book your flights until we have confirmed the booking.
Low occupancy discounts - unfortunately the online booking system automatically calculates the single couple discount based on the number of people entered onto the booking form and the start day of your rental. There are 2 problems with this:-
a) If you are 2 people but not a couple the system will have automatically calculated a discount when it is not due. Please make use of the "additional notes" box on the booking form to tell us and we will adjust the price accordingly before we confirm your booking.
b) If your rental overlaps from a discounted period to a non-discounted one (or vice versa), the discount calculated will be wrong. In these cases we have to make the adjustment manually. You can still book on-line but we will need to change the price on receipt of your booking request. If the price increases we will contact you to confirm the new price before we confirm your booking and take your deposit.
Please don't let either of these issues put you off making a booking. The discounts are genuine and our villa owners welcome couples and smaller parties out of high season. We just can't fine tune the booking system to account for these 2 circumstances - sorry.
Floor Plans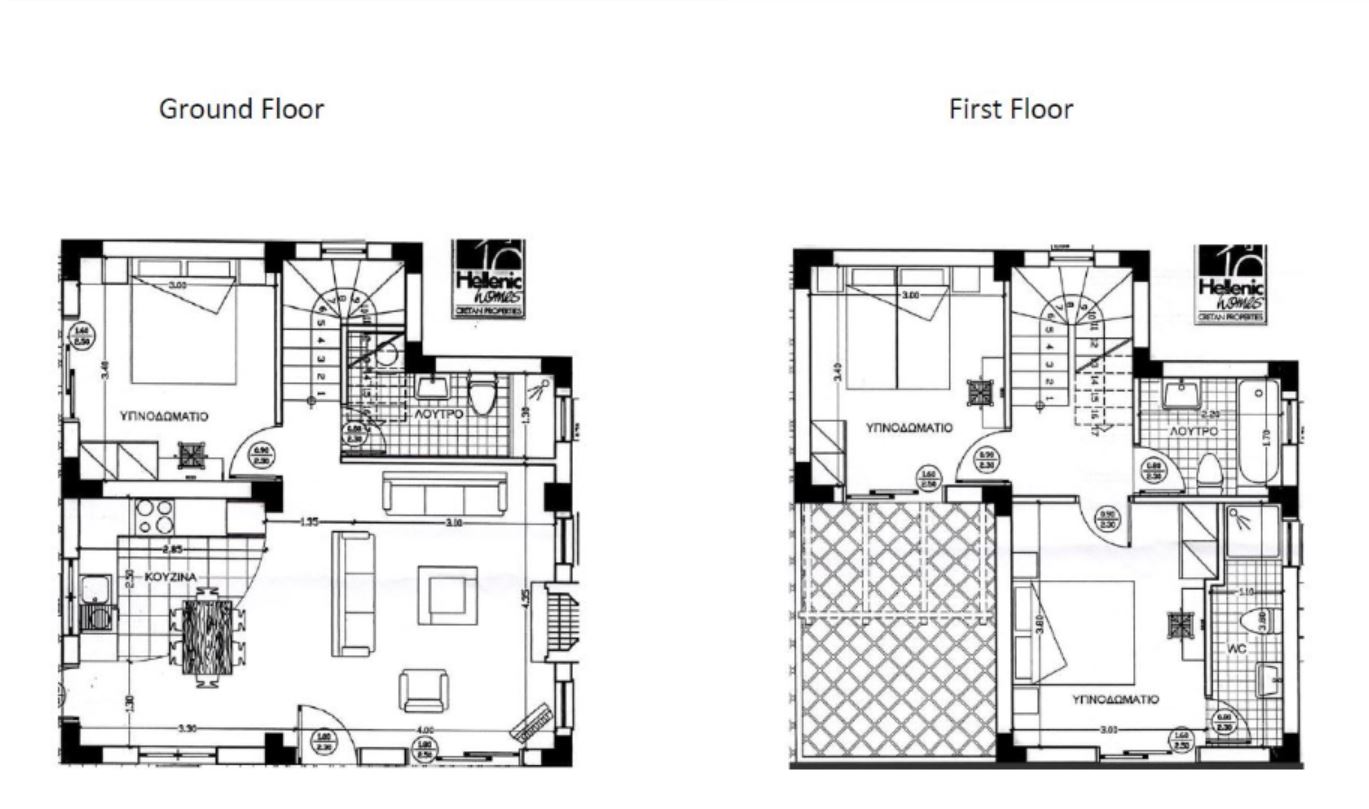 Reviews
Just wanted to thank you for arranging our second stay at Villa de Tara. We had a really quiet relaxing time. Everything was lovely. Please thank the owners - September 2020.
I just wanted to let you know we had a wonderful week at the villa. It was spotlessly clean and the best welcome pack we have ever had. Thank you. The villa was in a perfect location with a jaw dropping view. We liked being at the edge of the village but within walking distance of the centre. I hope they don't spoil the area by building it up too much as we all really enjoyed the peace and quiet. Thank you for all the help. A very professional company! - September 2019.
Lovely location and great views! The villa was immaculately clean and beautifully presented with everything we needed. We rented the villa for 9 days, just my husband and me so really peaceful but there is plenty of room and facilities for 6. Everything was perfect, from the booking with Crete Escapes who we have used 3 times now, to the housekeeping with a special mention to the pool guy, Vassilios, whose service was first class. Thank you to all who look after Villa De Tara and the villa owners - we can highly recommend it. - June 2019.
I just wanted to let you know we had a wonderful week at the villa. It was spotlessly clean and the best welcome pack we have ever had. Thank you.
The villa was in a perfect location with a jaw dropping view. We liked being at the edge of the village but within walking distance of the centre. I hope they don't spoil the area by building it up too much as we all really enjoyed the peace and quiet.
Thank you for all the help. A very professional company!
We had a fantastic holiday and Villa De Tara was lovely. The photos cannot match the reality of the magnificent views from Villa De Tara and the peace and tranquillity that surrounds it. Where else can you see the white snow capped mountains behind you and the Mediterranean sea stretched out in front of you so far that you can see the curve of the earth. In between is beautiful, rustic country side and wildlife with the sound of goat and sheep bells and all in the glorious sunshine - truly amazing and very special. The villa is spacious and very well laid out with 3 bedrooms, 3 bathrooms and ample indoor and outdoor seating areas. We loved the outdoor kitchen and the pool. There was plenty of equipment, pots and pans etc for our needs. We especially appreciated the screens on all the doors and windows. The villa offers good value for money compared to those of a similar standard in Kokkino Chorio where we have stayed several times. Although Kefalas is a little further away from Almyrida and Kalives, it has a nice village centre. We can recommend the taverna above the Inka shop for honest Cretan food and of course Elpis in Plaka, although most of the time we cooked at the villa. We thank you for booking such a lovely villa for us. Kalives cars were also very good and we would use them again. The property manager, Fiona was also very helpful and she and her team helped us to keep the villa clean and tidy during our stay. We always have great service from Crete Escapes and that is why we continue to use your service and recommend you to others. Thanks again and we'll speak again when we are ready to book for 2020 - May 2019.
We have had the most brilliant 2 weeks here. Brilliant house, lovely village, wonderful beaches and such friendly and kind people. Our 3 and 5 year olds have loved every second. We loved the lake at Kournas too. We would love to come back here. Thanks to the property managers, Fiona and Angus for looking after us so well . Thank you. July 2018.
We would like to say that Crete is a really beautiful island; it has it all, beaches, mountains, history and lovely people, we really enjoyed our visit. The beaches are some of the best we have been to in the Med. The pace of life is relaxed and the people are lovely. Villa de Tara is perfect in itself, for peace and tranquility and the views were to die for. Some days the sea, the sky and the pool all merged into one. We will have to return some day to visit the East of Crete. Many thanks for your help with the booking and to Fiona for looking after us at the villa - April 2018.