Villa Rigani
Plaka/Kambia, Nr Almyrida
Sleeps: 4
Bedrooms: 2
Bathrooms: 2
£945 - £1745per week
Details
General Description
Villa Rigani is a perfect villa for a peaceful relaxing holiday. It is situated outside the village of Kambia, near Plaka and has glorious sea and mountain views. Built with local stone and classic wooden features, this fully air-conditioned villa has its own private infinity pool and a large first floor terrace.
Villa Rigani has been extremely well planned to provide accommodation either for a couple seeking a holiday alone, for two couples to enjoy sharing a villa whilst having their own private spaces or for small families where children can play safely whilst mum and dad relax.
The villa is in a peaceful and quiet location surrounded by a mature, attractive garden. It is accessed via a short tarmac lane and track before you come to the villa's driveway which is shared with one other villa. It is very handily positioned being only a few minutes drive from the child friendly beach at Almyrida and a good variety of local tavernas, mini markets, a pharmacy and ATM. A car is recommended although many facilities can be reached in 10-15mins walk.
Ground Floor
As you enter the villa you walk into the fully air-conditioned open plan lounge/dining room and kitchen. The kitchen is comprehensively equipped and there is a dining table with 6 chairs. In the lounge area there are 2 comfortable sofas and for your entertainment, the owners have provided an LCD TV with satellite reception (not Sky), a DVD player, cd player/radio and wi-fi broadband with no download limit. A selection of books, cd's and DVD's are provided at the villa.
Also on this floor is a spacious air conditioned bedroom with twin beds that can be pushed together if required, and French doors opening onto a terrace. Adjacent is the large family bathroom, with a bath and shower.
First Floor
The unique design provides a private, first floor master suite consisting of a spacious air conditioned, double bedroom and en-suite bathroom with bath, shower, bidet and vanity sink unit. A large private sun terrace furnished with loungers, table and chairs leads off the bedroom. The sea and mountain views from this private terrace are simply stunning and it is a perfect spot to enjoy a quiet evening drink and watch the fabulous sunsets over the bay.
External Areas
Outside you can savour those glorious views from so many vantage points in the garden or from the terraces surrounding the unoverlooked, private infinity pool which is perfect for cooling off. At night the pool is lit and inviting for those who may like to try an evening dip. The terraces are well furnished for soaking up the sun and dining al fresco with ample loungers and umbrellas, a large outdoor dining table and directors chairs. There is a separate tiled BBQ area away from the pool and a shaded parking area for a car.
Internet Access
Broadband internet connection is provided via WIFI with free unlimited download for all normal internet uses.
More Information
Use the different tabs to view the villa's features and amenities, actual location and distances to the nearest beach, shop and taverna. The prices tab contains details of the weekly rate together with discount information and additional charges where applicable. You can check "LIVE" up to date, availability using the availability tab which will also confirm the price for your selected dates ***. If you want to book you can then follow the online prompts. Also see https://www.crete-escapes.com/booking
*** In some cases relating to the low occupancy discount, the price may need adjusting by us. Please see the note on this page for more details https://www.crete-escapes.com/about-our-discounts
Holiday Rental Licence
Villa Rigani is licensed for holiday rentals with the Greek Tourist Authorities (EOT). Licence number 1042K92003250701.

Amenities
General
Yes (throughout - can be used in reverse for heating in early/late season)
Phone for emergency use and incoming calls
Yes (request at time of booking - FOC)
Yes (request at time of booking - FOC)
Yes (request at time of booking - see prices tab)
All bed/bath linen/towels
Maid service and linen/towel change
Yes (see prices tab for more details)
Yes (returning guests will receive an upgraded pack with the compliments of the owners)
Bedrooms & Bath/Shower Rooms
Yes (x 1 king - first floor)
Yes (x 1 - bathroom on first floor)
Yes (x 2 - 1 x en-suite bathroom on first floor and 1 x family bathroom on ground floor)
Living Areas & Kitchen Equipment
Yes (Digital broadcast TV or HDMI cable input -cable not supplied. No satellite )
External
Yes (36m2 - 9m x 4m. Depth - 1.1.m x 1.35m. Access via roman steps or aluminium ladder)
Outdoor preparation area with sink
Other
Map
Local Info
Chania airport - 45 mins drive. Heraklion airport - 2 hrs drive.
Nearest Beaches ­- Almyrida - 8 mins drive or Kalives - 16 mins drive.
Nearest Tavernas and Shops -­ Kokkino Chorio - 15 mins walk / 4 min drive or Plaka - 27 mins walk / 5 mins drive.
NB; all times are approximate and based on average driving and walking speeds. Some walking and/or driving may be on unlit and unmade track roads. Please refer to the map tab to view satellite images of the area.
Prices
Deposit
10% of total rent
Pricing Notes
Prices quoted are in gbp sterling, per week, for up to 4 people occupying the villa and are not per person. There is a sofa bed available in the living area, if preferred; the sofa bed is charged at the rate of £10 per night. NB - the maximum occupancy of the villa is 4 persons.
Alternative length of stays of more than 7 nights are accepted and are charged pro rata.
Prices include air- conditioning, a welcome pack (returning guests to this villa will receive an upgraded welcome pack with the compliments of the owners) and all linen including beach/pool towels and maid service with linen/towel change.
Maid service with linen/towel change** - 1 week stays - end of let clean and 2 week stays - at the end of week 1 + end of let clean. For stays that do not fall into a 7 or 14 night pattern eg; 10 nights this service will be provided mid-stay ie; approx after 5 nights.
**except beach/pool towels which are only changed at the end of let however they can be washed using the laundry facilities in the villa during your stay.
There are NO hidden extras.
Options & Extras
Cot: £0.00 per booking
High Chair: £0.00 per booking
Sofa bed: £10.00 per night
Low Occupancy Discounts
A low occupancy discount for a single couple (use of 1 bedroom), of 10%, is available at this villa.
Not allowed on late availability or special offer prices.
Loyalty Discounts
If you are a returning client and this is your 3rd (or more) consecutive booking with Crete Escapes or your 2nd separate booking in one season, you will qualify for our loyalty discount. Please quote voucher code LOYALTY2.5 when asked to do so during the online booking process or let us know when you contact us. Your reduction of 2.5% will then be deducted from the total price.
Short Breaks
Short breaks are normally only available for a minimum of 5 nights and will be charged at the 7 nightly rate unless otherwise advertised. However, if the number of available days between existing bookings is less than 7 nights we may be able to accept bookings at a reduced rate subject to the owners agreement.
Short breaks are allowed within 3 days of arrival.
Availability
Booking Information
Change-over days are totally flexible but are subject to existing bookings taken either side. If a booking means that the owner would be left with too many "void" days we might not be able to accept it. If this is the case we will contact you without delay to discuss alternatives.
Payment can be made by bank transfer to our sterling account or by debit or credit card (Mastercard or Visa) only.
Our travel information provides details of how to get to Crete including flights to both Chania and Heraklion airports.
If you want to book, please use the availability chart above to check your dates, you can then either book on-line, email or call us on 0330 111 0061.
Please note: although the calendars show live availability and you can book on-line, please note that your booking is not confirmed until we have issued a confirmation of booking. You may prefer not to book your flights until we have confirmed the booking.
Low occupancy discounts - unfortunately the online booking system automatically calculates the single couple or small party discount based on the number of people entered onto the booking form and the start day of your rental. There are 2 problems with this:-
a) If you are 2 people but not a single couple, or 3 or 4 people but not 2 + 1 or 2 + 2, the system will have automatically calculated a discount when it is not due. Please make use of the "additional notes" box on the booking form to tell us and we will adjust the price accordingly before we confirm your booking.
b) If your rental overlaps from a discounted period to a non-discounted one (or vice versa), the discount calculated will be wrong. In these cases we have to make the adjustment manually. You can still book on-line but we will need to change the price on receipt of your booking request. If the price increases we will contact you to confirm the new price before we confirm your booking and take your deposit.
Please don't let either of these issues put you off making a booking. The discounts are genuine and our villa owners welcome couples and smaller parties out of high season. We just can't fine tune the booking system to account for these 2 circumstances - sorry.
Floor Plans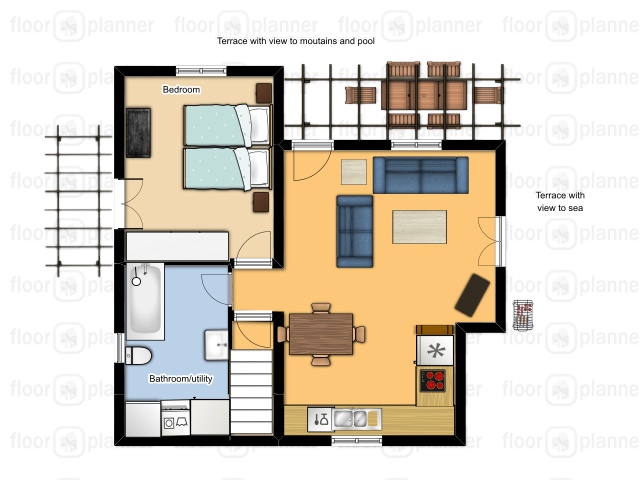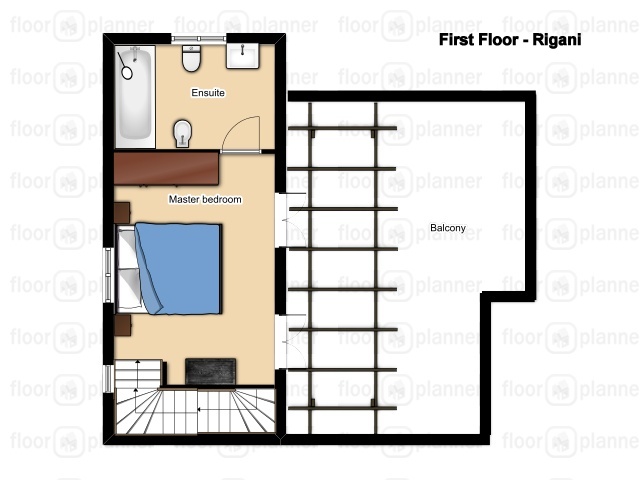 Reviews
Enjoyed our stay at the lovely villa. Tranquil and fab views. Visit to Aptera was interesting. Favourite restaurants were Psaros in Almyrida - lovely food (big portions) and Kymata in Kalives - great classic Greek restaurant by the sea - best mousakka ever! Saw wild goats on a drive through Theriso Gorge - September 2023.
We have loved our time in the villa, thank you. We would recommend walking the Imbros Gorge. Favourite beach was the local beach at Almyrida. The restaurants down there are good also particularly Pizza and Pasta and Umami. We stayed 4 days in Chania before here which is well worth a visit and also Rethmynon. Have fun! - August 2023.
We had the best time staying in Villa Rigani. The location and view were perfect and made for a very enjoyable stay. The villa is close to Koutalas beach which is a 40 min walk of 8 min drive and is a quiet, rocky beach with great snorkelling. There is a taverna (Ioannis) in Kokkino Horio village which is very close to the villa. Old town Chania is lovely for shopping, food and drinks but is very hot so would recommend going in the evening. Overall Crete is beautiful and this villa was the perfect place for us to relax and enjoy the scenery and the weather. Can't wait to return, thank you - July 2023.
Paradise - what a gorgeous villa, the perfect place to relax and unwind. Quiet and the most incredible views of Souda Bay and the sunsets - July 2023.
I loved the villa. Absolute heaven, the pool, the sunsets on the top terrace, the gardens. A wonderful magical place full of nature - July 2023.
We had our second stay at Villa Rigani and enjoyed it just as much as the first time. Weather was a bit iffy in the first few days but typically got very hot by the time we were leaving. Beaches at Almyrida and Kalives are well worth the visit. Free sunbeds can be enjoyed at Kalives. We ate often at the Elpis taverna and can highly recommend it. Great quality food at reasonable prices and excellent service. Sadly, our fortnights holiday has come to an end but are looking forward to returning again - June 2023.
Had an amazing stay in Villa Rigani. It had everything we needed and more, the pool was perfect and relaxing. Sunsets from the top balcony were beautiful. The location is great, not too far from the village or the beach but also nice to be away from all the noise. I would highly recommend Takis in Plaka, very good food and drinks with lovely people running it. We will definitely be returning in the future - June 2023.
We have had a great holiday and have loved the villa, pool and sunsets. We really enjoyed hiring a pedalo on Lake Kournas and good food at Taverna Athitis with great views of the lake. Dream Adventure boat and snorkelling trip was good fun with Captain George as our guide! Would recommend visiting the archaeological site at Aptera and lunch at one of the tavernas in Aptera. We also had a good day out at the waterpark and Chania - very busy! Gavalochori is only a 15 min drive and the Venetian Wells museum there is very interesting. Best meal we had was at Arismari - very traditional Greek family food and location. Taxi company were prompt and confortable cars if you don;t fancy the walk down (and up) to Plaka and Almyrida. Thank you for everything - August 2022.
Lovely villa with amazing views of the sunsets. Loved spending time with the family in the pool. Would recommend Almyrida for restaurants due to having a lovely view of the sea. Loutro is definitely a favourite place of ours due to looking just like off Mamma Mia - would definitely recommend - August 2022.
We are sorry but due to the Covid-19 crisis reviews for the 2020 season are unavailable.
Thank you...all the booking processes and the villa itself were fantastic. We regularly holiday in the Vamos / Almirida area and it was nice to be in a different villa. Please pass on our thanks to the owners - August 2019.
It's the end sadly. My best bit was going scuba diving with Omega. It was a wonderful experience. I also loved swimming in the pool. It was great fun. The house was amazing, and my two fav restaurants were Elpis and the beach café near Dream Boat. The view from the villa was lovely, especially the sunsets were beautiful. It's a wonderful place to sunbathe and relax. Thankyou I hope I can come again - August 2019.
And now it's over - sad. Fab holiday. Villa lovely and weather perfect. So relaxing here, seems unreal. One of the highlights was OMEGA diving, the snorkelling was brilliant. Almyrida beach front tavernas are all good and there is a really lovely Italian Ice Cream parlour round the corner. All in all wonderful - we will be back - August 2019.
We just had two wonderful weeks at Villa Rigani at the beginning of July. Perfect house and a perfect location with views and sunsets you can only dream about! With all the great tavernas in the area, we rarely ate at home. Our favourites are: in Kokkino Chorio - To Yaladiko, in Plaka - Harokopos and in Almyrida - Thalami - July 2019.
So impressed by this lovely villa, stunning location, well kept and fantastic pool. All it promised to be from the website and more! Our first visit to Crete so did lots of exploring, great drives into the mountains and along the coast. The weather was obviously disappointing - nothing you can do about that so no time spent on the beach but there was plenty to wake up for - September 2018.
Had an amazing stay at Villa Rigani. We have loved everything about the villa from the amazing views to the great pool, BBQ and air-con and rates among our top villas! Can recommend taverna Takis in Plaka and lots of good places to eat in Almyrida. Francoises for breakfast was great value. Had some great days out exploring Rethynmno, Chania and Platanias. Enjoyed the Limnoupolis waterpark and beaches at Stavros and Falassarna even though the beach at Almyrida is great. Can thoroughly recommend the scuba diving trip! All in all a fantastic holiday, great villa and very sad to be leaving. Thank you - August 2018.
Lovely relaxing time. Loved the villa. Comfortable beds and lovely soft white towels. Everything was perfect and catered for down to plastic wine glasses to use outside. Wonderful pool. Great BBQ's. Very clean, comfortable and quiet. Enjoyed the views and sunsets which are amazing. Have been to this area for the past 9 years and we both felt this was the best villa we have stayed in. We would love to go back next year. Local shops in Plaka are excellent; you can get everything you need without going to the supermarket in Kalyves. Loved the old taverna on the corner in Drapanos and Marathi for the fish tavernas. Enjoyed every minute - July 2018.
We've had a lovely two weeks and are sad to leave. Amazing villa, extremely well equipped and stunning views to wake up to. We had great weather and all enjoyed the pool. We also enjoyed Almirida beach - make sure you go to the right if you have children as it's shallow and still. The beach at Marathi is worth the 40 min drive. Beautiful water and we took a boat out from there to explore the coast (avoid weekends as very busy with locals). The monastery by the airport is worth a visit and they make lovely wine and olive oil too. Very peaceful. Food at Elpis in Plaka lovely and we enjoyed a few meals watching the sunset at the waterfront in Almirida. Chania is beautiful but avoid being dragged into mediocre restuarants in the centre of the harbour. Worth exploring further back. We loved our holiday - thankyou - August 2017.
Thank you very much for a lovely stay. The villa is excellent and we had everything we could wish for. This is our 5th time to Crete. We have a car as we love to explore. We returned to some favourites on this trip such as The Little Fun Train in Deres and The Retreat Taverna in Kokkino Chorio. New experiences were the cooking lessons in Vamos, a trip out with George from Vamos to see local artisans, Parasia Taverna in Vamos and many more. Thanks for the late check out which enabled us to go back to The Retreat Taverna for Sunday lunch. It's been great apart from the unusual weather - May 2017
Loved it. The villa was fabulous. Beautiful. Stunning views and facilities excellent - October 2016.
Fantastic 2 weeks. Villa has a great view of the bay and mountains. Really good location for a variety of destinations. We even got used to the roads eventually. We loved the pool, so clean and warm (we had great weather) and regular cleaning regime by Mick. A relaxing 2 weeks is just what we needed - September 2016.
Our 4th visit with excellent hot weather. Villa as pleasant as before, comfortable and well equipped. Will miss the mountains and the view. Happy memories. Thanks for the hospitality of the owners and the 'team' - September 2016.
Thoroughly enjoyed this comfortable and well equipped villa, super setting, lovely and quiet. Really loved watching the sunset from the balcony and coffee there in the morning. Thankyou for our welcome pack - very much appreciated and for providing beach towels, haridryer and an amazing pool. See you again - August 2016.
Lovely 2 weeks - what a fabulous view and sunsets. Well equipped villa and a lovely pool. Well looked after villa, many thanks - July 2016.
Thank you. We had a wonderful stay. The villa was fantastic as was the service from Crete Escapes. I will certainly recommend to family and friends - July 2016.
We had a wonderful time and the villa was well equipped in a glorious location. We will highly recommend you and the team who were in Crete. Lovely experience, thank you - September 2015.
A lovely villa and pool with superb views in a peaceful location - perfect. We enjoyed dishes in Dimitris and Ella & Thyme in Almyrida, and at the fish taverna in Marathi - a favourite for several years. For a change of scenery we visited the Omalos Plateau and Imbros for an explore of the gorge and later, the Libyan Sea. Good local products at Anna's in Georgioupolis and the Pear Tree in Almyrida. Thank you - September 2015.
We had a very pleasant week enjoying the sun, pool and the amazing view as well as dining out in Plaka and Almyrida. Exactly what we needed after having the builders in our house over the last 3 months. Thanks you very much - August 2015.
A wonderful relaxing week. The villa was so comfortable and just what we needed. Thank you for the welcome pack, much appreciated when arriving late. Lake Kournas was so beautiful and we enjoyed a lovely drive through the mountains. Back to reality - August 2015.
Just thanking you, we had yet another fabulous holiday in a beautiful villa. Total relaxation, all too short but just what we needed nonetheless - August 2015.
We love Crete and think the villa is great. It was good to find out just how well equipped the villa is. It's true the sunsets here are amazing - July 2015.
Excellent villa - superb views, well equipped and clean. We had a really good, relaxing holiday which was perfect in every way - just waking up to those views was bliss! It was warm enough to use the pool and the sea twice! We found a good selection of places to eat nearby. We managed 4 different walks visiting unspoilt villages in beautiful countryside as well as some of the busier bits on the coast - I have "donated" the walking book to the villa in the hope that other guests might take advantage of it. We also met Karen from Your Crete when we had a minor panic about a boarding pass; she was vey helpful and informative. I shall certainly recommend your villas to my friends - April 2015.
We enjoyed our stay at this very well equipped villa. Brilliant welcome pack and the villa was spotless. This is our 8th visit to Crete and the information pack was one of the best we have ever read - there was every detail you would wish for to make your holiday a success. Loved the location and peaceful setting but it was also handy for Almyrida, local tavernas and even a day trip to Elafonissos. We will be sorry to leave, a week was not enough. We look forward to returning - July 2014.
2nd visit to Villa Rigani after a 1st visit in 2013. It's a lovely villa, very quiet, a complete chill out - July 2014.
Great villa! We had a great time. We would recommend "Omega Diving" in Almyrida. We took 2 kids aged 9 and 13 on a trial dive in the sea; it was an excellent experience, the instructors were very good and explained everything in good English - June 2014.
Great villa and location, the only downside was the weather! We had a lovely time here and would thoroughly recommend it - April 2014.
Fantastic villa, well equipped, lovely location. We will miss the views. Lots of good meals but Portes in Chania and Una Facca etc in Plaka were our favourites. Best coffee was at Vamos, Cafe Anto Kato. Plakias/Preveli were well worth the beautiful drive. Imbros gorge was stunning. Lovely walk from here to the lighthouse. Vamos, Gavalochori, Douliana villages are all interesting. Nice walk / path from Douliana to Agios Ioannis (life beyond) through the woods. A great holiday and thank you - October 2013.
Fantastic villa and pool! So well equipped and spotless. Views phenomenal. Highlights of the area for us were the lovely harbour at Hora Sfakion, Aptera in the early morning, Chania harbour and the museums, country walks from Kalives through olive and orange groves, swimming off Stavros beach, the monastery at Agia Triada and the botanic gardens. Rigani was well placed for all of these. Enjoyed eating at Elpis in Plaka and Thalami in Almyrida. We didn't enjoy the National Road!! Thank you - September 2013.
Thoroughly enjoyed our stay here. Very relaxing and particularly enjoyed the beautiful views and peaceful location. The Retreat taverna is hidden at the top of St George's Retreat - no signs but worth seeking out for amazing views and good food - September 2013.
We very much enjoyed our two weeks in this good quality villa. We appreciated the spaciousness, the views, the pool, the wifi and the air-conditioning! We enjoyed trips to Chania, Chora Sfakion (with boat trip to Loutro) and the day cruise to Gramvoussa island and Balos Lagoon (from Kissamos) - August 2013.
Back again, another great holiday. Villa and location are still brilliant. We highly recommend the Omega diving school especially the experience of scuba diving for beginners; the children loved it. Thanks - we will be back - August 2013.
2nd time at this villa - great location and fantastic weather. Sunsets are just as beautiful as we remember. Elpis in Plaka is a great place to eat - July 2013.
Wow - amazing villa! Just what we needed for our honeymoon - total relaxation for two weeks. We had a great time. Eat at Elpis and Harokoupos in Plaka for great food - May 2013.
A stunning villa!! Layout is wonderful and pool superb. The sunsets and sea/mountain views are fantastic. It has been a lovely week and the time has passed too quickly. We will be back - April 2013.
As the sun rises it is very sad to think that we are about to leave after the most wonderful week. The villa is everything, if not more, than we had hoped for. The spectacular location is beautifully matched by the charming house and we have felt at home right from the start. Thank you very much and, fingers crossed, we will be back again. We absolutely loved it!! - September 2012.
This was our first visit to Crete and Villa Rigani was an ideal base for exploring the island. The villa was exactly as described and it accommodated our party of 4 adults comfortably. We would definitely return! - September 2012.
A truly amazing villa! We had a wonderful time. Drinks at dusk upstairs on the terrace our personal highlight. Chania well worth a visit ­ like a sort of mini Venice ­ sort of .. If you are walking the mini market at Kokkino Chorio is closer than Plaka. Also there is a nice scenic walk you can do (leave early) to the lighthouse beyond Kokkino Chorio. Hope you enjoy your stay as much as we did - September 2011.
Lovely relaxing villa. Fabulous sunsets and mountain views. Really appreciated the 2 changes of in linen in two weeks. Dimitri's and Thalami both very good. Highly recommend the Dream speedboat trip from Almyrida ­ best day of the holiday vote by all (3 teenagers and 2 older!). Waterpark also very good - August 2011.
We returned on Tuesday from a lovely week in Crete. The villa was exactly as described and was an ideal escape for a week of tranquillity in the hills and as a base to do a little exploration of the island. The villa is charming and can't be faulted; especially the pool which we used frequently - July 2011.
The perfect location for a weeks escape though in hindsight 2 weeks would have been better. Lovely weather and food (Elpis in Plaka) and beaches. Would recommend a drive over the mountains to Paleochora and Chora Sfakion, both long drives but worth the effort , spectacular scenery. Villa everything we needed, we will miss our "Sunset Suppers" on the balcony. Pool Perfect for a non swimmer like me. Be back again soon - June 2011.
First time away with a 10 week old baby------. The villa was a dream and the wonderful facilities and quiet location made what could have been a difficult experience a relaxing and enjoyable break. We look forward to coming back next year. P.S. The cleanest villa we have ever stayed in - lovely towels and sheets - September 2010.
Hot! Hot! Hot! even for Crete - but pool, aircon and beautiful villa made our holiday a great success even at 38C. Agree 'Elpis' excellent, Limnoupolis water park well worth a visit - even with a teenager - and Imbros Gorge a great alternative to Samaria. Villa service was wonderful! - August 2010.
Fabulous from start to finish! Lovely clean and well equipped villa. Ideal pool = very happy kids. Thanks for making the whole holiday experience happy and hassle free - July 2010.
An excellent week. Lovely villa, well equipped and very comfortable with really beautiful views - the welcome pack was much appreciated. A week is far too short and we very much anticipate being back for longer. Plaka supermarket is very well stocked - good baker in Almyrida -many good eating places - June 2010.
Good villa, nice pool, convenient location, lots of nice places accessable. Elpis restaurant/taverna in Plaka good. Imbros Gorge, Kalyves and Almyrida beaches and Stavros beach - great. Vamos and Rethymnon old towns very beautiful. Chania very good. Bakery on the Almyrida/ Kalives rd sells fantastic G & T ice-cream - July 2009.
Lovely Villa in a nice peaceful and secluded location. Pool perfect, not too big so not too cold! We found a great Taverna at Drakonas in the mountains and had a taste of the 'real' Crete. Best food in Chania is at TAMAM. Also a nice bar next to the Maritime Museum. Nice view of the harbour but just far enough away from the masses. Harbourside places probably best for a drink only. Get your camera ready for the fantastic sunsets from the villa - May 2009.
A cool, comfortable villa with everything you need including incredible views and wonderful pool. Fantastic beach close by. We will definitely return to this one ­ June 2008.