5 Reasons To Stay In A Villa Near Almyrida Beach
Posted on Wednesday 11th January 2023 by Crete Escapes
Crete has an abundance of breathtaking coastal scenery, natural beauty and sun-kissed sand. Among the Greek Island's many memorable beaches, Almyrida beach is one of the best examples you'll find on the Northern coastline. The beautiful seaside resort has superb, clean beaches that boast stunning views, as well as a wide variety of nearby restaurants and activities to enjoy.
Almyrida is a charming tourist destination which can attract more holidaymakers during peak times. Therefore, choosing the best accommodation to suit the needs of you and your guests could be key to enjoying a relaxing break. Escape from the hustle and bustle with one of our peaceful and secluded Crete villas, with complete flexibility to come and go as you please.
Many of our stunning Crete holiday villas are situated a short walk from Almyrida. This puts you in touching distance of sun, sea and sand, with a variety of things to do in an unspoilt part of the Island.
If you're thinking of booking a stay with Crete Escapes, here are our top 5 reasons why a villa holiday near Almyrida beach will provide everything you need for an unforgettable getaway with your family, friends and loved ones.
1: Walk to Almyrida Beach from your villa
Almyrida beach is widely regarded as one of the standout beaches in Crete. Awarded Blue Flag status by the FFE (Foundation for Environmental Education), visitors can be sure of crystal clear waters, golden sands and a high standard of services and safety features.
Knowing that the beach is expertly maintained means you'll be able to relax with peace of mind, especially if you're travelling with small children. The kids will love paddling in the shallow sea, which is safe on calm days with low waves. There's also no end of fun to be had exploring rockpools and building sandcastles.
At Crete Escapes we offer a fantastic selection of Villas in walking distance of Almyrida Beach, all with private pools.
2: Try your hand at a range of watersports
One of the best ways to explore the natural surroundings at Almyrida beach is to take to the water. Beach sports include pedal boat rental, stand-up paddleboarding (SUP), catamaran, windsurfing and kayaking.
You'll find something to suit most abilities, ranging from more extreme types of watersports, to the more gentle, recreational beach activities. Whichever way you choose to dive in, we hope you stay safe and – most importantly – have fun!
Following a day of fun-filled activities on the water you'll probably want to unwind. One of the benefits of selecting a Crete beach villa close to Almyrida is the convenience of your own spacious accommodation and pool to return to and relax in private for the rest of the day.
3: Sightseeing and tourist attractions
Some days you might prefer to spend time venturing out and exploring the nearby area. Surrounding the village of Almyrida, the landscape is picturesque, and its attractions provide a fascinating culture fix. Very good bus and taxi travel links are available if your villa isn't in walking distance.
Just 4 kilometres east of Alymrida is the small village of Kokkino Chorio, which is home to ancient wartime tunnels. Slightly further afield, the village of Therissos holds much cultural significance and appeal. Delve even deeper into the Cretan local heritage with a visit to the Museum of National Resistance and the Historic Folklore Museum.
The magnificent city of Chania can be reached in half an hour by car. This worthy destination provides more than enough interest to create a full itinerary for days trips from your holiday villa. Choose from shopping, historical shipyards, vineyards and the children can be kept entertained at the waterpark.
4: Cafes and restaurants
Although a holiday villa is perfect for self-catering, it'll be difficult to resist the temptation to sample the delicious Cretan cuisine. A selection of restaurants and tavernas serving freshly prepared Greek and British food can be found along the stretch next to Almyrida beach.
Having the ability to create your own schedule is one of the main benefits of a villa holiday. However, if you choose to take a stroll for an evening meal, you'll find the local area warm, welcoming and perfect for families.
5: Stunning beach views from your villa
Northern Crete boasts spectacular mountains and coastal views. Not only are some of our Villas in walking distance of Almyrida beach, but also include spectacular sea views from the property itself.
Occupying an elevated position means you've got unique access to some of the most magnificent scenery of the region. There's nothing quite like having a view that stretches far and wide across the sea, with a beautiful sunset and a favourite tipple in hand!
Crete Holiday Villas Near Alymrida Beach
At Crete Escapes we offer a great choice of holiday villas with pools, as well as flexible arrival days and length of stays. Here's our handpicked selection of villas within walking distance of the beach, some just a 10-minute walk from Almyrida beach …
Plaka, Nr Almyrida
Villa Xanthe is an airy, spacious villa, perfect for holidaymakers wanting accommodation close to amenities. The villa is in a quiet spot less than 10-minutes walk to the charming village of Plaka.
Almyrida
Close to Almyrida, Villa Dorsey is a comfortable villa standing in a large plot with a private pool and mature gardens. The surrounding area is very peaceful and picturesque with olive groves, vineyards and fruit trees and yet within 10 minutes walk you can be in the bustling seaside village of Almyrida.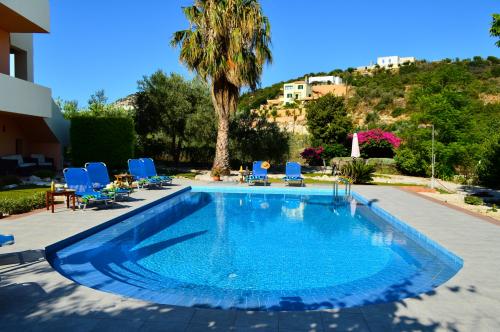 Plaka, Nr Almyrida
Villa Andromahi is perfect for those looking for privacy and sea views. It is situated in the village of Plaka, just a small walk to the village's tavernas, bars and shops and only 15 minutes walk to the beach at Almyrida.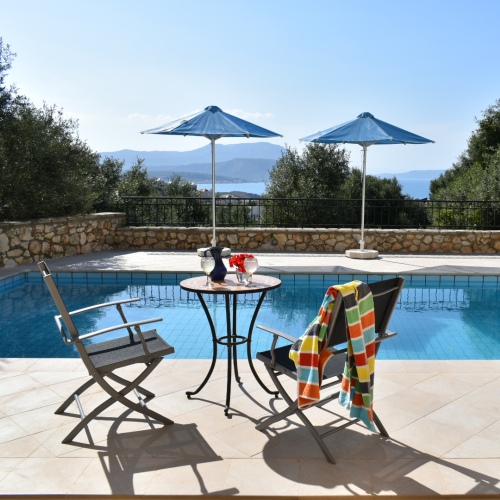 Plaka, Almyrida
Located only 15 minutes walk to the village of Plaka with a market and tavernas; Villa Diktynna has a walled garden and countryside views towards the Akrotiri peninsula.
Kera, Nr Almyrida
Recently refurbished internally, The Aegean Blue Villa sits on an award winning development right opposite the beach at Kera with breathtaking panoramic views. Situated a 15 minute walk from Almyrida and its beaches, tavernas and amenities.
Plaka, Nr Almyrida
This well equipped villa has been completely re-furbished and visitors will now find a more comfortable and modern interior. It is close to the centre of the village of Plaka and only 15 minutes walk to the beach at Almyrida.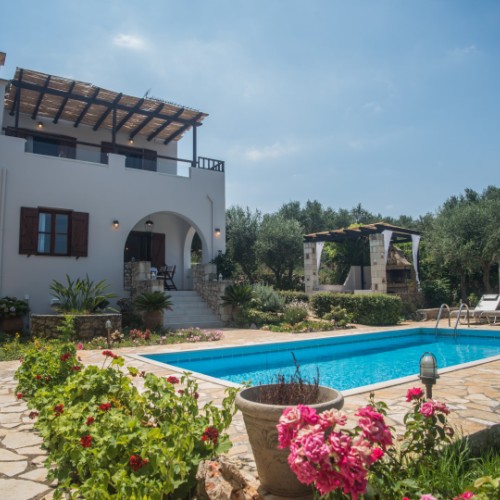 Kera, Nr Almyrida
Villa Icarus is on the Aegean Blue development in a wonderful location opposite the little beach at Kera, between Kalives and Almyrida; it is approximately 15 minutes walk into Almyrida or Kalives from the villa.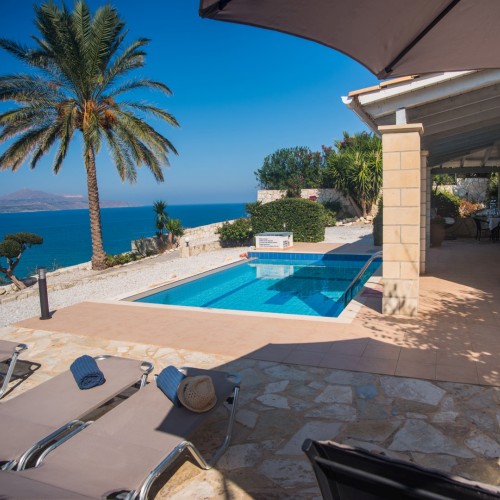 Check availability and use our secure online booking system now to find fantastic discounts on selected villas and dates. Book now!