The Village of Kournas: A Little Slice Of Heaven
Posted on Thursday 22nd September 2016 by Crete Escapes
Each year, we are asked about the lesser trod areas in Crete , where the intrepid traveller can experience the more traditional side of the island. There are so many beautiful and unspoilt areas in Crete and we are always keen to share these lesser known towns, villages and natural wonders with our clients.

Perhaps one of the loveliest areas of Crete is the pretty, traditional village of Kournas – located just 8km from Georgioupolis, in the foothills of Mount Dafnomadara. This beautiful place remains largely unaffected by tourism and is steeped in history. Think charming old houses, an ancient village square and idyllic little tavernas serving authentic Cretan dishes.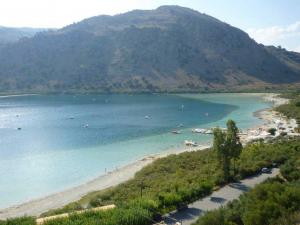 Just 4km from Kournas lies one of Crete's most incredible natural wonders – the only fresh water lake on the island – Lake Kournas. For those travelling with young children, this is a perfect day trip due to the safe shallow waters and great opportunities for paddling and exploring. It is also possible hire a pedal boat out to visit the turtles and crabs of the lake which can be a fascinating experience! There is plenty of parking, several little tavernas serving delicous cretan cuisine and a few shops selling fabulous hand crafted goods.

Although there is an abundance of beautiful beaches on the island of Crete, it is very worthwhile to experience the true beauty of Lake Kournas for yourself with its azure waters and dramatic mountain backdrop. A top tip would be to park in the second parking lot as there are plenty of sunbeds and umbrellas here to shield you from the midday sun!

Holidaymakers staying close to Kournas will be lucky enough to experience both Lake Kournas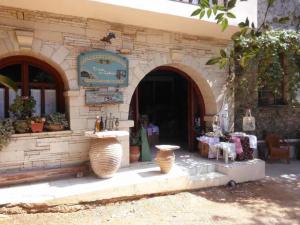 and the charm of this sleepy village as well as the wonderful amenties and tourist facilities which can be accessed in nearby Georgioupolis. If you are looking for a villa in Crete that is located close to Kournas, we have a stunning property which is situated in very easy distance of the village - the majestsic Aloni House. Perfect for large groups or multiple families.

For those yearning for a more thriving spot, Villa Avye is located near to the more bustling Georgioupolis but still in close proximity to Kournas, as well as Rethymnon which boasts some of the best stretches of sand on the island!

A villa holiday in Crete is quite something to experience. With the freedom of your own property comes the opportunity to cook for youself with an abundance of fresh vibrant produce from local markets. Dinner under the stars and lunch time sea food BBQ's can be combined with evening trips to old towns and ancient harbours. See what the beautiful City of Chania has to offer or find out more about the splendid walks that can enjoyed around the island.

However you wish to experience Crete, by it in a sea view villa or a peaceful rural retreat – do feel free to speak to our experienced team here as we will be delighted to advise you on any aspect of your holiday.