Sample The Delights of Beautiful Chania
Posted on Wednesday 7th September 2016 by Crete Escapes
As one of the oldest cities in Crete, Chania is an enchanting place to visit with endless cobbled streets, traditional architecture and a charming old Venetian harbour.
Chania is the closest City to most of our villas, meaning that for those with a car - lunches, evening meals and romantic strolls can be enjoyed in the beautiful old town before returning to a peaceful rural retreat for a wonderful nights sleep.
About 70km west of Rethymno and 145km west of Heraklion, Chania lies on the north coast of Crete and is in close proximity to many wonderful beaches. Perhaps one of the best to visit is Chryssi Akti, also known as Golden Beach, which is famous for its crystal waters and beautiful sand.
Known as one of the most picturesque cities in Crete, Chania welcomes thousands of visitors every year and many return time and again to enjoy the huge variety of things that this beautiful pace has to offer.
With Chania as your base, many wonderful excursions can be enjoyed to discover the delights of the region such as the Samaria Gorge, the exquisite Elafonissi beach and maybe even a day trip to the stunning island of Santorini.
West of Chania lies Balos Lagoon which is something quite extraordinary to behold. The turquoise waters will take your breath away as will the wild and natural beauty of the area. Interestingly, Prince Charles and Princess Diana used to visit this sight on their private yacht and it continues to be a popular spot for the modern glitterati!
Shopping in Chania town is a rich and varied experience offering visitors an endless choice, from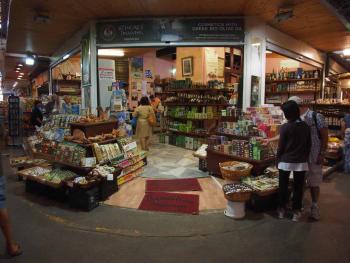 colourful trinkets to high end goods. The colours and smells of Chania's very own large roofed market are fabulous, making it a definite must-see for holidaymakers. On the many fish stalls you will find a wide variety of the freshest seafood - perhaps something to rustle up on the BBQ for lunch or dinner when you return to your villa. The olive oil is also of excellent quality here – in fact, you will find everything you need to recreate your very own al fresco Cretan feast under the stars!
However, should you get a little peckish during your stroll around the market, there are some fantastic family run eateries here which offer excellent Greek food and generous pours of local wine!
Chania's delightful old Venetian harbour is the perfect spot for breakfast, lunch or dinner. Why not enjoy a pre dinner drink here and watch the romantic sunset before strolling to the magnificent and well preserved light house. A top tip would be to walk behind the well trodden tourist area towards Nea Chora to enjoy the full force of the incredible sunsets and views here.
Many daily boat trips can be enjoyed from the harbour including glass bottom boat experiences and snorkelling excursions for the whole family!
The majority of our beautiful Villas in Crete are positioned around Chania, making it the perfect base from which to explore the region.
Call us today on 0330 111 0061 if you would like to discuss villa rental in Chania or indeed any aspect of your holiday. We pride ourselves on offering a personal service to our clients and will be delighted to be of use when it comes to planning your villa holiday to this spectacular island. Ours are amongst the finest properties in Crete, in-keeping with everything you envisaged for your dream holiday.