What Are The Best Places to Visit in The Georgioupolis Area?
Posted on Tuesday 10th December 2019 by
Located 35km east of Chania is the traditional Cretan village of Georgioupolis. Offering its visitors a laid-back and relaxing experience, holidays here are perfect for groups of friends, families and couples alike. The village itself has 1.5km of white sand beach, green countryside and is well located within reach of many other tourist attractions. Below is a list of things you can do to make the most of your trip to Georgioupolis.
Spend some time in Georgioupolis town square:
Amongst the Eucalyptus trees in this small seaside village lies the lively town square of Georgioupolis. Lined with restaurants, tavernas and bars, the square is a popular attraction for both locals and first-time visitors. It is also an excellent place to do some shopping, with plenty of jewellery and souvenir shops, as well as a weekly market. Just a short walk from the square is the white sandy bay of Kalyvaki, well equipped with sun loungers and parasols where you can relax and swim. There are also several beach bars here for you to enjoy dinner or drinks with a view of the bay.
Visit Crete's only freshwater lake, Lake Kournas:
Set against the stunning backdrop of the mountainous Dasos Asfendou Kallikrati national forest, it's easy to see why Lake Kournas is a popular attraction. Here you can take a dip in the warm turquoise waters or simply soak up the sun on the white sandy beach and for the more energetic visitors, kayaks and pedalos can be rented from the beach. Many people choose to take a picnic lunch on their trip to the lake, however there are also plenty of tavernas along the waterfront serving an array of traditional and international food. Another attraction to Lake Kournas is the local wildlife; the lake is a great place to do some bird spotting, and if you're lucky you may even see the eye-catching blue Kingfisher. The water is also home to small fish who will gently nibble at the dead skin on your feet – a beauty treatment you usually have to pay for!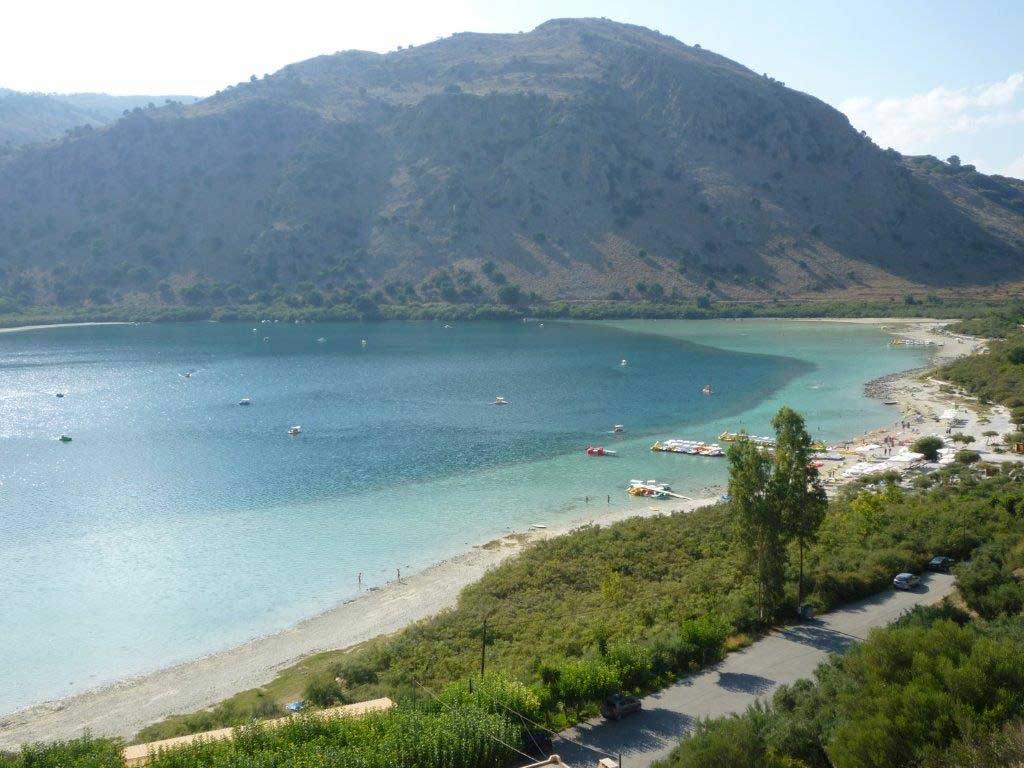 Ride through the woods or gallop along the beach:
Make the most of the coastline and countryside in Georgioupolis by visiting on horseback. Zoraida's Horse Riding Centre offers rides 3 times a day at 3 difference skill levels, ensuring all abilities are catered for. You have the option to join rides through the neighbouring woods or enjoy a swim in the sea with your horse. Combine two Georgioupolis highlights by riding through the olive groves to visit Lake Kournas.
Take a day trip to neighbouring villages – Remthymno or Chania:
Both accessible by less than an hour's car journey, Remthymno and Chania are perfect day trip destinations to explore more of Crete's character and charm. Remthymno offers its guests a laid-back, romantic experience enriched with history and architecture. The Venetian harbour is a must-see in this town and a perfect place to sit and enjoy a coffee or eat an authentic Greek meal in one of the many restaurants and tavernas that line the water's edge. Be sure to visit the impressive 16th century Venetian Fortress just a short walk from the harbour. From here you can enjoy panoramic views of the town and port below as you walk around the largest fortress in Crete. Remthymno's Venetian-Ottoman history is well preserved, but the town also offers a contemporary area along the beach front where you can visit modern restaurants, cafés and bars.
If you're looking for somewhere with a bit more of a buzz, the vibrant city of Chania is just the place for you. Here you can visit the local museums and churches, wander through the Old Town's Venetian, Turkish and Byzantine architecture and shop in some of the local craft shops in the centre. Chania also hosts an indoor market where you can pick up delicious local products such as cheese and olives, and in the summer months some vendors sell souvenirs for visitors to take home. Limnoupolis Water Park just outside of Chania is a great attraction for a family day out. With a large pool, water slides and an artificial lazy river, the water park is a great day-trip option for thrill seekers.
Visit the traditional villages of Vamos or Gavalochori:
For those who are interested in local history and architecture, a trip to either Vamos or Gavalochori are a great way to spend an afternoon. A short 20-minute drive will take you to Vamos, blissfully located on the foothills of 'The White Mountains'. This village is home to old stone buildings and cobbled streets, giving its visitors an authentic feel for Cretan village life. The town also has a couple of cafés and tavernas as well as a bakery along the main street – perfect for lunch.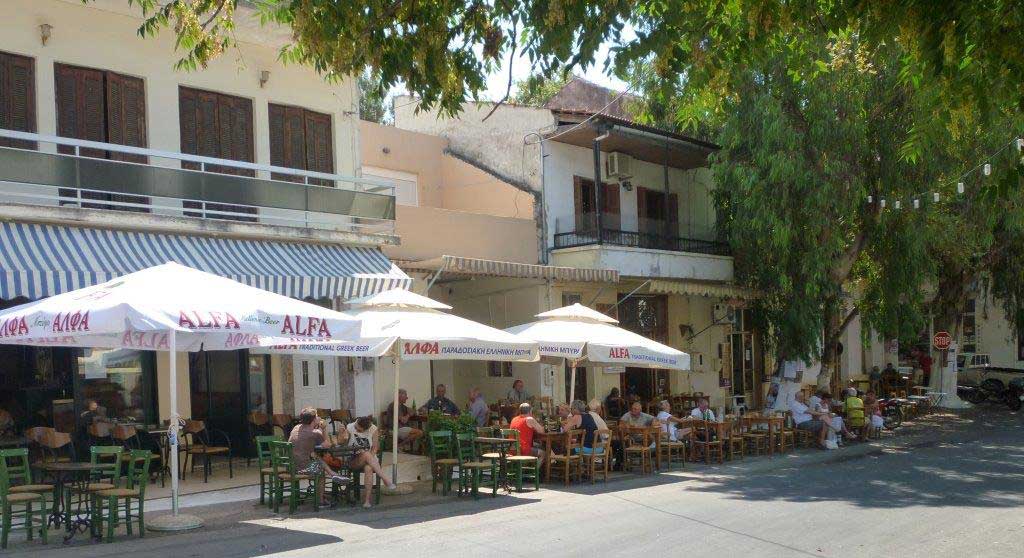 The village of Gavalochori is equally steeped in Roman and Venetian history and culture. The best way to enjoy the village is walking through the cobbled streets and enjoy the vibrancy of the bougainvillea and terracotta roofs. Again, this village has plenty of interesting Venetian architecture, but one not to miss is the 18th century olive oil press, a pre-industrial mill that was restored by the Greek Ministry of Culture. While in Gavalochori it is worth visiting the folklore museum, which itself is hosted in a beautiful renovated stone-arched building, here you can learn all about this working village.
To view our villas in Georgioupolis and surrounding areas, click here.