Villas with Pools
Posted on Wednesday 12th October 2022 by
Why book a Cretan Villa with a Pool?
Whether you are a family looking to splash about in the sun playing games or a couple wanting an early morning/late night dip, there are countless reasons to book a villa with a private pool!
Amongst our many villas are our 25+ properties equipped with a private pool` giving you ample options on price, style and local amenities to choose from.
This blog will take you through a number of our top picks to give you an idea of what your future Crete Escape could look like…
Villa Hibiscus - Kokkino Chorio, Nr Almyrida
Our First Villa is none other than Villa Hibiscus, located down a quiet lane on the edge of the village of Kokkino Chorio. It's beautiful exterior with vibrant Bougainvillea
will help you to unwind before you've even entered the property.
The villa offers beautiful sea views from both its gorgeous balcony as well as from the pool itself, perfect for a swim with a view.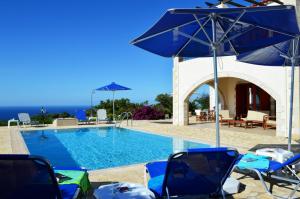 Villa Hibiscus is situated in a great location, being just a 25-minute walk to the local village with a taverna and shop, whilst still being private on a large, well-maintained plot.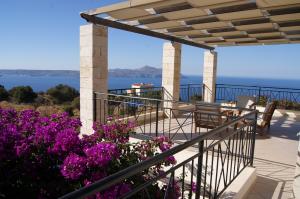 Villa Icarus - Kera, Nr Almyrida
Another Villa sporting amazing views from its own private pool is Villa Icarus, located on the Aegean Blue development right opposite the little beach at Kera.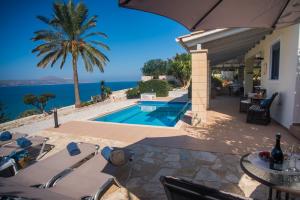 This extremely well presented, modern villa has 3 bedrooms and can sleep up to 6 people, making it ideal for large families or group trips!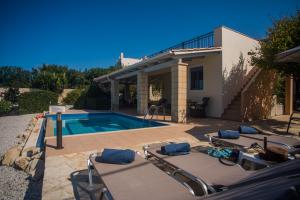 Villa Icarus has been equipped and furnished throughout with all the modern amenities you could need such as electronic entertainment, yet still in keeping with its classic exterior design. Patio doors from the lounge open up directly onto the pool terrace and the wonderful sea views across Souda Bay.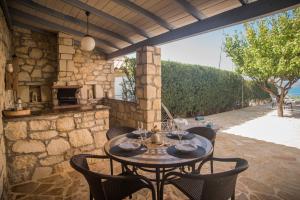 Villa Thio Koritsia - Kokkino Chorio, Nr Almyrida

Villa Thio Koritsia is a luxurious feeling and stunning looking villa situated in a quiet but not remote position near the village square of Kokkono Chorio.
Coming with spacious terraces surrounding both the villa and the infinity pool, the villa is very stylish with exposed wooden ceilings which complement the pale stone that was used to build the villa.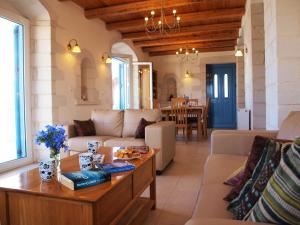 Not only is the Villa beautiful but so are the views offered, with sea views towards Almyrida and across Souda Bay to the Akrotiri peninsula.
The Bay Tree Villa - Kokkino Chorio, Nr Almyrida
The Bay Tree Villa is located in a superb private plot above the village of Kokkino Chorio and has far reaching sea views over the village and the white Mountains, all the way to Souda Bay.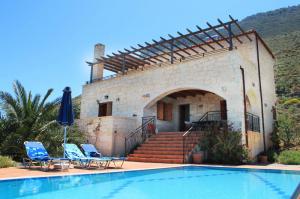 It boasts a beautiful, tiled, infinity style swimming pool, surrounded by furnished sunbathing terraces which all have glorious views across the bay.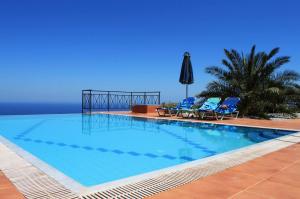 The villa itself is a stone built and traditionally styled property on the outside, whilst being open plan and modern in its interior. It possesses all the necessary furnishings, fittings and equipment you could need, as well as being fully air conditioned.
The Ocean Breeze Villa - Paleloni, Nr Almyrida
The aptly named Ocean Breeze Villa is a luxurious property located on a protected area of natural beauty which boasts spectacular sea views towards Octopus Bay.
Situated off a short track leading to Octopus Bay it is a quiet spot ideal for relaxing in peace but close enough to the local beaches and amenities.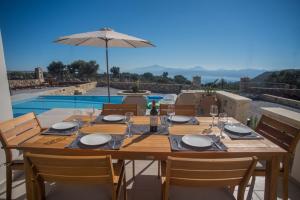 You can enjoy the beautiful views from the many balconies and terraces which cover the villa, including a generous pool terrace surrounding the private infinity pool.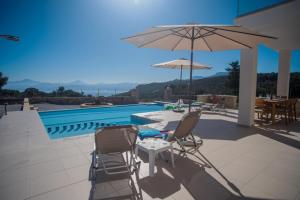 These are just a few of the stunning properties from our Villas with Pools selection– but there are plenty more, so make sure you take a look to find your next dream Crete holiday.