Introducing our latest Crete holiday villas
Posted on Wednesday 28th June 2023 by
This season, we are delighted to expand our collection of stunning private villas for rent in Crete, offering even more options for an unforgettable holiday experience in Greece. Each of the new properties boast unique features, breathtaking views, and a touch of luxury.
Immerse yourself in the beauty of Lemon Villa with its stunning views and contemporary design. Indulge in the luxury of Villa Sarah, perched on a hillside with breathtaking sunsets. Villa Kali Vista offers a peaceful 2-bedroom villa with panoramic sea views. Finally, Villa Nero is a stunning 3-bedroom villa in Kefalas, Crete, offering breathtaking mountain views.
In this guide, we showcase the four most recent villa properties we have available for rent through Crete Escapes. Read on to find out more and choose your perfect retreat for a last-minute Crete getaway or plan for a future break with our latest villas.
Lemon Villa
Lemon Villa is a truly enchanting retreat nestled in the idyllic landscape of Crete. With its stunning location near the sandy beaches of Almyrida and Georgioupolis, this newly added property is a haven of tranquillity and natural beauty. Boasting three bedrooms and two bathrooms, the Lemon Villa offers spacious accommodation for families and groups seeking a memorable holiday experience.
Step inside this exquisite villa, and you'll be greeted by a modern and contemporary interior design that perfectly complements the surrounding pale stone walls. The open-plan living, dining, and kitchen area provides a seamless flow between the different spaces, allowing for relaxed socialising and comfort. Sink into the cozy lounge area with its comfortable sofas, woodburner, and large flat-screen TV, creating the perfect ambiance for relaxation and entertainment.
The Lemon Villa also excels with breathtaking vistas from the spacious balconies and terraces, where you can soak up the mesmerising views of the pool, garden, and the magnificent landscape beyond. The villa's elevated position ensures a constant view of the captivating sea and countryside vistas, allowing you to connect with nature and experience true serenity. The well-planted garden features a private pool with easy access via Roman steps, offering a refreshing escape from the Mediterranean sun. Multiple seating areas, including a covered terrace and a raised covered space with sunbeds, provide ample options for outdoor relaxation and al fresco dining.
With its tranquil location and close proximity to local amenities, the Lemon Villa presents an ideal retreat for those seeking peace, privacy, and convenience.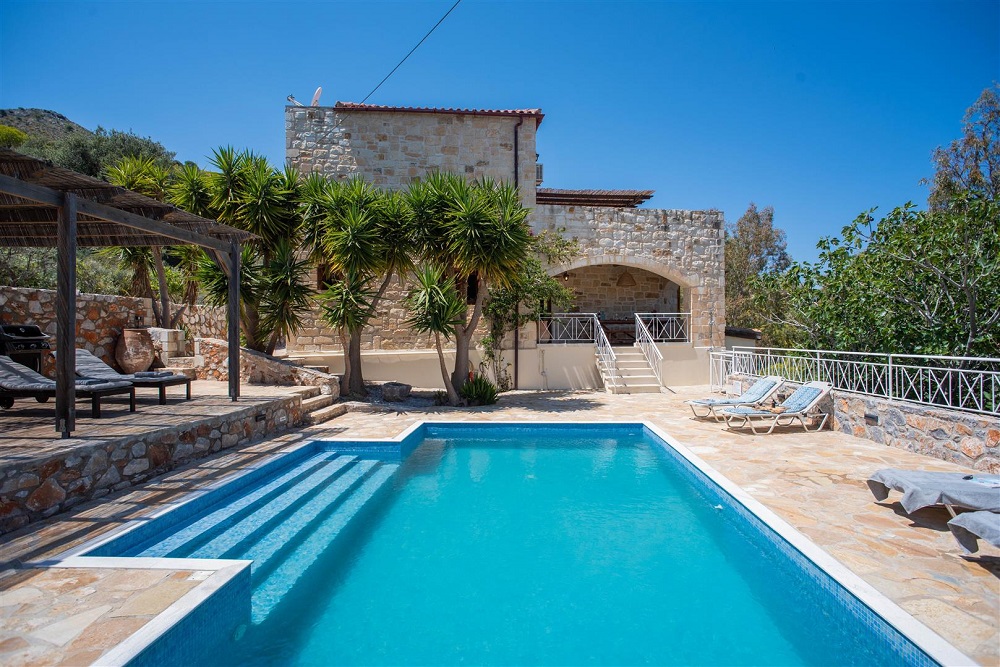 Villa Sarah
Experience the beauty of Crete in style with Villa Sarah, a new addition to Crete Escapes' collection of private villas for rent. Perched on a hillside, this stunning villa offers uninterrupted views of Souda Bay, the White Mountains, and the picturesque countryside. From its elevated position, guests can indulge in breathtaking sunsets and marvel at the twinkling lights of nearby villages. With three bedrooms and two bathrooms, Villa Sarah provides a peaceful and comfortable retreat, just a short 7-minute drive from the local amenities of Plaka.
Step inside Villa Sarah and be captivated by its modern and airy interior. The tastefully furnished living and dining area boasts large picture windows and doors, ensuring that the magnificent views are always within sight. The villa's outdoor spaces are equally impressive, featuring extensive sunbathing terraces, a large private infinity pool, and a fantastic outdoor kitchen and BBQ area. Whether lounging by the pool or enjoying a meal al fresco, guests will relish the perfect combination of luxury and relaxation that Villa Sarah offers.
With its breathtaking views, luxurious amenities, and serene ambiance, Villa Sarah promises an unforgettable getaway on the enchanting island of Crete.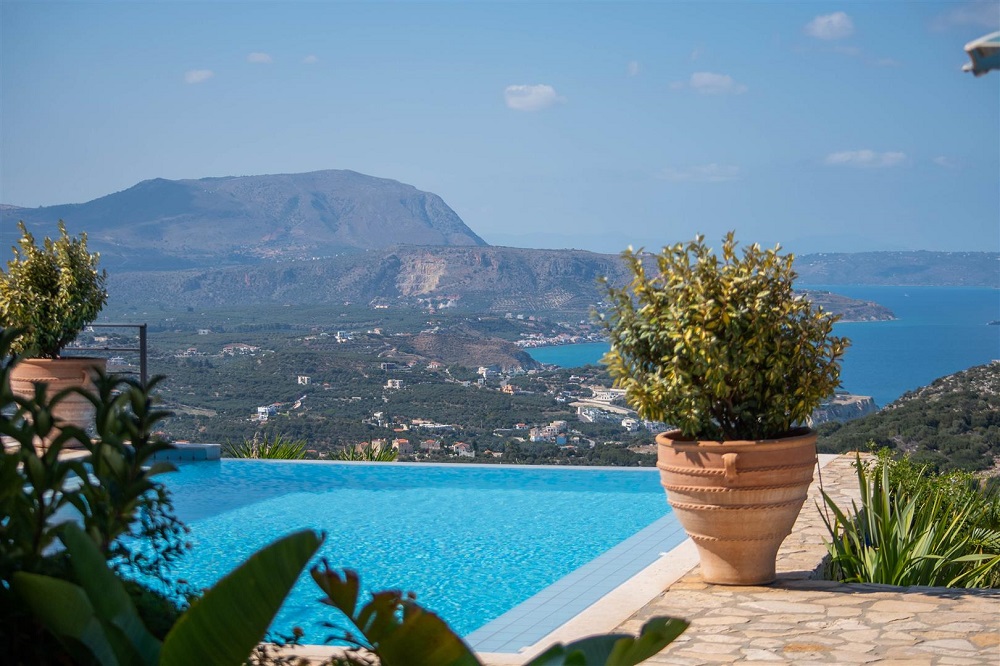 Kali Vista
Villa Kali Vista is a charming 2-bedroom villa located on the outskirts of Kokkino Horio, Greece. Bookable via Crete Escapes, this newly added villa offers a serene retreat with stunning views of Souda Bay and The White Mountains. Ideal for couples or families of up to six, the villa features comfortable furnishings and a spacious layout.
The bedrooms are situated on the ground floor, providing a naturally cooler environment during the summer months. The villa is fully air-conditioned and tastefully furnished, offering all the amenities needed for a self-catering holiday. Upstairs, the light-filled living/dining area opens onto a covered terrace with panoramic sea views, perfect for enjoying memorable sunsets.
Externally, Villa Kali Vista boasts a fabulous swimming pool and ample outdoor seating for dining and relaxation. The surrounding garden showcases colourful plants against the backdrop of the Mediterranean.
With its tranquil setting and convenient location near Kokkino Horio and nearby amenities, Villa Kali Vista is an ideal choice for those seeking a peaceful and well-equipped getaway in Crete.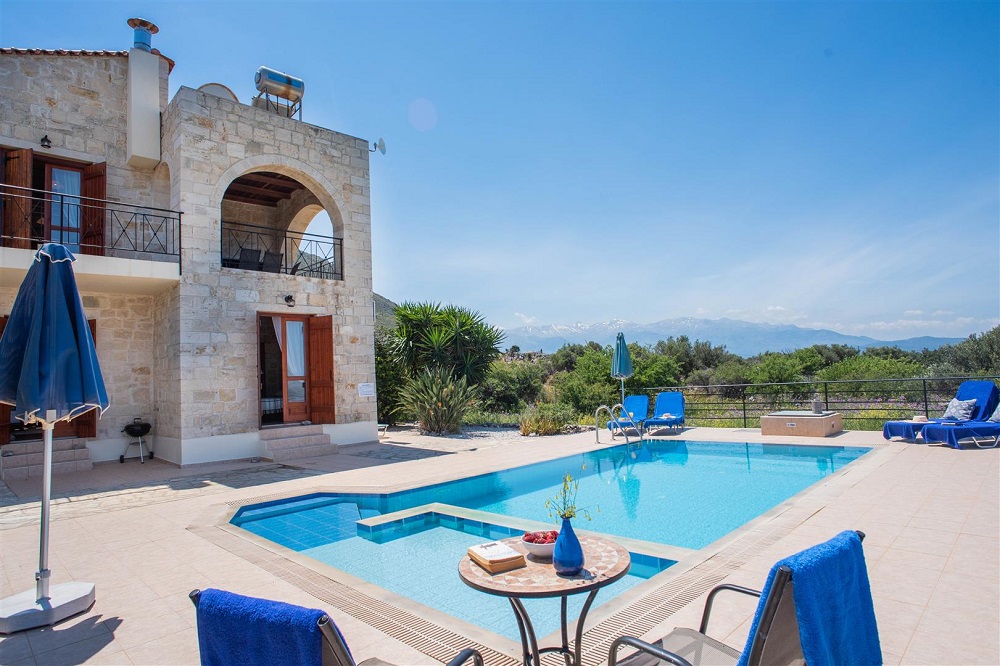 Villa Nero

Villa Nero is a stunning and popular 3-bedroom villa in Kefalas, Crete. Located above its own olive grove, it offers breathtaking mountain views from its spacious terraces and swimming pool area.
The villa features a contemporary open-plan living area with a stylish L-shaped sofa, dining table, and a fully equipped kitchen. The three double bedrooms are spacious and air-conditioned, each with its own en-suite shower room.
The master bedroom has a large terrace overlooking the pool and mountains. The villa's extensive outdoor space includes covered terraces, a garden, and a private pool area with sun loungers and a dining table.
Enjoy a serene and picturesque stay at Villa Nero, close to local amenities and the sandy beach of Almyrida.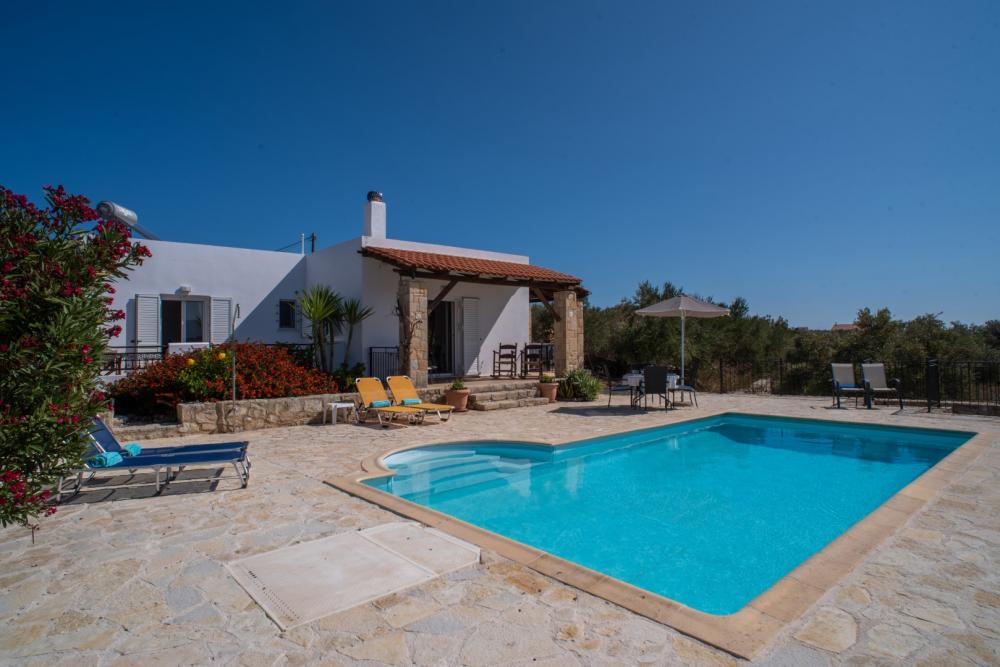 Check availability and use our secure online booking system now to find fantastic discounts on selected villas and dates. Book now!