What Can I Expect From A Holiday to Kokkino Chorio?
Posted on Wednesday 8th February 2017 by Crete Escapes

Kokkino Chorio is a village in the Apokoronas area of Crete, and where many of our stunning villas are situated. It is famous for the part it played in the 1964 filming of "Zorba The Greek". Funnily enough, most of the village's inhabitants at that time took part!
Since 2000, the village has grown as visitors from Northern Europe have realised its charms and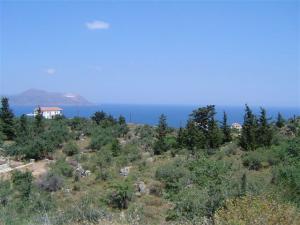 appreciated the outstanding views and beautiful sunsets across Souda Bay. New houses and villas began to be built and their owners started to rent them to adventurous holidaymakers who wanted to savour the real Crete. Back then the village had a traditional glass workshop, just one taverna and no shop but Plaka, a 5 minute drive away had a couple of good tavernas and a well stocked shop for daily needs. Almirida, another couple of minutes drive offered a safe, sandy beach with few facilities and a low key night life.
Crete Escapes was established in 2004 with a handful of properties for rent including the founder's one bedroomed house in Kokkino Chorio. The next few years, from 2006 - 2009, saw a mini building boom which enabled Crete Escapes to expand by adding some of the best new villas to the website. One of the main factors that influenced this was the space and privacy of the area which is why we feature a large number of villas in Kokkino Chorio as they are generally built on sizeable plots of land of around 2,000m2 (approx half an acre) and 9 times out of 10 have glorious sea views.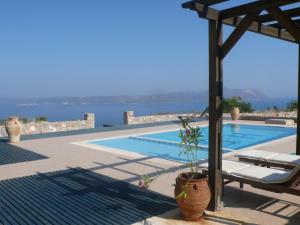 As more holidaymakers were attracted to the area by these new properties with up to date facilities, private pools and gorgeous views - so too the facilities in the area expanded. Kokkino Chorio still has the glass workshop which you should try to visit during your stay; you may recognise some of the pieces from your villa!
The village now can also boast 3 good tavernas and an excellent little shop. Nearby Plaka can offer a different taverna for every night of a one-week stay and a mid sized supermarket selling a wide variety of goods including fresh fruit and veg.
Less than a 10 minute drive from Kokkino Chorio is the pretty seaside town of Almirida which now has a mini market, a super deli, a lovely bakery, a wine shop, a couple of gift shops and a wide choice of tavernas lining the sea front. Night life is still low key making it a popular choice for families and couples. Eating out at one of the excellent tavernas is one of the main attractions of a holiday here with prices well below what you would pay in Northern Europe and a fabulous seaside atmosphere. You will find the vibrant tavernas full of locals and tourists alike enjoying the wonderful Greek food that Crete is renowned for.
You may have good intentions of seeing some of the archaeological sites, visiting one of the many museums or exploring the quaint streets for a bit of shopping in nearby Chania but winding down and chilling out around the pool or on the golden sands of Almirida will be high on some people's lists. The sea is very shallow here and therefore it warms up to a very pleasant temperature. These days you can hire sunbeds and umbrellas on the beach, watch the novice surfers trying their hand at wind surfing or book a trip to one of the nearby caves with Dream Adventures boat trips.
Away from the beach you can hire a bicycle and if you're energetic attempt some of the hillier terrain behind Almirida. There is also a bus service from Almirida to Chania and return. Along the coast is the larger resort of Kalives where life goes on all year round . There are lots of small grocery shops here and the largest supermarket in the area which is at the far end of Kalives, useful for those who intend to do quite a bit of catering for themselves. Once again there are numerous good tavernas. Further afield you will find Vamos which is the main village of the region with a health centre, the "town" hall, a police station and a tourist information office (as well as good tavernas) . Lots of the old buildings in Vamos have been sympathetically renovated over the years.
Georgioupolis is the largest resort in the Apokoronas region and a pleasant 30 minute drive from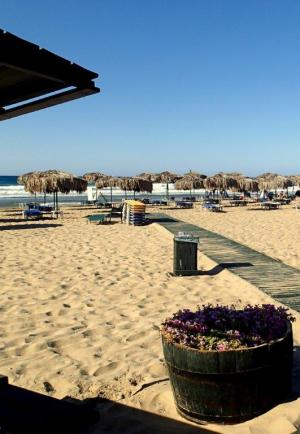 Kokkino Chorio. It has a fairly compact centre lined with shops and tavernas . There are 2 beaches - the smaller "town" crescent shaped beach and a larger beach which stretches all the way along the coast towards Rethymnon. Close to Georgioupolis is Lake Kournas, a natural beauty spot and the only fresh water lake in Crete. You can hire a pedalo here and ride out to watch the turtles. ln between and further afield you will come across sleepy villages waiting to be explored where the local people will probably stare at you as if they have never seen a tourist before! Don't be worried, this is just the Greek way.
To sum up, a holiday here can be just what you want it to be, relaxed - the Greek pace of life is siga, siga (slowly, slowly) or more energetic with plenty to keep most people entertained for a week or two. So many visitors return again and again and again, we hope you will too.
Why not take a browse through our fully licensed villas in Crete and see if you can picture yourself lazing by one of the beautiful azure private pools this summer!