Top Reasons to Book an Off-Peak Villa Holiday in Crete
Posted on Monday 25th September 2023 by
While the summer may be the most popular time to visit Crete, there are many reasons why the quieter months hold their own unique charm. In this article, we explore the benefits of booking your Crete Escape outside of peak season.
During this tranquil period, you can enjoy the benefits of heated pools, explore the island's stunning landscapes on foot or by bike, and enjoy the comfort of 2-3 bedroom villas – which are perfect for couples travelling together.
Here are some fantastic reasons to book your Crete villa holiday during the shoulder season.
Heated Pools for All-Season Relaxation
Crete isn't just a summer paradise – many of our villas boast heated pools, allowing you to take a refreshing dip, no matter the time of year. With a heated pool, your villa becomes a perfect space for relaxation in every season, you're not limited to just the scorching summer days – you can take a dip whenever you please.
For couples seeking a romantic escape, a heated pool offers an ideal setting for a moonlit swim or a glass of wine by the poolside.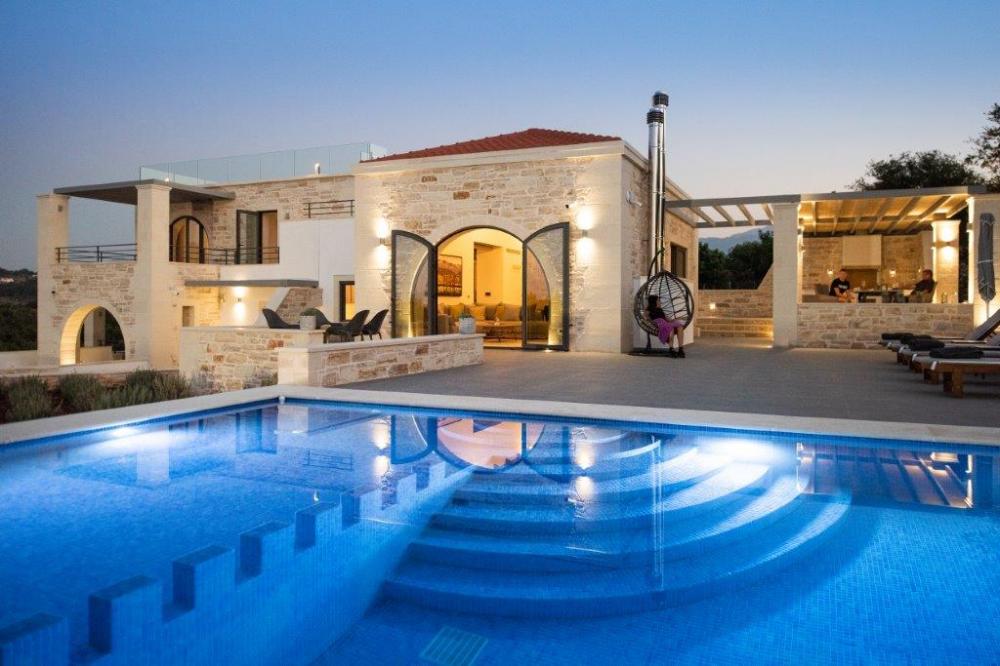 Scenic Walks and Cycling Adventures
The weather in shoulder season is often ideal for cycling and hiking, with cooler temperatures making outdoor adventures even more enjoyable. Discover hidden trails, ancient ruins, and breathtaking vistas while exploring at your own pace.
In the northwest region of Crete, you'll find a treasure trove of hiking trails that wind through the picturesque landscapes, offering unforgettable views of the Samaria Gorge. Cyclists can venture along the scenic coastal routes, taking in the sights of Chania's Old Venetian Harbor and the surrounding countryside.
Whether you're seeking a leisurely stroll or a cycling excursion, the shoulder season in Crete opens up a world of exploration.
Yoga Retreats and Wellbeing Getaways
Crete is a haven for wellness seekers, and the shoulder season offers a beautiful backdrop for yoga retreats and wellbeing getaways. Stretch out by the pool at sunrise or meditate while listening to the tranquil sounds of nature.
The privacy and seclusion of your villa provides the perfect space for group yoga sessions, meditation, or holistic wellness workshops. The milder climate allows for comfortable outdoor activities and experiences, making Crete a superb choice for your next yoga or wellbeing retreat.
Tranquil Escapes for Couples and Friends
If you're seeking a peaceful break without the hustle and bustle of summer crowds or looking for a romantic getaway, the shoulder season is your answer. Enjoy a more relaxed atmosphere, uncrowded beaches and the chance to experience the island's beauty and culture at your own pace.
Our 2-3 bedroom villas are perfect for couples travelling together or friends seeking an unforgettable getaway. Share the experience of a luxurious villa with all the comforts of home, while still having plenty of space to enjoy privacy. Whether you're here for romance or reconnecting with friends, Crete's shoulder season is the ideal setting for creating lasting memories.
Cultural Exploration and Culinary Delights
Crete's rich history and vibrant culture are just as captivating in the shoulder season. The island's rich history by visiting captivating archaeological sites that tell tales of ancient civilisations. Wander through charming villages that retain their authentic character, where you'll have the opportunity to engage more deeply with the island's traditions and people.
One of the joys of visiting Crete in the quieter months is the chance to savour local cuisine at your leisure. Cretan food is renowned for its freshness and flavour, and the island's tavernas and restaurants are more inviting than ever when you can enjoy a leisurely meal without the rush of peak season.
Competitive Rates and Special Offers on Crete Villa Holidays
In addition to the benefits of a holiday during shoulder season, it often comes with enticing discounts such as loyalty and low occupancy discounts. These budget-friendly opportunities allow you to experience the same luxurious accommodations at a fraction of the price you'd pay during peak season.
With the money you save, you can treat yourself to even more unforgettable experiences on this stunning island. Crete's landscapes undergo a beautiful transformation in the shoulder season, with vibrant colours in autumn and fragrant gardens that bloom in spring. Capture the island's natural beauty in all its seasonal glory!
Ready to plan your shoulder season escape to Crete? Browse our stunning villa collection and discover your dream retreat today. Check availability and book now.