Why Crete Is The Perfect Holiday Destination For Couples
Posted on Friday 18th May 2018 by Crete Escapes
Couples seeking the perfect getaway need look no further than Crete, an island catering for all manner of tastes and ages.
Spread across 3000 square miles of land are attractions both romantic and awe-inspiring, just one reason why the island continues to attract the smitten.
And for the past fourteen years Crete Escapes have helped fan the flames of budding romances and steadfast marriages alike. Indeed our selection of villas for couples provide the perfect accommodation for those seeking that idyllic break for two.
Crete is long established as one of Europe's leading holiday destinations and with good reason. Whether it white sandy beaches or historic architecture you crave, a holiday of your choosing is a plane ride away. For further information on Crete itself take a look here.
Things To Do
For the adventurous a trek through the Samaria Gorge is an unmissable one. The continent's longest canyon stands at 16km and begins at an altitude of 12500m if entering at the northern entrance. It is – predictably - a major tourist attraction that affords breath taking views to those visitors willing to work for them.
As for beaches Chania is blessed with some stunning ocean gems. In fact, Crete as a whole boasts some of the best seafront in the whole of the Mediterranean, including the mythical Elafonisi and its pink and white sand. Fittingly, the shores are decorated with accompanying bars and taverns, where dinner dates can be enjoyed amidst a beautiful backdrop.
And if it is gorgeous sunsets you seek, the Kissamos beach in Western Crete will fulfil that desire. A photo opportunity if ever there was one…
The aforementioned Chania though leads the way when it comes to romantic scenery. Picturesque best describes a region blessed with beautiful alleyways and mesmeric buildings. A wonderful Venetian Port can be reached via a cute carriage ride, the final destination making for the perfect setting in which to enjoy a laid-back evening.
Elsewhere couples with a love for history have plenty to explore. Attractions include the Minoan Civilisation, believed to be the first of its kind ever organised in Europe. This site is complimented by a neighbouring palace no less.
On that theme, those taken with prestige and majesty will be delighted to learn palaces also exist in both Phaestros and Knossos. The latter was discovered by legendary archaeologist Arthur Evans in the 1900s and is rightly revered as one of the world's great archaeological locations. A hire car will get you there and back in a day.
The backstories of similarly striking monuments are best learned within the National Archaeological Museum of Heraklion, giving couples the opportunity to devour Cretan heritage if they so choose.
Chania boasts more than enough to occupy even the keenest of explorers but a quick boat ride to Sfakia should form part of any itinerary. Here the wind is stilled as the surrounding bay forms a natural harbour. As for the water itself? A deep, endless pool of blue and green, depicting a paradise on earth.
A more lavish break would take in the sights Rethymnon, towns square brimming with tavernas and buoyant bars. High end shopping is also available for those hunting a new wardrobe.
Finally Crete is attracting more weddings than ever before, with couples tying the knot in the likes of Rethymno. This medieval setting is filled with beautiful churches, set betwixt houses displaying traces of the renaissance. Dreamlike.
The aforementioned are just some of the locations and activities couples can sample in Crete. Better still they can unwind in the comfort of one of our selected Villas; Ilios House, Villa Poppy and Villa Kallisto among them.
Where To Stay
Our accommodation is set in peaceful surroundings no more than a stroll away from local amenities and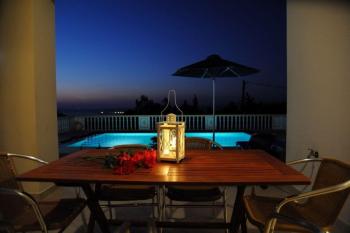 vibrant town life. Swimming pools are built-in, along with panoramic views made to inspire. With low occupancy discounts available on a number of the properties there really is nothing stopping you and your better half from planning the holiday of a lifetime. You can also realise glorious isolation, courtesy of our luxury Crete apartments.
See you soon.
Take a look here to see more on our villas for couples and please do get in touch on 0330 111 0061 if you would like more information.