A Merry Christmas To All Our Customers - Be You Past, Present Or Future
Posted on Thursday 15th December 2016 by Crete Escapes
We would like to take this opportunity to wish you all a very happy Christmas and a healthy, prosperous New Year. Or as they say in Crete - Kala christouyenna!
Our customers mean a great deal to us here at Crete Escapes and with each new year, comes the opportunity to introduce you to new villas (as well as old favourities!) and exciting new developments on this spectacular island.
Christmas is a very special time in Crete with some charming traditions. Perhaps one of the loveliest of these is the ritual that occurs just before Christmas and New Year's day, as children travel from home to home singing kalandas (the equivalent to our carols) with the strong belief that these will bless and protect each house.
Traditional values are still very much at large in Crete, particularly in sleepy and lesser known villages such as Kournas. Many of our customers are keen to experience this charming side of the island and we are always delighted to advise on how best to satisfy individual requirements!
As we approach Christmas, interest in the 2017 holiday season is starting to gain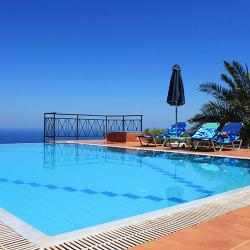 momentum and we are already taking bookings for our stunning, fully licensed villas in Crete. All airlines have now released their schedules and prices for 2017 so organised travellers are booking up the cheapest flights NOW to secure the best deals.
Why not take advantage of the holiday season to take a browse through our range of villas and secure your favourite property for 2017 before the competitive rush in the New Year? We anticipate that the majority of our villas will be fully booked for high season by the beginning of Spring - so now is the best time to select and book your own.
We have received such wonderful feedback throughout the year for both our beautiful villas and exceptional customer service. The satisfaction of our customers is at the heart of every decision that we make at Crete Escapes and we look forward to an exciting 2017.
Merry Christmas and a happy New Year!
Julie & Jan