Discover Villa Hibiscus, Our Newest Addition In Crete
Posted on Tuesday 27th May 2014 by Crete Escapes
Situated in the Chania region of Crete, Kokkino Chorio is a beautiful little village full of tradition and tranquility with a couple of tavernas and a shop; this is the perfect location for a bit of rest and relaxation.
Within Kokkino Chorio is the latest addition to our growing list of villas, Villa Hibiscus. With its own private pool overlooking the stunning Souda Bay, this is a truly unique place to stay.
Containing 3 bedrooms, 3 bathrooms and air conditioning throughout, you will be able to relax in luxury in this stylish villa.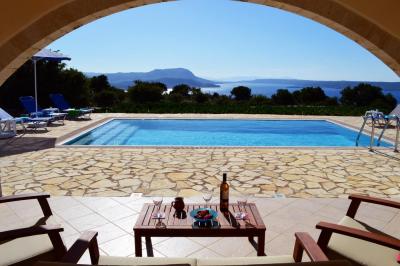 The kitchen comes fully equipped with a cooker, hob and microwave, as well as a dishwasher too; so no need to worry who is in charge of the washing up!
There is internet access via a mobile wifi unit, an iPod docking station and a CD and DVD player to keep you entertained on those balmy evenings. Unless of course you'd rather relax outside, where there are comfortable sun loungers, perfect for when you want to watch the beautiful sky as the sun goes down.
For the foodies among you, why not try some al-fresco dining – and cooking – in the evening sun with the BBQ which is also provided? Make the most of the reliable weather and enjoy the local produce.
The village also contains some great little hidden gems for those days out too. There is a glass blowing factory, with a taverna attached. The village also has a tunnel complex used in WW2, which now plays host to a commemorative memorial.
Just 45 minutes from Chania airport and a 10 minute drive from the nearest beach of Almirida, Villa Hibiscus is truly one of the most relaxing places to enjoy the Cretan sun.
If you're looking for a Crete holiday contact us online if you have any questions.
You can also use our live availability tracker to check times and changeover days for each of our properties.