Enjoy Some Late Sunshine This October!
Posted on Wednesday 12th July 2017 by Crete Escapes
With popular airlines still flying to Crete into early November, the autumn is a particularly good time to travel - especially when holidaymakers can benefit from fabulous weather, uncrowded beaches and low occupancy discounts!
The month of October is one of the loveliest times to visit Crete. With average day time highs of 24 degrees and a surprisingly warm sea temperature, travellers can still expect to swim and sunbathe, as well as enjoy a number of other activiites without the company of hundreds of tourists. Many of our stunning villas currently have availability for October so why not take a look..
Activities in October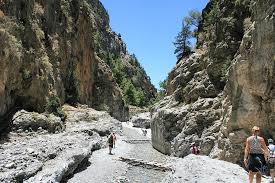 Due to the fabulous weather that is generally enjoyed in October, many activities such as sight seeing and day trips to the beach are still very much on the itinerary - not to mention lazing by your private pool.
Generally viewed as a "must do" excursion - hiking through the Samaria Gorge is an exhilarating experience and particularly enjoyable when temperatures aren't soaring into the 30's! The majesty of the Gorge has been described by travellers as a very humbling experience, with dramatic scenery and vividly coloured mountain slopes. There is plenty to witness along the way including various chapels, the deserted village of Samaria and many welcome spots to sit down and enjoy a hearty picnic lunch. There are also rest areas with WCs!
Because the official tourist season continues until the end of October, holidaymakers can still expect to enjoy fine taverna lunch and dinners throughout their holiday. Popular sights such as the old Venetian harbour in Chania town, the Fortezza in Rethmynon and of course the wonderful beaches of Western Crete should also be high on the list to visit out of peak season!
Low Occupancy Discounts
Perhaps one of the best parts of travelling out of peak season is the opportunity to benefit from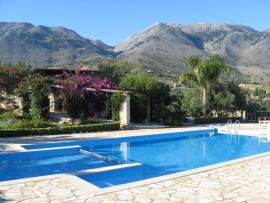 low occupancy discounts. Offered for the majority of our villas, these discounts enable couples and small families to enjoy the great facilities of our larger villas - including use of the pool and all amenities - but with access to just one or two of the bedrooms. This is a wonderful way to experience the space and luxury of a much larger villa, but at a far more affordable cost!
Travelling with Children?
Don't forget that the first half term of the 2018 school year falls in October. Why not reward the whole family with a special villa break to catch some autumn sun... With an average sea temperature of 22 degrees in October, warm sunny days and incredible food - Crete is the perfect late season get away for friends, couples and families.
You can view all of our exceptional Crete villas here or call our friendly UK based team on 0330 111 0061 should you have any questions.