Coronavirus: Returning to Crete: Holiday Diary Part 2
Posted on Wednesday 29th July 2020 by Crete Escapes

In her second holiday diary, Crete Escapes' Julie Houston shares her experience of visiting beaches and tavernas for the first time since travel restrictions were lifted.
After a quiet couple of days enjoying the tranquillity of our private villa and pool, we opted to eat out in our nearest village, Plaka.
All the usual eateries were open, but we chose our favourite family run taverna. Having read negative reports of how Brits aren't necessarily welcome right now, we were a little nervous. We needn't have been, as the owners greeted us very warmly - only without the usual hugs and kisses, sadly.
As the evening progressed the village tavernas filled up well, even if things were a little quieter than you'd expect for mid-July. There remained a great atmosphere regardless.
Tables were spread out for social distancing purposes and cutlery/condiments presented individually. Every item was wrapped by staff wearing face coverings.
It was so good to once again enjoy home cooked Cretan food, along with the obligatory raki and cake at the end of our meal. Each course was served with a friendly, smiling face, which could still be seen from behind a clear plastic visor.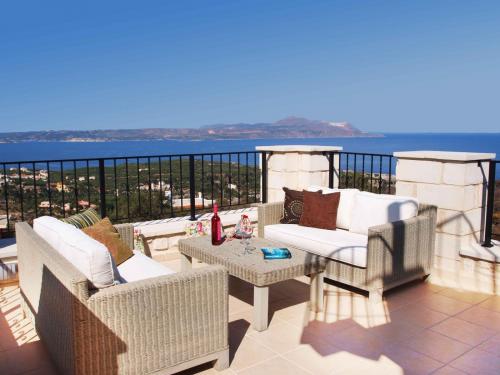 Beaches
The following day we decided a trip to the beach was in order. At Kalyves we found all the sunbeds were spaced out but there remained plenty of open spaces for those who chose to go without. We had no issues finding a quiet spot to throw down our beach towels and take a dip in the sea.
A stop off at one of the beach cafés is a must to sample the homemade chocolate cake with a delicious coffee. We didn't waste the opportunity.
Almyrida and Chania
A few days later we decided to stroll into Almyrida for an evening drink and sat with a thirst-quenching cold beer overlooking the sandy beach whilst watching the glorious sunset.
All the cafes, tavernas and shops in both Almyrida and Kalyves were open with plenty of hand sanitiser by the doorways and staff wearing masks in order to keep everyone safe.
A visit to the vibrant city in Chania followed, where we took in our favourite places; a trip down leather street, a walk along the harbour and a scrumptious lunch in one of the many tavernas to be found in the cobbled streets behind the harbour.
Rethymnon is another of our cherished locations and it didn't disappoint; as in Chania we found everywhere open, just a little quieter than usual. The wonderful Cretan hospitality we've come to expect was certainly on display.
It's also worth noting that fewer cars on the road actually enhanced the experience!
Visitors Welcome
Overall, the message is clear - Greeks are delighted to welcome visitors again despite the current crisis.
They are very health conscious but have managed to adapt to all the safety measures without compromising your holiday experience. Yes, a face mask whilst shopping (and on public transport) is compulsory but that's no different to the UK or indeed most of Europe.
Those who decide to travel in 2020 will find a beautiful island that feels very safe. As for social distancing… this is incredibly easy when staying in your own private villa with your own private pool.
Strangely, this could be one of the better years to travel to Crete, with fewer visitors allowing you to experience things you might not ordinarily be able to. For sunseekers, quieter beaches are no bad thing!
Keep up to date with the latest developments in Crete amid the Covid-19 pandemic by visiting our dedicated news page.