It's Now Easier Than Ever To Compare Villa Availability On Our Website!
Posted on Wednesday 22nd March 2017 by Crete Escapes
Our website is constantly evolving with new functionality so that our customers can enjoy the process of creating their perfect holiday!
Checking villa availability has never been easier and can be achieved in different ways. Using the 'Check Availability' box on the 'Homepage' or 'The Villas' page type in your required dates, duration and number of guests, and check availability by clicking on the 'Search' button to show all the available villas that meet your criteria.
Alternatively, using our new tool, simply click on the 'See All Villas' button to check month by month availability for all of our villas in one, handy comparison grid. This great new feature can be used to highlight short break opportunities as well as last minute
availability throughout the summer. If you haven't yet booked your summer holiday for 2017 then a quick glance at this grid will allow you to quickly pinpoint the villas and days/weeks that are still available during high season. A fantastic way to save time and get that holiday booked!
What's more, customers can be in complete control of their crete holiday villa search by filtering for required features such as a heated pool, sea views or BBQ. It's also possible to tailor your villa search to show properties which are particularly secluded or of a "premier standard" for that extra bit of luxury!
It's never been easier to search by villa size - so couples, families and larger groups can be instantly directed to the villas that will best suit their requirements. Customers can also filter their villa selection by price to ensure that their chosen property will fall within a certain budget.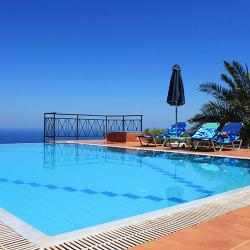 We understand that the process of researching your perfect villa in Crete can take a little time - so to make things we also have a "my shortlist" facility on the site that allows visitors to select properties that they are interested in. With so many locations, property features and personal requirements to consider, the shortlist facility is a great way to highlight the villas which initially catch your eye and then compare them later in more detail...
A villa holiday in Crete will allow you to savour all of the wonderful aspects of this island without the confines of a hotel itinerary. Spend time in the local markets and select the freshest of seafood and most colourful fruit and veg for a sunset BBQ... Sample the extremely good local wine in the comfort of your own spacious villa, without the background hum of a busy taverna or hotel restaurant.
Having made a booking online, you will be given access to the "guest login" section of the site which contains a very helpful FAQs section as well as other useful documentation. Customers can use this section of the site to view their booking, pay their remaining balance and print off travel paperwork.
With sugar sand beaches (some of which are pink!) and glorious weather, Crete is an exceptional holiday destination and also one which is incredibly economical when compared to Northern European resorts. Expect a meal for two with local wine to cost no more than 30 Euros with many tavernas offering free bread and tzatziki as well as delicious complimentary desserts.
We hope that you enjoy using our website to plan your Crete escape and would be delighted to discuss your holiday requirements. Should you have any questions simply call us on 0330 111 0061.