Introducing Our Stunning New Property: Villa Skye
Posted on Wednesday 15th November 2017 by Crete Escapes
Ideal for a family or two couples - the latest addition to our villa portfolio is a fabulous property situated in the pretty village of Kokkino Chorio.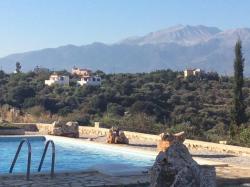 Villa Skye is a charming two bedroom villa occupying an elevated position on the hillside - think stunning mountain and sea views, glorious sunsets and plenty of privacy. This property boasts a wide variety of features including a private pool, BBQ, full air conditioning and internet - meaning that you can stay fully connected to the outside world (should you wish!) and have the ability to research possible day trips and local restaurants from the comfort of your sun lounger!
A stunning furnished roof terrace offers 360 degree views of the surrounding area and fabulous sun bathing opportunities. Retreat here for some indulgent chill out time with a good book and cool drink...
The Perfect Villa For Two Couples
The accommodation is thoughtfully arranged to ensure that two couples travelling together can enjoy a high degree of personal space. Situated on a large plot of approximately one acre, Villa Skye has two bedrooms which each have patio doors opening onto a private terrace. Both rooms have a spacious wardrobe and plenty of drawer storage allowing guests to enjoy that "home away from home" feeling as they unpack.
This villa is enhanced with modern furnishings and many convenient extras including a television and DVD player (perfect for entertaining little ones during the midday sun) as well as a CD player so that evening cocktails can be enjoyed to a pleasant backdrop of music...
Large patio doors from the kitchen and lounge areas open onto an extensive terrace around the pool area so the designated chef for the night can still enjoy the views and chatter of the evening!
A Wonderful Location
Kokkino Chorio is a beautiful village that not only affords incredible views and sunsets, but also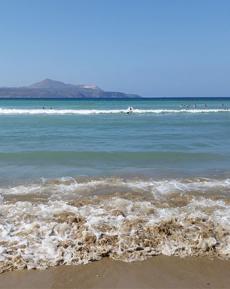 great proximity to the picturesque seaside resort of Almyrida. Less than a ten minute drive from Villa Skye, Almyrida is the perfect place to enjoy a mouth watering lunch or dinner - with the majority of restaurants being located just feet from the stunning beach.
Almyrida beach is a long stretch of soft golden sand with invitingly clear waters. Here you can enjoy a huge variety of watersports including windsurfing, snorkelling and even diving. The Omega Divers Centre offers many popular snorkelling and diving excursions - perfect for beginners as well as the more adventurous!
There are a variety of excellent shops in Almyrida selling everything from food and drink to pretty trinkets, clothing, lilos and every beach essential imaginable!
Book For 2018 With Just A 10% Deposit
As we approach 2018, many holidaymakers will begin their search for the perfect villa so it is essential that you reserve your property before the best ones go! At Crete Escapes, we make this process as simple as possible. Not only with intuitive search functions and a helpful "shortlist" facililty on our website, but also the ability to book your villa with just a 10% deposit! We have also dropped all credit card surcharges meaning that you can reserve and pay in full for your villa at no extra cost when using this form of payment.
Don't forget that many of our villas offer low occupancy discounts for non-peak bookings meaning that customers can enjoy the luxury of a much larger property (including the pool, gardens and all facilities) at a reduced cost. Find out more about our tempting low occupancy policy here. Many people are surprised to learn that the lovely months of April, May, June, September and October are all considered to be non-peak and a wonderful time to visit the stunning island of Crete.
Why not browse our full range of villas here and call us on 0330 111 0061 should you have any questions - we will be delighted to help!