Is Now The Right Time To Be Travelling To Greece?
Posted on Monday 9th March 2015 by Crete Escapes
It might not seem to be the most appealing time to travel to one of the most beautiful and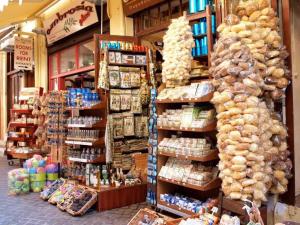 historical places in Europe but while the coming months are likely to be uncertain for the Greek people, the vast majority of tourists will be unaffected by the economic situation there, as it has been ever since the "crisis" began.
However, as someone who wants to the visit the country – should this put you off booking your holiday? Truthfully, the answer is no – and below we've listed 5 good reasons to believe us.
The media often makes things sound worse than they are - In the large Greek cities e.g. Athens and Thessaloniki, you will undoubtedly see poverty but we ask the question - Is that so different to other large cities around the world.
Crete has always been an island rich in natural resources that matter – The island can grow just about anything and everything. This, plus the beautiful sea and beaches is a huge lure for those who wish to holiday on the island. The area of Crete where our villas are situated is relatively wealthy as non-Greeks who have bought homes there in the past 10 years have contributed greatly to the local economy. This has opened up the area to tourism and holidaymakers in the region are relatively unaffected by events on the mainland.
Samaria GorgeSafe transactions - As we are in the UK we take payment in sterling and pay most of our owners in sterling so any monies paid to us are safe and not subject to any euro fallout. We are also an approved booking agent with IPP (International Passenger Protection) – so your holiday is safe with us.
If there was ever a time to visit, the time is now – the debt issue that Greece is currently suffering from will not change the wonderful hospitality and friendliness of the Greek people – if anything, it can only improve it! Your custom will be greatly appreciated and mean more to the local economy now than ever before!
Crete looks just as beautiful as it ever has – Holidays are a chance to escape the drama of your day to day life and give you a chance to relax and unwind. A holiday to Crete will offer you just that, regardless of the economic situation. The views are just as breath-taking and the villas just as comfortable. Together with a better Pound to Euro exchange rate, your pocket will be happier too!
Think it's time to book your villa? Take a look at our wonderful selection here and contact us online if you have any questions.