Get Away This Spring: Availability
Posted on Tuesday 13th March 2018 by Crete Escapes
As the spring months (supposedly) begin to set in we seem to be over the worst of the UK winter weather and can start looking forward to the summer months. However you don't have to wait until summer to have a holiday, in fact, spring time can be an ideal time to get away from some pre-summer sun, particularly if you are looking to vacate with little ones in the Easter or spring half terms.
Crete is a wonderful place to visit during the spring months and can actually be the best time to visit! The weather is pleasant and not too hot meaning the beaches are much less crowded. You can also enjoy the wonderful floral blooms of wild flowers giving Crete a splash of colour that is difficult to capture at other times of the year.
We still have plenty of great villas available during April, May and June with suitability for families, groups of friends or couples, so if you can't wait for the UK summer months to get your vitamin D fix, take a look at what Crete Escapes has to offer you for spring:

3 Bedrooms
We have a range of beautiful 3 bedroom villas with plenty of availability across April May and June, making for a perfect spring getaway!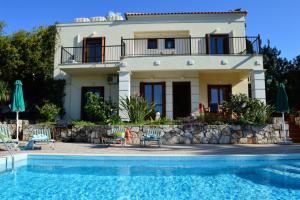 Villa Stephania for example, is located in stunning surroundings of olive groves, Almyrida Bay and the breath taking White Mountains. This three bedroom property has plenty of space inside and out with the capacity to sleep 7 people, a private pool and a gorgeous terrace on which you can enjoy the wonderful Cretan sun. The outside dining area and BBQ make for ideal alfresco dining and a great relaxation area while the little ones explore the grounds.
Similarly, Villa De Tara boasts wonderful views across Almyrida Bay and is only a 15 minute walk away from the local shops and taverna. This light and airy, well-furnished villa is perfect for couples and families alike and offers a home away from home for you and your loved ones to enjoy a spring holiday in beautiful Crete with unmatched views!
Villa Almyros, another of our properties situated close to Almyrida Bay offers a touch of rustic Crete. A stone villa with authentic interiors matched with stunning views across the Mediterranean sea. Almyros really is a hidden gem and a treat for all the family with a large private pool, outdoor dining area and an undercover terrace.
Don't worry, if you're travelling alone or as a couple, we are able to offer 15% low occupancy discount rate for all of the above villas. See here for more information on our low occupancy discount rates.
2 Bedrooms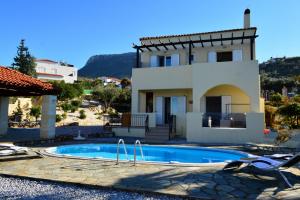 If you're travelling as part of a smaller group, we also have a gorgeous 2 bedroom villa with plenty of spring availability. Villa Arianna is popular with both families and couples and offers breath taking views that you simply won't find anywhere else. Located on the edge of Kokkino Chorio you will have the best of both worlds by being within walking distance of the local shops but also situated in a large, secure fenced plot making it perfect for little ones who want to explore! This villa, like many of our others also comes with air conditioning, a BBQ, a private pool and WiFi ensuring you have the full holiday package.
Take a look here for more information and book this wonderful villa for your spring holiday with just a 10% deposit! You can also enjoy a 10% low occupancy discount rate if you are travelling alone or as a couple.
1 Bedroom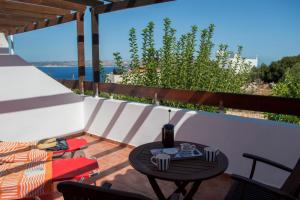 If you're looking for a romantic getaway for two this spring our stunning Ilios House is the ideal location for you. Situated in a tranquil, secluded setting on a private development at the edge Kokkino Chorio village, Ilios House has everything you need for a romantic time away. Watch the sunset on the private terrace, enjoy dinner with a sunset on the outdoor dining area or take a relaxing swim in the pool with the gorgeous Cretan sun on your shoulders. This little hidden gem will allow you to relax, unwind and enjoy each other's company in a wonderful setting.
Ilios House has plenty of availability across April May and June but be sure to book early to avoid disappointment!
If you would like more information on booking one of our villas or would like to know what availability we have for a specific villa please contact us or give us a call on 0330 111 0061. Remember, you can enjoy our low occupancy discount rates on a number of our villas and are able to book with just a 10% deposit! If you are looking to make further savings take a look at the low cost flights with EasyJet and Ryanair, particularly if you are looking to travel in the school holidays!