The Top 3 Beaches in North Crete
Posted on Tuesday 13th November 2018 by Crete Escapes
When planning a villa holiday, it's a good idea to understand where local amenities and places of interest are located so that you can plan trips accordingly. As well as being in close proximity to tavernas, shops and pretty villages - the majority of our villas are also situated within easy distance of many beautiful beaches – meaning that no compromise has to be made between the seclusion of your private pool and the lure of the sea! Crete beach villas provide the best of both!
Whether you are looking for a family friendly beach with safe, shallow waters or spectacular stretches of white sand – North West Crete is blessed with a fabulous range of beaches. Let's take a closer look at our pick of the top 3 beaches in this area.

Almyrida Beach

Perfect for families, couples and lovers of water sports! This beautiful beach is located within a short drive of our villas in Almyrida, Kokkino Chorio, Plaka and Kalives. As well as soft golden sand and gently shelving sea – this beach is lined with pretty restaurants, cafes and bars which perch on the very edge of the water offering expansive sea views. Most importantly, Almyrida's beach consistently earns the Blue Flag award by the FEE (Foundation for Environmental Education) which confirms that it is clean, safe and well equipped.
As a small fishing village that stretches across the northern coast of Crete for approximately 2kms, Almyrida offers holiday makers a relaxed and friendly seaside atmosphere with a sunset that would compete with the very best in the world. For water sports enthusiasts, the warm wind from the Mediterranean brings plenty of opportunity for great windsurfing and there are a number of beachfront services to provide you with everything you need to take to the water. From pedalos (some even with slides!) to private boat charters, the opportunity to do what you love or try something completely new is here at Almyrida beach.
If you fancy leaving the hard work to someone else, Dream Adventure Trips offers the fabulous opportunity to go on a boat tour around the stunning coastline with various stops at pretty caves and coves. The Omega Divers Centre is another excellent option for those who like to experience what lies beneath the surface of the beautiful Mediterranean Sea. Why not try a snorkelling tour with a qualified instructor and experience the beauty of Crete's sea life and enchanting underwater habitats?
An enjoyable day at the beach can be followed by a relaxing meal at one of the many excellent restaurants and tavernas that line the beach front. From the freshest of sea food to vibrant Greek salads and many more popular dishes, there really is something for everyone at Almyrida - all to be enjoyed against the backdrop of a magnificent sunset.

Simos beach, Elafonisos

Often dubbed as "one of Greece's best kept secrets" this incredible beach is straight from a picture postcard with pearly white sands and crystal clear azure waters. Visitors can even wade out to a nearby island to marvel at the uninterrupted views and sheer beauty of the location. As well as powdery soft white sand, there are also dazzling patches of pink that give Simos Beach a truly unique feel. For visitors staying in one of our villas in Chania, expect to drive around 1.5 hours to reach this famous beach but rest assured that the journey is more than worth it. Many of our customers see this as an excellent opportunity for sight seeing along the way and enjoy a lazy hillside taverna lunch to break up the journey.
As a tip, consider bringing your own sun parasol to avoid hefty prices when you get there!

Georgioupolis Beach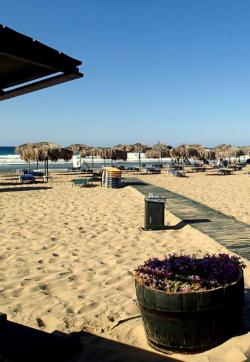 With soft, golden sands stretching almost 12 kms along the coastline, this beach is a very popular choice for those visiting North Crete. Situated approximately 42 kms east of Chania, it is within easy distance of many of our villas in Kokkino Chorio, Almyrida, Kefalas, Kournas and Plaka. A decent amount of free parking and fabulous amenities make Georgioupolis beach a popular choice for families as well as water sports enthusiasts.
Plentiful sun beds and parasols can be hired at reasonable prices with a great selection of restaurants and tavernas for breakfast, lunch or dinner! Just 3kms inland can be found the famous Lake Kournas which is the only freshwater lake in Crete and a memorable trip for all.
Due to the excellent location of our fully licensed villas, all of these beaches and many more can be experienced with great opportunities to combine journeys with other natural attractions and sights along the way. The beauty of a villa holiday is that holiday makers can be in full control of their own itinerary rather than being bound by the set meal times of hotels. With so much to see and do in Crete, visitors can plan exciting day trips and then return to their villa for a BBQ under the stars in the privacy of their own accommodation.
If you are planning your next holiday why not take a look at our beautiful seafront villas in Crete or call us on 0330 111 0061 should you have any questions. Some of the finest accommodation in Crete can become home for a well deserved week or two.