About Plaka and Kokkino Chorio
The villas that we have selected in these two pretty villages are usually in large private plots with fantastic sea views and of course - tempting private pools. If you are seeking a more traditional and laid back holiday then either of these locations would be an ideal choice. With well stocked mini markets and excellent transport links available in neighbouring Almyrida - visitors can choose to relax by day and explore by night, with a lovely selection of local tavernas to sample in the surrounding area.
Plaka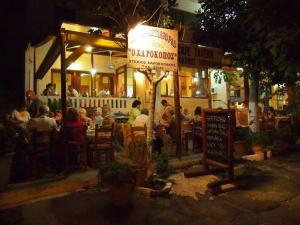 Set on the picturesque slopes of Mount Drapanokefala, Plaka lies 25 km east of Chania and belongs to the Vamos municipality along with the local villages of Almyrida and Kalives.
Plaka is still one of the most traditional villages in the Apokoronas area and as such, is perfect for holiday makers who are seeking a peaceful retreat from the more touristy resorts of Almyrida or Chania. Here you will find a charming selection of local cafeterias, bars and tavernas - many of which are set in the lovely main square of the village.
There is also a petrol station and selection of well stocked mini markets from which you can select the freshest of fruit, vegetables and meats for self catering at your villa. Expect to find the tastiest of tomatoes, cucumber, olives and feta for your very own Greek salad along with a wide selection of freshly cooked pies, bread and pastries. The majority of Plaka's inhabitants are farmers meaning that there is widespread production of olive oil and wine. Both of which can be enjoyed in local tavernas or purchased as lovely gifts to take home!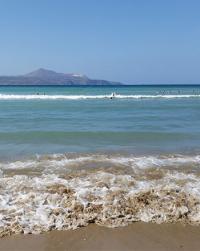 The neighbouring seaside resort of Almyrida is less than a kilometre away and happily, taxis from Plaka to Almyrida are not expensive. In Almyrida you will find not only a stunning beach with gently shelving sand and watersports, but a large selection of very good restaurants - many of which are located at the edge of the beach with glorious views.
There are daily buses running from Plaka to Chania meaning that holiday makers can choose to explore a little further west and sample the delights of this marvellous region, including the magnificent Chania Harbour and its romantic cobbled streets.
If you are looking for a peaceful, traditional Greek break, then selecting a villa in Plaka is a fine choice for couples and families alike.
Kokkino Chorio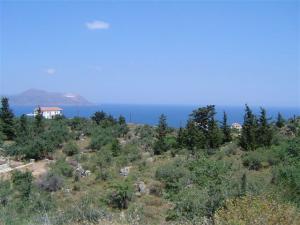 The quiet little village of Kokkino Chorio is just a few minutes drive from Plaka and has grown considerably since 2000 as holiday makers have succumbed to its charm. It was the location of the 1964 film classic "Zorba the Greek" and infact, featured many of the local inhabitants!
The peaceful atmosphere of Kokkino Chorio makes it the perfect choice for visitors yearning for some relaxation and respite from the bustling resorts of Northern Europe. Warm, sunny days here are complimented by the panoramic views across Souda Bay and the calming chatter of the cicadas in the trees...
Despite its sleepy ambience, Kokkino Chorio does in fact feature two lovely tavernas and an excellent little shop - all within a short drive of our villas located here. Expect to be warmly greeted by the locals and tempted into buying a variety of local pies and pastries cooked fresh that morning. Perfect to bring back to your villa for a relaxed lunch or breakfast.
Tip! There is a famous glass workshop here that is the perfect place to visit if you plan to buy excellent gifts or mementos for home.
It is important to remember that although quiet, Kokkino Chorio is conveniently located within a 10 minute drive of the busier resort of Almyrida - with its safe, sandy beach and fine selection of seaside restaurants. Perhaps this is why the village is so popular with holiday makers who wish to enjoy the peace and seclusion of their villa with the option to sample a faster pace of life should they wish!
Whether you choose to base yourself in Plaka or Kokkino Chorio, both villages will afford you the views, sunsets and authentic Greek cuisine (washed down with local wine!) that so many of us crave when we envisage a holiday to Crete.
Villas we have selected in these two villages are usually in large private plots with fantastic sea views.

Plaka, a sleepy village during the day, comes to life in the evening when the tavernas around the village square fill up with local residents and holidaymakers alike. There is a wide choice of food on offer to satisfy those looking for simple Greek cooking to more cosmopolitan tastes. The very well stocked mini supermarket is likely to have everything you need for self catering in your holiday villa.
Kokkino Chorio has villas with some of the best sea views in the area. There are a couple of tavernas in the village and The Retreat Taverna on the village outskirts. With a very well stocked shop for all of your every day needs we find that lots of our clients return to Kokkino Chorio time and again for the views, village amenities and proximity to Almirida and Kalives.