Villa Maria
Kokkino Chorio, Nr Almyrida
Sleeps: 4
Bedrooms: 2
Bathrooms: 2
£625 - £1125per week
Details
General Description
Villa Maria is a traditionally furnished, well equipped villa with glorious views of Souda Bay and the Akrotiri pensinsula where guests can enjoy the beautiful sunsets renowned in this area. Situated in a peaceful setting but conveniently close to the village taverna and a well-stocked shop and only a few kilometres from Almyrida with its sandy beach, waterfront tavernas and shops. The villa comprises of 2 double bedrooms and 2 shower rooms making it an ideal choice for couples or a small family.
Ground Floor
As you enter the villa you will find the fully air-conditioned, open plan kitchen/diner and lounge area to the left of the hallway. In the lounge there are two sofas, a 3 seater and a 2 seater, providing ample space for relaxing with TV/DVD and CD players for your enjoyment. The lounge area has two windows together with a set of patio doors which gives the villa a light and airy feel. The doors open on to the front terrace where guests can sit and enjoy the spectacular Souda Bay views.
The kitchen is well equipped for a self catering holiday and, with a window overlooking the pool terrace, anyone working in the kitchen can keep a watchful eye on the pool. The adjacent dining area has a dining table and chairs to seat 4 guests.
As you walk along the interior hallway you reach the modern downstairs shower room with walk-in shower, hand basin and wc. Completing the ground floor accommodation is one of the fully furnished double bedrooms with patio doors leading on to the front terrace making the most of the pretty garden and the fantastic sea views beyond.
First Floor
Opposite the top of the central staircase, with its safety handrail, is another shower room with a walk-in shower, hand basin and wc. The good-sized, air-conditioned master double bedroom is furnished with built-in wardrobes, bedside cabinets, set of drawers, dressing table, mirror and ceiling fan. A large window and patio doors open out onto a good sized, covered balcony where guests can experience the breathtaking views.
The landing area has been cleverly re-modelled to provide a utility area where the washing machine and cleaning utensils are located. Patio doors lead off the landing onto a large balcony where you will find a large spa bath, there is a pull down awning to provide privacy when using the spa bath whilst still retaining those fabulous views. The balcony is also furnished with a small table and chairs.
External Areas
Villa Maria benefits from a west facing, covered terrace to the front of the property so is an ideal place to sit and enjoy the beautiful sunset whilst sipping on a chilled glass of wine. Furnished with a large table, 6 chairs and a gas BBQ, guests have all they need for a spot of al fresco dining.
To the rear of the villa is the private swimming pool, accessed by an aluminium ladder, and set in a raised terrace (6 steps) furnished with sun loungers, a parasol for shade and a small table and chairs.
The established garden surrounding the plot allows guests to enjoy the Cretan plants and flowers in all their splendour.
There is parking for up to 2 cars on a separate plot 10m away from the villa.
Internet Access
Internet access is unlimited via a satellite system. Instructions on how to connect to the wi-fi are inside the villa.
More Information
Use the different tabs to view the villa's features and amenities, actual location and distances to the nearest beach, shop and taverna. The prices tab contains details of the weekly rate together with discount information and additional charges where applicable. You can check "LIVE" up to date, availability using the availability tab which will also confirm the price for your selected dates. If you want to book you can then follow the online prompts. Also see https://www.crete-escapes.com/booking
Holiday Rental Licence
Villa Maria is licensed for holiday rentals with the Greek Tourist Authorities (EOT). Licence number MHTE 1042K92003233801.

Amenities
General
Phone for emergency use and incoming calls
Yes (request at time of booking - FOC)
Yes (request at time of booking - FOC)
All bed/bath linen/towels
Maid service and linen change (see prices)
Yes (see prices tab for more details)
Bedrooms & Bath/Shower Rooms
Yes (x 2 - one on each floor)
Yes (x 2 - shower room on each floor)
Living Areas & Kitchen Equipment
Yes (with satellite reception - not Sky)
External
Yes (24m2 - 7m x 3.5m. Depth - 1.10m)
Outdoor preparation area with sink
Other
Yes (first floor balcony)
Map
Local Info
Chania airport -­ 45 minutes. Heraklion airport - 2 hours.
Nearest Beach -­ Almyrida­ - 5 mins drive.
Nearest Taverna & Shop - Kokkino Chorio - 5 mins walk.
NB; all times are approximate and based on average driving and walking speeds.
Prices
Deposit
10% of total rent
Pricing Notes
Prices quoted are in gbp sterling, per week, for up to 4 people occupying the villa and are not per person.
Alternative length of stays of more than 7 nights are accepted and are charged pro rata.
Prices include air- conditioning, a welcome pack, all linen/towels including beach/pool towels and maid service with linen/towel change.
Maid service with linen/towel change** - 1 week stays - end of let clean and 2 week stays - at the end of week 1 + end of let clean. For stays that do not fall into a 7 or 14 night pattern eg; 10 nights this service will be provided mid-stay ie; approx after 5 nights.
**except beach/pool towels which are only changed at the end of let however they can be washed using the laundry facilities in the villa during your stay.
There are NO hidden extras.
Options & Extras
Cot: £0.00 per booking
High Chair: £0.00 per booking
Loyalty Discounts
If you are a returning client and this is your 3rd (or more) consecutive booking with Crete Escapes or your 2nd separate booking in one season, you will qualify for our loyalty discount. Please quote voucher code LOYALTY05 when asked to do so during the online booking process or let us know when you contact us. Your reduction of 5% will then be deducted from the total price.
Short Breaks
Alternative length of stays of more than 7 nights are accepted and are charged pro rata.
Availability
Booking Information
Change-over days are totally flexible but are subject to existing bookings taken either side. If a booking means that the owner would be left with too many "void" days we might not be able to accept it. If this is the case we will contact you without delay to discuss alternatives.
Payment can be made by bank transfer (sterling or euro) or by debit or credit card.
Our travel information provides details of how to get to Crete including flights to both Chania and Heraklion airports.
If you want to book, please use the availability chart above to check your dates, you can then either book on-line, email or call us on 0330 111 0061.
Please note: although the calendars show live availability and you can book on-line, please note that your booking is not confirmed until we have issued a confirmation of booking. You may prefer not to book your flights until we have confirmed the booking.
Floor Plans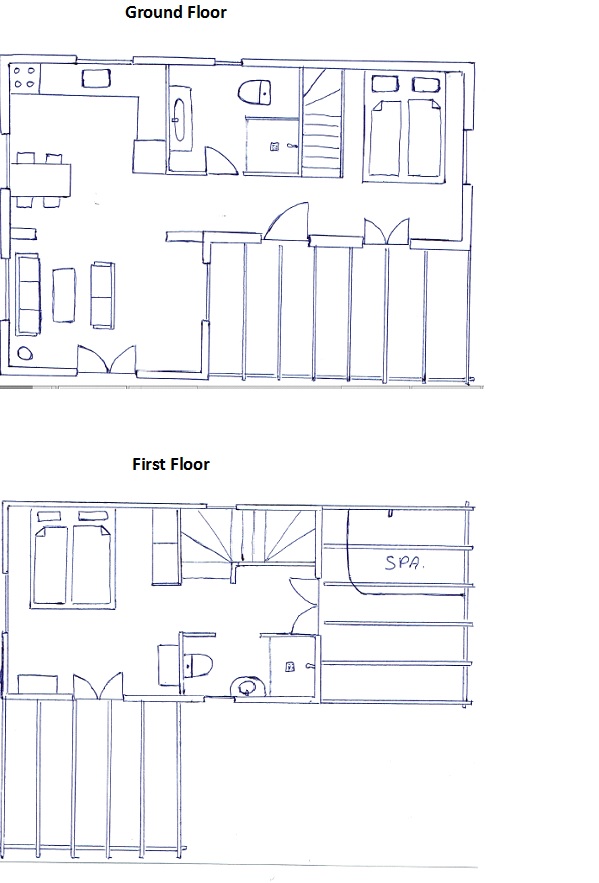 Reviews
Once again we had a fabulous holiday in Crete, enjoying both the villa and the superb weather. We are seriously thinking of going back again next year but I will need to check out the finances so will be in touch. This is one of the best villas we have ever stayed in. I have recommended your website to several of my friends and I think one of them will be booking one of your villas next year. Thank you for an excellent service and I hope we will be in touch shortly to book Villa Maria again next year - August 2019.
We just wanted to write and thank you for all your help with Villa Maria in Kokkino Chorio. We have had the best holiday and the villa was so perfect for us, that view from all the different terraces was just spectacular and we made huge use of the pool and even the hot tub on the upper terrace. We loved the area and thought the villa was in a brilliant location as we could walk to the the taverna by the glass factory and to Georgios's brilliant shop in the village. We had lazy days round the pool, easy quick drive to Almyrida beach which we loved as it was not too busy with gorgeous sea and that fantastic bakery to have a daily spinach pie!! We drove over the white mountains and got a boat to Loutro and that was just heavenly, and we had a night in Chania which was fun. There were lots of historic things to visit nearby and pretty villages with lovely tavernas and all those incredible beaches to explore. So much left to do for future visits! Everyone was so friendly, the food delicious, the weather absolutely glorious and all in all it was the perfect holiday and we really did not want to leave and are already planning our return next summer! We really appreciated the welcome pack of fruit, bread, butter, jam, water, milk, tea and coffee. Perfect and thank you so much! - July 2019.
We had such a fantastic holiday and would like to say thank you very much both to you and the owners of Villa Maria. We found everything we needed at the villa and loved staying there, all of the arrangements were perfect and the sunsets were amazing! We hope to return in the future - such a perfect little slice of paradise! - August 2018
We are now back home from a wonderful stay at Villa Maria and wanted to thank you both for all your help with the booking and while we were away. It was a fantastic holiday and the villa is truly wonderful. We will definitely be looking to return next year and noticed in the helpful Crete Escapes' guide book that if we pay the deposit by 31 October the 2018 prices will apply. We will be in touch again once we have sorted diaries etc. - July 2018
We had a fantastic week in Villa Maria. The villa was spotless when we arrived and had a very welcoming feel. The views from both balconies are great with options to sit out in either sun or shade in both. The plants outside make the pool and terrace area a wonderful place to sit, relax and have a bbq. It is next to the road but it is so quiet you wouldn't know except for saying hello to the occasional person walking past. The car parking spot is only a few metres up the road in a small lay by on the right. Even when it was too hot outside the villa seemed quite cool and the air con (surprisingly quiet) cooled it down further really quickly. The kitchen is very well stocked and the welcome parcel of food etc was ideal. The two bedrooms were comfy, one bed much softer than the other so you could choose depending on your preference! We wanted a quiet, relaxing holiday which is exactly what we got. Kokkino Chorio is very quiet but it's such a short drive to Plaka and Almyrida that we got the best of both worlds. We almost didn't go to the glass blowing factory in the village, but ended up going on our last day. Definitely worth a visit and prepare to spend! I will certainly be recommending Crete Escapes and Villa Maria to friends and family. Thanks again for a great holiday - June 2018.