Villa Artemis
Kokkino Chorio, Nr Almyrida
Sleeps: 6
Bedrooms: 3
Bathrooms: 2
£795 - £1445per week
Details
General Description
Villa Artemis is everyone's idea of a typical Greek villa, whitewashed with blue shutters but that belies the modern villa inside which is just a few minutes from the centre of the popular village of Kokkino Chorio. The villa has stunning sea views towards Almyrida and across Souda Bay to the Akrotiri peninsula. In the evenings, enjoy watching spectacular sunsets from the villa's various balconies and verandahs.
The villa is light and airy, equipped and furnished with contemporary, stylish fittings to make a comfortable and tasteful holiday home. The villa is fully air-conditioned and also benefits from central heating making it a good choice for early or late season stays when some heating may be required in the evenings.
Villa Artemis is quietly located off the village square in Kokkino Chorio. The track to the villa gates and driveway is part gravel and part concrete making the access to the villa passable in an ordinary hire car.
Ground Floor
The open plan lounge, diner and kitchen lead off from the spacious hallway. The lounge area has very comfortable sofas arranged in an L shape around a coffee table, opposite and adjacent to patio doors which open up directly onto a covered ground floor terrace and then to the pool terrace. Sit back and enjoy the wonderful sea views, even from inside the villa. The stylish, comprehensively equipped kitchen is at the far end of this open plan space, separated from the lounge by the dining area.
Completing the ground floor accommodation is the twin bedroom which has plenty of clothes storage space and patio doors opening up to its own private, secluded terrace.
There is also a shower room on this floor.
For your entertainment there is a wall mounted, flat screen TV with satellite reception (not SKY), DVD player and music system, compatible with most MP3 players. A selection of DVDs and CDs is also available for guests to enjoy.
First Floor
Both of the double bedrooms are on the first floor, once again these rooms are furnished with comfortable beds with attractive iron bedsteads, fitted wardrobes, marble bedside tables and designer lighting. Each of these rooms has its own private balcony with a table and chairs on them.
The bathroom with shower over the bath is on this floor.
External Areas
The garden is now one of the most mature gardens in the area providing privacy, peace and quiet. You will find a wide variety of plants and fruit trees, including fig, avocado, pomegranate and olive. Relax around the large, private swimming pool and soak up the sun on the comfortable, stylish sun loungers, gazing at the lovely views across Souda Bay. When you tire of the sun, shade is offered under the villa's covered, ground floor terrace or to one side of the garden under the secluded pergola. Both of these are furnished with a table and chairs to enable you to enjoy al fresco dining whilst not missing out on the spectacular views. A BBQ is provided.
Internet Access
The internet is provided by means of a high speed satellite connection with no download limits. Details on how to use the system are contained in the owner's manual at the villa. A fair use policy applies to safeguard against inappropriate content and its distribution as well as unusually high data volumes.
Holiday Rental Licence
Villa Artemis is licensed for holiday rentals with the Greek Tourist Authorities (EOT). Licence number 1042K123K0366200.

Features
General
Villa size -­ 100m2
Plot size -­ 1300m2
Gated plot
Parking
Air ­conditioning throughout
Safety deposit box
Hairdryer
Internet access via mobile wifi unit
Cot on request
High chair on request
All bed/bath linen except cot linen
Beach/pool towels
Maid service and linen change (see prices tab)
Welcome pack on arrival
Bedrooms & Bath/Shower Rooms
2 x double & 1 x twin bedrooms. 2 x bath/shower rooms as follows:-
1 x twin on the ground floor
2 x double on the first floor ( master double bedroom has flat screen TV)
1 x shower room on the ground floor
1 x bathroom on the first floor
Living Areas & Kitchen Equipment
Full cooker
4 ring hob
Microwave
Dishwasher
Fridge/freezer
Kettle
Coffee makers - filter machine and cafetiere
Toaster
Washing Machine
Iron & ironing board
TV with satellite reception - not SKY
DVD player & CD player/radio
ipod docking station
External
Private pool - 40m2 (8m x 5m). Depth - 1.5m
Sun loungers, parasols + outdoor tables & chairs
BBQ
Gardens
Map
Local Info
Chania airport ­- 45 minutes. Heraklion airport - 2 hours
Nearest Beach -­ Almyrida­ - 7/8 minutes drive
Nearest Taverna ­- Kokkino Chorio - 5 minutes walk
Nearest Shop­ - Kokkino Chorio - 5 minutes walk
NB; all times are approximate and based on average driving and walking speeds.
Prices
Deposit
10% of total rent
Pricing Notes
Prices quoted are in gbp sterling, per week, for up to 6 people occupying the villa and are not per person.
Alternative length of stays of more than 7 nights are accepted and are charged pro rata.
Prices include air- conditioning, a welcome pack, all linen including beach and pool towels*** and maid service and linen change. ***NB - the beach/pool towels are not laundered as part of the linen change.
Maid service and linen change - twice weekly. NB - towel change twice weekly and bed linen once a week.
There are NO hidden extras.
Options & Extras
Cot: £0.00 per booking
High Chair: £0.00 per booking
Low Occupancy Discounts
A low occupancy discount for single couples (use of 1 bedroom), of 15%, is available at this villa except for July and August dates.
Not allowed on late availability or special offer prices.
Loyalty Discounts
If you are a returning client and this is your 3rd (or more) consecutive booking with Crete Escapes or your 2nd separate booking in one season, you will qualify for our loyalty discount. Please quote voucher code LOYALTY5 when asked to do so during the online booking process or let us know when you contact us. Your reduction of 5% will then be deducted from the total price.
Short Breaks
Short breaks are normally only available for a minimum of 5 nights and will be charged at the 7 nightly rate unless otherwise advertised. However, if the number of available days between existing bookings is less than 7 nights we may be able to accept bookings at a reduced rate subject to the owners agreement.
Short breaks are allowed within 3 days of arrival.
Availability
Booking Information
Change-over days are totally flexible but are subject to existing bookings taken either side. If a booking means that the owner would be left with too many "void" days we might not be able to accept it. If this is the case we will contact you without delay to discuss alternatives.
Payment can be made by bank transfer (sterling or euro) or by debit or credit card.
Our travel information provides details of how to get to Crete including flights to both Chania and Heraklion airports.ment in eur by direct bank transfer to our euro account.
If you want to book, please use the availability chart above to check your dates, you can then either book on-line, email or call us on 0330 111 0061.
Please note: although the calendars show live availability and you can book on-line, please note that your booking is not confirmed until we have issued a confirmation of booking. You may prefer not to book your flights until we have confirmed the booking.
Low Occupancy Discounts - unfortunately the online booking system automatically calculates the single couple or small party discount based on the number of people entered onto the booking form and the start day of your rental. There are 2 problems with this:-
a) If you are 2 people but not a single couple, or 3 or 4 people but not 2 + 1 or 2 + 2, the system will have automatically calculated a discount when it is not due. Please make use of the "additional notes" box on the booking form to tell us and we will adjust the price accordingly before we confirm your booking.
b) If your rental overlaps from a discounted period to a non-discounted one (or vice versa), the discount calculated will be wrong. In these cases we have to make the adjustment manually. You can still book on-line but we will need to change the price on receipt of your booking request. If the price increases we will contact you to confirm the new price before we confirm your booking and take your deposit.
Please don't let either of these issues put you off making a booking. The discounts are genuine and our villa owners welcome couples and smaller parties out of high season. We just can't fine tune the booking system to account for these 2 circumstances - sorry.
Media
Floor Plans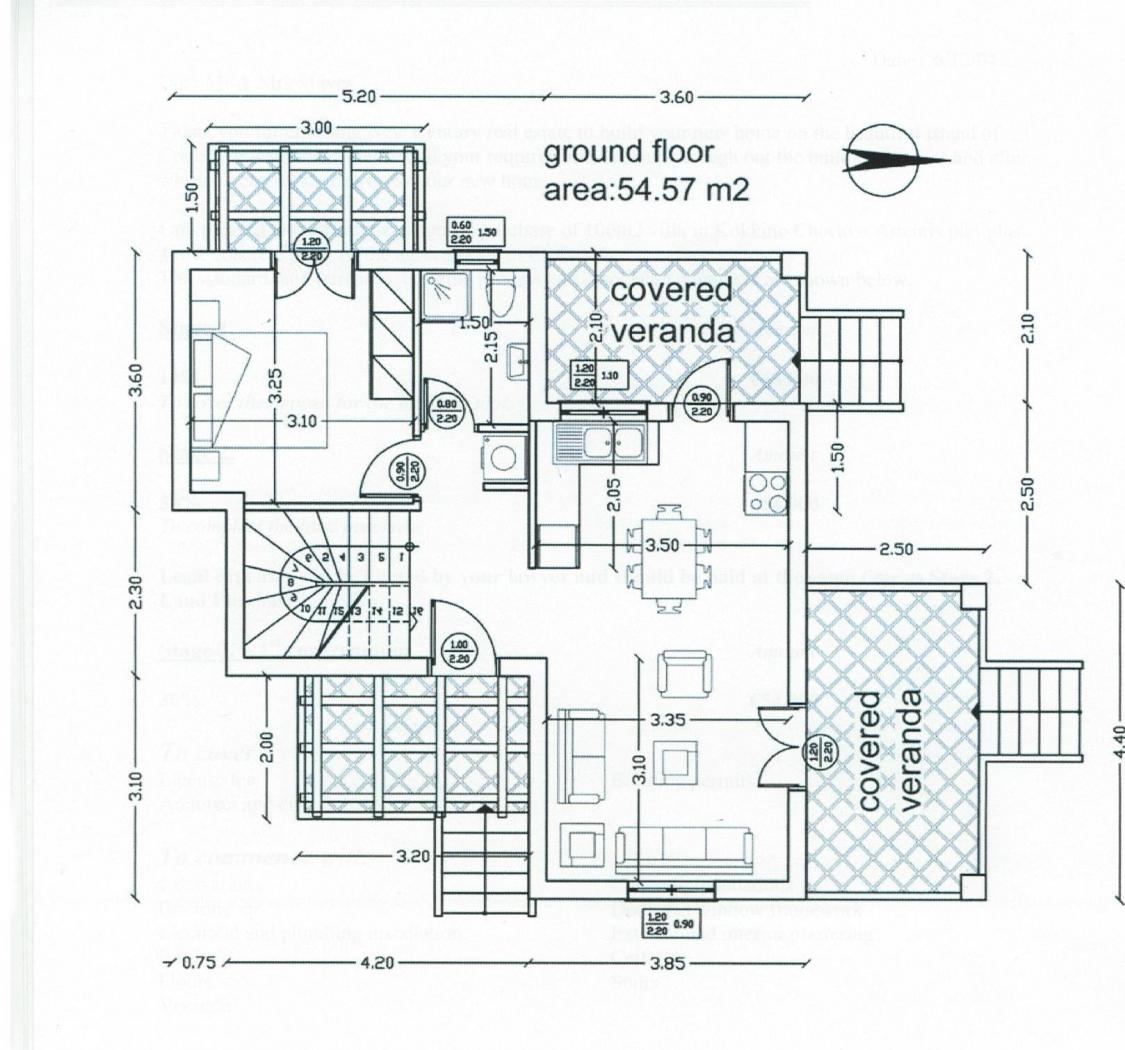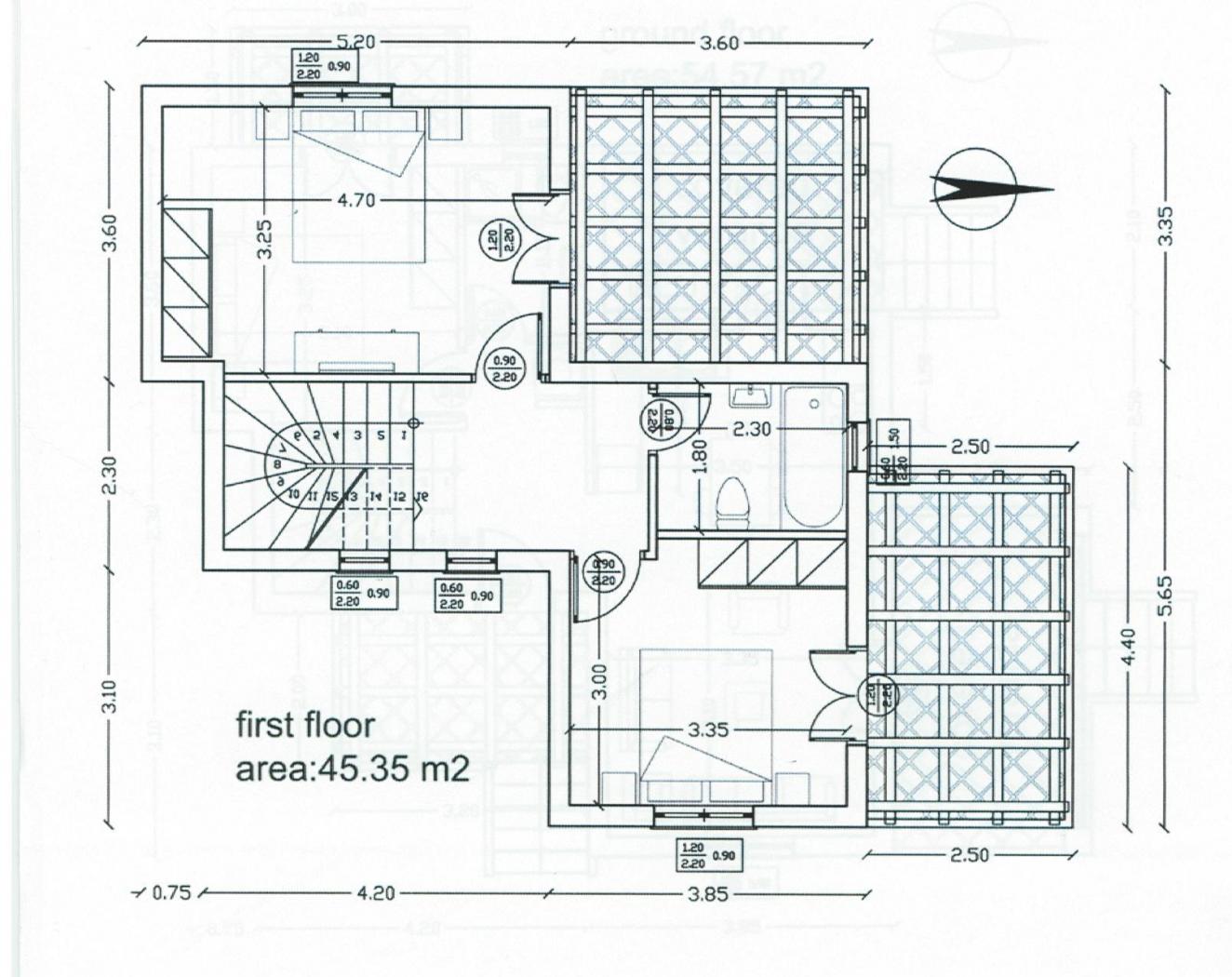 Reviews
We just had a fab week in Villa Artemis near Kokkino Chorio. Super villa, great pool and lovely views. Thank you Crete Escapes - July 2018.
We have had a great holiday at Villa Artemis. The villa is lovely and the views are stunning. We could not have chosen a better location. Many thanks to Peter and Anne who look after the villa so well - September 2017
Just wanted to let you know how much we enjoyed our holiday at Villa Artemis. It is a beautiful villa with stunning views and so well looked after by Peter and Anne - August 2017.
A haven in the hills set apart from the hustle and bustle of our lives. The villa was both ideal and idyllic, clean and well maintained to the highest standard - thank you. The island is so dramatic, a car is a must to search out the nooks and crannies, bays and beaches. We all had a wonderful time in this home from home - August 2017
What a fabulous time we have had at Artemis Villa! It is well equipped and finished and very comfortable - May 2017
Perfect short term rental whilst we searched for a long term rental for our 2 year stay working here. Villa Artemis was perfect, what a lovely place and view. We loved going into Chania for shopping and dinner - April 2017
Thank you. Fabulous villa, well equipped and very comfortable with everything we needed. The property manager, Peter, gave us excellent advice, even printing our boarding passes for our return trip. Great spot for exploring. Would not think twice about re-booking this brilliant place. Thank you so very much - September 2016
Have had a really lovely week in the villa. The pool was just perfect, thank you. Such a peaceful setting for sundowners overlooking the bay. We will miss this as we return to a rainy UK - August 2016
Just wanted to let you know how much we enjoyed our holiday at Villa Artemis. It is a beautiful villa with stunning views and so well looked after by Peter and Anne.Thanks for email following our recent holiday. Villa Artemis fully lived up to our expectations and we really enjoyed our week in Crete - June 2016.
Really enjoyed our first visit to Crete. Villa very well equipped and the welcome pack was much appreciated. The views from the villa are amazing and the location is good for visits to Chania and Lake Kournas which we would recommend. A very relaxing holiday - thank you - June 2016
Wow! What a fantastic villa!! Welcome pack was amazing. Views unreal. Had an absolutely fabulous holiday, we will definitely be back - May 2016
Yet another amazing holiday in Crete! It never disappoints. Beautiful weather, scenery and people. Great villa in a great location - away from the masses - perfect for a relaxing holiday. We could never tire of waking up to the marvellous view - we will miss it! Thank you for letting us stay in your lovely villa. We will be back - September 2015.
We enjoyed Villa Artemis immensely with its incredible views, wonderful pool and lovely location in Kokkino Chorio - our favourite village in Crete. This is our 12th trip here and I can say Villa Artemis is one of the top villas here. Truly appreciated the welcome pack - a nice touch! We recommend The Retreat Taverna at the top of Kokkino Chorio - very nice people and some delicious and unusual dishes - a must visit and the best view in the whole village! Thank you for some fantastic memories from our 2015 summer vacation - August 2015.
Enjoyed our stay, great views and the best pool so far! Must go places to visit are Aptera and Lake Kournas, as well as Chania. Don't bother with wifi at the villa because all the bars are willing to give you their passwords. Thanks for a great time - July 2015.
Fantastic villa with fantastic views & sunsets. Great weather. Really enjoyed our stay. Thanks to Peter & Anne for their service and linen changes! - July 2015.
A great 10 days in Kokkino Chorio with fantastic weather and a great villa to spend our time in. Location is great with beautiful views and a great set up. Thanks to the property managers, Peter & Anne, for their great service. We love this location and will return next year for our 3rd visit to Kokkino Chorio. It takes us 30 hours to get here from Australia but the people and hospitality make it all worth while - June 2015.
Wonderful villa in a glorious rural setting with amazing views and sunsets. The weather has been fabulous for early June. We would recommend Yannis taverna in the square for great food and a warm welcome. We planned a quiet week by the pool and enjoyed trips to Almyrida and Georgioupolis. Thank you for the midweek clean and fresh towels and the welcome pack on arrival was much appreciated - thanks for going the extra mile - June 2015.
Wonderful villa, amazing views, perfect chillout and very friendly locals. Thank you so much for allowing us to share your little piece of paradise - October 2014.
We have spent a wonderful 10 days in Crete enjoying the gorgeous weather. The villa lived up to all our expectations and we couldn't have asked for more. The tranquillity of the location as well as the spectacular views and sunsets were amazing. A 2nd visit to Crete is definitely a possibility - August 2014.
Great 10 days at Artemis Villa. Lovely pool with fantastic views. The weather has been really hot. Recommend Psaros taverna in Almyrida - amazing food! Thanks to Peter & Anne - it was lovely to return after a day out to find a villa so clean and tidy and with lovely clean sheets & towels. It was our 1st visit to Crete - we will hopefully be back - July 2014.
Really great holiday, good pool and plenty of seating. Views magnificent! We enjoyed Chania harbour and a small taverna up in the hills. The taverna in the square in Gavalochori is really good value and great food. - June 2014.
We've had the most fantastic fortnight in Villa Artemis - lovely villa, great pool & amazing views! The weather has been stunning. Had visits to Chania, Knossos, through the mountains to the south coast and the beach at Georgioupolis. Really enjoyed the Elpis taverna in Plaka and also the supermarket there with such very friendly people. Also, the jaunts to the local taverna in Kokkino Chorio. We must mention the great deli in Almyrida - The Pear Tree where you can also get newspapers; there is also a really good bakery in Almyrida. The property managers (Peter & Anne) have been very helpful and have kept the place perfectly. The only drawback was the smallish parking space - otherwise it has been absolutely amazing and we are set up now for winter - Sept/October 2013.
Thank you for a lovely holiday in a magical place - September 2013.
Can I just say that having returned from our stay at Villa Artemis we are missing it already! Please pass on to all the team and owner of what a brilliant holiday we had. The car was a bit of a push to fit 4 adults and suitcases into a Jimny! but once we got the journey out of the way it was ideal. The villa was beautiful and just how we imagined it to be. Often villas do not live up to expectations but this definetly did. The area was lovely and we still miss being able to have breakfast and dinner overlooking Souda Bay watching ferries coming and going etc. The pool was a God send and was well used, we enjoyed our trips out as well and once we got to know our way around found some of the quieter places to swim. The house was clean and the 2 maids visits were a definite treat as were the towel changes etc. The inside information you have about the area was priceless and it is so nice to talk to a company that knows its properties so well and can give excellent advice. Also I have to say a big thank you to both Julie and the owner for going the extra mile at late and early hours regarding the car mix up. Now we have a dilemma do we visit other places or just keep returning to somewhere we know is so lovely!! If we do we know which company we will use. Many thanks - August 2013.
Arrived late at night following a trip from Heraklion and found the villa first time with good instructions. The welcome pack was brill as we were ready for a cup of tea and a fried egg butty! The villa is beautiful, peaceful and relaxing and has stunning views. The beds are comfy, lovely pillows and air conditioning was invaluable as it was lovely and warm. The pool and sun bathing area was spacious and suited our needs for long relaxing days by the pool reading one of the many books supplied - August 2013.
Thank you for letting us stay in your beautiful villa and thanks so much to Peter and Anne for looking after us while we were here. A beautiful location with a wonderful pool and spectacular views, Villa Artemis is the perfect location to relax and unwind. We don't want to leve and have had such a great time we will be hoping to return in the future - July 2013.
Villa Artemis is a beautiful place to spend your holiday. It didn't disappoint in anyway - well equipped, efficiently run with views to die for. Ombrogialos was a magical find and well worth the visit. Fresh fish at the taverna was excellent. Crystal clear water, great for snorkelling. Elpis restaurant in Plaka is highly recommended, traditional Cretan food and friendly atmosphere. If you can't find peace, relaxation and tranquillity here you won't find it anywhere. Many thanks to Peter and Anne who made our stay thoroughly enjoyable - June 2013.
This is our 3rd visit, living up to all our expectations of a well equipped house in a beautiful location. As it was early season we expected variable weather but we have had 9 days of beautiful, hot, sunny days with the pool to cool off in. Yianni's Taverna at the top of the hill continues to be a staple for dinner visits & lazy lunches - he does takeaway too, great if you want to sit by the pool and admire the views whilst eating the lovely local food. Yiannis has also opened a butchers shop in Almyrida serving good quality meat for super BBQ's. We don't want to go home - it's too lovely... we will just have to plan our next visit - April 2013.
A really enjoyable, last minute break in the sun (albeit that the weather felt a bit like home once or twice) in a very comfortable villa and many thanks for the food supplies to start us off. We enjoyed trips to Knossos, the old port of Chania and the drive over the mountains to Chora Sfakion and Frangokastello. We ate locally in Aereki (Almyrida) and Elpis in Plaka and enjoyed lovely meals there - October 2012.
Exceptional villa and exceptionally well equipped. Views to die for, we were only here for a weeks rest in the sun and this place has certainly fitted the bill. Peter & Anne clearly take great pride in looking after the villa - thank you. We will definitely be back - September 2012.
The villa has been great - loved the big bath towels and the comfy beds! Can thoroughly recommend the little taverna on the right as you arrive in Almyrida from Chania. Thank you from us all - September 2012.
The house was really fantastic with the pool and so on, and I have to thank one more time, Peter and Ann for their help which meant that we were able to find the best supermarket, restaurants and places to visit. Peter really helped on the last day of our holiday when the battery of our rental car was flat. They also helped us with leaving our luggage safely on the last day. I am back at work today and telling everybody about my Crete Escape! - July 2012.
We had a great time at the villa - we all enjoyed the swimming pool and views, plenty of space and a great base from which to explore the area - July 2012.
Many thanks for a fantastic stay at Villa Artemis. This is our 5th year in Crete and once again it did not disappoint! We will certainly be back. The villa itself was lovely and superbly maintained by Peter & Anne. The weather has been very hot, even by Cretan standards and the pool has been a welcome relief, so warm and silky and great for cooling down! The views are stunning from the balconies and we spent many balmy evenings drinking the local wine and watching the ferries and boats come and go. We will miss it but look forward to our next trip - thank you - June 2012.
Thank you very much for a very pleasant stay at Villa Artemis. We had a very nice holiday at your little paradise on Crete - May 2012.
This is a very belated note to say how much we enjoyed our stay at the Villa Artemis in Crete in September. We found everything we wanted at the villa which suited us all - especially the comfy beds and the beautiful soft, large towels which were particularly welcome. All in all we had a great time - sorry it wasn't for longer - maybe another time - September 2011.
We have had the most amazing and delightful time. The villa was perfect! The views and sunsets pulled the whole family together every night to watch. The pool felt like silk every time we got into it. We enjoyed the "wild" beach east of Georgioupolis where there were some big waves to have fun in with a lovely on shore breeze. The water park at Limnoupolis is great for children (of all ages!) - sad to be leaving - August 2011.

Thank you so much for everything. We had an amazing time at Villa Artemis. We enjoyed every minute of it and it was a truly amazing experience which we will never forget. We would love to come back - July 2011.
Accommodation was fantastic, views were fantastic and the pool was a godsend! We enjoyed our stay very much and have fond memories to look back on. We've had 2 weeks of solid sunshine and now we are going home to a few days of rain which will be a change........... - July 2011
It would be impossible to articulate the experience that is Villa Artemis. It is a utopia that is aware of its own beauty while still laid back enough to welcome a visitor without seeming pretentious. Initially the villa was an escape for us but soon became a home away from home that we are reluctant to leave. We will remain ever grateful for our stay here including all the small touches such as the welcome pack on arrival. Every person should be lucky enough to encounter such a paradise at least once in a lifetime. If we are not fortunate enough to return (we are from Canada), we hope that future visitors will enjoy this place as much as we did - June 2011.
The villa is well equipped and the views of Souda Bay and the sunsets are to die for!! - May 2011.
We had a great time at Villa Artemis, the views were spectacular and the villa was extremely comfortable; we wanted for nothing. We particularly enjoyed spending time around the pool, looking out to sea. We loved the location of Artemis and its proximity to Almerida beach. We would definitely stay again - September 2008.
Well we had a lovely time again in Crete, we had a fabulous holiday, this time at the Villa Artemis which is a lovely property, it almost felt bad to use anything as it was all so new!! The views are fantastic and we thought it was well located for getting out to see places (and visit lots of good restaurants) nearby. Speak to you soon ­ June 2006.
The villa was everything we had hoped for and more; it is the best equipped villa we have rented to date. The welcome pack was wonderful after a long journey. The views are stunning and we spent many an hour just gazing over Souda Bay, it was a very peaceful and relaxing holiday, there was always something to see, from submarines to migrating swifts to circling buzzards. The pool was lovely and we were very well looked after by Peter and Susan. It also came as a lovely surprise to find that the hire included 2 house cleans and 2 changes of linen, just like a five star hotel - September 2006.
Climate
The Climate
Crete is the most southerly Greek island with an agreeable climate. The tourist season usually starts around April and lasts until the end of October. The spring (April) is a good time to visit for hiking and to see the beautiful flowers.
In early summer (May and June) the temperatures will be climbing steadily to an average in the mid 20's. This is a good time to visit if you don't have to keep to school holiday dates as the climate is very pleasant and there are few crowds.
July and August are the busiest (and hottest) months with tourists from all over Europe choosing Crete for their holiday destination. The north westerly winds usually moderate the temperatures but it's best to make sure your holiday accommodation offers shelter from the hot sun. It goes without saying that the sea will be warm.
September is still high season with warm, sunny days and the sea is still warm. The season draws to a close in October but this is a perfect month for visiting the island as the sea is still warm for swimming and activities such as hiking and visiting the archaeological sites can be undertaken in pleasant temperatures.