Villa Arianna
Kokkino Chorio, Nr Almyrida
Sleeps: 6
Bedrooms: 2
Bathrooms: 2
£695 - £1245per week
Details
General Description
Villa Arianna, with its lovely sea and mountain views, is a popular villa with couples and families alike. Located in a quiet spot, on the edge of the village of Kokkino Chorio, the villa stands in a large, private, fenced and gated plot of approx 1,000m2. The coastline views stretch as far as Kalives and to the Akrotiri peninsula on the other side of Souda Bay. The detached villa has 2 bedrooms and 2 bathrooms; it is air-conditioned throughout and is furnished in a bright, modern style.
Ground Floor
The spacious ground floor accommodation consists of an open plan lounge/dining room and fully fitted kitchen. There is also a shower room with wc, shower and wash handbasin on this floor, adjacent to the staircase.
The lounge/diner has a large dining table with chairs for up to 6 people, an attractive open fireplace, two double sofa beds and extensive fitted cupboards for clothes storage (for guests occupying the sofa beds on the ground floor), occasional furniture housing the hi-fi system with a selection of CD's, a TV with separate DVD player and for children, a playstation with a selection of games. Two sets of double doors open up from the lounge on to a shaded, covered and furnished terrace which is edged with a clear, toughened, glass screen allowing you to relax and fully appreciate the gorgeous sea views.
First Floor
There are two bedrooms on this floor, one double and one twin. Both bedrooms are well furnished with hanging and drawer storage and both have direct access to a balcony with sea views. There is another 1st floor balcony which faces the mountains, this is a perfect sun trap and private retreat.
The bathroom on this floor was completely refurbished at the end of the 2015 season to provide a large, luxurious, walk in shower, vanity basin and cabinet with a large mirror over + wc.
External Areas
Outside, the gardens surrounding the villa are well established and very private with mature olive trees and a variety of flowers and shrubs, the garden is fenced and gated making it a safe haven for families with children. The private pool is surrounded by sun bathing terraces from where you can enjoy the lovely sea views to the front of the villa. The villa has a magnificent stone built bbq and gazebo overlooking the sea offering guests the chance to cook and eat outdoors with some welcome shade from the heat of the day; at night the whole area can be lit creating a wonderful setting for BBQ's as the sun sets.
Private parking is provided within the gates of the plot and the villa is accessed from the parking area down a short flight of steps (with handrails) however for guests who do not feel comfortable negotiating steps, there is another pedestrian entrance which provides access without having to use the steps.
Internet Access
The internet is provided by means of a fixed telephone line supplying a fast broadband connection of around 15 MBps. Details on how to use the system are contained in the owner's manual at the villa. A fair use policy applies to safeguard against inappropriate content and its distribution as well as unusually high data volumes.
Holiday Rental Licence
Villa Arianna is licensed for holiday rentals by the Greek Tourist Authorities (EOT). Licence number 1042K92003275601.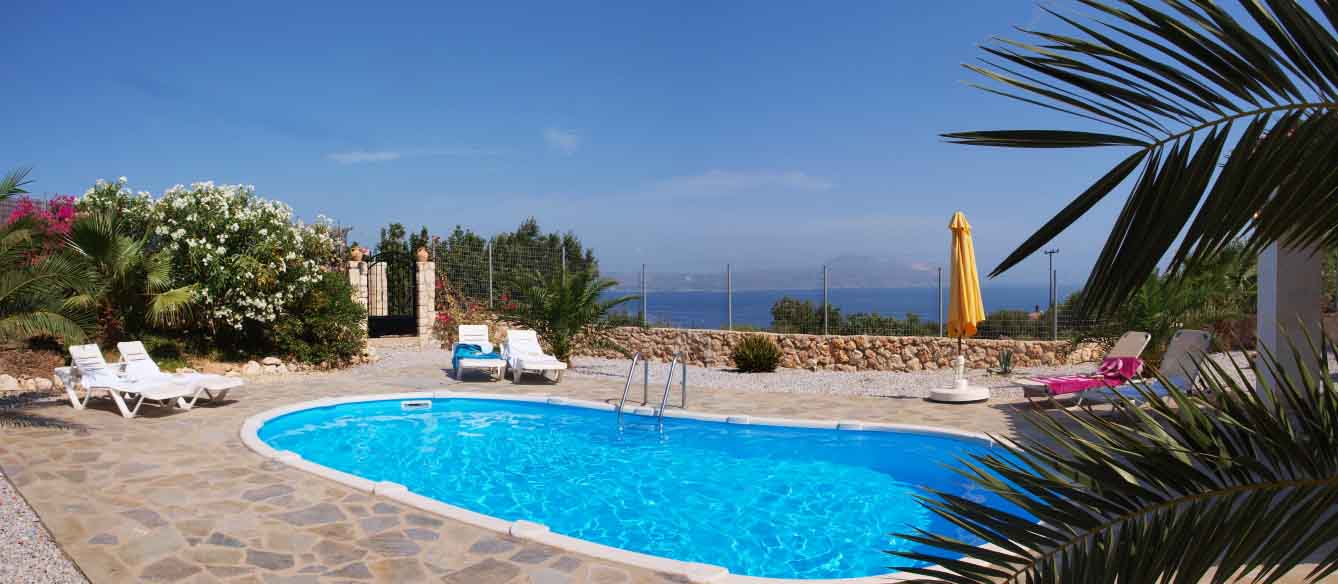 Features
General
Villa size -­ 100m2.
Plot size -­ 1000m2
Gated plot
Air ­conditioning throughout
Ceiling fans (bedrooms)
Safety deposit box
Hairdryer
Internet access
Phone - for emergency use and incoming calls
Cot on request
High chair on request
Sofa bed on request - extra charge (see prices tab)
All bed/bath linen except cot linen and beach/pool towels
Beach/pool towels on request - extra charge (see prices tab)
Maid service and linen change (see prices tab)
Welcome pack on arrival
Bedrooms & Bath/Shower Rooms
1 x double + 1 x twin bedrooms. 2 x shower rooms as follows:-
1 x double on the first floor
1 x twin on the first floor
1 x shower room on the first floor
1 x shower room on the ground floor
Living Areas & Kitchen Equipment
Full cooker
4 ring hob
Microwave
Slow cooker
Dishwasher (small tabletop size)
Fridge/freezer
Kettle
Coffee Maker - filter
Toaster
Juicer
Washing Machine
Iron & ironing board
Flatscreen TV with satellite reception (not Sky)
DVD & CD players
Playstation One
2 x sofa beds
External
Private pool - 27m2 (7.2m x 3.7m). Depth - 1.2m
Sun loungers, parasols + outdoor tables & chairs
BBQ & gazebo
Gardens
Map
Local Info
Chania airport -­ 45 minutes. Heraklion airport - 2 hours
Nearest Beach -­ Almyrida - 5 mins drive.
Nearest Taverna -­ Kokkino Chorio - 10 mins walk.
Nearest Shop - ­Kokkino Chorio - 10 mins walk
NB; all times are approximate and based on average driving and walking speeds.
Prices
Deposit
10% of total rent
Pricing Notes
Prices quoted are in gbp sterling, per week, for up to 4 people occupying the villa and are not per person. The villa can sleep up to 6 with 2 people using the sofa beds available; each person using the sofa bed is charged at the rate of £7 per night.
Alternative length of stays of more than 7 nights are accepted and are charged pro rata.
Prices include air- conditioning, a welcome pack, all linen excluding beach and pool towels***, and maid service and linen change.
Maid service and linen change - 1 week stays - none. 2 week stays - every 4 or 5 days.
***beach & pool towels can be rented from the property managers (paid locally) at a charge of 7 € per week
There are NO hidden extras.
Options & Extras
Sofa Bed: £7.00 per person per night
Cot: £0.00 per booking
High Chair: £0.00 per booking
Beach/pool towels: rented from the property managers at 7 eur per week (payable locally)
Low Occupancy Discounts
A low occupancy discount for a single couple (use of 1 bedroom), of 10%, is available at this villa except for July and August dates.
Not allowed on late availability or special offer prices.
Loyalty Discounts
If you are a returning client and this is your 3rd (or more) consecutive booking with Crete Escapes or your 2nd separate booking in one season, you will qualify for our loyalty discount. Please quote voucher code LOYALTY5 when asked to do so during the online booking process or let us know when you contact us. Your reduction of 5% will then be deducted from the total price.
Short Breaks
Short breaks are normally only available for a minimum of 5 nights and will be charged at the 7 nightly rate unless otherwise advertised. However, if the number of available days between existing bookings is less than 7 nights we may be able to accept bookings at a reduced rate subject to the owners agreement.
Short breaks are allowed within 3 days of arrival.
Availability
Booking Information
Change-over days are totally flexible but are subject to existing bookings taken either side. If a booking means that the owner would be left with too many "void" days we might not be able to accept it. If this is the case we will contact you without delay to discuss alternatives.
Payment can be made by bank transfer (sterling or euro) or by debit or credit card.
Our travel information provides details of how to get to Crete including flights to both Chania and Heraklion airports.
If you want to book, please use the availability chart above to check your dates, you can then either book on-line, email enquiries@crete-escapes.com or call us on 0330 111 0061.
Please note: although the calendars show live availability and you can book on-line, please note that your booking is not confirmed until we have issued a confirmation of booking. You may prefer not to book your flights until we have confirmed the booking.
Low Occupancy Discounts - unfortunately the online booking system automatically calculates the single couple or small party discount based on the number of people entered onto the booking form and the start day of your rental. There are 2 problems with this:-
a) If you are 2 people but not a single couple, the system will have automatically calculated a discount when it is not due. Please make use of the "additional notes" box on the booking form to tell us and we will adjust the price accordingly before we confirm your booking.
b) If your rental overlaps from a discounted period to a non-discounted one (or vice versa), the discount calculated will be wrong. In these cases we have to make the adjustment manually. You can still book on-line but we will need to change the price on receipt of your booking request. If the price increases we will contact you to confirm the new price before we confirm your booking and take your deposit.
Please don't let either of these issues put you off making a booking. The discounts are genuine and our villa owners welcome couples and smaller parties out of high season. We just can't fine tune the booking system to account for these 2 circumstances - sorry.
Reviews
I just wanted to say we had a great holiday! We loved the area. Villa Arianna was super. Martin and Debbie were great, the villa was spotlessly clean. Pancar were very efficient and we had a lovely driver. Definitely worth having the transfer rather than trying to find the Villa in the dark. We would definitely use Crete Escapes again, well organised and efficient. With best wishes - July 2017.
We stayed in Villa Arianna for 6 nights and enjoy every second of it. The villa was great with a great view and every was as described. Thanks to Crete Escapes for great communication and sublime service😀 - September 2016.
Thank you for the opportunity to stay in your villa.
The villa was so comfortable to be in. Spotless, easy to live in, everything worked!!! It was a lovely experience and extremely comfortable to live here for a week. So peaceful too - all the best -
August 2016
Another fantastic holiday. We all thoroughly enjoyed it and wish we didn't have to return so soon - August 2015.
We loved the villa, very tastefully decorated, very clean, we had breakfast outside every morning overlooking the bay! - October 2014.
Just a note to say we had a great time at the villa, it was tastefully decorated and very clean. Ideal for the two of us and we managed breakfast outside every morning looking over the bay which was nice, even went in the pool once as it got to 30 degrees. I would certainly recommend it to people - October 2014.
A delight to stay in your lovely villa, we couldn't have been more comfortable with the pool, bbq and various decks. We loved watching the sunsets each night - September 2014.
Thank you for your email. We had a wonderful holiday. Villa Arianna is lovely and in such a spectacular setting. The whole area is beautiful and we enjoyed some great days out when not relaxing round the pool! My sister joined us this year and she was equally delighted with the villa and the surroundings. As with last year, your arrangements throughout the enquiry and booking process were faultless. Thank you again - August 2014.
Just a quick note to say we had a lovely two weeks in Crete and to thank you for your help. Villa Arianna was perfect for 3 adults - light, spacious, airy - and the location was so convenient - peaceful but with all amenities a very easy drive away. Having such spectacular sea-views was wonderful and we made full use of the very pleasant pool and garden. (By the way, the living- room sofas were comfortable). As usual, we were sorry to leave Crete and we'll be back in touch again when the urge to return becomes too strong to resist! - June 2012.
We loved this very peaceful villa with its incredible sunsets (and sunrises) and fantastic views across Souda Bay. It is wonderfully well equipped but a long mirror would be useful! We have fallen in love with the area and Crete (this is our 1st visit - don't think it will be our last) - thank you - August 2011.
We all enjoyed staying at Villa Arianna so much last year that we simply had to come back. We have enjoyed 3 weeks of bliss. The stunning views are just as we remembered them and it's so peaceful and quiet. We have had great days out at Lake Kournas, Loutra (south coast), Marathi and on the Dream Adventures speedboat where we had great snorkelling. Thanks to all for a fantastic stay - we will be back again soon - August 2010.
Just wanted to thank you for our wonderfully, relaxing stay at the Villa Arianna in July. We had desperately needed to recharge our batteries and the villa and setting certainly enabled us to do that. Lovely villa, great pool, relaxing gazebo and wonderful views-which kept two teenage girls very happy for a week, not to mention the parents! - July 2010.
This is our second visit to Arianna. The villa had everything we could possibly need so felt like a home. Location lovely, quiet and great views. Gazebo gorgeous. Overall a fab holiday - September 2009.

Villa Arianna is well situated, well designed and has awesome panoramic views, we thoroughly enjoyed our stay - August 2009.
Just a quick note to say that we had the most fantastic time at Villa Arianna and we thank you for all the arrangements you made which allowed our holiday to run so smoothly. We were very happy with the standard of accommodation, the views were outstanding and the BBQ area very welcome, we made the most of it. Hope to contact you soon about next year - August 2009.
Lovely villa, lovely location, well equipped and spacious, gazebo an excellent retreat from the sun in the day and a bbq area at night - July/August 2009.
Wonderful villa, wonderful views and wonderfully clean, never have we stayed in a villa that was so spotless and well maintained during our stay - July 2009.
Climate
The Climate
Crete is the most southerly Greek island with an agreeable climate. The tourist season usually starts around April and lasts until the end of October. The spring (April) is a good time to visit for hiking and to see the beautiful flowers.
In early summer (May and June) the temperatures will be climbing steadily to an average in the mid 20's. This is a good time to visit if you don't have to keep to school holiday dates as the climate is very pleasant and there are few crowds.
July and August are the busiest (and hottest) months with tourists from all over Europe choosing Crete for their holiday destination. The north westerly winds usually moderate the temperatures but it's best to make sure your holiday accommodation offers shelter from the hot sun. It goes without saying that the sea will be warm.
September is still high season with warm, sunny days and the sea is still warm. The season draws to a close in October but this is a perfect month for visiting the island as the sea is still warm for swimming and activities such as hiking and visiting the archaeological sites can be undertaken in pleasant temperatures.