Villa Selene - With Gated and Fenced Pool
Agios Vassilis, Almyrida
Sleeps: 9
Bedrooms: 4
Bathrooms: 2
Cloakrooms: 0
£945 - £1595per week
Details
General Description
Villa Selene is a modern, single storey villa set in a very large plot and is ideal for those requiring lots of privacy and outside space. Located in between the traditional village of Gavalochori and the sandy beach resort of Almyrida, providing easy access to local amenities. This well equipped, fully air-conditioned villa has 4 bedrooms to sleep up to 9 with one child using the z-bed provided.
The villa is one of 5 detached properties, built well apart, within a very large, gated, olive grove plot which exceeds 4 acres. Guests have plenty of privacy and can indulge in the peace and quiet of the surrounding countryside. The owners have put a lot of effort to present a colourful, laid back relaxing place to stay with many of the fixtures and decorations having been handmade by them. They have used local wood and stone to incorporate materials of the surrounding area to capture something of 'The Real Crete'.
The villa is a good choice for 2 couples or 2 families holidaying together due to the internal layout with 2 bedrooms and a bathroom being located to one side of the spacious central living/dining/kitchen area and another 2 bedrooms and a bathroom being located to the other side. The villa has been designed with families with young children particularly in mind. There is a fenced and gated pool area to give parents peace of mind about access and as this is a single storey property there are no stairs or balconies to worry about either. A further feature is the villa's situation, well away from the nearest road of any size.
Living Areas
You enter the villa into the welcoming kitchen/diner area, comprehensively equipped with all appliances, a large dining table and chairs to seat 8. To the rear and leading onto a terrace is the comfortable lounge with 2 leather sofas, a coffee table, a flat screen TV with local satellite channels, a CD/DVD player (please bring your own cd's/dvd's as these are not provided) and a selection of books for your entertainment. Double doors lead on to a large, covered terrace where you will find another large dining table and 8 dining chairs as well as a couple of lounge type chairs. Fully covered, this terrace provides plenty of shade for al fresco dining.
As mentioned above, there are two bedrooms and one bathroom positioned either side of the central living area with three of the bedrooms having double beds and one bedroom having twin beds. One bathroom has a shower over the bath whilst the other one is configured as a shower room with a large walk in shower (no bath). The bedrooms have been "themed" in different colours of bronze, red, green and blue. They are all comfortably furnished with plenty of wardrobe and drawer storage space, bedside tables, a dressing table and mirror and all benefit from doors leading to outside with views to the pool, the garden and/or the olive grove.
The villa is considered wheelchair friendly therefore suitable for guests with restricted mobility.
External Areas
The large covered terrace to the rear of the villa overlooks the pool. It is furnished with a table and chairs and a BBQ; perfect for al fresco dining whilst soaking up those spectacular views. A rattan sofa, chair and table provides a comfortable place to sit and read away from the glare of the sun.
The gated pool area has wide, paved terraces on each side of the pool with plenty of space for all the sun loungers and parasols to be spread out around it. The large pool (9.5 metres long) is easily accessed by roman steps at the shallow end and is ideal for children playing or adults keen on serious swimming.
The well established gravelled and grassed garden surrounds the villa and is part of a large olive grove. There is ample car parking in the driveway.
Internet Access
Unlimited internet is FREE provided via the 4G mobile network on a dedicated wifi unit located within the villa. Up to 10 devices can be connected at the same time. Note the network provider operates a 2GB per day 'Fair Use' policy after which the speed reduces to 384 kbps (though this is still fast enough to facilitate basic email and website browsing). At midnight, the Fair Use policy resets, and the daily 2GB allowance is restored.
More Information
Use the different tabs to view the villa's features and amenities, actual location and distances to the nearest beach, shop and taverna. The prices tab contains details of the weekly rate together with discount information and additional charges where applicable. You can check "LIVE" up to date, availability using the availability tab which will also confirm the price for your selected dates ***. If you want to book you can then follow the online prompts. Also see https://www.crete-escapes.com/booking
*** In some cases relating to the low occupancy discount, the price may need adjusting by us. Please see the note on this page for more details https://www.crete-escapes.com/about-our-discounts
Owner Discounts
The owners have negotiated a car hire discount of 20 euro per booking with a local and well established car hire company. In addition, the owners have also negotiated discounts of 10% at 2 local tavernas. Full details will accompany your booking confirmation.

Holiday Rental Licence
Villa Selene is licensed for holiday rentals with the Greek Tourist Authorities (EOT). Licence number 1059831.

Amenities
General
Villa size - 105m2 (single storey)
Plot size - 4000m2­
Parking for several cars
Air ­conditioning throughout
Ceiling fans (lounge/dining area and all bedrooms)
Safety deposit box
Hairdryer x 2
Wifi internet access
Z-bed on request
Cot on request
High chair on request
All bed/bath linen including beach/pool towels (see prices tab)
Maid service and linen change (see prices tab)
Welcome pack on arrival
Bedrooms & Bath/Shower Rooms
3 x double & 1 x twin bedrooms. 2 bath/shower rooms
3 x double
1 x twin
1 x family bathroom with shower over
1 x family shower room
Living Areas & Kitchen Equipment
Full cooker
4 ring hob
Microwave
Dishwasher
Fridge/ freezer
Kettle
Coffee maker
Toaster
Washing machine
Iron & ironing board
32 inch flat screen TV (satellite not Sky)
DVD & CD players
Selection of books
External
Gated Private pool - 40m2. Depth - 1.2m to 1.6m. Access via roman steps (shallow end).
Sun loungers x 8, parasols x 4 + outdoor tables & chairs to seat 8
Portable BBQ (charcoal/wood)
Gardens
Map
Local Info
Chania airport ­- 40 minutes. Heraklion airport - 1 hour and 50 minutes.
Nearest Beach ­- Almyrida - 5 mins drive
Nearest Taverna­ - Gavalochori - 2 mins drive or 15 mins walk. Almyrida - 5 mins drive or 25/30 mins walk.
Nearest Shop­ - Gavalochori - 2 mins drive or 15 mins walk. Almyrida - 5 mins drive or 25/30 mins walk.
NB; all times are approximate and based on average driving and walking speeds.
Prices
Deposit
10% of total rent
Pricing Notes
Prices quoted are in gbp sterling, per week, for up to 8 people occupying the villa and are not per person.The villa can sleep up to 9 with 1 child (aged 12 years or under) using a z-bed available; a child using a z-bed is charged at the rate of £10 per night.
Alternative length of stays of more than 7 nights are accepted and are charged pro rata.
Prices include air- conditioning, a welcome pack, all linen including beach and pool towels***, and maid service and linen change.
Maid service and linen change - weekly. ***NB - the beach/pool towels are not laundered as part of the linen change.
There are NO hidden extras.
Options & Extras
Z-bed: £10 per night
Cot: £0.00 per booking
High Chair: £0.00 per booking
Low Occupancy Discounts
A low occupancy discount for a single couple (use of 1 bedroom) of 25%, or a group of 3 or 4 (use of 2 bedrooms) of 15% is available at this villa except for July and August dates.
Not allowed on late availability or special offer prices.
Loyalty Discounts
If you are a returning client and this is your 3rd (or more) consecutive booking with Crete Escapes or your 2nd separate booking in one season, you will qualify for our loyalty discount. Please quote voucher code LOYALTY05 when asked to do so during the online booking process or let us know when you contact us. Your reduction of 5% will then be deducted from the total price.
Short Breaks
Short breaks are normally only available for a minimum of 5 nights and will be charged at the 7 nightly rate unless otherwise advertised. However, if the number of available days between existing bookings is less than 7 nights we may be able to accept bookings at a reduced rate subject to the owners agreement.
Short breaks are allowed within 3 days of arrival.
Availability
Booking Information
Change-over days are totally flexible but are subject to existing bookings taken either side. If a booking means that the owner would be left with too many "void" days we might not be able to accept it. If this is the case we will contact you without delay to discuss alternatives.
Payment can be made by bank transfer (sterling or euro) or by debit or credit card.
Our travel information provides details of how to get to Crete including flights to both Chania and Heraklion airports.
If you want to book, please use the availability chart to check your dates, you can then either book on-line, email or call us on 0330 111 0061.
Please note: although the calendars show live availability and you can book on-line, please note that your booking is not confirmed until we have issued a confirmation of booking. You may prefer not to book your flights until we have confirmed the booking.
Low occupancy discounts - unfortunately the online booking system automatically calculates the single couple or small party discount based on the number of people entered onto the booking form and the start day of your rental. There are 2 problems with this:-
a) If you are 2 people but not a single couple, or 3 or 4 people but not 2 + 1 or 2 + 2, the system will have automatically calculated a discount when it is not due. Please make use of the "additional notes" box on the booking form to tell us and we will adjust the price accordingly before we confirm your booking.
b) If your rental overlaps from a discounted period to a non-discounted one (or vice versa), the discount calculated will be wrong. In these cases we have to make the adjustment manually. You can still book on-line but we will need to change the price on receipt of your booking request. If the price increases we will contact you to confirm the new price before we confirm your booking and take your deposit.
Please don't let either of these issues put you off making a booking. The discounts are genuine and our villa owners welcome couples and smaller parties out of high season. We just can't fine tune the booking system to account for these 2 circumstances - sorry.
Floor Plans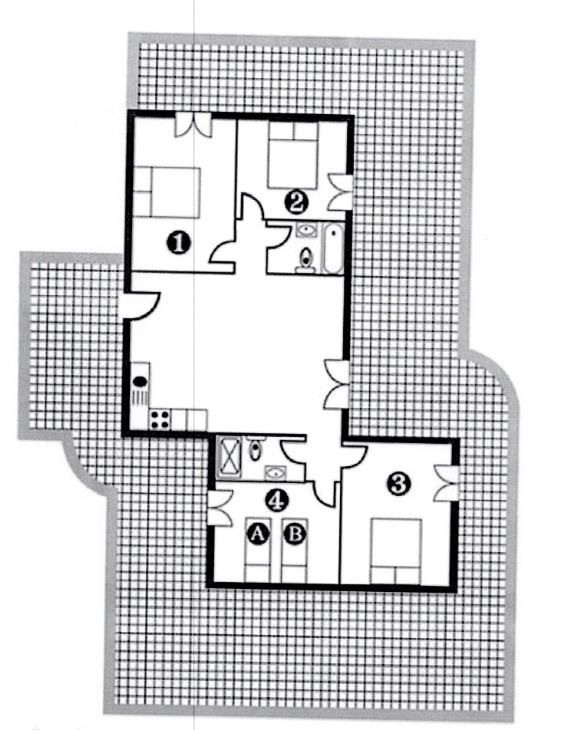 Reviews
Set 2km from the seaside village of Almyrida, Selene enjoys a tranquil location with beautiful and ever changing views of the White Mountains. It is well appointed, and the internal decor and fabrics enhance the villa's personality, as do the new furniture and subtle artwork. It's great to have a rotary washing line which can withstand Cretan breezes. BBQs with olive wood were a delightful new discovery. We've been coming since 2011: it's great to see how the olive trees have grown to enhance the feeling of privacy and seclusion. Selene enjoys full sun from 20 minutes after sunrise (it's a joy seeing the sun emerging from behind the hill) but also provides full shade on the veranda until evening. The single story accommodation plus gated pool were among the most important features when we first booked. Anybody with mobility issues would love Selene, but it's perfect for all - September 2018.
This villa really met our needs when we stayed for a week with all the family. The bedrooms are very clean and comfortable and the ceiling fans were great for keeping us cool. The kitchen is well equipped and there is plenty of seating for 8 adults and teenagers! With DVD and TV options and WiFi in mum and dad's control we thought it was a good combo that kept our tech addicts in check and we enjoyed conversation, books and 4pm volleyball in the large pool. The patio area is generous and we had lots of personal space. No fighting over sun beds which doubled as star gazing beds at night. Spectacular! - August 2018.
This is a very peaceful/beautiful place with the only background noise being the crickets or the occasional car or goats passing, Just far enough away from the crowds but equally close enough to be involved if you wanted to. Would recommend, especially for families - July 2018.
Had an absolutely fabulous week staying in Selene. Everything we could need was in the villa and it was immaculately clean when we arrived. The views into the Olive Grove were beautiful and it was so quiet and relaxing. The nearest village was only 3 minutes by car but it was a pleasant walk in the evenings after a meal (and wine) at Monika's taverna - awesome food and nights out! Would thoroughly recommend staying here and we will most certainly be back again! - November 2017.
This was our 2nd visit to Villa Selene. We were looking for a relaxing week, and we weren't disappointed. The villa is very spacious, especially as there were only 2 of us and clean, well-maintained and well appointed. We love having the pool just outside, and the sandy beach at Almyrida is just 2km away. If you don't fancy self-catering there are plenty of restaurants in Almyrida and a lovely cheap taverna in the even-closer Gavalachori. I'm sure we'll be back! - September 2017.
This was our second visit to Villa Selene and it was as lovely as we remembered it. The location, for us is perfect - far enough away to feel peaceful and relaxed yet near enough to enjoy the shops and restaurants. The villa is clean and bright and Mark was very discreet when he came to clean the pool and villa. I would strongly recommend Villa Selene as the perfect holiday villa - July 2017.
Climate
The Climate
Crete is the most southerly Greek island with an agreeable climate. The tourist season usually starts around April and lasts until the end of October. The spring (April) is a good time to visit for hiking and to see the beautiful flowers.
In early summer (May and June) the temperatures will be climbing steadily to an average in the mid 20's. This is a good time to visit if you don't have to keep to school holiday dates as the climate is very pleasant and there are few crowds.
July and August are the busiest (and hottest) months with tourists from all over Europe choosing Crete for their holiday destination. The north westerly winds usually moderate the temperatures but it's best to make sure your holiday accommodation offers shelter from the hot sun. It goes without saying that the sea will be warm.
September is still high season with warm, sunny days and the sea is still warm. The season draws to a close in October but this is a perfect month for visiting the island as the sea is still warm for swimming and activities such as hiking and visiting the archaeological sites can be undertaken in pleasant temperatures.