Aloni House
Kournas, Nr Georgioupolis
Sleeps: 10
Bedrooms: 5
Bathrooms: 5
Cloakrooms: 0
£2245 - £4295per week
Details
General Description
Aloni House is a magnificent, individual villa with a backdrop of mountains and wonderful sea views to the front. The property is set in extensive landscaped gardens with a very large private pool, all ensuring complete privacy but only 15 minutes walk into the village of Kournas and 6/7 minutes drive to the beach and facilities at Kavros. Aloni House is a perfect choice for a large family get together or for a group of friends looking for something special.
The house is built of stone with Cretan style arches to reflect the local character, exposed wooden beams to give a simple rustic feel and all modern amenities to provide the luxury you would expect in a house such as this. You will realise that this house is something extra special the minute you walk through the front door into the impressive double height entrance hall with its crystal chandelier.

The house is cool and airy but nevertheless, all bedrooms are air-conditioned and ceiling fans keep you cool on the verandahs. Under floor heating and radiators throughout mean that Aloni House is comfortable even in the cooler months.
This very large house, spread over 3 floors, has 5 bedrooms, all fitted with plenty of storage space and private facilities (two on the lower ground floor are not en-suite), it can only be rented by one party at a time but the flexible arrangements mean that you can also rent it as a 1, 2, 3, or 4 bed house with low occupancy discounts applying (except all dates in July and August).
Ground Floor
From the front of the house, you enter at ground floor level. Double doors open up at the end of the impressive entrance hall to an imposing open plan space wrapped around both sides of the property, this is the heart of the house, divided by two Cretan stone arches. To the left is the spacious, fully equipped kitchen/diner with a large farmhouse style dining table to seat up to 10 people in comfort. To the right is the well furnished lounge with a grand stone fireplace, comfortable sofas, antique furniture and many works of art adorning the walls. Two sets of French doors open out from the lounge and kitchen/diner onto a furnished, shaded verandah which runs the whole length of the house. This is a wonderful place to relax overlooking the pool with far reaching sea and countryside views. Off the entrance hall, near the top of the stairs to the ground floor, is a fully equipped bath/shower room which could be used as the private bath/shower room for one of the bedrooms on the ground floor that does not have en-suite facilities.
Lower Ground Floor
The house is on a sloping plot with the front entrance at ground floor level. The rear entrance doors are at lower ground floor level and they open up to the pool, pool terrace, outdoor kitchen and gardens. Three of the 5 bedrooms are situated on this floor. If you are not renting either of the master suites on the top floor, these are the three bedrooms that will be available to you. There is one double bedded room and two twin rooms. The double room and one of the twin rooms have direct access, through French doors, to the garden, pool and surrounding terraces. This twin room has en-suite facilities with a large walk through shower and separate en-suite wc. The double room and the twin room without en-suite facilities have shared use of the other fully equipped bath/shower room on this floor (and the full bath/shower room on the ground floor) (see floor plans). There is a second, well equipped kitchen on this floor which is perfect for rustling up drinks and snacks for the pool area (note there is also an outside kitchen with the BBQ). The utility room which houses two washing machines ­ very useful if the house is being shared by two families who want some independence, is also on this lower ground floor.
First Floor
Whilst the ground and lower ground floors are covered in natural tiling, the first floor has polished wooden floors throughout. The two master suites and the library are on this floor. One of the master suites has a double sleigh type bed and the other has two double beds. Both suites have fully equipped en-suite bathrooms and walk in wardrobes. Both rooms have French doors opening up to another verandah running the whole length of the house with the same stunning views as those from the ground floor verandah. The library is well stocked and there are two comfortable armchairs for those who may wish to sit and read in a quiet spot.
External Areas
Outside the house is very impressive with beautiful, well maintained gardens which provide lots of secluded sitting places, a large pool with a child friendly shallow section, an outdoor kitchen/dining area equipped with a large stone BBQ, preparation areas, outdoor sink, fridge and a huge 4m long, solid granite dining table, perfect for dining al fresco. The pool is surrounded by expansive sun terraces, furnished with sun loungers and, for shade, umbrellas and a pergola. Walkways with more pretty pergolas connect the BBQ area to the pool terraces. The garden has been planted with colourful, scented plants of honeysuckle, jasmine and fruit trees to complement the surrounding olive groves and fields of wild herbs.
Weddings
The owners of Aloni House have teamed up with Moments Weddings of Rethymnon to offer you the unforgettable experience of staying in their beautiful villa for your wedding. Why not rent Aloni House for your big day and let Moments Weddings do all the planning for your wedding in Crete. Please email us at for more information.
Internet Access
The owner provides an initial download/upload allowance which should be sufficient for reasonable web browsing and emails but will not be sufficient to allow you to download films or other similar, large files. If you require more than the initial allowance supplied you will find instructions about topping up at the villa. The minimum top up charge is 10 euro which provides 2 gb of data allowance.
More Information
Use the different tabs to view the villa's features and amenities, actual location and distances to the nearest beach, shop and taverna. The prices tab contains details of the weekly rate together with discount information and additional charges where applicable. You can check "LIVE" up to date, availability using the availability tab which will also confirm the price for your selected dates ***. If you want to book you can then follow the online prompts. Also see https://www.crete-escapes.com/booking
*** In some cases relating to the low occupancy discount, the price may need adjusting by us. Please see the note on this page for more details https://www.crete-escapes.com/about-our-discounts
Holiday Rental Licence
Aloni House is licensed for holiday rentals with the Greek Tourist Authorities (EOT). Licence number AMA 00000135344.
Amenities
General
Villa size -­ 280m2 (levels x 3)
Plot size -­ 4500m2
Gated and secluded plot
Parking for several vehicles
Air-conditioned in all bedrooms
Underfloor heating
Solar panel and/or immersion water heating
Safety Deposit Box
Hairdryer (in each bedroom)
Wifi internet access
Cots on request
High chairs on request
All bed/bath linen except cot linen
Beach and pool towels
Maid service and linen change (see prices tab)
Welcome pack on arrival
Bedrooms & Bath/Shower Rooms
3 x double & 2 x twin bedrooms. 5 x bath/shower rooms
1 x double on the lower ground floor
2 x twins on the lower ground floor
2 x double (master suites with bathrooms and dressing areas) on the first floor. 1 room has a king size bed and the other room has 2 double beds
1 x en-suite shower room on the lower ground floor (to one of the twins)
1 x family bathroom on the lower ground floor
1 x family bathroom on the ground floor
Living Areas & Kitchen Equipment
Note - there are 2 kitchens. The main kitchen is on the ground floor and there is a 2nd smaller kitchen on the lower ground floor. The kitchen equipment listed is in the main kitchen with items that are in the smaller kitchen clearly identified.
Full cooker (1 in each kitchen)
4 ring hob (1 in each kitchen)
Microwave
Dishwasher
Fridge/freezer (American style)
Fridge (small kitchen on lower ground floor)
Kettle (1 in each kitchen)
Coffee maker (1 in each kitchen)
Toaster (1 in each kitchen)
Washing machine (x 2 - in the utility room on the lower ground floor)
Iron & ironing board
TV screen with satellite reception (not Sky)
DVD & CD players
External
Private pool - 87m2 (13.6m x 6.4m inc shallow section). Depth - 0.5 - 1.7m
Sun loungers + outdoor tables & chairs
Large fixed outdoor dining table beneath pergola
BBQ with outdoor sink & fridge
Extensive gardens
Map
Local Info
Chania airport ­- 1 hour. Heraklion airport - 1 hour and 30 minutes
Nearest Beach -­ Kavros­ - 6/7 mins drive
Nearest Taverna - ­ Kournas­ - 15 mins walk
Nearest Shop - Kournas­ - 15 mins walk
Georgioupolis - 10 minutes drive
NB; all times are approximate and based on average driving and walking speeds.
Prices
Deposit
10% of total rent
Pricing Notes
Prices quoted are in gbp sterling, per week, for the villa, for up to 10 people. The villa can also sleep 2 infants (12 months and under) using cots free of charge.
It is possible to book this villa for smaller parties. Discounts apply as shown in the low occupancy discounts paragraph below.
Alternative lengths of stay of more than 7 nights are accepted and are charged pro rata.
Prices include air- conditioning, a welcome pack, all linen including beach and pool towels***, and maid service and linen change.
Maid service and linen change - twice weekly with a full linen change. ***NB - the beach/pool towels are not laundered as part of the linen change.
There are NO hidden extras.
Options & Extras
Cot x 2: £0.00 per booking
High Chair x 2: £0.00 per booking
Low Occupancy Discounts
A low occupancy discount based on the number of bedrooms required, is available at this villa as follows:-
4 bedrooms (those on the lower ground floor + 1 of the suites on the top floor) - 15% - all months
3 bedrooms (those on the lower ground floor) - 25% - except July and August
2 bedrooms (2 of those on the lower ground floor) - 35% - except July and August
1 bedroom (on the lower ground floor) - 50% - except July and August
Not allowed on late availability or special offer prices.
Loyalty Discounts
If you are a returning client and this is your 3rd (or more) consecutive booking with Crete Escapes or your 2nd separate booking in one season, you will qualify for our loyalty discount. Please quote voucher code LOYALTY05 when asked to do so during the online booking process or let us know when you contact us. Your reduction of 5% will then be deducted from the total price.
Short Breaks
Short breaks are normally only available for a minimum of 5 nights and will be charged at the 7 nightly rate unless otherwise advertised. However, if the number of available days between existing bookings is less than 7 nights we may be able to accept bookings at a reduced rate subject to the owners agreement.
Short breaks are allowed within 3 days of arrival.
Availability
Booking Information
Change-over days are totally flexible but are subject to existing bookings taken either side. If a booking means that the owner would be left with too many "void" days we might not be able to accept it. If this is the case we will contact you without delay to discuss alternatives.
Payment can be made by bank transfer (sterling or euro) or by debit or credit card.
Our travel information provides details of how to get to Crete including flights to both Chania and Heraklion airports.
If you want to book, please use the availability chart above to check your dates, you can then either book on-line, email enquiries@crete-escapes.com or call us on 0330 111 0061.
Please note: although the calendars show live availability and you can book on-line, please note that your booking is not confirmed until we have issued a confirmation of booking. You may prefer not to book your flights until we have confirmed the booking.
Low occupancy discounts - unfortunately the online booking system automatically calculates this discount based on the number of people entered onto the booking form, as it cannot recognise the number of bedrooms required, and the start day of your rental. There are 2 problems with this:-
a) If you are 2 people but require more than 1 bedroom, 3 or 4 people but require more than 2 bedrooms or 6 or 7 people but require more than 3 bedrooms, the system will have automatically calculated a discount which is likely to be higher than the discount due. Please make use of the "additional notes" box on the booking form to tell us and we will adjust the price accordingly before we confirm your booking.
b) If your rental overlaps from a discounted period to a non-discounted one (or vice versa), the discount calculated will be wrong. In these cases we have to make the adjustment manually. You can still book on-line but we will need to change the price on receipt of your booking request. If the price increases we will contact you to confirm the new price before we confirm your booking and take your deposit.
Please don't let either of these issues put you off making a booking. The discounts are genuine and the villa owner welcomes couples and smaller parties out of high season. We just can't fine tune the booking system to account for these 2 circumstances - sorry.
Media
Floor Plans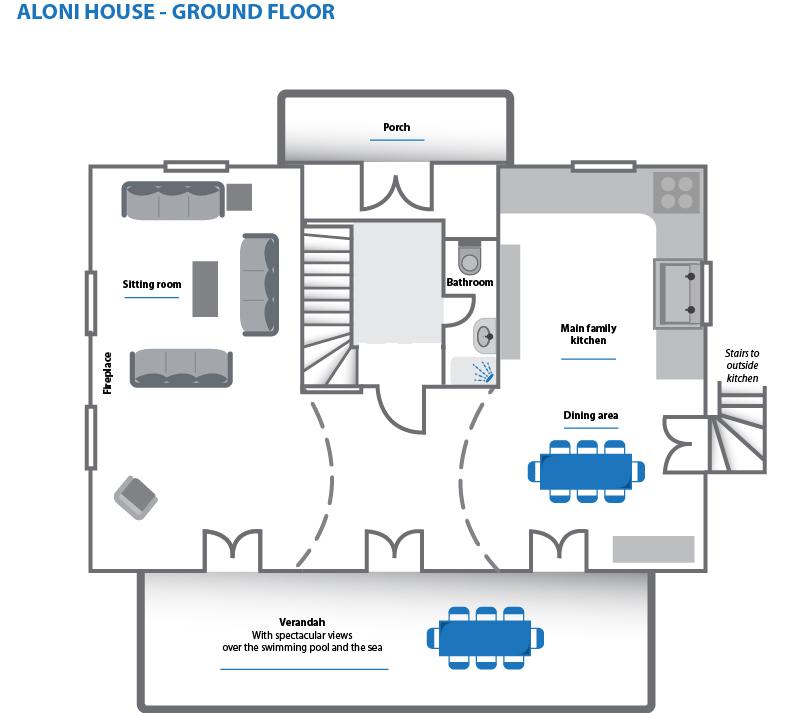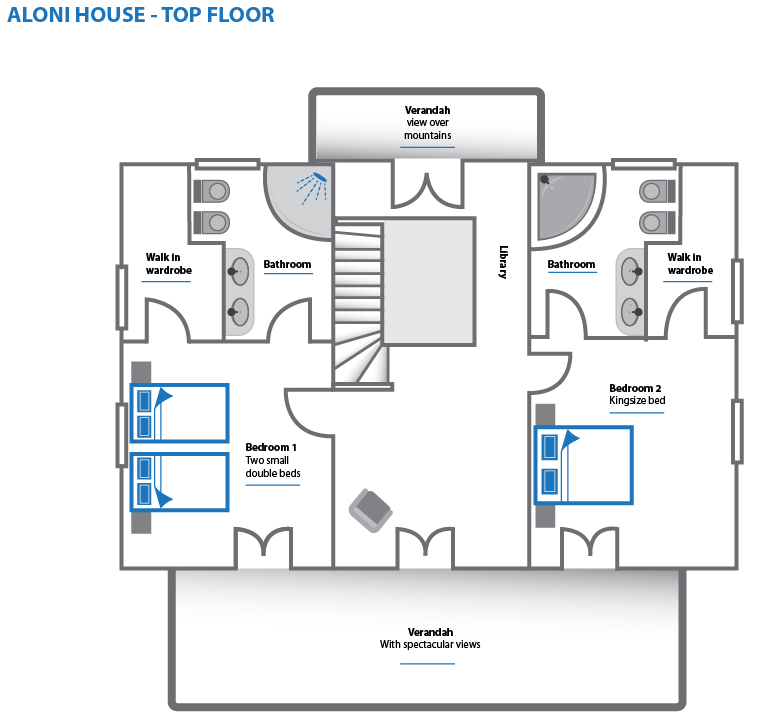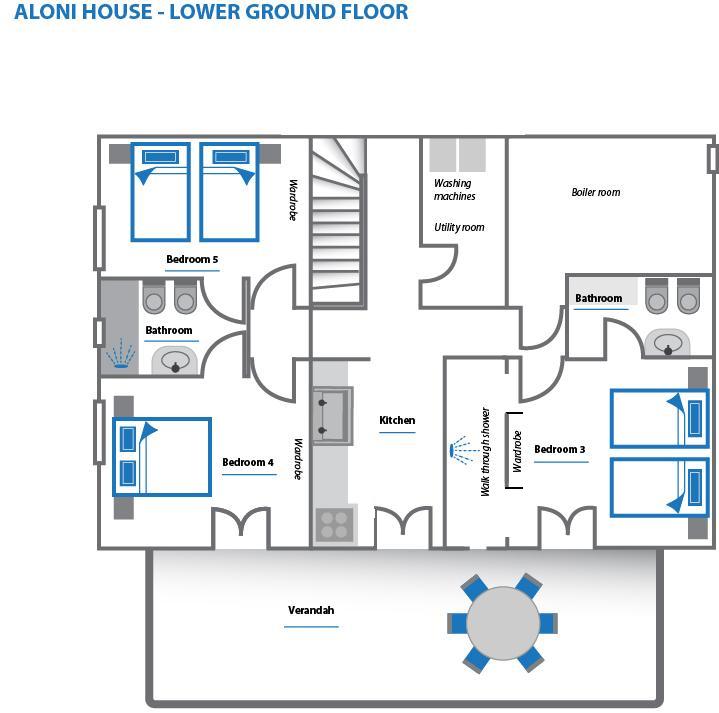 Reviews
We did have a very good stay at Aloni House. It was in such a lovely position and the house was well laid out for us as a family. Our son and his family slept in the downstairs bedrooms and my husband and I had the upstairs all to ourselves. It is great for us as a family to be able to spend such a relaxing time together. We all very much enjoyed using the pool and found your "pool guy" extremely kind - June 2019.
I just wanted to let you know we had a great time at Aloni House. The villa is awe inspiringly beautiful and we all felt very at home there. The surroundings are also fantastic providing a superb relaxed area for a holiday. I personally found dealing with your company very easy and the local team you had were also very friendly and helpful too. I raised a query about a lack of towels on our first night and more were provided immediately the next morning. The access to the website and additional local information you provided was a nice extra touch. I will thoroughly recommend both the villa, location and Crete Escapes going forward. Already looking forward to another relaxing visit - May 2019.
Overall we had a wonderful holiday at Aloni House. A lovely villa with good accommodation, stunning views and a fantastic pool for kids - June 2018.
It was a great week and the villa wonderful! - August 2017.
It was an amazing vacation at Aloni House, Crete. Quiet and peaceful place, terrific view, large and cosy house - what else one needs for a perfect vacation! Thank you very much, we will definitely come back! - September 2016.
Little did we know when we all came out in 2011 for a special group anniversary we would still be coming back for the next 6 years. A very special friendship enhanced by our surroundings of Aloni House and wonderful northwest Crete. As we have got to know the surrounding area and the hospitable and welcoming Cretans in the local tavernas who greet us like old friends, our experience and love of this island improves year on year - September 2016.
We have had a wonderful two weeks in this gorgeous villa. We came as a family of six and three girlfriends and the villa accommodated us very well, giving each couple privacy and space when needed, whilst at the same time offering absolutely fabulous group space. We loved it! One highlight of our trip was a quad bike safari booked through the tourist office on the strip via Discovery. It was brilliant, amazing scenery and wildlife and an excellent, fun, knowledgeable guide. Would highly recommend it. PS. Mickelson and Karen who organised cleaning, solve problems etc were excellent. Thank you - August 2016.
Amazing time here in Crete has been so much to do and the sun shines. 10 people in one villa and we still had lots of room! Beautiful villa with stunning views and a cracking pool. Great location and the nearby restaurants are fantastic. What a fantastic family holiday, thank you. We would love to come again - July 2016.
Had a fantastic stay would love to come again. Aloni House is like a home away from home. Have made full use of the pool and have spent many evenings eating and chatting and drinking by the BBQ. All the local restaurants have been great, the food very good in each one. Very friendly locals have added to a truly wonderful stay. Would highly recommend 5 stars - June 2016.
Aloni House is wonderful and we could stay forever. The pool and BBQ area have been our favorite. We tried one of your recommendations, Kali restaurant up by the ceramic shop up the hill from the house and it was great, would definitely go again. The views are outstanding such a beautiful location. Lake Kournas is a must see with crystal clear waters which you can paddle across - June 2016.
This is our fourth visit to beautiful Aloni House, seems to have become an annual pilgrimage for our group of friends and we are already planning next year. As usual we have had a relaxing week making most of the pool and gardens and particularly the bbq area, where we have been join by other friends who have villas in this beautiful region of northwest Crete. I am sitting here on the balcony listening to cicadas and the humming of bees and the wind in the palms, drinking it all in to last us through the winter months. Also I will be visualising the gorgeous flowers. On recommendation we tried the Kastello restaurant in Rethymno was really worth the extra expense, food delicious and service excellent. It was a balmy evening sitting in an open court yard of one of the historic buildings in one of the buzzy small streets near the square and fountain. Anyway time for our pre lunch ouzo. Til next year - September 2015.
An exceptional holiday home!. We all had a wonderful holiday with our three children. Had a little rain, but when the sun shone it was glorious. We all loved the pool and views. The gardens are so perfectly planted. Thank you for sharing your home with us. Now back to Devon - August 2015.
The house is a lovely house to stay in with an amazing view, I had a great two weeks here. This is now my 4th time and I can't wait to come back. I have been coming here since the age of 7. Thank you for the amazing experiences and I will definitely be coming back - August 2015.
This is our third villa holiday in Crete ­ Aloni House is by some distance is the most magical place we have stayed. Views down to the beach and up to the mountains, sleepy reading on the lounge bed by the pool, BBQs out on the patio and long evenings drinking and talking on the balcony. Would recommend: boat trip from Chora Sfakion to pretty Loutro, the family run tavern in Kournas village (Kali Khafia) and buying fresh meat and veg from butchers and supermarket in Kavros. Some of our most enjoyable meals have been cooked up ourselves. Can we come back? - July 2015.
Thank you Emmet and all your family for such a lovely stay. It's really paradise on earth here! Congratulations on building such a visitor friendly house and the contribution to the local community - June 2015.
We came to Crete for a family wedding, so had our family with us for the first week, followed by 5 days of peace and quiet for my husband and I and what a joy Aloni House has been. The accommodation views and gardens are second to none. Good to note 24 hour doctor down along from the BP garage and brilliant chemist in Georgioupolis. Mythos restaurant on the square in Georgioupolis is THE place to eat. Fantastic sizzling steak and traditional Cretan food with a fantastic happy family service. You must go into Chania for the indoor market and the large shops ie. Pull & Bear and Zara etc. The port at Rethymno is fantastic with pedestrian lanes of small shops and beautiful fish restaurants around the port. Not cheap but exquisite! Sad it has to come to an end - May 2015.
Only one word can describe the experience whilst staying at Aloni House: HEAVEN! - Beautiful villa, beautiful surroundings, beautiful weather made this a get away to remember. We will definitely be coming back at our first opportunity. The whole island is beautiful, however here in the lower mountains is the most welcoming and hospitable. We loved every minute, much love - May 2015.
Too too short! We managed to get as far as Loutro but no time for Elafonisi. Enjoyed the 'Turks Well' in Chania, as ever, as well as the tavern in Kournas. A wonderful house for our two family break, I hope we'll be back soon - October 2014.
Is there a better house in Crete? This is our second visit and it gets better every time. The gardens have matured well (it's a shame the fruits from the trees weren't quite ripe). Kournas village is still a joy day or night ­ lazing under the mulberry trees enjoying the local wines and the food at Babis. We have enjoyed the expansive grounds searching for the engraved plaques (not easy to find). Kalavaki is a great beach, also Preveli (if you can handle the drive). We hope to come back soon. Thanks for sharing this amazing house with us - August 2014.
Thank you for a fantastic week at Aloni House!. We loved the pool, the BBQ area and the cooler balcony. The views are stunning and Aloni House is clearly the best villa in the area!. A wonderful backdrop for our school friend reunion (we all turned 30 this year), so thanks ever so much for providing us with such a stunning base. We will be spreading the word of Aloni House back in the UK! - July 2014.
This holiday was the best we've ever had and Aloni House was magnificent. We spent more time at the villa than we've ever done before. Everyone loved it. We all said that the views were amongst the best we've ever seen and waking up to them every day never ceased to amaze us. We should also complement the owners on the quality of the interior furniture, rare in rented villas. I have wanted to stay in Aloni House for years and having done so was not disappointed ­ quite the opposite! I l love this part of Crete and I think we will continue to go back for some time - June 2014.
I have limited time to write a message as we have a plane to catch so I'll keep it short. Aloni House is amazing, from the views to the pool, rooms, kitchen, lounge & balconies, it is all 5*. The restaurants along the Karvos strip are great, but if you want a real treat, pop into Georgeoupolis to Paradise or Mythos. The food is outstanding!. Also Seven Souls Taverna along the beach is worth a stop at. Thanks for an amazing holiday & hopefully one day we shall return - June 2014.
You have a really splendid property here which made the perfect setting for a family holiday, suiting the 80+ age group to the 16 year old. Leisurely breakfasts on the balcony in the refreshing br